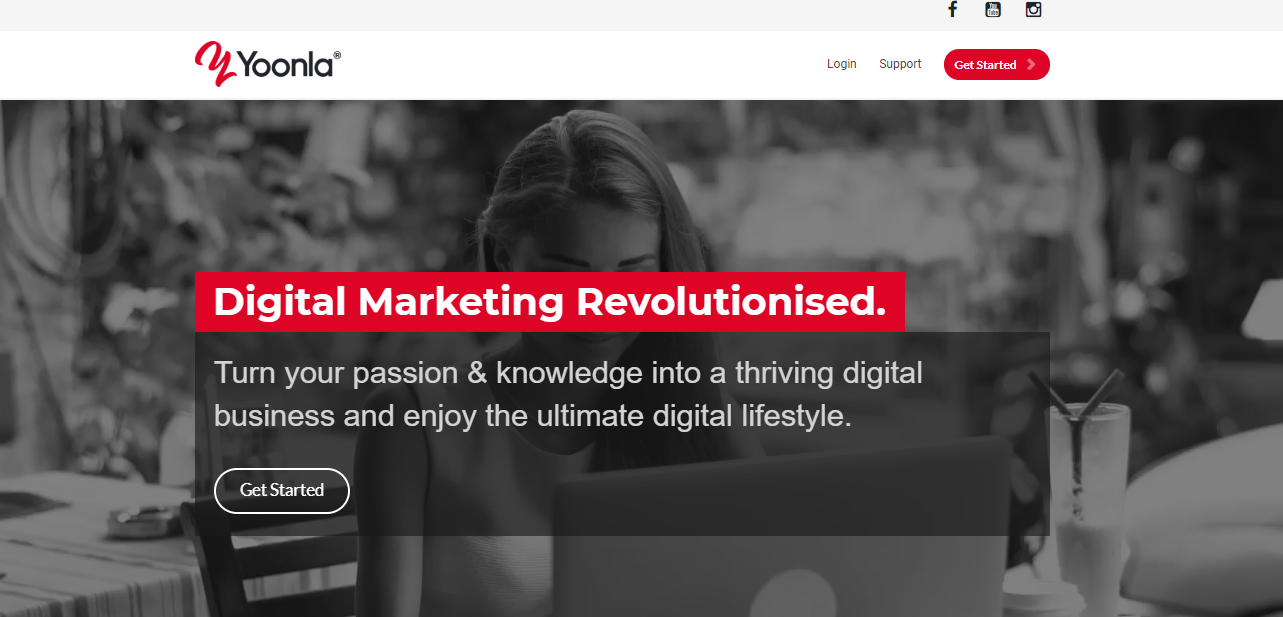 Welcome to My Yoonla Review!
If you've been trying to earn money online for quite some time now, you may have heard or read that affiliate marketing is one of the best methods to make money over the Internet. Compared to Get-Paid-To and survey websites, it provides a bigger amount as long as you're willing to spend enough time creating interesting contents and inserting special links to your website.
Other than that, affiliate marketing is legal and less risky because you don't have to pay money upfront unless you are taking a premium membership or the program you're joining in is a total scam.
Yes, affiliate marketing is legal, however, there are a number of companies using this method to scam other people.
Yoonla Review Summary
---
Name: Yoonla
Website: www.yoonla.com
Founders: Reno Van Boven
Product Type: CPA Affiliate Marketing
Price: Free + Upsells
Quick Summary: Yoonla is an affiliate marketing program that allows its users to earn in two ways: (1) when a new person join its Starter Membership using your special link (2) when a member upgrades its account to Elite Membership. Unlike other affiliate marketing program, you are limited to promoting Yoonla's membership. That being said, will it really help you earn a decent amount? Read more to find out.
Overall Rating: 6/10
Recommended: Yes
Is Yoonla one of them? Is this CPA affiliate marketing program another scam? Or is it one legit way to help you earn money online?
Like me, you may be skeptical about these websites claiming this and that, and it's good. At least you're interested and at the same time, cautious before signing up and giving your details to a complete stranger website. Reading reviews, like this one, is one way you can avoid fraudulent web pages who take advantage of people who want to make money on the web.
So rest assured that I'll be giving you nothing but honest reviews about Yoonla. I am not related in any way to this brand so I'm not here to pitch you their products or ask you to become a member unless I find this good enough.
So sit back, relax, and continue reading.
Basically, Yoonla is a two-level affiliate marketing program that gives you two ways to earn money online. This means you can choose to do one or both to earn a commission, including:
Successful referral using your very own affiliate link
Successful upgrade to VIP member account
Unlike common affiliate marketing programs, Yoonla will give you more options to make money such as when a new person signed up for their program, using your link (and take note, this is just for the free Starter account), and when that member agreed to upgrade its membership.

This CPA (cost per acquisition or cost per action) strategy helps them build their clientele base, and in return, they will give you money even if that new successful referral did not purchase anything. Depending on the quality of the lead you have entered, you will be paid $2 - $4. Not bad, right?

However, it will be pretty challenging on your end if you choose to join this program. Why? Because you have no freedom to choose the niche nor products or services you can put in your business. You are limited to marketing Yoonla membership.

Does This Mean That Yoonla Is A Pyramid Scheme?

Pyramid schemes have created a negative image in the online and offline industry so any brand that's related to it is more or less, seen as a scam. For the benefit of the doubt, a pyramid works by recruiting more and more members and paying an upfront fee so, in return, they will have their promised profits. However, no tangible products or even services will be provided other than referring a new person. It is an unsustainable form of business and in many countries, it is considered illicit.

That being said, is Yoonla a type of pyramid scheme? The answer is no. Yes, it does work in a similar way because you are required to refer a new person to become a member so you can earn cash but you will have no uplines or downlines. Despite being NOT a pyramid scheme, this makes Yoonla almost not reliable when it comes to making money online. You are only focused on one niche -- you are supposed to bring more people -- unlike Wealthy Affiliate which gives you the flexibility to choose whatever niche you want.

This also brings two problems such as saturation and competition.
Imagine, you have recruited over a hundred members (and you're not the only one doing this), and these new members will use the same marketing platform you are using and as a result, it will be crowded which leads to another situation, competition. Although the World Wide Web is wide enough for us marketers, it will be challenging for you to stand out if you're all using the same platform, have the same technique and not to mention, the same products offered.

But looking on the bright side, there are many ways on how you can step into the limelight and make your brand stand out. You can always inject creativity and your personality to make a difference. In addition, Yoonla provides free training which you can use should you decide to pursue another niche.

How Yoonla Works?

Making money with Yoonla involves selling their memberships and it starts by setting up a landing page. Once you have a landing, the next thing you need to do is generate traffic on your website which will help you create an email list. This is where their tools, such as GetResponse, enter. Aside from sending email campaigns, you also need to follow up with your subscribers to sign up with Yoonla's Starter Membership and/or upgrade their accounts to Elite Membership. By doing so, you can earn $2 to $4 depending on the quality of the lead or another $30 for every successful membership upgrade.
Learn more about Yoonla by watching a video below.
As the Internet and everything else develop, so as the scammers online. They are doing pretty well in concealing their only agenda, which is to take people's money or confidential information for their own benefits, and for many people, it's hard to spot them.

However, there are still many money-making programs online that are legitimate and Yoonla is one of them. Although it is focused on selling its membership and the founder, Reno Van Boven, is claiming to help you earn a six to seven-figure cash month, which is too good to be true, Yoonla has proved its legitimacy.

However, you should be wise enough to know that these are exaggerated and often used to attract people. You will earn a decent amount joining Yoonla but do not set high expectations with the program. Otherwise, you might end up like the other people claiming that this company is a scam simply because they did not earn the amount they were promised.
Yoonla offers a Starter Membership Account which you can get for free. This means that you can sign up as a member and not pay for anything. However, this membership account is very limited and despite the free training offered, it is focused on persuading you to buy their affiliate tools and to become an Elite member.

Also, I found out that you'll be encountering a lot of upsells so you can start earning your commission and that includes:


Paying for $15 a month for GetResponse (Email marketing tool)
Paying for $12 a month for Yahoo! Small Business
Paying for $16 for a domain name
Below is a free membership form you can find in their website. Just fill it up, wait for a verification link sent via email, and you can log in to your Yoonla account in an instant.
Here Is My Top Recommendation to Start Highly Profitable Online Business from Comfort Of Your Home
Joining Yoonla Is Almost Risk-Freef
You don't have to give your credit card details and you can sign up for their Starter Membership Account free of charge.
Free Training
The free training provided is brief and spot on. Unlike other training from other brands that take days to accomplish, Reno has made it easier for you to understand the basics of marketing in just a few hours. You can also use Reno's teachings to become a good marketer and apply it in your own website.
User-Friendly Website
Their website is professionally-made but easy to use. It showcases the brains behind the brand so you're not guessing whom you are dealing with.
You Cannot Start Earning Immediately
Just when you thought you can earn in the soonest possible time, Yoonla will require you to pay for their tools or upgrade to their Elite Membership before getting paid.
In this case, I recommend Wealthy Affiliate. You can sign up for a free membership, learn from the training and its supportive community, use your learning to your own niche, and of course, earn a commission without spending. And oh, did you know that you can create two websites from their WA's free membership? That's just one of the many reasons why I believe that this is one of the best and legit ways to earn online.
Hidden Upsells
In line with the statement above, you will encounter several upsells. For instance, in order to generate traffic to your landing page, you have to pay for their tools, such as Solo Ads, which is not only expensive but also useless if you don't know what you are doing. If you're a beginner, this is both costly and troublesome.
Limited Offers, Limited Earning Potential
You are only limited to selling Yoonla's memberships so basically you can only earn if you have successfully signed up a new member or persuade a member to upgrade to their Elite Membership, which, for me, is more challenging compared to selling tangible products and services. Even if Yoonla is not a pyramid scheme, many people will assume that they are one because of this method so unless you have cleared their doubts about Yoonla not being a scam, you'll have little to no opportunity to make money using this program.
Tired of Trading Your Precious Time for Money?
Here is a Blueprint to Owing Highly Profitable Online Business Without Any Experience REVEALED!
If you're a beginner and you want a legit platform, to begin with, you can take advantage of Yoonla. It has free training which you can use later on as you go along and find a better affiliate marketing program to be with. Perhaps start promoting their products and work on their niche until you learn the ins and outs of affiliate marketing.

It is also for anyone who wants to create money from side hustle online. It's legit and unlike paid surveys, you'll be getting a decent amount for the time and effort spent. However, don't expect to create huge money or even a passive income out of it. After all, not everyone is into marketing memberships.

The company is good enough however if you want to start an online business and you want the freedom to choose the products and services you'll be promoting, I don't think Yoonla should be in your options.

What I do recommend is this method (that I've been working on for quite some time now) that gives you the option to start as a member for free or upgrade into a premium account (which of course comes with unlimited perks and benefits). What sets this aside from other brands, like Yoonla, is that you will not expect upsells from their free member's account. Yes, the training and other tools will be limited but you can start earning a good amount without purchasing any tools.


During the training, whether free or using the Elite Membership, you will receive training videos to learn more about Yoonla and the basics of affiliate marketing. Reno will explain how each and every step, such as using an autoresponder, creating a website, activating your sales, and more, works.

Should you have any problem or concerns with Yoonla, you can reach them on their social media like Twitter, YouTube, and Facebook, or by filling out their online support ticket.
Yoonla is a good program for beginners (if you're only after the training). However, if I were you, I will not even bother signing up because I know that I will be wasting my time knowing that I can only earn if I decided to purchase their upsells and memberships.
Also, since I want the freedom to choose my own niche and products to sell, this program is not going to work. After all, the reason for having your own business is to become your own boss and basically, becoming free, and how are you going to do that if you are limited to the products and services you can advertise.
Looking for another source of income? If yes, then feel free to join our #1 recommended platform.
It's the program you need whether you're new and still learning or a veteran in making money online. Create an account and have access to these:
Comprehensive guide
Training resources
Webinars to help you start your business online
One-on-one coaching
And many more!
I hope you've been enlightened with my honest review on Yoonla, and if you have any comments, questions, or product suggestions, please feel free to drop it down below.
We Constantly Review Programs in "Make Money Online" Niche,
So That You Don't Have to Waste Countless Hours
Want To See Our
TOP RECOMMENDATION?