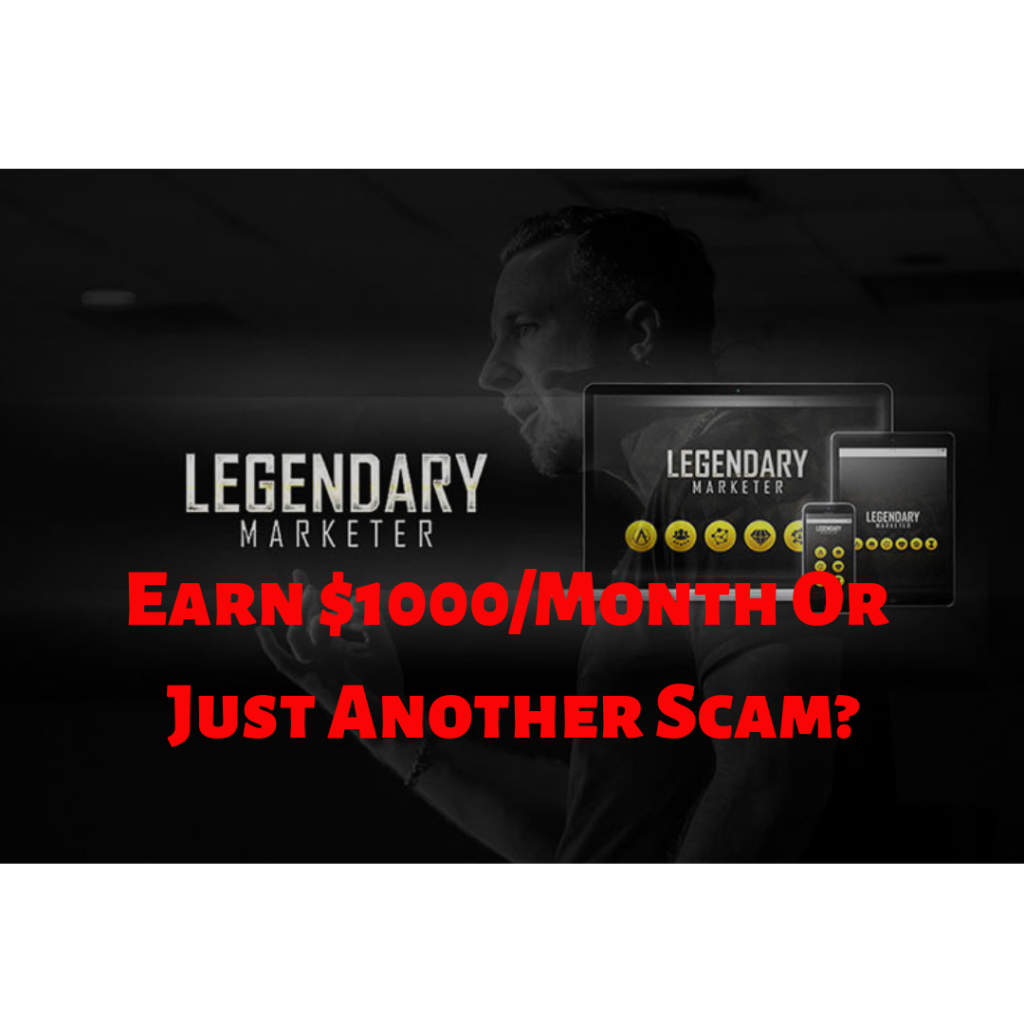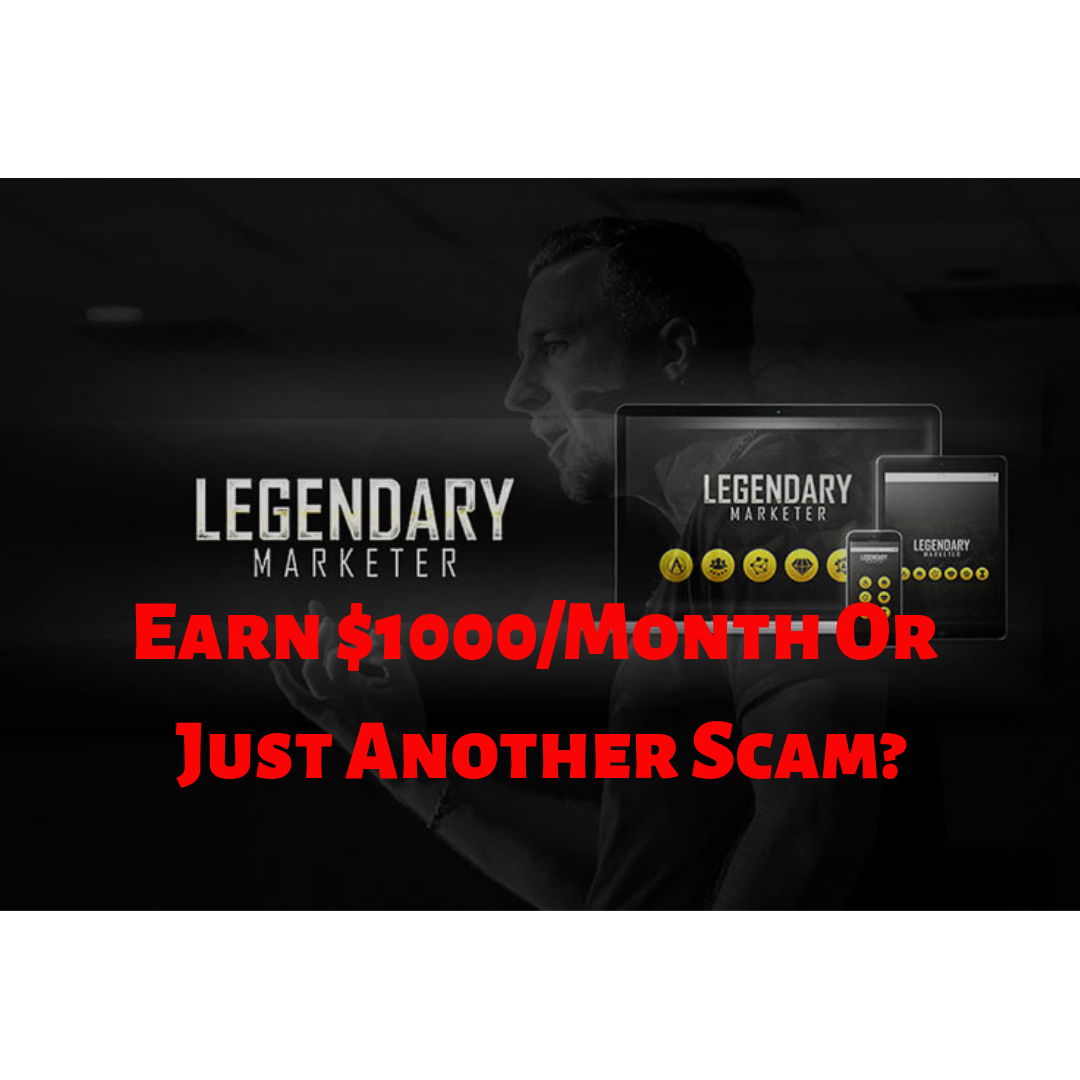 Name: Legendary Marketer
Website: https://legendarymarketer.com/
Price: Starting from $30 a month or up to $30,000
Founders: David Sharpe
Overall Rating: 6 / 10
Who's It For: Experienced Marketer / Networker or Tech-Savvy With Budget
It's no secret how easy it is to earn money online however, not everyone is lucky enough to find a service that truly works. Most products over the Internet are too good to be true and one indicator that it's nothing but a scam are the exaggerated promises.

"Join this system and earn a thousand dollar!"

"Get rich by answering surveys!"

These are just some of things that scammers always claim only to find out the nothing… as in nada, are true. Another red flag, for some, is when they ask for an upfront fee, whether it's for joining or becoming a member. It's just too fishy because you'll never know whether you're getting what your money's worth.
And perhaps, this is what makes Legendary Marketer sounds a little suspicious. I mean, $30 for a marketing training that you can get almost anywhere online? But if you're still interested to know more about the Legendary Marketer System, you came to the right place!
Want to Know How I Make 4 Figure Monthly Income?

What Is Legendary Marketer About?
Alright, first things first. What is Legendary Marketer and who is this David Sharpe?

Legendary Marketer is a one-level affiliate marketing program and the brain behind this is, you guessed it, David Sharpe. Also known as Dave, the marketing guru is also the co-founder of Empower Network — an MLM company that promises its members to earn money online. To cut the story short, that company failed but prior that, David had already walked away and started his own companies from scratch!

Now, Legendary Marketer is different from the previous business he co-founded. Unlike an MLM (Multi-Level Marketing), members will get a commission only for the successful affiliates they refer and the products they bought — and that would be all. No need to worry about your member's members!

The company provides a training that helps entrepreneurs (beginners and veterans) know more about internet marketing which can help their businesses grow online. Yes, some of the learning can be acquired over the Internet but Legendary Marketer is more than that! It comes with good courses, live events, video training, and a lot more. Sure it can help you earn dollars and who knows, a passive income but like other legit marketing training, you need to exert effort and time.

Another way to earn is through its compensation plan that can be done in two ways: purchasing any of the Legendary Marketer products (while having access to the training and more commission) or by selling at least three units of it. Although the commission is promising, it doesn't work for everyone — unless you're a tech-savvy with a budget for ads or an experienced networker. Why? Because you have to know how to market these products, you need to pay for ads and pray to get more conversion, you need to have at least an experience with online marketing otherwise, how are you going to promote these high-ticket products?

Is Legendary Marketer A Scam Or What?
Now that you have a basic idea of Legendary Marketer, it's time to unveil the truth. Is Legendary Marketer a scam?

Truth is… it's not! You can make real money with this program and even thousands of it — and many of its affiliates have proofs plastered online.

So, Legendary Marketer Scam — Answered! Let's proceed to the next question: is it worth your time (and money)?

Price
For clarification, the only products that Legendary Marketer has are its training and membership levels, which starts from $30 up to $30,000. Basically, it's about internet marketing but if you take a look at it closely and read what David Sharpe has to say about it, it's about duplicating his "online franchise business" and using the sales funnel he has developed over years to earn a good cash on your own.

Think of it like reselling: you are trained to becoming a good reseller or a marketing person to resell their memberships and in return, you'll earn a handful of commissions. These training include the following:

Legendary Marketers Club Membership – $30/month
Traffic Rolodex – $47/one time
Invisible Influencer – $997/one time
Legendary Builder Masterclass – $2,500/one time
Legendary Leader Masterclass – $5,000/one time
Legendary Marketer Mastermind – $8,000/one time
Legendary Entrepreneur Mastermind – $12,000/one time
Legendary Lifestyle Experience – $30,000/one time
Sadly, these products are not only extremely expensive, it also spells upsells after upsells. Now, if you're someone who wants or needs money, I think the last thing you want is to spend. Also, if you can have valuable marketing training for free, why settle for something that's exorbitant?

Pros / Cons
Checking out Legendary Marketer itself, I can say that this program really provides a good training. It's good when you have little to no knowledge about internet marketing and even if you're a seasoned marketer. However, I also found the ugly truth about it and that I will share in this section.
Pros

$30 Legendary Marketer Membership Is Worth It
Great training especially for beginners. It covers almost everything you need to know get your online business up and running. For me, it's worth more than the price because it includes Facebook marketing, Lead Generation, YouTube, etc. However, I don't recommend the other memberships because it's overpriced!
MLM is not a bad thing. In fact, it is legal but it's nowhere better than affiliate marketing, which Legendary Marketer is about.

Here's why: with affiliate marketing, you can choose your niche and products you want to work with and you're not limited, you don't need to pay for a certain amount just to earn a commission, no recruitment is involved, and the payment plan is simple.  If you want to earn cash and possibly, a passive income, affiliate marketing is the one thing you want to consider.
If you're worried about not getting back your money's worth but you still want to try the program, Legendary Marketer offers a 30-Day Money-Back Guarantee. This means if you're not satisfied with the program at all, you can cancel your membership and ask for a refund within a month (30 days).

However, this is only applicable to Legendary Marketers Club and other subscription-based programs.
Like most training programs, you can navigate your way with its step-by-step instructions, and Legendary Marketer has that. Even if you're not super techy, it's kind of easy for you access the program. Also, you get to have your own coach. After becoming a member, you can enjoy your training and learn from an expert at the same time. You can ask questions, raise your concerns, and clarify whatever it is needed to be clarified with your coach. The drawback to this, however, is that every coach in the program are trained to market the other products so you will upsell.
Okay, I admit, "good" is not the word that I should be using rather, it's "great"! With Legendary Marketer, you have the chance to earn $1,000 up to $5,000 or even more if you have successfully sold a program. The commission is big as 40% to 60%. Not bad, huh?

Cons

And I don't think I need to explain that. Simply look at their products and the price beside it and you'll get why. Besides, why bother spending a massive amount if you can earn money online for a cheaper amount, even for free!

Want to know how? Just click this link to know more how I make money online!
Focused On Promoting Their Products Rather Than Helping You Earn Income
Legendary Marketer may not blatantly express it first but it's not difficult to realize that their main intention is for you, the member, to promote their products and upsells. Yes, you can learn from the training and apply it to your own business but it makes so much difference if the program you are with encourages you to do it.

With Wealthy Marketing, you know you're in good hands and I'm not saying this just because I'm an affiliate member. It's because I've tried dozens (or even more) of the similar programs and there are good reasons why I'm stuck with them.
Additional Expense For Paid Traffic
Okay, membership is already expensive enough. Now you also have to deal with the paid traffic that is necessary during the training. And guess what, it may cost you another hundred or even thousands of expenses. Bad idea? Yes, it is!

Lucky me, I found a program that does not only provide free membership but also helped me earn commissions through free traffic!
Funny, right? You have to take out cash from your own pocket first before you get one. As mentioned, this program focuses on promoting their own products and to be able to earn commission from it, you'll have to purchase it yourself first! Not unless you can sell three expensive products in your own.
Who's It For?
I know I've said it more than a couple of times and I'll say it again: Legendary Marketer is expensive. This training product is recommended for those who are willing to spend a good amount of cash to learn internet marketing.

The program itself is great but it's just too much. If you're a beginner, you might be expecting a lot like if you can get your investment back. Legendary Marketer might be able to help you with that, just try not to fall for their upsells. Meanwhile, experienced marketers or any tech-savvy individuals who have a huge budget may also consider this but then again, why bother if you can earn without spending a lot?

Training Tools / Support
Legendary Marketer uses a lot of training tools such as a webinar, live events, training videos, and even a personal coaching with the man himself — David Sharpe (if you're willing to pay $30,000 by the way). Overall, it looks good but really, most of the things included in this program can be learned online. Trust me! It may take quite some time and effort though but at least, it's possible that you grow your business without ripping your wallet off.

The good thing about Legendary Marketer is that you can reach their customer service through email and phone. Even their business address is written on their website so you can guarantee a good support should you have any concern.

Final Opinion / Verdict
It's good to know that there are legit companies online, like Legendary Marketer, who are willing to help you earn. However, if you're really looking for a good money-making opportunity, and hopefully develop your own niche or business, Legendary Marketer is not a good option. They are focused on promoting their own products and the price of their training is just a lot. Not really a good way to start your earn-at-home journey.

Nonetheless, the training still offers value you can use to grow your business online. But if you're looking for a way to get real cash (and you're eager to learn and spend time and effort), you are free to check out my top recommended program, which, you can join for free. The best part is — no upsell is needed!