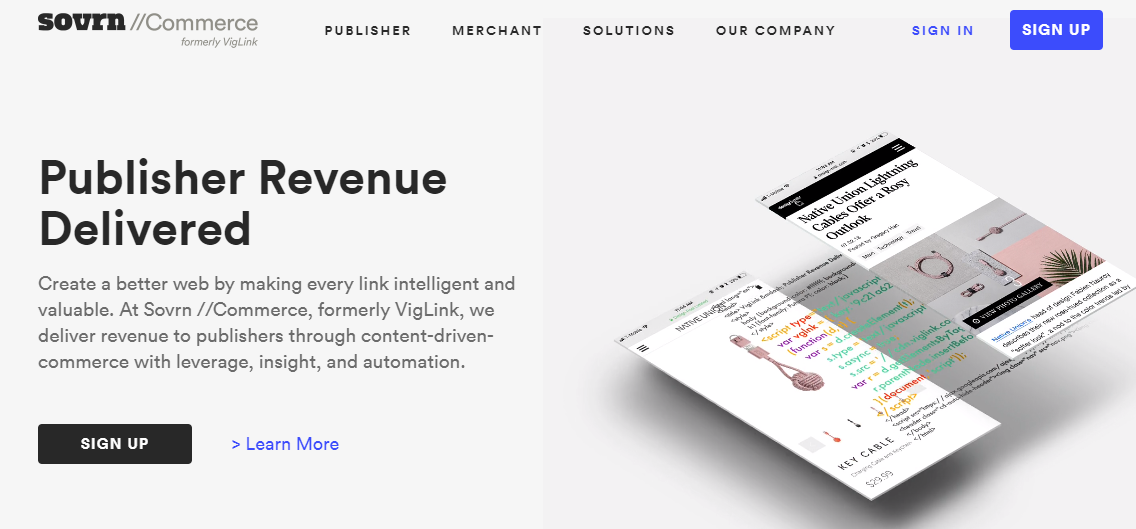 Welcome to My VigLink Review!
Whether you're a blogger or an affiliate marketer, monetizing your website comes with a lot of tasks. There's writing high-quality content, using the right keyword, putting alt text in images, writing a meta tag and description, hyperlinking words or phrases, and the list goes on.
VigLink Review Summary
---
Name: VigLink (Now known as Sovrn//Commerce)
Website: www.viglink.com
Founders: Oliver Roup
Product Type: Affiliate Network
Price: Free
Quick Summary: VigLink is an affiliate network that connects merchandisers and publishers. However, unlike usual affiliate programs and networks, this platform removes the daunting task of putting affiliate links one by one. Apparently, you just need to install their code and you can start monetizing your website. But, as easy as it sounds, there are certain things you need to know first… and that I will gladly share in this honest VigLink review.
Overall Rating: 8/10
Recommended: Yes
While it's tempting to skip most of these parts, it could create a tremendous effect on your website. For instance, you may have written an impressive content that contains all the right keywords; however, you forgot to place your affiliate links. Then, it could almost be useless. You may have earned through ads but you won't be able to get commissions from your affiliate program.
Luckily, there's an affiliate network called VigLink which, apparently, has created a time-saving solution for marketers and bloggers' dilemma.
But before we go into details, I just want to clear something first. VigLink has been acquired by Sovrn last year so if you would check their website, which is still www.viglink.com by the way, you'll see that it's named Sovrn//Commerce now. But still, it's the same old affiliate network that provides an opportunity to publishers.
VigLink is an affiliate network for publishers like affiliate marketers and bloggers and merchandisers who have their affiliate marketing program. So before we dig into this, let's find out the difference between an affiliate marketing program and an affiliate network.
An affiliate marketing program is simply a program by a merchant that offers a commission to publishers while an affiliate network is where you can find hundreds or thousands of affiliate marketing programs. Basically, they act as the middle person between an affiliate program or merchandiser and the publisher or affiliate marketer.
Again, VigLink is an affiliate network and it works with different publishers like StyleCaster, MSN, Daily Beast, etc.
And of course, with some of the biggest merchants like Nike, eBay, Amazon, 511 Tactical, etc.
To earn money VigLink, there has to be a sales conversion, thus making it work almost the same as affiliate marketing rather than advertising. The difference, however, is that the daunting task of putting hyperlinks was taken off.
Basically, after signing up, which is super easy and fast by the way, you just have to copy the provided HTML code and paste it to your website. Rather than signing up with a bunch of affiliate programs yourself, you have access to all the relevant affiliate programs automatically.
Not only that, there's no need to generate your own affiliate link and put it in every keyword of every content as VigLink will do that job as well. How, you say?
How VigLink Works?
Once you have the code pasted to your header or footer, VigLink will search for relevant keywords such as merchant names, activities, locations, etc., that may be associated to a certain affiliate partner on their network.
In simple terms, you don't need to copy and paste codes to your write-ups as VigLink will do it for you.
What Happens After Installing VigLink?
I signed up with VigLink by the way and I'm surprised that it took only minutes to install. Anyway, after the installation, your website will be filled with affiliate links automatically and it may take a couple of hours or more to complete, depending on how much content you have.
When it comes to the links, you might be a little confused with the URLs since it looks just like a regular URL but if you check on it thoroughly, you'll find out that it's indeed an affiliate link.
For example, www.nike.com appears as it is but if you hover your mouse on it, right click the link, and choose "Copy Link Address", you'll find the real affiliate link which may look like this: https://redirect.viglink.com/...
Definitely, not!
VigLink is 100% legit. In fact, it's one of the most trusted networks of affiliate marketers and bloggers all over the world. Imagine how much legwork it has taken off, right? But, like other programs, it has a few weaknesses, too, therefore, you should not consider it as a flawless solution when it comes to monetizing your website.
For one, it automatically adds affiliate links to any keyword it thinks is relevant so if you're already into affiliate marketing, there's a chance that your previous affiliate links will be overridden. Also, the links might not be placed on the right location and this might cause a minor problem in the future. For example, a visitor of your website clicked on a certain keyword and then it leads him/her to a wrong affiliate program. This might create a trust issue as the reader might not click on any of your affiliate links assuming that he/she will be taken to a wrong website again.
If you want to start your affiliate marketing journey or you're already a marketer and you're looking for a trusted program to join with, I suggest you try Wealthy Affiliate. It's one of the best affiliate marketing platforms as of today and many affiliates have joined this promising program. You can sign up for free and explore the member's area, learn from the training, get two websites, and enjoy perks without spending a dollar.
Joining VigLink is not only easy, but there's also no risk since you're not going to pay for anything. In simple terms, you can join VigLink for free!
.
In addition to these perks, there are three ways to earn money with VigLink.
First is by being a publisher. So basically, anyone with an online website can join, such as a website owner, blogger, or an affiliate marketer. You just need to sign up, install the code to your website, and let VigLink do its magic.
Second, whether you have an affiliate marketing program or not, as long as you're a merchant, you can join VigLink and increase your sales with them. Just visit their page or send an email at [email protected]
And of course, there's a referral program for those who have already joined their network. Just go into your VigLink account and you can find a custom URL that you can put on your website or share in your social media. You can earn 35% for every successful referral.
I've included my own referral link here by the way so in case you're interested, you can just click on the links here.
To learn more about VigLink, you can watch the video below:
Here Is My Top Recommendation to Start Highly Profitable Online Business from Comfort Of Your Home
PROS
Free
First thing first, VigLink is for free and unlike low-quality programs that are only after your money, this platform will definitely help you make money.
Convenient And Simple
For someone who's lazy putting in affiliate links to their website (guilty and proud), this platform has provided total convenience. Imagine, you just have to sign up, copy and paste the code to your website, and wait for a couple of hours or so until your site is filled with affiliate links.
Accessible
Some affiliate marketing programs have limited access only, such as Amazon. So for instance, you're rejected or your region is not supported by their program, you can use VigLink as a good alternative.
Automation
What makes VigLink standout from other affiliate networks and programs is their capability to automate links. After scanning your website, links will be automatically placed on relevant keywords and you can start monetizing your site.
I was just dreaming of a program or app like this because honestly, I just don't have the time (too lazy to do this) to create my affiliate links and put it on each and every keyword. I've joined several affiliate marketing programs because I know how great the opportunity when you become an affiliate but too bad for me, I can't stay consistent. Well, answered prayer!
Multiple Money-Making Opportunities
Aside from being a publisher or a merchant, you can also earn money from VigLink through their referral program.
Various Payment Options
VigLink will pay you every month, by the way, and there's no minimum threshold. You can receive your payments via Wire, PayPal, Check (only available in USA), and ACH (only available in USA).
CONS
It Takes Hard Work
I don't really see this as a disadvantage, by the way, but for anyone who thinks that they can easily earn after joining the site, I want to tell you that it's not the case. First, you need to have a website that has good traffic, otherwise, your account might not be approved.
And even if you're approved by VigLink, you will make little to no money if your site doesn't generate a good amount of traffic.
Also, it's not going to be easy. You have to continuously create content that is not only of high quality but also profitable. Otherwise, you won't be earning at all.
VigLink Links May Override Your Previous Affiliate Links
If you're already a member of a different affiliate network or program, chances are you've already integrated your own affiliate links in your content. However, when you install the code provided by VigLink, you may lose all of the previous links you have placed, and it's going to be a huge problem as you have to manually do all of it again.
Tired of Wasting Time on Low Quality Programs?
I'm so grateful that I was able to find THIS PROGRAM which helped me to finally start making money online!
I recommend VigLink for website owners, affiliate marketers, and bloggers, especially for beginners. VigLink is easy to use and it will take off the legwork of putting affiliate links to your website. If you're still new with blogging or affiliate marketing, this will allow you to focus on your content, traffic, SEO, and other important matters while giving you a chance to earn at the same time.
But like what I've mentioned, hard work and consistency are important.
However, if the idea of automation doesn't excite you and you want to find an affiliate marketing program that you can rely on when it comes to growing your online business, I suggest that you join my top recommend system – Wealthy Affiliate.
Overall, I like the concept of VigLink when it comes to automatically placing links into the website. It's like a dream come true for most marketers who don't find copying and pasting affiliate links one by one interesting. In addition, it's legit and you can see various positive feedbacks from the real users of this network.
But then again, it's not as easy as it sounds. You will need to work so you can earn using VigLink. That means creating high-quality, lucrative content consistently. But that's how making money or creating wealth works. You cannot just have a massive amount of cash overnight and basically, any program that promises you this is a lie.
Looking for a legit way to make money online?
If yes, then we got a perfect solution! This is one of the top-recommended programs of internet marketers and you even as a newbie, can definitely take advantage of this. Sign up now and get access to the following benefits:
Thank you for reading my VigLink review! If you have questions or comments, please feel free to drop it down below.
We Constantly Review Programs in "Make Money Online" Niche,
So That You Don't Have to Waste Countless Hours
Want To See Our
TOP RECOMMENDATION?