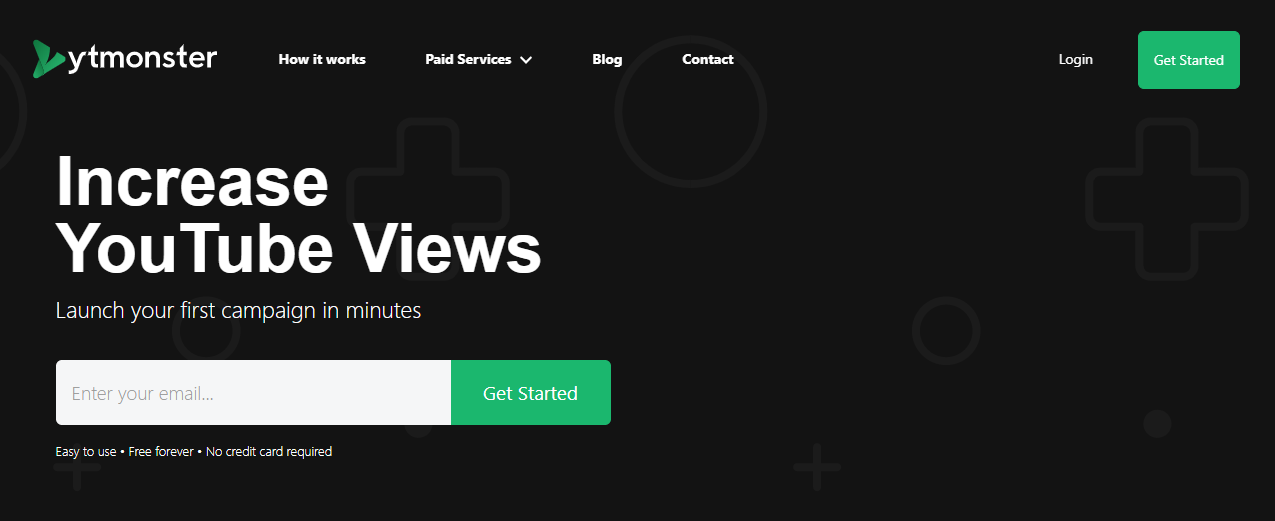 Welcome to My YTMonster Review!
Gone are the days when YouTube is just a site for watching videos; now, it's one of the best money-making opportunities online. A lot of individuals -- from celebrities to regular people -- use this to earn a side hustle and for the lucky ones, it's even a great source of passive income.
YTMonster Review Summary
---
Name: YTMonster
Website: ytmonster.net/
Founders: Undisclosed
Product Type: Online Platform That Increase YouTube Engagement
Price: Free + Paid Membership And Services (Optional)
Quick Summary: YTMonster is a program that offers free tools and services for individuals who want to grow their YouTube channel. Using this program, you can increase the number of your subscribers, likes, comments, and even dislikes. You can also choose to upgrade your membership or purchase a service and earn using their affiliate program.
Overall Rating: 6/10
Recommended: Yes
Because of this, many people are building their own YouTube channel in the hope of earning a massive amount. However, it's not as easy as it sounds. There are various prerequisites that you need to acquire first, such as having 1,000 subscribers and 4,000 watch time. Without these, you won't be able to monetize your account.
Fortunately, there are programs like YTMonster that claims to help aspiring YouTubers make money online. But is it really legit or just another shammy website that you should ignore?
Find all the answers you need in this honest YTMonster review.
P.S.
I know that not all people are comfortable in front of a camera so if you're shy or you simply want other opportunities that don't involve talking, I have the best recommendation. Click this link to find out my top recommended program for making money online.
YTMonster is a website that claims to help YouTubers grow their YouTube account through interaction. They claim to provide a "powerful" platform that allows an individual to have more views and engagement by doing the same thing with other members. This includes watching, liking, and subscribing to other member's accounts.
The site has been active since 2013 but until now, the founder of YTMonster has never revealed his/her identity.
The free tool also allows you to set up a single account and then let other team members have access to it. However, I must note that you can sign up for free but you need to pay for other services, such as getting reshares, likes, views, etc., I'll share more about this in a bit but for now, let's find out how it works.
How YTMonster Works?
Like other programs, you can start by creating an account and this means providing your name, username, password, and email address. According to its website, here are the reasons why you need to sign up with YTMonster:
Access To Their Community
Free YouTube Subscribers
Free Views Free Likes
Free Comments
You will receive an email and you need to click "Activate Account" to verify your account. Once it's done, you now have access to their dashboard, which looks like this:
As mentioned, you can pay for their service if you want to increase your likes and subscribers but if you don't want to spend a dollar, you can earn credits and use it to grow your account. This includes:
Watching Other User's Videos
Subscribing To Other Channels
Liking Other Videos Commenting On Other Videos
And By Completing Their Promotions And Offers
Getting "credits" might mean spending time but this is helpful if you want to save your money instead of paying for their service. By completing a few tasks, you can get people to watch your own videos, comment on it, or even subscribe.
How?
By clicking the "Campaign" tab. Once you have done 25 exchanges or interactions, you can provide a link to your own YouTube video, choose the type of service you want (comments, subscribe, like), and how much of it do you need. The next step is using the credits you've earned to complete this task.
NOTE: I tried completing one task, which is to watch other videos but I receive an error message saying that my browser -- Google Chrome -- is not supported. Apparently, YTMonster only recommends Internet Explorer, Edge, Safari, and Firefox or if not, you can download their Desktop Client.
To know more about YTMonster and how it works, you can watch the video below:
YTMonster Features
YTMonster Client
When you're using a Google Chrome and you want to perform a task, such as watching a video, you'll receive an error message saying that you should use their Desktop Client. You need to download this free platform so you can start earning credits.
Campaigns
This feature allows you to share your link and ask for other members to like, subscribe, or comment on the video.
Daily Bonus
If you are persistent in watching videos and you have reached the daily quota that YTMonster requires, you can get 450 credits every day. And when you reach a new level, the number of credits you will receive as a Daily Bonus will increase.
Level System
For every level, you will get additional perks, such as increased credits through Daily Bonus. You can check this link to know more about Level requirements and perks.
Exchange Platform
Exchange platform is almost the same as the YTMonster Client wherein you can like, comment, and subscribe on other member's videos and channels. The difference is that when you click the Subscribe button, you will be redirected to the original URL of the member and you will be required to click the subscribe button again.
Rank Tracker
This feature lets you enter the link of your YouTube video and the keyword you're trying to rank. It helps you see your current rank on YouTube plus, it provides suggestions on what keywords you need to use to increase your ranking plus the keywords relevant to your videos.
Video Optimizer
This feature helps you rank your videos on first page so more people can see you. As a result, your get more traffic and viewers.
Affiliates / Affiliate Program
Once you have created an account, you already have an affiliate link you can use on your content. For every successful referral, you'll get a 15% commission rate and this will increase depending on your rank or level.
Without a doubt, affiliate marketing is one of the easiest and best ways to make money online and if you want to try it without being limited to what you can offer, I suggest you sign up with Wealthy Affiliate.
YTMonster is not a scam. It's a legit platform that helps YouTubers boost their engagements. In fact, there are reviews that support its efficiency in growing a YouTube channel, such as the ones shown below:
But like other money-making programs, YTMonster has also received negative reviews about their platform and you can learn more about this by clicking this link.
Paying for YTMonster's service is optional. If you don't like wasting your time watching other people's video, you can choose to pay for your likes, comments, subscribers, and other engagement instead.
If you want to upgrade your account to Premium and get more perks such as 100% increased affiliate commissions, more campaign slots, etc.you can pay $14.99 per month.
You can also pay $29.99 a month if you want 200% increased affiliate commissions, 97 campaign slots, etc.
You can also pay for separate services. For example, you can get 1,000 views for $6, 1,000 likes for $14, 1,000 subscribers for $14, 1,000 dislikes for $20, and 1,000 reshares for $6.
Here Is My Top Recommendation to Start Highly Profitable Online Business from Comfort Of Your Home
PROS
Option To Earn Credits Rather Than Pay
YTMonster allows you to increase the likes, views, and comments on your videos without paying for anything. All you need to do is earn credits by doing the same thing on other member's videos.
Free Tools
YTMonster provides tools, such as Video Optimizer and Rank Tracker that allows you to optimize your videos by providing keywords that are relevant to your content. This makes it easier for your channel to rank higher on YouTube.
Affiliate Programs
Just in case you decide to stop uploading videos on YouTube or you want to earn extra income, you can promote YTMonster and earn commissions by sharing your affiliate link. The best part is that you get a 15% commission rate and that it can increase depending on your level.
CONS
Unethical Way To Gain Likes And Subscribers
According to some reviews, some likes and subscribers are not from real people. This is bad news since Google is changing its algorithm from time to time and because of this, it gets better at finding out unethical strategies of increasing interactions and ranking.
FREE TRAINING
Learn How I Started Highly Profitable Online Business From Comfort of My Home Following This Blueprint
YTMonster is designed for individuals who want to make money online using YouTube as a platform. If you're passionate about something, such as making money online, creating makeup tutorials, or you just want to share a bit about your life and take a video of yourself, you can consider this program to help you.
It's legit and it can help you make money not only by uploading videos but also through their affiliate marketing program. However, if you can't and/or don't want to talk or show yourself to the world, you can earn money using another affiliate program, such as Wealthy Affiliate.
The best part about joining this free affiliate marketing platform is that you're not limited to promoting only one product. You can choose your own niche and offers that appeal to your interest.

In case you need help or you have an inquiry, you can fill out an online ticket to contact their customer support. From what I see, YTMonster has provided a strong customer service that you can rely on when you need one.
Overall, YTMonster is a promising platform that does not only provide free ways and tools to increase the interaction on your YouTube account, it also offers an affiliate program where you can earn commissions. It's good to know that you have an alternative other than uploading content on YouTube. Also, it's legit and the positive reviews it has surpassed the negative ones.
However, you have to be extra careful when it comes to Google determining unethical ways to rank. While it can help you boost your likes and subscribers, there's a risk that your videos will be banned or deleted in case there are a lot of fake engagements.
As always, it's better to have real subscribers and likers not only because it will help you monetize your content effectively but also, it gives you more confidence knowing that you are making money because of hard work.
If you're looking for a way to make money online but you don't want to recruit people or purchase products, I suggest that you sign up with our #1 recommended platform.
Take advantage of the situation and start making money at home. Sign up now and get access to the following:
One-on-one coaching
The best business tools and support you need
Comprehensive guide
Webinars and training resources
And many more!
Thank you for reading our YTMonster review! If you have any questions or clarifications, feel free to share it below.
We Constantly Review Programs in "Make Money Online" Niche,
So That You Don't Have to Waste Countless Hours
Want To See Our
TOP RECOMMENDATION?