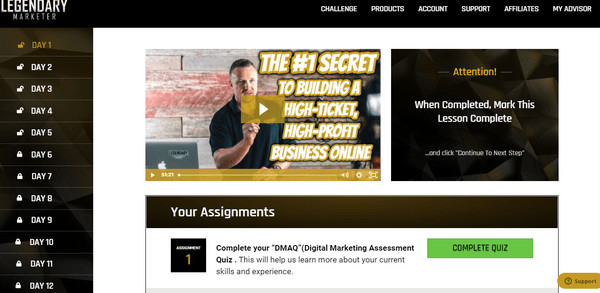 Whether this is the first time you are reading about 15 Day Online Business Builder Challenge or you have been reading many other reviews online - in this review not only I will uncover what 15 Day Online Business Builder Challenge is all about but will also talk about - 5 Annoying things people find about 15 Day Online Business Builder Challenge.
If you haven't checked out 15 Day Online Business Builder Challenge yet - here is a link:
In case you want to watch a video instead me talking about 15 Day Online Business Builder Challenge here it is:
Me and My team have already reviewed many programs on this website in Make Money Online Niche and Legendary Marketer is no exception - If you want to read my full Legendary Marketer Review click on the link and it will open in a separate tab.
Let's get straight in to it.
You probably heard about 15 Day Online Business Builder challenge from one of these sources:
Tik Tok
YouTube
Facebook
Blogs
And all Legendary Marketer affiliates ask you to join this challenge for only $7 which is true.
If you decided to join this challenge this is what it looks inside:
Dave Sharpe - who is the CEO of the company personally will teach you how to start high ticket affiliate marketing business within 15 days and these are the 15 lessons he covers:
Day 1: The #1 Secret To Starting & Scaling A High-Ticket Business
Day 2: The "Core 4" High-Ticket Business Models Online
Day 3: Watch Me Build A Business In Under 30 Minutes
Day 4: How To Master The Inner-Game of Wealth
Day 5: The Big Day - Developing Your Business Plan!
Day 6: You Got Questions, and I Got Answers!
Day 7: When Should I Quit My Job To Build My Business Full-Time?
Day 8: What Are High-Income Skills and Why Do You Need Them?
Day 9: High-Income Skill #1 - Lead Generation
Day 10: High-Income Skill #2 - Copywriting
Day 11: High-Income Skill #3 - Sales and Presenting
Day 12: What, When, and Where To Outsource
Day 13: Using "OPM" To Build Your Business
Day 14: 4 Ways To Avoid "Wantrepreneur Syndrome"
Day 15: Your First Sale and the Journey Of Your Success
The biggest concept behind 15 Day Online Business Builder Challenge is that you will be first introduced to the High Ticket Affiliate Marketing model which follows all the criteria of successful business model which should include:
3 Highlighted "Profit Activators" must be present in the business model in order for it to be successful. This explains why most Ecommerce based business models are such a struggle:

They simply lack the potential to earn high margins. Yes, they can be profitable as well but it requires so much more effort and very capital intensive making them nearly impossible to succeed for most people.
And this is why Dave's program focuses mainly on digital business models:
Affiliate Marketing
Digital Courses
Coaching Courses
Masterminds/Events
If you have successful Affiliate Marketing business or your own Digital Course - you will never have to deal with major: logistics, overhead costs and many other operational costs that are unavoidable for most traditional businesses.
On top of that these are the 3 EVERGREEN niches where there is unlimited - endless amount of traffic meaning your online business will never saturate and here they are:
And this is so true as I have my blog in the Wealth niche and traffic around this topic only grows every year. In fact this is true for any type of business. As long as they are created around these niches.
After that you will learn about the mechanics of high ticket affiliate marketing used by Dave Sharpe and that is a use of Sales Funnels. He breaks down Sales Funnels and explains how powerful they are for any business as they have the highest conversions.
This sales funnel above is right from the 15 Day Online Business Builder challenge and it basically illustrates how to drive traffic from either 1 or multiple sources on the left side through a sales funnel which is essentially your affiliate Opt-In page, then it goes to your bridge page where you warm up your lead before pre-selling the offer and then you send your lead to your affiliate product sales page.
After thatl you want to follow up with your lead with a series of emails providing more valuable information about your affiliate offer and how it helps them solve their problems.
Besides that 15 Day Online Business Builder Challenge also covers mindset aspects. Dave Sharpe is a huge fan of Robert Kiyosaki and his book: "Rich Dad Poor Dad" which teaches how to get out of poor mindset and start building wealth, another words cut liabilities and start acquiring assets.
In later modules of the training Dave Sharpe also talks about all the skills you will learn which is Lead Generation, Copywriting, Sales and basically how to scale your online business to 6 figure income and beyond.
Before I give my Final Conclusion on 15 Day Online Business Builder challenge let's now talk about 5 Annoying Things about this challenge which basically arise from people asking these questions:
Do I have to Buy Anything Else Besides $7 for 15 Day Challenge?
There is other Optional training offered by Legendary Marketer such as Marketer's Club for $30 a month or Business Blueprint for $2500 which is one of their Premium training courses
Do I have to Buy Business Blueprints?
You can either buy 15 Day Online Business Builder Challenge to learn the concept about High Ticket Affiliate Marketing and then implement it all on your own or invest in Business Blueprints to get full guidance from Legendary Marketer business coaches
Am I Going to Learn Only How to Promote Legendary Marketer if I take the Challenge?
No you can promote any program after taking Legendary Marketer's training. Its just Legendary Marketer offers many Done-for-You marketing materials which makes it easy to promote Legendary Marketer, but it's completely optional
Is Legendary Marketer a Pyramid Scheme?
No Legendary Marketer is not a pyramid scheme. It teaches high ticket affiliate marketing
Can I get 15 Day Online Business Builder Challenge for Free?
No, there is no Free entry into 15 Day Online Business Builder Challenge, however you can try it for 30 days.
In conclusion want to note that 15 Day Online Business Builder Challenge certainly offers a great value for anyone who wants to dip their toe in to High Ticket Affiliate marketing as you get a full run down of all the components.
Obviously it's a stepping stone for other products that Legendary Marketer offers. If you decide high ticket affiliate marketing is what you want to pursue then Legendary Marketer is a credible educational program to deliver high quality training.
I hope this review helps let me know if you have any questions or comments below: