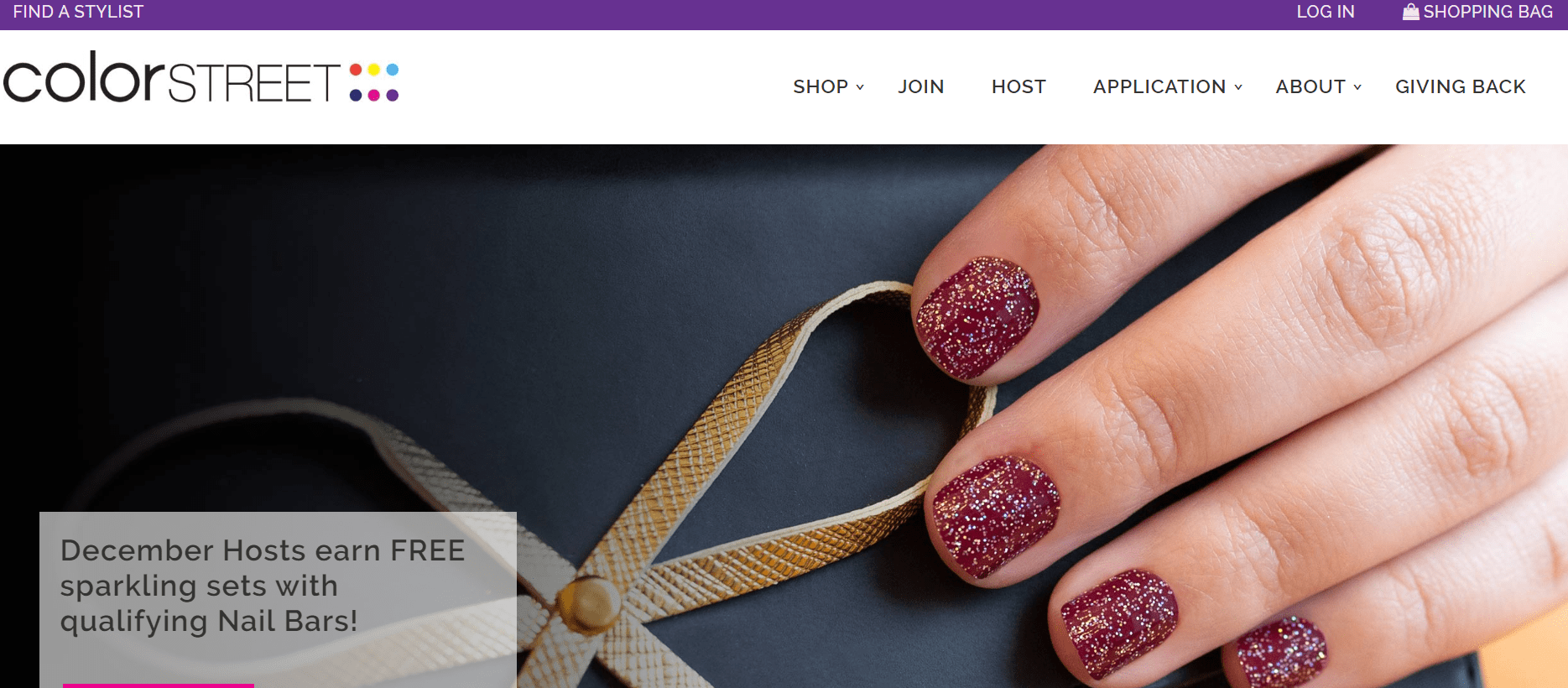 Welcome to My Color Street Nails Review!
Nowadays, you can make a profit out of almost anything. Other than the usual health supplements and food products, you can also sell nail essentials.
Sounds surprising? You bet it is!
Color Street Nails Review Summary
---
Name: Color Street Nails
Website: www.colorstreet.com
Founders: Fa Park
Product Type: Multi-Level Marketing
Price: $149 For Starter Kit
Quick Summary: Color Street Nails is a legit MLM company that sells nail essentials. It's unique and might be profitable however, I found out that it's not a good source of income, especially if you're looking for a full-time one.

Find out what I mean in this honest Color Street Nails review.
Overall Rating: 4/10
Recommended: No
But apparently, there's a company called Color Street Nails specializing in nail arts. Other than that, there's an opportunity to make money from and that's what we're going to tackle in this review.
Spoiler Alert: Color Street Nails is a network marketing company that can be challenging even for seasoned marketers. So, if you want to secure your finances, you should also consider other legit money-making programs.
What Is Color Street Nails About?
Color Street Nails is a multi-level marketing company that falls under the beauty niche. But instead of seeing cosmetics and skincare essentials, the brand promotes nail art designs.
It was founded by Fa Park in 2013. Originally, he's from South Korea but later, he moved to the United States of America. According to a source, Park was inspired by a woman who was traditionally doing her nails -- putting the first coat on, waiting for it to dry a little bit, adding another layer, blowing, and again, waiting for it to dry completely.
It's a problem he wants to solve, thus the birth of Color Street Nails.
From 2013, the brand has had an incredible growth as it received awards and recognitions, such as the Bravo Growth Award.
Fa Park has also launched other brands with similar products, namely Incoco and Coconut Nail Art. However, these companies are only available for retail sales and not as an MLM opportunity.
Color Street Nails Product Line
The brand product is basically a nail polish strip. It like the usual nail stickers sold in the market but even better. Instead of a simple print, the strip is made of a base coat, a color coat, and a topcoat that you can apply directly to your nail. Say goodbye to messy nail polish!
However, like the traditional nail polish, it may chip off after a couple of weeks or so.
On their website, you'll find a catalog of their latest collection and as of the time of this writing, they have nail arts in solid colors, with glitters, etc.
For women who love to style their nails, this is a dream come true since most of the Color Street Nails reviews online are positive. Some say that it's tricky to apply them at first but it won't take long for you to figure it out.
Of course, there are negative reviews as well, such as the strips not sticking to the nails at all.
So, does the product work?
Based on the reviews I found online, yes it does. There are a few mishaps but most bloggers and influencers who have tried their products are happy with it. After all, Park's product is nothing ordinary.
It's not like the usual nail stickers since it's really made of polish strips that are intended to last for days. Users also love the fact that there's no downtime. You don't have to wait for 30 minutes or even hours for it to dry. It also comes with various designs to choose from and you can change your nails' colors in a snap.
You can watch a Color Street Nails review in the video below:
How To Make Money With Color Street Nails?
Like typical network marketing companies or MLM, there are two ways to make money with them: one is by selling the products and two is by growing your team.
This means that you will get commissions from your personal sales. So basically, you have to market your products and sell it online or offline -- your choice.
The other one is by recruiting people to join your team. As your team sales grow, you are qualified to get commissions and bonuses.
Color Street Nails Compensation Plan
There's nothing unique with Color Street Nail's compensation plan although I like how simple and upfront it is.
For instance, you can get a 25% to 35% commissions for every retail sale and another 3% to 6% commission from your downline's sales.
Here's a video of their compensation plan:
Wondering how you can grow your business with Color Street Nails? The brand allows their Independent Stylist to host a Nail Bar Party -- it's the technique that most MLM companies are using to showcase their products and at the same time, encourage aspiring distributors.
Is Color Street Nails A Scam?
Color Street Nails is not a scam. It's a legit company that offers an MLM opportunity who wants to make money selling nail arts. It's not accredited by the Better Business Bureau (BBB) though and it has an F rating. Nonetheless, this doesn't mean that the brand is not legit.
However, I can't recommend this program to anyone, especially if you're looking for a full-time income simply because it has a low-income potential. I think this is normal for most MLM companies. A study even suggests 99% of MLM participants lose their money from this opportunity.
If you're still interested to join this platform, I suggest that you secure your finances by having other sources of income, and you can check my FREE Step-By-Step Guide to learn how.
Here Is My Top Recommendation to Start Highly Profitable Online Business from Comfort Of Your Home
As an Independent Stylist (distributor), you need to pay $129 for the Starter Kit. This includes nail essentials that are worth $250 so if you're able to sell all these, you get a nice profit already.
Below are the inclusions of their Starter Kit:
Nail Strips
Testers
Remover Pads
Large Nail Files
Prep Pads
Nail Buffers
Cuticle Sticks
Mini Files
Tote Bag
Catalogs
Training Tools (Road To Success, etc.)
Order Forms
PROS
Huge Potential
Nowadays, more and more people are doing things for the 'gram. I mean, Instagram users tend to be stylish and sophisticated with their IG feed and that includes having stylish nails for the sake of likes and comments.
Considering this, there's a chance for this opportunity to earn but that also means marketing it the right way.
More Than 50+ Nail Art Designs
If you're a nail enthusiast and you're tired of the usual "nail polish" setup, you can take advantage of the nail strips that this brand offers. Plus, there are more than 50+ nail arts to choose from!
Price Is Reasonable
The pricing of their nail strip is around $11 to $13, which I think is reasonable enough. Other brands may even sell this on a higher price so for me, I commend Color Street Nails for being affordable enough.
CONS
Low Income Potential
The downside of Color Street Nails is the income potential. Based on their Income Disclosure Statement (IDS), their Independent Stylist only earns $141 a year -- and that's $11 every month.
This is not even acceptable if you're looking for a side hustle.
Should you ignore this program? Yes, definitely!
FREE TRAINING
Learn How I Started Highly Profitable Online Business From Comfort of My Home Following This Blueprint
The fact that Color Street Nails is not a scam is good. You can consider it if you're a fan of nail polishes and you love to change the style of your tips all the time. But then again, the income opportunity is low so you better think twice before joining this program.
Honestly, I like nail polishes and nail strips so it's cool to know that there's a network marketing program that focuses on this. However, I don't see this as a profitable opportunity because first, you have to invest a huge capital that's more than a hundred dollars.
Considering their Income Disclosure Statement, it might be a challenge for you to get your investment back. Also, since you will also rely on the number of people you recruit, making money using this platform can be difficult.
Despite being a legit business model, MLM still has left a bad impression on many people and who knows? Maybe if you insist on inviting the people you know to join the platform, you might cause a strain in your relationship.
Want to make money without investing a huge amount and inviting people? If yes, I got a perfect solution!
Join my #1 recommended program now and experience how to make money smooth and almost hassle-free. Also, you can enjoy the following without paying for anything:
Training Resources And Webinars
24/7 Chat Support
Live Active Community
And A Lot More!
Thank you for reading my Color Street Nails review and if you have questions or comments, please don't hesitate to share it below.
We Constantly Review Programs in "Make Money Online" Niche,
So That You Don't Have to Waste Countless Hours
Want To See Our
TOP RECOMMENDATION?