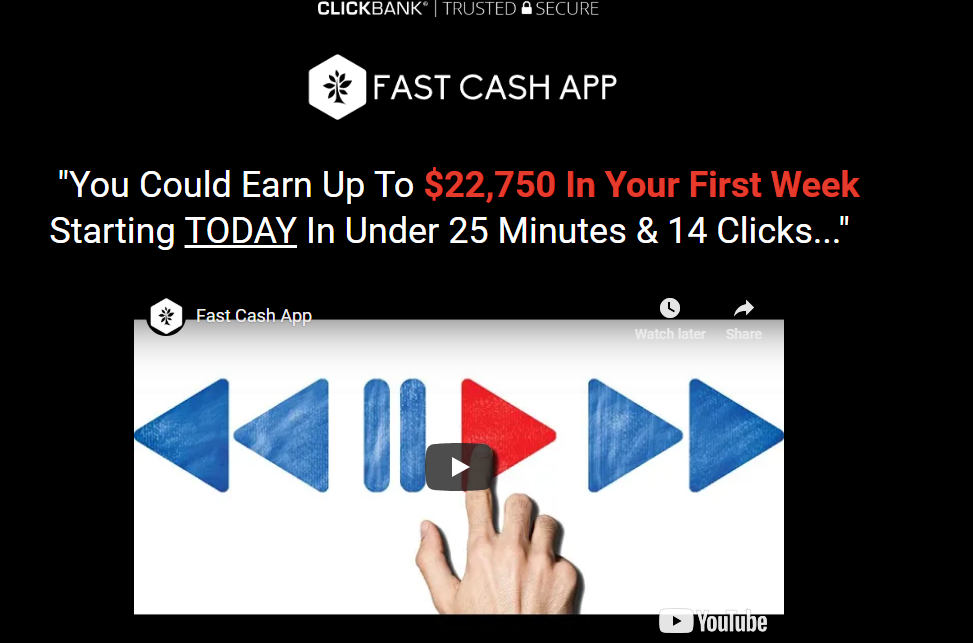 Welcome to My Fast Cash App Review!
Making money online is possible but it's not always easy. That's why whenever a certain program claims to help make a big amount, a lot of people fall for their trap, like a platform called Fast Cash App.
$22,750 in seven days? Who doesn't want that?
Fast Cash App Review Summary
---
Name: Fast Cash App
Website: https://fastcash.click/invitation
Founders: Robert Fisher
Product Type: Online Training Course (About CPA)
Price: $37 + Upsells
Quick Summary: Fast Cash App offers a done-for-you method that will help you make $22,750 a week. Its founder, Robert Fisher, claims that his autopilot system can help you make money online by spending only 25 minutes to work.
But like the other low-quality programs I've reviewed here, they only provide false claims and nothing about how their platform works.
If I were you, I'll ditch this app right away because of the 'get rich quick scheme' it portrays but you are always free to read the entire Fast Cash App review so you'll know the red flags I found from this program.
Overall Rating: 3/10
Recommended: No
I bet almost everyone who would do whatever it takes to get into this system. While I know it's possible to make such massive amount, it cannot happen in as fast as one week, especially when it says that there's only a little work required, unlike what Fast Cash App says.
However, I just can't assume that Fast Cash App is a scam unless I did a thorough check on this program.
So if you want to know the truth about this controversial platform, here's a full, honest Fast Cash App review for you.
What Is Fast Cash App About?
One of the most controversial apps nowadays, Fast Cash App claims to help you make $22,750 in just one week. That's just seven days and apparently, all you need to do is spend 25 minutes on this system, working.
No age and experience required, Fast Cash App claims to use an "amazing trick" that you can use BEFORE ALMOST EVERYBODY ELSE?
One their sales video, it says that "you are invited to watch this video", making it seem like only a few people are selected and that it's an exclusive program. WRONG! As long as you know the link, which you can get by simply doing a quick Google search, you can visit the Fast Cash App website anytime.
What makes it more sketchy is that it's almost 17 minutes long and it has shown a lot of bold claims, but it never mentioned the method you'll use or what you should exactly do to make money out of it.
How Fast Cash App Works?
I've reviewed more than a dozen of low-quality products and scam and if there's anything that's similar in these programs, it's how they focus more on the crazy amount you can make and mention little to nothing about how it will exactly work.
With Fast Cash App, Robert Fisher said that all you need to do is copy his methods and his autopilot will do the rest. Basically, the business model that this program is using is CPA (cost per acquisition or cost per action), which, by the way, is legal. It's also one of the best ways to make money online and many marketers have used this to make a good amount of cash.
To make money from CPA, you should be able to perform the specific task given by the advertiser which could be any of the following: signing up a form, making a sale, signing up for a newsletter, register, etc. this business model works and it's been used a long time ago.
However, unlike the bold claims of Fast Cash App, it will take you three months or more before you see the result. Also, you need to enhance your skills and expertise so you can have proper conversions.
No, Fast Cash App is a legit platform that offers a refund policy so you can try the product risk-free. However, there just too many red flags like the lack of information about the owner/s and the company itself, the overhyped claims, and lack of credible testimonials from the owner and other users of Fast Cash App.
Despite being a legit program, it's best to stay away from Fast Cash App because you don't even know what you'll be doing in the first place.
To know more about Fast Cash App, you can watch the video below:
On their sales page, you'll see that Fast Cash App offers a 60-Day Free Trial but once you click the button, you'll find out that this is nothing but a trap. Since the program is hosted by ClickBank, the 60-Day Free Trial is actually its 60-Day refund policy. In other terms, it's not a 'trial', rather you have 2 months to get your money back in case it doesn't work as promised or you're not satisfied.
It's deceiving and that alone should be enough to encourage you to drive yourself away from Fast Cash App. In addition, you will receive a lot of spam messages once you provided your name and email address but, if there's something else I don't like about this product, it's the three high-ticket upsells which cost almost $500, and it includes:
Upsell 1: Fast Cash 2.0 $197
Upsell 2: Fast Cash Pro $177
Upsell 3: Fast Cash Social $97
If you decided to purchase Fast Cash App or just take advantage of the 60-Day money back guarantee, I just hope that you will ignore these expensive add-ons because these are just a bunch of unreasonably-priced training that you can easily get online, for free.
If you want real value for your money instead and you just don't want to waste your time anymore, I suggest that you sign up to my top recommended program. You can start as a free member -- and by that I mean YOU'RE NOT REALLY GOING TO PAY FOR ANYTHING -- and enjoy perks offered to paid members.
Here Is My Top Recommendation to Start Highly Profitable Online Business from Comfort Of Your Home
Aside from the 60-Day Money Back Guarantee disguised as a "60-Day Free Trial", there's nothing else to like about this program. So, I'll just proceed to the cons.
CONS
Fake Owner
Robert Fisher is the "owner" of Fast Cash App according to their sales video; however, there's information that would prove his existence and whether he's using a real name or not. No contact details other than an email address no social media accounts that you can follow to know more about him. He even used a voice over to conceal his real voice and/or accent.
False Promises
No matter how advanced a method is, there's no way you can make more than $1k a day in just a matter of hours after you start using the program. First of all, Fast Cash App provides training which you need to study first, and that could take days to complete.
Second, you need to enhance your skills and expertise first if you want to become a successful affiliate. It takes months or even years to get the best results from your website and it will take more than 14 clicks.
No Evidence That His System Works
There's no real proof -- link, screenshots, etc. -- that would show his income or basically, that Robert's system works and in case you'll find Fast Cash App reviews that would tell you it's a good product, the reviewer is probably an affiliate of Fast Cash App and if you click on his link and sign up or purchase the platform, that reviewer will earn commission from you. So please do yourself a favor, don't fall for their trap.
No Customer Support
While you can get assistance from ClickBank itself, Fast Cash App has no customer support on its own other than the email address they will provide. It will be useless and probably, it will take days to get a response from them. This is a major no-no when looking for a legit money-making opportunity online because as much as possible, you'd want someone you can talk to from the company to learn more about it.
With my top recommended program, you can have the great customer service you need, thanks to its 24/7 customer support. You can also have the answers you want straight from its founders and the live community present in this platform.
Tired of Wasting Time on Low Quality Programs?
I'm so grateful that I was able to find THIS PROGRAM which helped me to finally start making money online!
Fast Cash App provides very basic training about CPA and it could be used by beginners who want to venture in this kind of business model. However, there are still some technical terms and actions that Robert failed to discuss properly so more or less, you'll do some self-study to understand this method further.
If you're an internet marketer already and you haven't considered CPA yet, maybe you can use the training material provided in Fast Cash App. But then again, there are a lot of free tools you can use online.
If you're looking for a great program that will help you make money online, I'd like to invite you to join my top recommended program. I assure you, you can have everything you need to know about it even before you join the platform. No sketchy method. No upsells.
Fast Cash App provides a few training materials in PDF format and videos. It talks about the basics of CPA, Amazon affiliate links, and how to market using Facebook, Snapchat, Instagram and YouTube.
These things are too generic that you can find most of it online, free of charge. Considering the training tools, I doubt this platform can help you create more than $2K a day, not even a month.
Fast Cash App is legit and compared to other low-quality products, it's cheaper but remember, it comes with high-ticket upsells that you should just ignore. Even if this program has provided basic training for CPA, I cannot recommend it to anyone, even for beginners. For me, it's a waste of time and money.
If you're tired of the endless bold claims that these low-quality programs are saying, then it's time to make a switch and stick to a legit, valuable platform. Sign up for my top recommended program and enjoy the following perks:
Proven strategy to work smart and earn a lot (literally)
Best possible support including your own training coach
Lots of training resources
Step-by-step guidance
My personal help
And so much more!
But the best part is that you have the chance to talk to the founders directly! Awesome, right?
Hope I have enlightened you with this Fast Cash App review and should you have any questions or comments, please feel free to drop it down below.
Thank you!
We Constantly Review Programs in "Make Money Online" Niche,
So That You Don't Have to Waste Countless Hours
Want To See Our
TOP RECOMMENDATION?