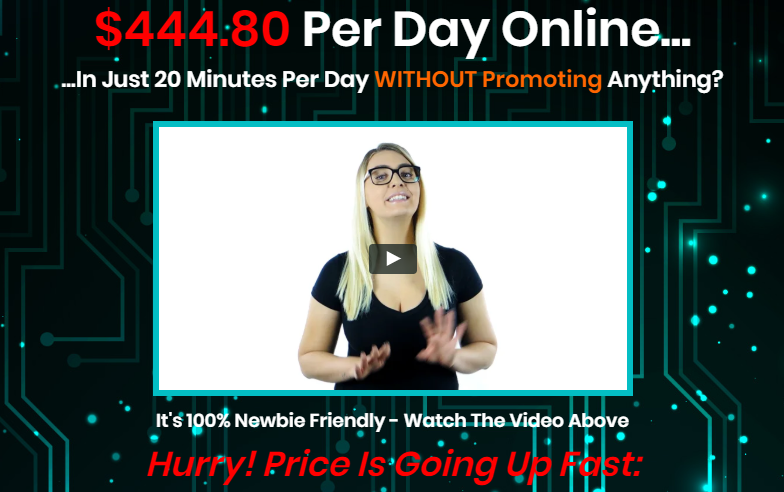 Welcome to My Profit Robot Review!
Nowadays, it's easy to believe that feedback is legitimate just because there's the term "review" in it. However, some of it is created by affiliates who are trying to promote the product, thus only showing its good side.
While this may be helpful, it's still better to know the pros and cons of the product or service to help you come out with the right decision.
Profit Robot Review Summary
---
Name: Profit Robot
Website: http://artofmarketing.academy/profit-robot/
Founders: Art Flair And Pallab Ghosal
Product Type: Online Training Course (Traffic Generation)
Price: $12.97
Quick Summary: Profit Robot is an online training platform that claims to help you earn $444.80 a day. On their sales page, it says that it's newbie-friendly and that you only need 20 minutes to make it work.
Apparently, their done-for-you system will do the rest afterward. However, I found a lot of red flags that are more than enough to tell you that this system, although legit, is very low quality. If I were you, I'll not let myself get easily fooled!
Overall Rating: 2/10
Recommended: No
So, if you're looking for an honest Profit Robot review, then you've come to the right place. I'll be sharing as much information as I can about the program so you can properly assess whether it can help you or not.

All the good, the bad exposed!
What Is Profit Robot About?
Profit Robot is a program that claims to help you earn $444.80 a day for only 20 minutes, "without promoting anything". On their sales page, it says that it's 100% newbie-friendly so if you're a beginner, you should be expecting that this program can help you a massive amount online, even without skills or expertise.
Also, it's an "automated profit" generator and 95% of it has been done for you, meaning, there's little to no work required.
However, once you get into the platform, you'll realize that most of their claims are not true.
First, you cannot make money with little work, no matter how great the system is. It takes time, patience, and of course, hard work, to make a massive amount.
Second, if you're a newbie, you can't just expect to earn an insane amount of cash without enhancing your skills and expertise. You'll be using free and paid traffic in this program and if you're not aware of what you are doing, you will be wasting a good amount of cash. Your own cash, by the way.
So how does Profit Robot really work?
To make money with Profit Robot, you will have to learn how to send visitors to their done-for-you squeeze pages and sales funnel, and they'll be doing the rest. But that's not it.
These visitors should purchase any of the affiliate offers present in these pages, and these offers are under the make money niche. So basically, you'll be earning using the business model called "affiliate marketing".
By the way, affiliate marketing is a legit method that will really help you earn a good amount of cash. I've been using this system for quite some time now and it helped me with my finances; however, it takes more than 20 minutes to make it work. Also, I have to watch a bunch of videos, read training materials and try several strategies to bring traffic to my site and eventually, have visitors who will purchase the offers from my site.
Because in reality, it's not an easy job. Yes, you can make it a side hustle and allot a few hours to it each day but without hard work and consistency, you cannot earn a dollar a day or even a month. So if you're going to ask me about Profit Robot, I'm not really sure about their overhyped claims telling you that you only need 20 minutes to earn more than a dollar every single day.
So, can anyone do this as what Profit Robot mentioned?
No. If you don't have the basic technical skills or you're not computer-literate, you cannot do this easily. You'll need to generate your own traffic so you can make a sale and even if there's training provided for this, it'll take a month or even years for you to create stable traffic.
Another thing that you have to worry about, aside from competing with people who are also using Profit Robot is promoting products under the money-making niche. You're not only limited to selling this kind of products but also since it's under the "get rich quick" category, it will be challenging for you to convince people that these programs work.
No. Profit Robot is legitimate, it's not a scam, and there's a little chance for you to make real money using this program but, don't expect much. But then again, it's worth knowing that Art Flair and Pallab Ghosal's program is not a sham.
However, it's hard to convince that this product is high-quality especially with all the bold claims it has. For instance, they said that you'll not be promoting anything. How could this happen if the business model they are using is affiliate marketing?
This is just one of the many overhyped messages they used just to attract customers and even if the founders, Art and Pallab, are well-known internet marketers, it doesn't mean that you can trust their product easily.
I've reviewed one of their programs called Flipp Ninja before and it sounds almost the same. I mean, it's training that's supposed to help you earn big cash with only a little work required but since it's low quality, there's little to no chance that you'll be making a huge amount using their platform.
Here Is My Top Recommendation to Start Highly Profitable Online Business from Comfort Of Your Home
I just noticed this: when I refreshed the tab, the price changed from $12.97 to $7.47 and one their sales video, it also says that you can get Profit Robot for only $9.47 -- "just without the bonuses". So, which is which?
What's with the price changes, anyway?
On top of this, there are One Time Offers (OTO's) that will surprise you (actually it didn't surprise me at all) before you enter the actual platform. It includes:
OTO 1: 10x Profit Case Studies Pack
OTO 2: Done-For-You Platinum Pack
OTO 3: Unlimited Traffic Pack
OTO 4: Reseller's License
OTO 5: Mastermind and 3 Coaching Calls
While there's really nothing wrong with upsells or OTOs, it will sound more sincere if the program that is trying to help WILL REALLY HELP YOU. And not just make money for you. Rather than adding more products to sell, why not add a support system, let's say a forum or active community where those who have purchased the program can help each other.
If this sounds like a better deal, I would like to invite you to my top recommended program, Wealthy Affiliate. It's an affiliate marketing platform that offers free training, free 24/7 customer service, free active community, and a lot more. No upsells. No false claims. No BS.
If you want to learn more about Profit Robot, please watch the video below.
CONS
Poor Training
I would have added the training as one of its pros but I'm having second thoughts. The entire course is only 21 minutes long and it's not enough to even call it basic training. I think you can learn more when you choose to watch free training videos on YouTube.
Overhyped Messages
I don't know about you but I think all low-quality programs or scams have this kind of messages. While they are not saying it directly, Profit Robot acts like a get rich quick scheme, shoving hundreds of dollars to our faces to make us believe that their product really works. That you don't need to be an expert to make a massive amount. That you only need to do little work and live the life you always wanted.
However, it's 2019 and more and more people are becoming smart in investing their time and money so things like this, don't work anymore. Almost!
Fake Testimonials
On their sales page, you may find familiar faces such as Jono Armstrong, which have spoken a few things about Profit Robot. However, they can't even claim that they have used it personally and that it worked. Perhaps, the only reason why they are here is to make you believe that these marketers trust this program.
Fake Scarcity
The countdown timer which repeats itself once it's done or the tab is refreshed, the "Hurry! Price Is Going Up Fast" line, and all the scarcity calls are nothing but fake. They're just putting pressure to anyone who sees it so they won't think twice about buying it.
Upsells And Other Costs
Aside from the 5 OTOs I've mentioned above, Profit Robot has other hidden costs you should watch out for. While there's free traffic, you'll also use paid traffic via Facebook ads of Google ads which is not only costly but also useless if you don't know how to use it.
Limited To Make-Money Niche
What if you're not passionate or interested with make money products, specifically get-rich-quick programs? How are you going to make valuable content? And how are you going to enjoy it basically? If you don't want to be limited with one niche or you have other interest, Profit Robot is not for you.
Don't worry, there are other affiliate marketing programs that will let you promote different "offers" according to your preference, such as Wealthy Affiliate!
Tired of Wasting Time on Low Quality Programs?
I'm so grateful that I was able to find THIS PROGRAM which helped me to finally start making money online!
Considering the poor, short training that Profit Robot has, I can't recommend it to anyone. You can almost get nothing out of it. You might even find YouTube videos, which are offered for free, useful!
If you want to venture into affiliate marketing and you want a program that will really help you make money, and not the other way around, I suggest you join Wealthy Affiliate. You can start to sign up now, for free, and explore the platforms, learn from the training, participate in the active forums, and enjoy other perks without spending any amount unless of course, you start loving the program and upgrade your membership account.
Despite everything listed on their website, Profit Robot has given little to no details about what you will learn from their course, but I'm more than willing to share it with you.
So basically, they have 12 modules on their training platform that only takes less than 30 minutes. So how much can you really learn in that short amount of time? Anyway, it includes the following:
Module 1: Introduction To Profit Robot
Module 2: Why Is This So Powerful Part 1
Module 3: Why Is This So Powerful Part 2
Module 4: Turn Your Facebook Posts Into Free Clickable Ads
Module 5: How To Get Buyer Traffic For Free Part 1
Module 6: How To Get Buyer Traffic For Free Part 2
Module 7: Get Free Social Media Traffic
Module 8: Scaling Up - Get More Traffic
Module 9: Siphon Traffic Like A Pro
Module 10: Get Even More Traffic
Module 11: More About High-Quality Traffic
Module 12: Summing Up
Profit Robot is just another low-quality program that contains a lot of overhyped messages. While the product and the founders are legit, it's not easy to trust platforms that are the under get-rich quick scheme because we all know, you cannot just earn a massive amount overnight. Not even after next week.
If you're tired of all these low-quality programs, I suggest that you start making the right choice now! Join our top-recommended program and get these benefits:
Free Membership
Free Training
Free Websites (2)
Free 24/7 Chat Support
Free Access To A Live And Active Community
And A Lot More
I hope I have enlightened you with this Profit Robot review and if you have any questions or comments, please feel free to drop it down below.
As always, thank you!
We Constantly Review Programs in "Make Money Online" Niche,
So That You Don't Have to Waste Countless Hours
Want To See Our
TOP RECOMMENDATION?