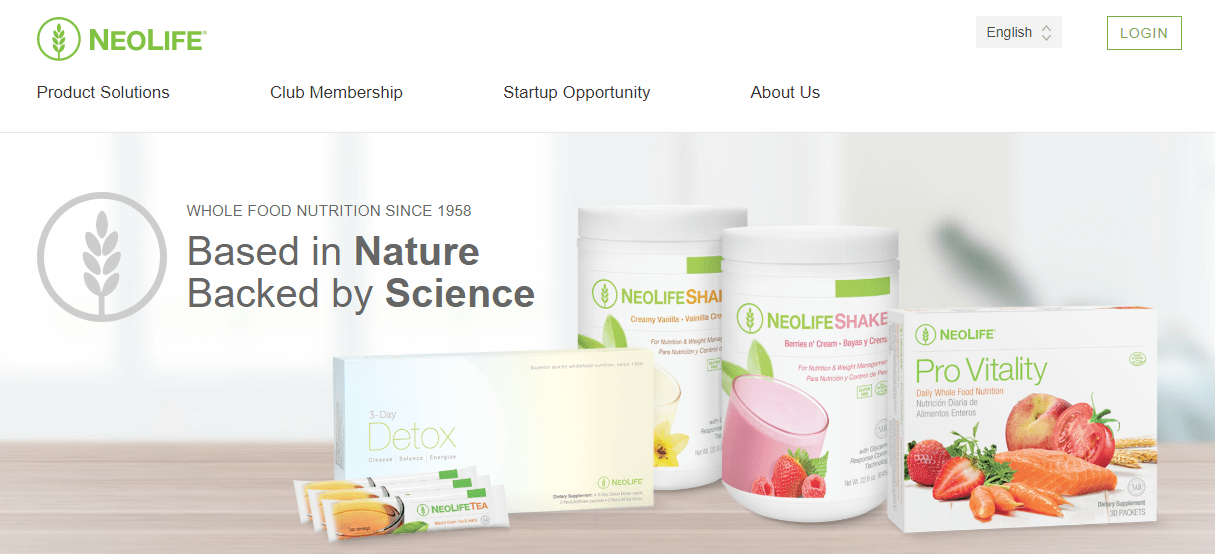 Welcome to My GNLD Review!
Perhaps, you're looking for an unbiased GNLD review to know if the program is legit or not -- the ones that don't only make it sound like the perfect platform.
I get it, there are many reviews online that encourage you to join this company as it helps you to not only "make the world a healthier and happier place" but also make money in the process. And yes, that sounds interesting but is it true?
Can you really make money from this platform? Is GNLD legit or another scam online? What makes it different from other programs that offer the same opportunity online?
GNLD Review Summary
---
Name: GNLD
Website: www.neolife.com
Founders: Jerry Brassfield
Product Type: Multi-Level Marketing
Price: $75 For The Business Kit + $48.30 To 222.70 For Health Packs
Quick Summary: GNLD is a legit MLM company that sells nutritional products. They also promote skincare and home care. It's been operating for more than 60 years and it's one of the most reputable network marketing companies.
Overall Rating: 5/10
Recommended: Yes
In this post, I will provide an unbiased GNLD review -- the one that talks honestly about its good and bad side so you can decide whether the program is for you or not.
And in case you decided that this program is not for you or you still want to pursue it but you need a backup, you can check out my FREE Step-By-Step Guide on how to make money online.
GNLD or also known as GNLD International, Golden Neolife Diamite, and now, just NeoLife was founded by Jerry Brassfield in 1958. It follows a multi-level marketing (MLM) structure; meaning, it offers people products and an opportunity to make money from it.
For more than 60 years, the company was known for providing quality products under the health and wellness niche, including nutritional supplements and personal care products. But other than their essentials, what made the program stand out is the values that the founder, Jerry, has implemented for their company.
Jerry wanted to educate other people about having and maintaining a healthy lifestyle. Having asthma and allergies as a child, he understood how important it is to take quality supplements to improve his health.
While it's true that the market is already isolated from nutritional products, GNLD managed to become one of the most trusted MLM companies of today.
As per 2018, the company has $140 million in revenue but does this mean that you can make money from this program, too?
Let's find out about that in a bit; for now, let's have a quick discussion about their products.
GNLD Product Line
On their website, you will find a tab that says "Product Solution" and it includes all the essentials that they offer.
You will also find several categories, such as:
NeoLife
Under NeoLife are the brand's health supplements that include Acidophilus Plus (probiotics), COQ10 (energy and heart health), Omega-III Salmon Oil Plus (omega 3), PhytoDefense (phytonutrient protection), Pro Vitality (daily food nutrition), and Tre-En-En Grain Concentrates (cellular nutrition and energy.
They also have nutrition and weight-management products, such as NeoLifeBar, NeoLife Shake, NeoLife Tea, and Tré - Nutritional Essence.
Nutriance Organic
This is their skincare line and it includes organic skincare sets and individual products, such as cleansers, toners, makeup removers, eye gels, hydrating serums, and moisturizing creams.
Golden
Under this category are GNLD's home care products, such as sampler bottles, water pumps, heavy-duty cleaners, laundry powder, and more.
Product Philosophy
Product Philosophy gives a deeper understanding of their products. According to their site, their essentials are backed up by science and are made with natural ingredients.
Product FAQs.
As the name suggests, this section contains all the frequently asked questions about their products, such as if their supplements are GMO-free, if it's safe for child consumption and more.
At first glance, I thought that their branding looks like Herbalife. It's of the same color (green) and offers almost similar products. But then, these are two different brands under the same niche.
But like Herbalife, the products are expensive and although you can't see the prices posted on their website, you can find it on Amazon.
For instance, the Omega-III Salmon Oil Plus costs $54.50 and its Neolife Tre-En-En Grain Concentrates costs $78.99. The price is steep but this is usual in network marketing companies. However, if you're a distributor, you might find it challenging to sell these products, especially since there are a lot of cheaper alternatives online.
The only edge that you have as a GNLD distributor is that these essentials are from a reputable direct selling company.
Also, I checked the reviews of their products online and most users seem to love it, and I'll share a screenshot below:
How To Make Money With GNLD
Like the usual MLM companies, there are two ways to make money with GNLD.
The first one is to sell the products. As a distributor, you are eligible to earn around 33% in retail commissions when you sell their products at a retail price. The good thing about this is that you don't have to worry about the inventory as you can just fulfill the customer's order on GNLD's distributor website and the company will ship the items on your behalf.
You can also earn a commission by referring their products to other people and it depends on the number of Personal Volumes (PV) you have.
Another way to make money is by recruiting people to join the platform. This lets you earn bonuses from your downline's sale. Other ways to earn commissions include increasing your rank from director to manager, growing your team, leadership bonuses, and more.
You can click this link to learn more about GNLD's compensation plan or you can watch the video below:
GNLD or NeoLife is not a scam.
Operating for more than 60 years without being dragged into controversies is hard and I commend this brand for that. As an MLM company, this is hard since most network marketing I knew has always faced accusations, such as being a pyramid scheme in disguise, fraud, and many more.
Also, if you rely on the Better Business Bureau (BBB), you might find it interesting to know that they've been accredited since 1969 with an A+ rating.
That's a relief! I'm not a fan of MLM products because of the bad experiences I had in the past (aggressive distributors, high-ticket fees, to name some) but I must admit, I kind of like this program.
Kind of -- because one, I don't really like the recruiting part. For me, this is ideal for people who are skilled in this department. Second, I have nothing against the product; it's just that I'm more passionate about other things.
But then, the program is legit so in case you are into nutritional products, you might want to consider this platform.
If you're interested to join GNLD or NeoLife, you have to become a member first and this means purchasing the Promoter Kit.
Originally, the price for this business kit is $137 but it's on promotion, making it $75 only. This includes the product catalogs, internal incentives booklet, lifestyle magazine, event hosting guide, NeoLife gear coupon, and business forms.
On top of this, you have to select a Health Pack with prices ranging from $48.30 to 222.70. It is on autoship and will make you eligible for Free & NeoLife Challenge Incentives.
Here Is My Top Recommendation to Start Highly Profitable Online Business from Comfort Of Your Home
PROS
One Of The Longest Operating MLM Companies
GNLD has been around since 1958 and until now, it's known for providing quality products. Considering the number of network marketing brands selling the same products, it's good to know that NeoLife is still one of the top MLM companies of today.
Also, it's legit and it's done a good job of maintaining a good reputation.
CONS
Expensive Membership Fee
To become a member, you have to purchase a business kit that costs $75 and take note, that is just the promotion price. In case it's back to its regular rate, it's over a hundred dollars.
In addition, you have to buy any Health Packs to be eligible for their incentives.
If you're new to an MLM company, this could be frustrating. The price of their products are expensive so it would be challenging to sell it in the market. Considering this, it might be hard to get the investment back.
FREE TRAINING
Learn How I Started Highly Profitable Online Business From Comfort of My Home Following This Blueprint
Since GNLD is under the health and wellness niche, it's good for anyone who has personally tried their products and finds it effective. This is a good way to market the product since you only have to share the experience. Also, this gives you an edge since you can attest that the products work.
It's also ideal for those who have tried MLM opportunities in the past.
Obviously, it's not easy and unless you're skilled to market the program and not to mention, invite the people to join the platform, making money from this platform might be next to impossible.
GNLD is a legit company that's been around for a long time, 62 years to be exact.
To be honest, it's one of the fewest MLM companies that I actually like mainly because it has managed to maintain a good reputation. Yes, there are a few complaints but it seems like it's been handled well since there are no court laws or accusations against them unlike what usually happens for most network marketing brands.
However, my main concern is the price of their products and membership fees. It's expensive and since there are cheaper options in the market, it might be difficult for the distributor to sell this.
Also, if you're new to online business and you have little to no capital at all, shelling out more than a hundred dollars for the membership price is not practical.
Nonetheless, there are other options to choose from that can help you make money as capital for your target business or as a passive income.
Starting a business is not easy but it's one way to achieve financial freedom. While it's good to have a regular job, being your own boss can give you a lot of things, such as more time, freedom, and flexibility.
If you're planning to quit work and be your own boss instead, I suggest that you sign up with my top-recommended program and enjoy these benefits:
Training resources
Webinars to help you start your business online
One-on-one coaching
Comprehensive guide
And many more!
I hope I've enlightened you with my GNLD review and if you have questions or comments, please feel free to share it below.
Thank you!
We Constantly Review Programs in "Make Money Online" Niche,
So That You Don't Have to Waste Countless Hours
Want To See Our
TOP RECOMMENDATION?