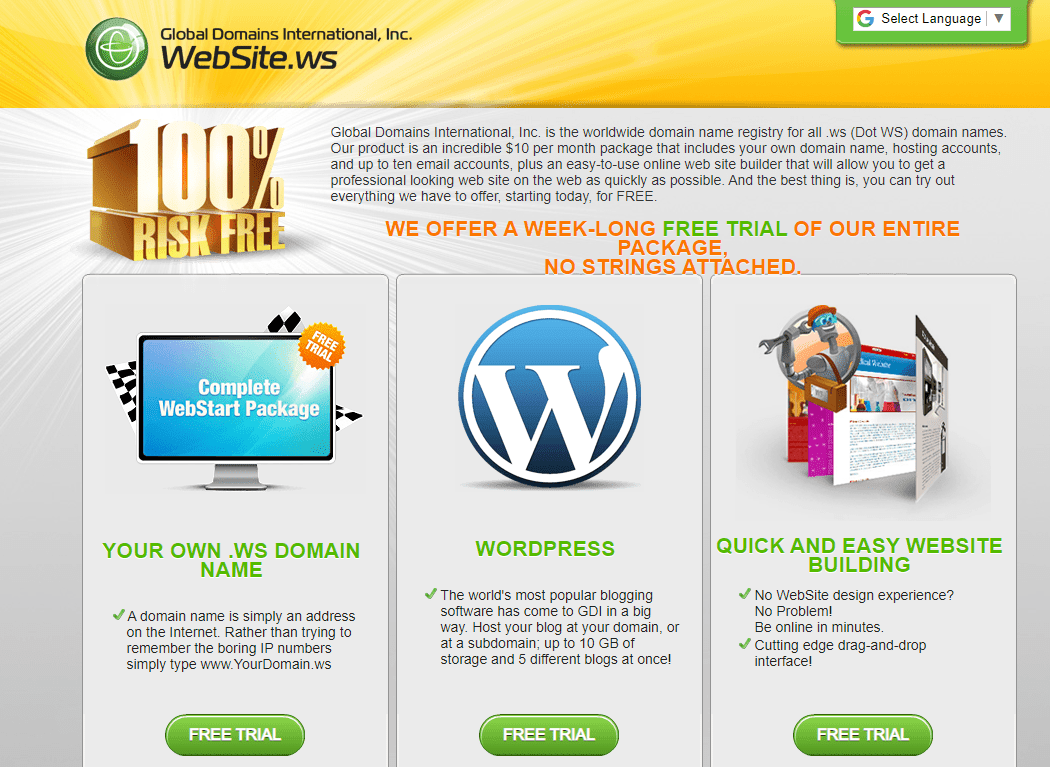 Welcome to My Global Domain International Review!
Maybe a friend asked you to join a platform that lets you make money online and you're both excited and hesitant at the same time. Of course, like most people, you want to know as much information as you can to avoid getting scammed.
If that's the case, then I would like to commend you for doing that. After all, not all money-making programs online are legitimate. There are many low-quality and scams online and the only way to get rid of them is to fully understand how they work.
Global Domain International Review Summary
---
Name: Global Domain International
Website: www.website.ws
Founders: Michael Starr and Alan Ezeir
Product Type: Affiliate Marketing and Multi-Level Marketing
Price: $10 For Start-Up Fee
Quick Summary: Global Domain International or GDI is a legit company that lets people make money through affiliate marketing and network marketing. They offer services, such as WordPress, domain, hosting, etc.
Overall Rating: 4/10
Recommended: No
In this post, I'll talk about Global Domain International (GDI) and whether it offers a legit opportunity to make money or not. Don't worry, I am not an affiliate of this company so rest assured that I'll provide nothing but honest review.
What Is Global Domain International About?
When it comes to multi-level marketing MLM) companies, most will think about health supplements, skincare, essentials oils, or basically anything tangible.
However, that's not the case all the time. There are MLM platforms that promote services instead, such as the Global Domain International.
Also known as a website.ws, GDI offers a domain but instead of the usual .com, .gov, or .net, you'll have .ws, which stands for Western Samoa, as its extension.
It was founded by Michael Starr and Alan Ezeir who both have experience with eCommerce. As for Michael, he has been in the direct selling industry for more than 20 years. Alan, on the other hand, is more into telecommunication.
Global Domain International Product Line
GDI offers various services that are helpful when you're doing business online, such as:
Domain Name
As mentioned above, this offers a .ws extension so, for instance, you purchased this, your website will look like this: www.WebsiteName.ws
WordPress
This is one of the most trusted blogging websites nowadays and GDI lets you host your site through it with 10 GB of storage.
Quick And Easy Website Building
If you have no experience with building a website, this can help you as it offers a drag-and-drop interface.
Web Hosting
For those who have advanced web development skills and want to build their own site from scratch, this web hosting service might help you.
URL Forwarding
This is helpful when you want to move your current website to their .ws domain.
Web Email
This tool has cloud file editing and storage, mobile interface, spam controls, and advanced search. You can also find another alternative that offers a more reliable web email service through AWeber.
How To Make Money With AWeber
Global Domain International follows two business structures: affiliate marketing and multi-level marketing.
Affiliate marketing, by the way, is a legit business model that allows you to earn commissions by simply referring a product or service to another person.
It's not necessary to buy the products you want to promote; you only need to put your unique link to a post or content so if a person clicks on it and completes an action, you will earn a commission.
Meanwhile, being an MLM structure, you can make money by recruiting people and with GDI's 5-tier compensation plan, you can earn more commissions if you create a powerful downline. Meaning, you have to invite five people to join the platform and encourage them to do the same.
It sounds easy and the incentives for doing that are undeniably attractive. For instance, if you have invited more than a thousand affiliates within four weeks, you'll earn a $5000 bonus.
However, it's not easy. In fact, recruiting is the main problem of many MLM participants as it's not only time-consuming; it also puts a strain on someone else's relationship. I mean, do you really want to constantly call and send messages to your friends and family just to convince them to join this platform?
To learn more about Global Domain International's compensation plan, you can watch the video below:
Is Global
Domain

International A Scam?
No, I don't think Global Domain International is a scam. It's a legit program that some people can take advantage with. When it comes to the Better Business Bureau, it's not accredited but it has an A+ rating, which could still be a good sign.
However, if the question is if you can make a decent income from the program, that depends. Remember, you have to recruit people and these people under your team should do the same. The good thing about it, perhaps, is the affordable joining fee, which I'll discuss below.
The downside, however, is the low commission rate, the domain extension, and the compensation plan.
If you want to make money online using the same structure minus the recruitment, I suggest that you try a legit affiliate marketing program instead.
For instance, Wealthy Affiliate, which is the most trusted affiliate marketing program of today, can help you earn money without capital. You can sign up for free. Build a website for free. Have access to training and one-on-one coaching for free.
The best part is that you can promote almost anything you want unlike with GDI that offers limited solutions.
To give you an idea of how an affiliate marketing program works, you can watch the video below:
As mentioned, Global Domain International has an affordable membership fee. You only need to pay $10 for the domain and the hosting. They also offer a 7-day free trial so you can explore the system; however, you have to provide your credit card details already.
Here Is My Top Recommendation to Start Highly Profitable Online Business from Comfort Of Your Home
PROS
Cheap Starting Fee
Most MLM companies will require you to pay more than a hundred dollars for the membership fee alone, and that doesn't include any of their products yet. With GDN, you only need to pay $10 for the web hosting and domain.
If you're a beginner, this is a good deal since you don't have to shell out a huge amount. Also, there's a free trial so in case you want to know how the system looks, you can do this without paying for anything.
Services Are In Demand
There are many online businesses nowadays and more are expected to come in the coming years so their tools offered, such as the Web Email Service and URL Forwarding, are in demand.
The downside, however, is that many companies are also promoting similar services so as their affiliate, you have to learn how to stand out so people can notice your products.
CONS
Low Income Potential
Aside from the saturated market, the income potential for GDI is low because one, the commission you get as an affiliate is only $1; two, the .ws domain is not popular is not SEO-friendly, thus it may be hard to convince people to use this extension; and third, the residual bonus you'll get highly depends on your downline.
Only Good If You're At The Top Of The Pyramid
You will only benefit from their compensation plan if you're on top of the pyramid since people are working under you for your commissions; however, if you're at the bottom, you'll have to work extra hard and hope to get more downline so you can earn commissions.
FREE TRAINING
Learn How I Started Highly Profitable Online Business From Comfort of My Home Following This Blueprint
Global Domain International is for those who have an idea what their services are about. While it's in demand, not everyone knows what a URL forwarding, email service, or a web hosting is. If you're interested, you can learn all about this online anyway.
Meanwhile, since it's an MLM platform, it's better if you have experience with recruiting or a network marketing company. As mentioned, it's not going to be easy and most of the time, you have to promote your products to people you don't really know.
Global Domain International is a legit company that offers an opportunity to make money online through affiliate marketing and multi-level marketing. They offer services -- not tangible products that are normally present in MLM companies.
The services they provide are in-demand but the problem is; it's hard to find reviews about their hosting, URL forwarding, etc., so I can't say if it's of quality or not.
If you want to promote similar products, I suggest that you turn to well-known brands that people trust instead.
The good thing, however, is that you only need to pay 10 bucks so in case the program did not work well on your behalf, you don't have to worry about getting your investment back.
Nevertheless, if you don't want to waste your time and effort in a low-quality program, I suggest that you consider my alternative below.
Want to make money online but you don't have the capital, to begin with? Or worse, you have no experience or skills and these already stop you from what you want to do.
If that's the case, don't worry! You are not alone! We've been there before we found this FREE Comprehensive Guide on how to make money online.
Sign up now and improve your skills for free. Plus, you get to enjoy these perks:
One-on-one coaching
Comprehensive guide
The best business tools and support you need
Webinars and training resources
And many more!
Thank you so much for reading my Global Domain International review and if you have any questions or comments, please feel free to share it below.
We Constantly Review Programs in "Make Money Online" Niche,
So That You Don't Have to Waste Countless Hours
Want To See Our
TOP RECOMMENDATION?