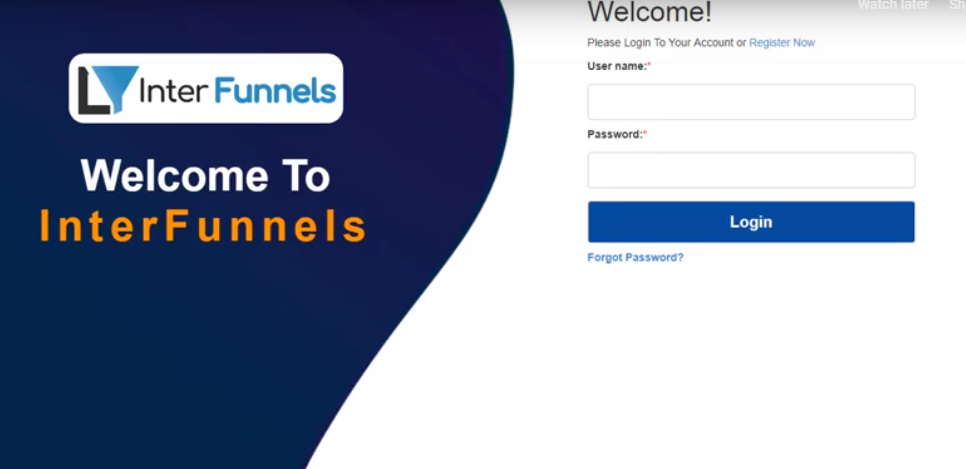 Welcome to My InterFunnels Review!
Almost every marketer knows how important it is to have a reliable, cost-effective sales funnel that can work for them on autopilot for a long time. This sales funnel is one way for them to convert traffic into sales, helping them earn commission.
Not only that, since they can leave them working, these platforms allow them to earn passive income in the long run.
InterFunnels Review Summary
---
Name: InterFunnels
Website: www. interfunnels.com
Founders: Bobby Shahzad and Yasir Abbas
Product Type: Sales Funnel
Price: $23 per month
Quick Summary: It's a cloud-based sales funnel that offers pre-made templates marketing elements you can use to attract customers and convert into sales. Unlike other done-for-you systems, the templates can be used as is or can be edited according to your specifications.
It also comes with many cool features to make your online business much easier to handle. While these all sound too good to be true, it's important to know first whether InterFunnels is a scam or not. Also, if it's really worth your time and money. Let's find out
Overall Rating: 8/10
Recommended: Yes
The best thing about sales funnels is that they can be used on all types of businesses. Whether you're an affiliate marketer or an entrepreneur pursuing any type of niche, this system is beneficial for everyone.
In this post, we'll talk about InterFunnels, a new cloud-based sales funnel platform that claims to help users sell products and services online using their templates. Like you, I have a lot of questions, too, such as:
Is InterFunnels a scam or not?
Can this system really create a higher conversion for your business?
Is InterFunnels the right solution for your marketing and sales needs?
What Is InterFunnels About?
InterFunnels is a LEGIT cloud-based sales funnel that helps marketers and entrepreneurs grow their business and convert sales online. For the benefit of the doubt, cloud-based means there's no need to download any software or program since the data is stored and can be managed over the Internet.
It is founded by Bobby Shahzad and Yasir Abbas who were also the brains behind another Email based software: www.BulkResponse.Com.
InterFunnels comes with pre-made marketing templates that anyone, even those who are technologically-challenged, can use. However, unlike other done-for-you layouts, InterFunnels have allowed their marketing elements to be customized according to the user's desires and needs. It also offers templates for sales pages, landing pages, opt-in pages, and membership pages.
For business owners and marketers, InterFunnels is a cost-effective way to attract customers and grow sales since there's no need to hire a web developer to design any of the sales/marketing pages. Also, it's not time-consuming compared to a website because in less than an hour, you can design your squeeze pages using their templates easily.
How InterFunnels Work?
There are three steps to follow when using Interfunnels. First is to create and customize your funnel according to what you want your potential market to go through.
For example, you want your visitors to land in a specific squeeze page, followed by an up-sell page, then a thank you page. With this sales funnel, you have the freedom to design every page according to your desire or your company's branding.
Next is adding images, editing texts, or integrating videos into your squeeze page or if you want, you can leave the template as is. InterFunnels have provided a lot of drag-and-drop marketing elements to choose from and you can try each and every one of them until you figure out what's best for your sales page. The best part is: InterFunnels keeps on adding new templates/marketing elements to offer more designs for everyone's taste.
Third and last step is to launch your newly created funnel on your custom domain and start driving traffic to it using paid ads and/or your social media. Should you need a new funnel that's exactly the same as the first one you built, you can easily clone it from the dashboard, allowing you to save your precious time.
To get a better idea on what is Interfunnels is all about check out this video below:
Here is what the dashboard looks like once you login to the program. It is quite nicely designed and very well organized:
With all these features, InterFunnels is surprisingly cheaper compared to other similar products, like ClickFunnels. The starting price is $23 for first 3 months and $69 a month thereafter (wherein ClickFunnels is nearly a hundred dollars a month) and it includes pre-made templates, training, hosting support for 3 months and a lot more.

For beginners who have little to no knowledge in growing their sales, this is quite helpful not only because it provides the right knowledge, but also since it's less risky. You don't have to spend a lot and you're getting a very valuable marketing tool you can use on your online business.
Here Is My Top Recommendation to Start Highly Profitable Online Business from Comfort Of Your Home
What I Like About InterFunnels?
User-Friendly
Launching a sales funnel is easier compared to a website, and InterFunnels made it simpler. The cloud-based sales funnel has provided a lot of templates to choose from and even those who are not tech-savvy can navigate through this platform in an instant.
No Need To Hire Web Developer
With InterFunnels, you can create a sales page even without the knowledge of coding or asking assistance from a web developer. You can create your sales page and convert your traffic into sales all by yourself while allowing you to use your budget on something more important rather than hiring a web developer.
No Need To Download Software Or Other Programs
It is cloud-based, meaning, you don't have to download any program to your mobile device, laptop, or tablet. It can be created and managed over the Internet, giving you enough access whenever, wherever you are.
Easy Customization
I like how easy it is to design an opt-in page, sales page, squeeze page, or even a membership site. Everything you need is in one place and you don't have to download different programs to create these pages. All you need to do is drag the tool and place it anywhere you want. No technical experience or skills required other than creativity.
Training
Although almost everything can be found online, it still makes a difference if you follow a step-by-step guide on how you can create a page, how you will use a certain tool, how you will grow your traffic, etc., and InterFunnels have made these things possible.
FREE TRAINING
Learn How I Started Highly Profitable Online Business From Comfort of My Home Following This Blueprint
I recommend InterFunnels to beginners who want to grow their business online but have little to no knowledge on how to do it. Having a sales funnel is advantageous although it can never replace a well-optimized website. This platform is a good place to start in case you're still figuring out how to grow your sales and how you can convert traffic into money
This website has a lot of pre-made marketing elements you can easily use whether you're a beginner or a veteran.
If you've been managing your online business for a long time, you can still integrate this sales funnel into your website. On top of this, you may learn another valuable thing you can use to create more traffic and acquire more customers -- new and repeat ones.
Is InterFunels a Scam? No it is not. It's legitimate Funnels software builder for anyone looking to create professional sales funnels.
InterFunnels is fairly new program just launching in March of 2019 but despite being new in the industry, it has proven it can help marketers and entrepreneurs of any niche to grow their sales.
It has provided every necessary tool that a good sales funnel needs, and for a very reasonable price. If you were looking for Funnel Software Builder I highly recommend to give this program a try and you will be quite impressed how easy it is to build professional funnels in a matter of minutes.
We Constantly Review Programs in "Make Money Online" Niche,
So That You Don't Have to Waste Countless Hours
Want To See Our
TOP RECOMMENDATION?