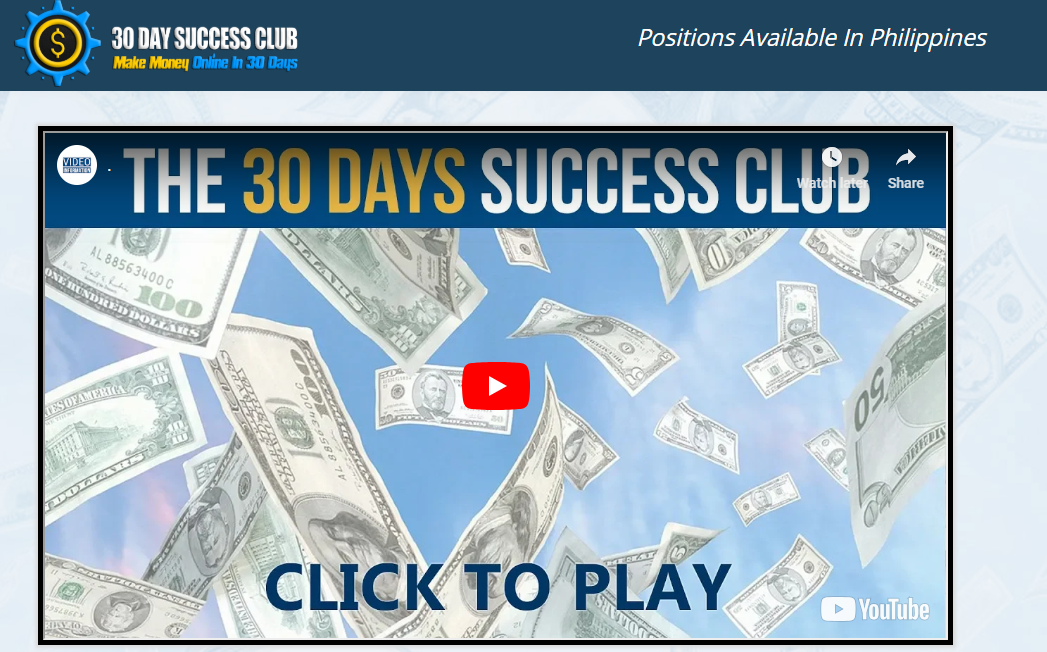 30 Day Success Club Review Summary
---
Name: 30 Day Success Club
Website: www.30DaySuccess.Club
Founders: Undisclosed
Product Type: Affiliate Marketing Platform
Price: $37 + Upsells
Quick Summary: 30 Day Success Club is an affiliate marketing platform that I cannot trust easily. Why? First, it did not disclose any information about its owner. Second, the testimonials are clearly scripted. Third, it made affiliate marketing sound like its' a "secret" method that they are willing to share for free when in fact, this program has been popular a long time ago and anyone can easily earn from it even without purchasing their product.
Overall Rating: 1/10
Recommended: No
Despite the fact that there's no such thing as instant money, most of us still hope that one day, there would come a time when acquiring wealth can happen quickly, and it's normal. I mean, who doesn't want to live the life of the rich and the famous in the soonest possible tie.
Perhaps, that's the reason why you're here. You're looking for a reliable 30 Day Success Club review to know whether if this program will truly deliver to its promises or not. If that's the case, then you've come to the right place.
This is one of the most reliable 30 Day Success Club reviews you can find and I'll discuss everything you need to know about the system. The good. The bad. All in one place.
BONUS: If you're really determined to improve your finances BUT you believe that it takes time and effort, I will share with you my top recommended program. I've been using it for quite some time now and I believe that it will help you in many ways.
What Is 30 Day Success Club About?
Like other ClickBank products, 30 Day Success Club makes it sound like they have discovered a "system" that made them rich in an instant, and they are willing to share this with you. What they forgot (intentionally) to tell you is this: that secret method is no other than affiliate marketing, and it's not a secret at all.
In fact, this method has been used a long time ago and many marketers have really improved their finances through affiliate marketing. However, it's not as easy as what 30 Day Success Club suggests. You cannot acquire a massive amount in just a short time; in fact, you need to spend at least 2-3 months before you can start earning commissions, and this is just one of the many things that made me skeptical about this 30 Day Success Club.
The entire video is over 40 minutes but it doesn't talk about affiliate marketing instead, stories about how they struggled and earned a massive amount in just a few months. It's nothing new though and I've seen similar products that claim to help you make money, an insane amount to be exact, in just a few clicks, such as Easy Retired Millionaire, Spring Profits, Easy Insta Profits, and EZ Bay Payday
I don't know how it happened but these programs worked and looked like almost the same. Pen names used for owners. Fake testimonials from Fiverr actors. Exaggerated claims. No customer support except for an email address. And all the other red flags.
How 30 Day Success Club Works?
Basically, the business model used by 30 Day Success Club is affiliate marketing, which, by the way, is legit. For the benefit of the doubt, it works by promoting different products to a website or a social media or by completing a task, such as filling out a form using a unique link. If a visitor purchased a product or have signed up successfully, the affiliate will earn a commission.
You can earn real cash using this method; however, you need to generate as much traffic as you can to your website for higher conversion. The problem with 30 Day Success Cub is that the training they've provided do not have enough information on how you can increase your traffic or how to promote your site in the first place. In addition, most of the techniques are outdated. On top of this, you can learn all this over the Internet.
But, being an affiliate marketer myself, I cannot deny the fact that having guidance is important. Yes, there are a lot of training materials online that can help improve your website's traffic and promotion; however, it still feels different to become a member of a supportive community who is more than willing to assist you in growing your business online.
If this interests you, feel free to check out my top recommended program by clicking here.
Is 30 Day Success Club A Scam?
Rather than answering this directly, I want to ask you a few questions. When you say scam, what does it mean to you? Is it when you paid for something and you did not get anything in return? Or when you purchased something and you got a product, for instance, but that product did not deliver what it claims at all?
30 Day Success Club is legit in a sense that you will get a program that you've paid for. However, it's less likely for the product to really deliver. The training tools are not as efficient as it should be in helping you create huge traffic or even with your promotions. On top of this, this platform has too many red flags to watch out for, such as the fake testimonials.
As I've mentioned about, the spokespersons in the videos are nothing but paid actors, like the one below.
Clearly, this person and the other ones who have provided their feedback have never purchased the product at all instead, they are paid to give scripted reviews that will make other people believe that 30 Day Success Club is a valuable product.
On their sales video, the spokesperson said that they will give their "secret system" for FREE; however, you have to pay $3, to begin with. So why is he telling us that it's free if you need to pay a certain amount to gain access to it?
On top of this, the website itself lacks a lot of vital information such as the name of the owner. In some low-quality products, pen names have been used to hide the identity of the owner (for reasons we're not certain of) but with 30 Day Success Club, it has not mentioned anything at all about the owner. No pen name, first name, or image of the founder. They've even used a voiceover to hide the identity of the owner but why?
If the product's legit in the first place and is as great as what the sales video has claimed, he should be proud of it. There's nothing to hide about unless the owner knows that his program, 30 Day Success Club, is nothing but a waste of time. After all, why would he provide his identification if he knows someone will try to reach or even sue him after knowing that none of his claims are true?
Here Is My Top Recommendation to Start Highly Profitable Online Business from Comfort Of Your Home
Supposedly, you only need to pay $37 to get started; however, like other useless products, you will be bombarded with a lot of upsells.
When you sign up and decided to earn with 30 Day Success Club, you should expect to pay for the following:
Email Compatability for $37 - This upsell allows you to integrate GetResponse, Aweber, and other email autoresponders, and this doesn't include the monthly fee you'll be paying for your chosen email autoresponder.
3x More Sites for $47 - As the name suggests, it means getting additional websites for better traffic. But the problem is, what's the use of adding more sites if the program can't even help you drive real traffic on your current site anyway?
Heatmaps for $47 - Heatmaps allow you to install analytics on your page so you'll have an idea which pages are visited the most. This is beneficial; however, you can get the same program, such as Google Analytics, for free!


Tired of Wasting Time on Low Quality Programs?
I'm so grateful that I was able to find THIS PROGRAM which helped me to finally start making money online!
To be honest, I don't like anything about the 30 Day Success Club. Yes, it's legit but there's nothing really good in it. The fact it has disclosed any details about its owner is more than enough to tell you that you should get rid of it -- at all cost!
CONS
Fake Testimonials
Fake testimonials are a lot worse than negative feedback 'cause you will have no idea whether the product really works or not, or if it exists in the first place. 30 Day Success Club has used paid actors to tell things about the programs, which I believe, are far from the truth.
Misleading Details
30 Day Success Club offers a free system you can use to earn money but you need to pay $37 to get it. Also, they mentioned the "secret" method when in fact, they are referring to affiliate marketing which is not secret at all. These are just some of the misleading details that this program has mentioned.
Outdated Marketing Techniques
In their program, 30 Day Success Club mentioned about strategies that will drive traffic to your website, and it includes:
Social Media
Guest Blog Posting
Forum Posting
Youtube Videos
Leaving Comments On Other Posts

While some of this might still work, it won't really help you gain huge amount of traffic basically because Google's Algorithm and the system itself has changed a lot.
To know more about 30 Day Success Club, please watch the video below.
No one.
I can't recommend the 30 Day Success Club at all. It makes no sense to pay for a program (with a lot of hidden upsells) if it won't deliver any value. There are a lot of free platforms that can help you with generating good traffic, earning money online, and affiliate marketing itself, and 30 Day Success Club is just not one of them.
If you're serious about making money online and you consider affiliate marketing as an option, I recommend
Wealthy Affiliate
. It's an affiliate marketing platform that offers free training, free websites, and a lot more. The best part is: you can sign up for a free account so you can personally know if the system is right for you or not.
It's easy to fall for this type of program but I hope you take my piece of advice -- there's no such thing as instant money. While it's true that you can create a source of income using your phone on a beach, you still need to spend time and effort. That being said, I believe that you are wasting your precious time and money should you decide to purchase the 30 Day Success Club.
If you're tired of the same old low-quality programs that promise to help you a massive amount, you should check out my top recommendation. It has helped me grow my finances, even helped me acquire a legit source of passive income.
Join now and enjoy the following perks:
FREE Membership
FREE Websites
FREE Active And Supportive Community
FREE Training
And a lot more…
Don't worry, there's no commitment here and should you have any questions or comments, please feel free to drop it down below.
We Constantly Review Programs in "Make Money Online" Niche,
So That You Don't Have to Waste Countless Hours
Want To See Our
TOP RECOMMENDATION?