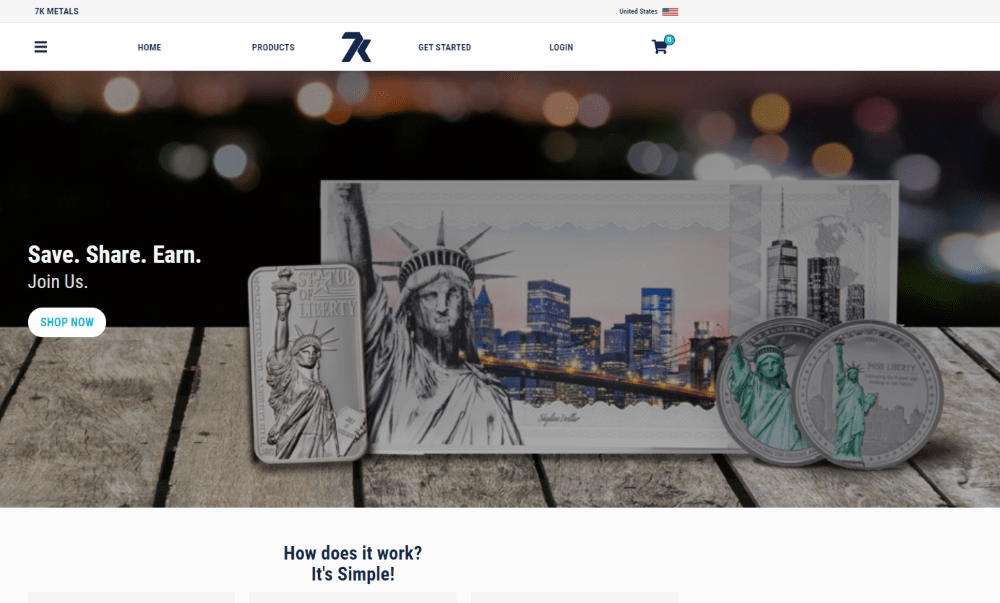 Welcome to My 7k Metals Review!
7k Metals offers a variety of products from precious metals to silver and gold, etc. Being a commodity, this MLM opportunity won't let you make money any time soon nor help you gain the passive income that you've been looking for.
7k Metals Review Summary
---
Name: 7k Metals
Website: www.7kmetals.com
Founders: Zach Davis, Josh Anderson, Richard Hansen, and Roger Ball
Product Type: Multi-Level Marketing
Price: $249 To $499 Annual Membership Fee
Quick Summary: 7k metals is a company that offers purchasing of precious metals, from gold to silver to bullions(physical gold and silver that is kept in the form of bars, ingots, or coins) with opportunities for building a personal business - operating on a multi-level marketing (MLM) platform.
But the controversial thing about their business is that only affiliates for the company can actually purchase the products. Plus, enrolling as a member will cost you a lot with no guarantee of success.
Overall Rating: 3/10
Recommended: No
Does this mean that you should immediately ignore this platform or is it still profitable? Is this MLM overhyped or will it really give a good offer? Is 7k Metals a scam or a legit program that you should consider?
Let's learn everything we need to know in this 7k Metals review!
P.S.
I'm not an affiliate of 7k Metals so rest assured that I'll only provide unbiased feedback based on facts and research.
7k metals is a multi-level marketing company that offers to purchase precious metals, from gold to silver to bullions(physical gold and silver that is kept in the form of bars, ingots, or coins).The company was established in 2016 and is based on 25th St Ste 290, Idaho Falls United States.
It was founded by Zach Davis, Josh Anderson, Richard Hansen, and Roger Bali, and another man by the name of Sam Cook who is currently serving as the company's CEO.
With regards to Richard Hansen and Sam Cook's official corporate bios, their website shows that they each have extensive experience in management and the collecting process of various precious metals. Meanwhile, Zach Davis, Roger Ball, and Josh Anderson are the networking and MLM brains.
They all believed that they could provide financial independence through their program, whether you're employed or not.
7k Metals Product Line
As mentioned above, 7k Metals is a company that offers to purchase precious metals, but only affiliates for the company can actually purchase the products.
They offer membership packages that provide access to bullions, gold coins, mint silver and gold, silver, platinum bars, and similar products. They also have jewelry pieces for sale, made from the same materials they're selling, and merchandise, such as shirts, caps, jackets, and accessories both for men and women.
Here's a quick outline of their products and their rates:
Silver coins range from $19 to $226
Gold coins range from $162 to $1,945
Gold bars cost $150 to $155/oz
Silver bars costs $18.88/oz
Platinum bars cost $966/oz
A kilo of a gold bar is about $47,627
7k Metals Product Review
When it comes to legitimacy, the Better Business Bureau (BBB), may support their product claims. Not only are they BBB-accredited but also, they have an A+ rating.
Meanwhile, here are some reviews I found online:
But on the downside, you can't sell their products to anyone since it's only exclusive to 7k Metals members.
How To Make Money With 7k Metals?
You start by signing up and choosing a type of membership, each with a specific cost.
FYI: Only premium members can get into the company's MLM program. So you'll probably opt to purchase premium memberships to be eligible for company bonuses and maximize income opportunities and commissions.
According to their landing page, 7K Metals lets affiliates earn lasting and efficient commissions. And probably they see to it that affiliates are getting paid to recruit more and more people to become affiliates and invest their own money into the 7K Metals opportunity.
Also, since products are only sold to members, you'll be encouraged to invite more.
7k Metals Compensation Plan
Memberships & Renewals- You'll earn 100 points every time you recruited a new member or when they renew their membership. These points are used as a basis for how much you're going to make monthly.
Coin Of The Month- You'll get 20 points for every coin sold, including the coins from their AutoSaver Program. Commissions are paid weekly and determined through the points earned on both sides of the team structure. Associates who gain 500 points on each leg will be credited with a $500 bonus.
There are five ranks:
Associate – pays out weekly commissions of $500 for every accumulated point of 500 on each leg team.
Copper – pays out weekly commissions of $1,000 for every accumulated point of 500 on each leg team.
Bronze – pays out weekly commissions of $2,000 for every accumulated point of 500 on each leg team.
Silver pays out weekly commissions of $3,500 for every accumulated point of 500 on each leg team.
Gold – weekly maximum commission of $7,000 for every accumulated point of 500 on each leg team.
Weekly Cycle Commissions- 7k metals commissions earned weekly based on the memberships that an affiliate or their team members sell.
See more of their compensation plan in this video:
7k metals is not a scam. It's a legitimate MLM company.
It's still a new company, running for just 3 years so it's still too early to make assumptions. Again, it's accredited by BBB so there's an assurance when it comes to its legitimacy. But will I recommend this to anyone? The answer is… NO! And I'll share the reasons in a bit.
To become a member of 7k Metals, you can choose from these two types of membership:
7K Member – $249 Annual Fee
Inclusions:
Can buy precious metals at wholesale cost
Can refer others
$250 travel savings card
Premium Membership – $499 Annual Fee
Inclusions:
1 MS-70 Silver Eagle Coin
1 7K Metals medallion
1 World coin
1 Silver round
Annual business builder credit
$500 travel savings card
Here Is My Top Recommendation to Start Highly Profitable Online Business from Comfort Of Your Home
PROS
BBB-Certified
One thing I'd probably commend about this company is that they are accredited with the Better Bureau Business with an A+ rating. Probably the quality of their products is meeting the standards and even the reviews said that their customer service is as well to be commended.
CONS
No Retail Opportunity
Yes, there's no retail opportunity since membership is required to be eligible to purchase products. Having no retail opportunity is something rare amongst MLM companies because while you're not making a lot of money from selling, you do get rewarded for volume.
Autoships
In order to be an active member, you're required to join their autoship program and it is also to guarantee that you can have sales. For me, this is costly and inconvenient.
Limited Market
Yes, it's limited. Precious metals are not cheap, it would really cost you quite a big amount of money. So it's basically for the rich and financially capable to sustain its costs. Since not all may want to have their products and not all can afford, it would be really hard to sell this kind of product. You should know how to find the right leads to sustain this kind of business.
Expensive And Uncertain
More than being fond of precious metals and collecting these items, investing in this kind of business will really cost you a lot of money. Yes, it is expensive, not to mention the autoships that you'll have to subscribe to in order to be an active member.
And also success is uncertain since commodities MLM is hard to sustain and are volatile. Like Forex and stocks, it can go up or down at any time.
Heavily Focused On Recruitment
Just like most MLM opportunities, 7k Metals encourages recruitment. Since purchasing is only allowed to members, you will opt to recruit more people to join in order to gain recruitment and residual commissions, which is also a challenge since you have to find the right leads of people with big wallets.
FREE TRAINING
Learn How I Started Highly Profitable Online Business From Comfort of My Home Following This Blueprint
It is a business opportunity intended for those who are fond of precious metals, silver and gold bars, for those who enjoy as well collecting bullions. They could have as well find an earning opportunity while enjoying collecting these items.
People with experience in network marketing and MLM have also the advantage in this business since this company focuses the need of recruitment and you would also earn from that and you'd probably recruit more to earn more, for their products can only be sold to members and what you also sell here is membership.
So you will really need to recruit! That's why it takes not only the guts, effort but also the skills gained from previous MLM experiences. Since chances of ROI is long waiting, it requires patience and you'd probably need to have the money to do so. Yes, you need to be rich.
Being an affiliate of 7k metals and purchasing a membership package, you are provided with products, an annual business builder credit, and a savings card. You will as well have access to the tools and materials you'll need in your 7k Metals business. They have great support to members and they do educate them well.
In conclusion, 7k Metals is a legitimate MLM company and it is not a scam. It is BBB accredited with an A+ rating and they are even commended with good customer service in most reviews but still, I would not recommend you to this MLM opportunity for a couple of reasons.
First, success is uncertain, since commodities MLMs are volatile. It also requires recruitment just like most MLMs. With no retail opportunity, the income potential is low. It would really cost you a lot of money.
And, this is not an investment just out of impulse because you want precious metals, you should carefully and deliberately know the right leads since this is a limited market, mostly only for financially-capable people.
But don't worry, if you're just starting to make money and you want to make a living without recruitment or paying for autoships, I got a perfect solution below!
Making money always involves risks but if you want to minimize the costs or other challenges, I suggest that you sign up with my #1 recommended program.
It's free and the best part is, it gives you everything you need to get started, such as:
Step-by-step guidance
Best possible support including your own training coach
Proven strategy to work smart and earn a lot (literally)
Lots of training resources
My personal help
And so much more!
I hope you enjoyed my 7k Metals review and if you have any questions or comments, please don't hesitate to share it below.
Thank you!
We Constantly Review Programs in "Make Money Online" Niche,
So That You Don't Have to Waste Countless Hours
Want To See Our
TOP RECOMMENDATION?