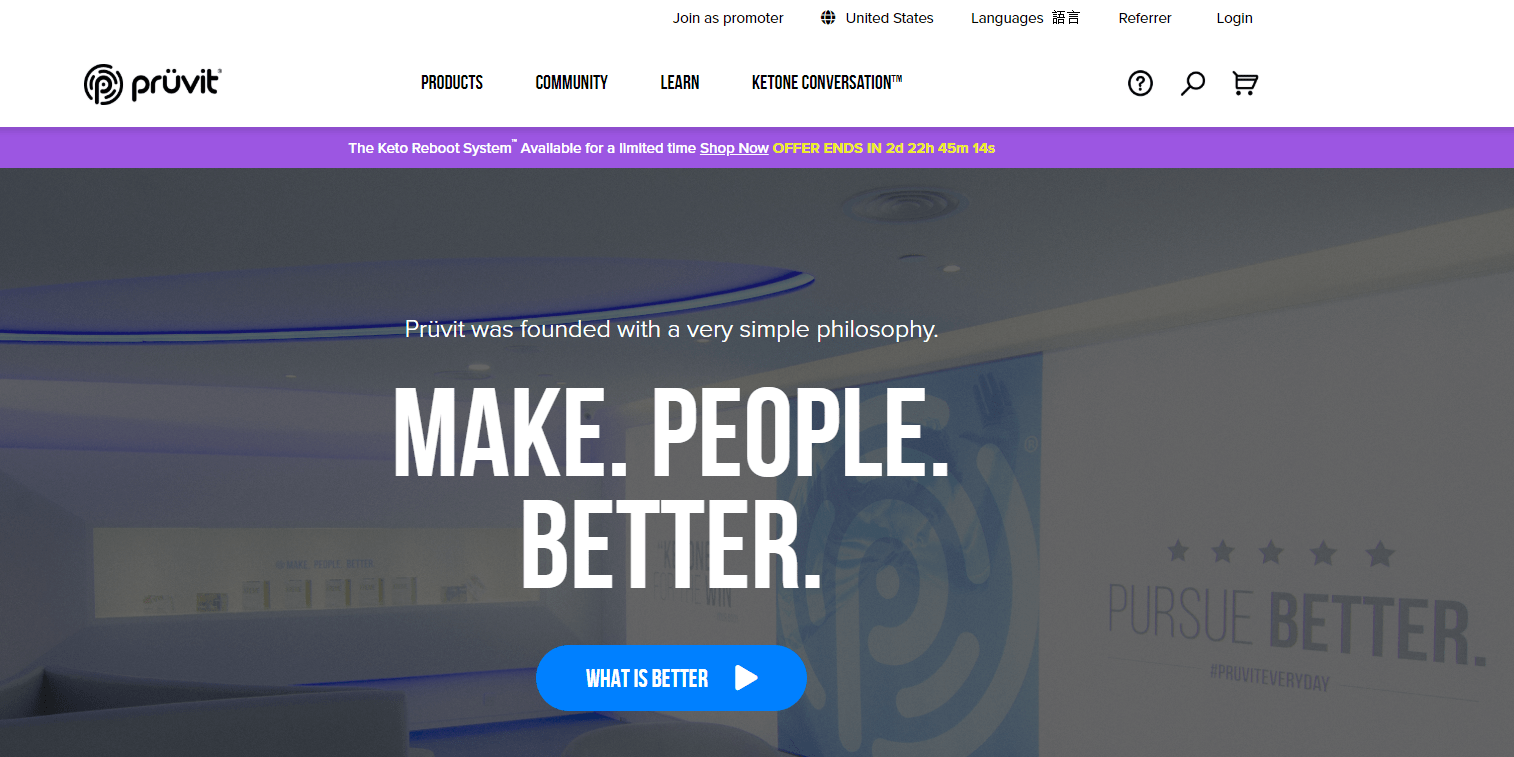 Welcome to My Pruvit Review!
Keto diet has become a hit since last year that's why it's not surprising to see companies promoting keto-related products. One of which is Pruvit, a network marketing company that doesn't only sell health and wellness essentials but also an opportunity to make money online.
Pruvit Review Summary
---
Name: Pruvit
Website: www.provitnow.com
Founders: Brian Underwood
Product Type: Multi-Level Marketing
Price: $396 To $1499-Worth Of Promoter Package + $37 Annual Fee And Autoship Costing
Quick Summary: Pruvit is another multi-level marketing company in the health and wellness niche that promotes Keto products. It also offers a promising opportunity to make money but is this the right program for you?
Overall Rating: 3/10
Recommended: No
But before you sign up for its membership, be sure to know what it's really about.
How does it work? Is Pruvit a scam? Can you make money through this program?
Get all the answers and more in this Pruvit review!
Pruvit is an income opportunity that operates on multi-level marketing (MLM) compensation plan. It is focused on promoting weight loss keto products and operates in various regions, such as: Australia, Canada, Hong Kong, Macau, Malaysia, Mexico, New Zealand, Singapore, Taiwan, and the United States.
As an affiliate or business representative it is essential to know about your product, so for information and awareness' sake, let us first discuss KETO, what are these keto products for?
In 2014, Brian Underwood founded Pruvit and originally, it is said to be based in Melissa Texas, United States.
At the age of 20, Brian became a distributor himself, spending the previous 10 years on a quest to create an inspiring brand where people wouldn't have a negative association based on experience.
Pruvit Product Line
KETO or ketogenic is a term for a low-carb diet (like the Atkins diet). It involves drastically reducing carbohydrate intake and replacing it with fat. This reduction in carbs puts your body into a metabolic state called ketosis. So if you're body burns fat, weight loss will happen. Technically, Pruvit products are ketogenic and it includes:
Their flagship product -- Keto-OS, a meal supplement that fits in with people that are on the ketogenic diet.
Keto-OS Max, a Ketogenic supplement that comes in powdered form and comes with the option to have caffeine or not to have it.
Keto Kreme, a flavored creamer that goes with coffee. It is in powdered form and it costs $79.
Keto Reboot System -- a 60-hour Keto Reboot™ that is said to assist you to reset your metabolism by reprogramming your genes to run on fat for fuel.
How To Make Money With Pruvit?
So you start by signing up as an affiliate and purchase the minimum volume of Pruvit products required.
To stay active as a Pruvit Promoter and be able to qualify for commissions and secure a position, you will need to purchase a minimum of 50bv, which is equivalent to a 1 box purchase of Keto OS MAX each month.
FYI, as you increase in rank, your volume requirement will increase.
As for the compensation plan, there are 5 ways that you get to earn money with Pruvit:
Kick-Off Rewards
Gameplay Rewards
Residual Rewards
Leadership Rewards
Partner Rewards
Kick-Off Rewards - Bonuses that are paid in the first 30 days after getting started as a Pruvit Promoter. The bonuses include Gopro and MVP Bonuses.
GoPro - Bonuses that are for performance achieved in the first 14 days after hitting certain Team Volume goals
MVP Bonus - For the first 30 days for hitting certain Team Volume
Gameplay Rewards - These bonuses are separated into 3 categories which are:
Retailer Bonus - Commissions that are earned when selling the Pruvit products to customers for the retail cost
Endorsement Bonus - Commissions earned for promoting a certain amount of personally enrolled promoters in your team
Go Fast Bonus - Paid weekly and is paid out when you refer new Promoters to join in Pruvit.
Residual Rewards (residual income) -Pruvit structures their residual income by using the MLM uni-level compensation plan structure.
Leadership Rewards are commissions that you can earn when you qualify with certain achievements that are reached in the compensation plan through team building and personally sponsoring. These are broken down into 3 categories which are:
Dream Team Bonus
Champion Car Bonus
Consistency Bonus
Partner Rewards- commissions that you can earn from the Pruvit company profit pool by qualifying with certain team volume achievements and by sponsoring new promoter members into the opportunity.
See more of their compensation plan in the video below:
No, it's not a scam.
Pruvit is a legitimate MLM company that's been already operating for 5 years. Pruvit sells and distributes tangible keto products that you could hold, touch, use, and sell and earn money from depending on your sales, residual and recruitment commissions. But even though it's been on the business scene for 5 years, they aren't accredited with the Better Bureau Business (BBB).
They are even Rated F (lowest) due to 71 complaints filed against business, advertising issue(s) found by BBB, length of time business has taken to respond to complaints, Business has failed to resolve underlying cause(s) of a pattern of complaints and a complaint filed against business that was not resolved.
With such records, that's one of the reasons I would not recommend you into this MLM opportunity.
Being an affiliate or a Pruvit promoter, you'll have to pay the annual promoter membership of $37 plus you're required to purchase a minimum volume of Pruvit products or purchase the following promoter packages (which is already inclusive of products, event passes and many more):
Starter Promoter System- $396
Pro Promoter System- $792
MVP Promoter System- $1499
Here Is My Top Recommendation to Start Highly Profitable Online Business from Comfort Of Your Home
PROS
Retail Products
Pruvit provides an awesome product line that is trending in the business scene right now and the benefits keto products are claiming are as well promising. And more than the thought of weight-loss, these products are said to provide better energy, better focus, better sleep, better strength, better mood and better fat loss to consumers.
A Knowledgeable And Passionate Team
Pruvit's management team are knowledgeable, they know what they are doing. I like the fact that they are pretty much passionate about spreading health and wellness to Pruvit Members, even CEO/Founder Underwood is an enthusiast.
CONS
Pretty Costly
Joining is pretty much expensive! It will even cost you from $396 up to $1499 purchasing a promoter package or you'll also have to pay for monthly autoships for a purchase of a volume of Pruvit products, yes you'll be required a monthly minimum!
On top of that, you'll also have to pay $37/year for the membership annual fee. And also one thing that's pricey in these companies is their products.
Encourages Recruitment
Just like any other MLM opportunities, Pruvit is also encouraging recruitment. Your promotion and as well as being eligible in gaining big company bonuses is dependent on how well you've recruited people. In short, you level up with your rank with the team that you build. With a lot in mind including sales, it would really require you the skills and hard work!
Many Competition In The Market
The health and wellness niche is already saturated! Though keto products are now a trend, a lot of health and wellness companies also offer products with the same weight-loss benefits. With a lot of competition in the market, it would be quite a challenge to market Pruvit products. It would definitely require you the skills in sales. It would also be hard to sell their products because they are expensive.
Complaints In BBB
Pruvit is not a Better Bureau Business (BBB) Accredited Company. Now, that's quite a disappointing fact, knowing that they are already running for 5 years. So why are they not BBB accredited?
Because probably, first and foremost, their company has received a lot of complaints passed over to BBB. They are even rated F, which is the lowest rating BBB can give. And that is due to 71 complaints filed against the business, advertising issue(s) found by BBB, length of time business has taken to respond to complaints, Business has failed to resolve underlying cause(s) of a pattern of complaints and a complaint filed against business that was not resolved. With such records, definitely not recommend this opportunity.
Tired of Wasting Time on Low Quality Programs?
I'm so grateful that I was able to find THIS PROGRAM which helped me to finally start making money online!
It is a business opportunity intended for those who have skills in sales and are consummate in the MLM world. Well, this MLM opportunity can be a part-time business but can't be for a living! Being in the health and wellness niche, it is also for those who uphold health and wellness especially in terms of weight loss since Pruvit promotes keto products.
Being an affiliate in this company gives you access to training tools and resources, commissions and other materials that would help you in your Pruvit venture. They have as well event passes included in promoter packages that will help you further be trained as a Pruvit promoter.
Overall, I would not recommend this MLM opportunity that Pruvit offers.
Yes, it is not a scam. It is a well-established MLM company that's already been running for 5 years. They also offer a decent and fair compensation plan.
But just like other MLM opportunities, this company encourages recruitment to be eligible for special bonuses and earn big. Yes, it's quite enticing that they do promote keto products but it's just like other mainstream products in the health and wellness niche with weight loss benefits.
With a lot of competition in the market for weight-loss products, it would be hard to sell their products, especially that they are quite pricey. And also joining as a Pruvit Promoter is really quite expensive. You'd be investing quite an amount of money in this business and chances of having ROI is uncertain.
MLM is really a challenging world to venture into starting a business. The guarantee of success is even hazy.
Making money requires time and effort but it can still work even without the need to recruit anyone. I know, that would be too exhausting so if you think that this MLM opportunity is not for you, then you should consider my #1 solution!
Sign up with my top-recommended program now and get these tools/support for free:
Training resources
Webinars to help you start your business online
One-on-one coaching
Comprehensive guide
And many more!
I want to thank you for taking the time to read my Pruvit review and I hope this was helpful and informative for you.
If you have any questions or comments or if you want to share your personal story, don't hesitate to do so in the comment box below.
We Constantly Review Programs in "Make Money Online" Niche,
So That You Don't Have to Waste Countless Hours
Want To See Our
TOP RECOMMENDATION?