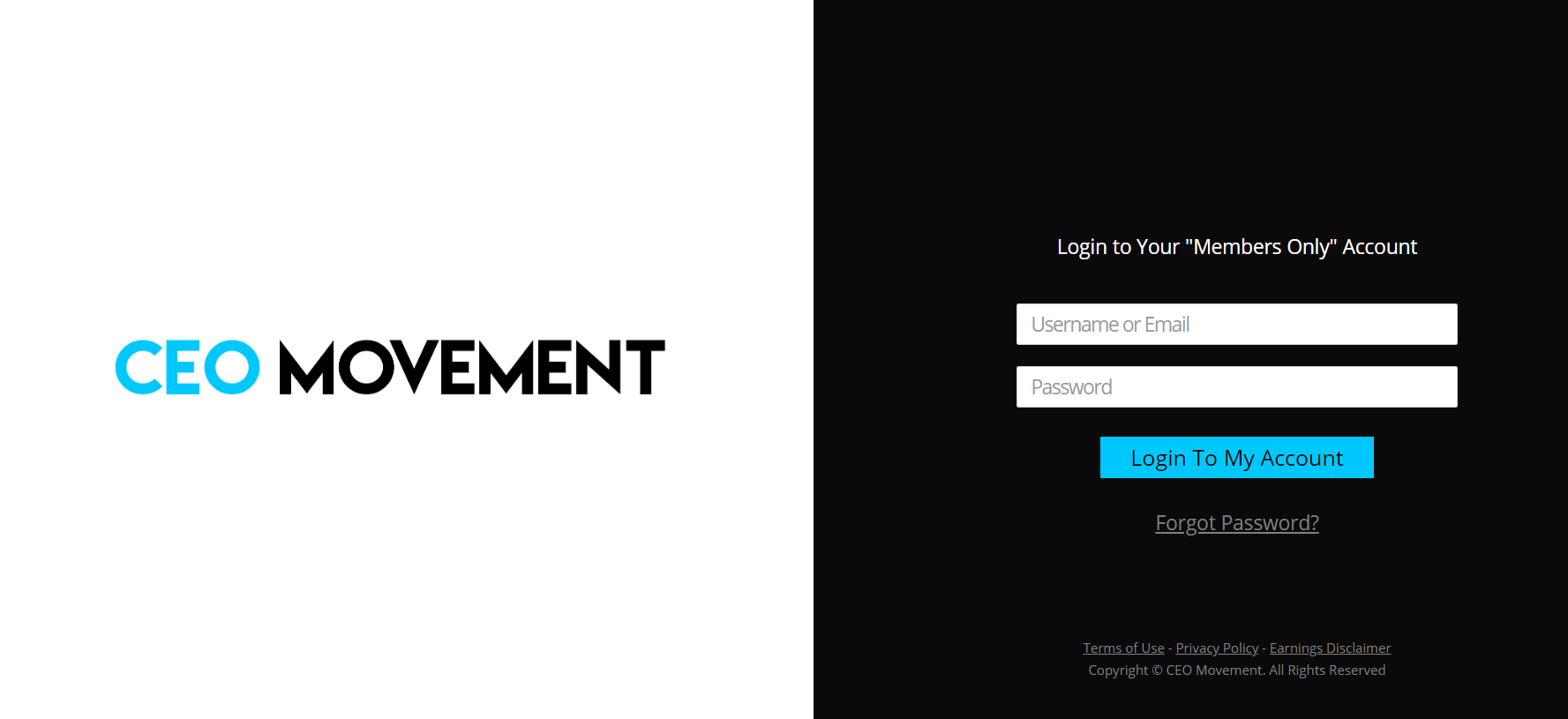 Welcome to My CEO Movement Review!
The internet offers us a thousand ways to make money. From selling products up to offering services, there seem to be unlimited options to earn cash. Some platforms even help you start a business while providing self-improvement support.
CEO Movement Review Summary
---
Name: CEO Movement
Website: https://my.ceomovement.com
Founders: Rob Brautigam
Product Type: Multi-Level Marketing/Affiliate Marketing
Price: $99/Month
Quick Summary: CEO Movement is a combination of affiliate marketing and multi-level marketing opportunity. Basically, it offers training that will help you become better personally and professionally and at the same time, an opportunity to make money. However, certain issues cause people to say that it's a scam.
Overall Rating: 5/10
Recommended: No
In this post, we'll talk about a company called CEO Movement -- a program that claims to help you become a better person and make money at the same time.
How does it work? Is CEO Movement a scam? Can you really make money from it or is it just another low-quality program?
P.S.
Whether CEO Movement is the right program for you or not, isn't it great to have another source of income? I don't know about you but having more options than one can help you achieve financial freedom. So, if this sounds good to you, check out my FREE Step-By-Step Guide now.
What Is CEO Movement About?
CEO Movement or Community of Entrepreneurs Online is a self-improvement program founded by Rob Brautigam. It offers training -- from beginners level to advance -- through mentorship that claims to help individuals improve physically and mentally.
Other than the training, it also provided an opportunity to start a business online using two models -- affiliate marketing and multi-level marketing. Before we go on, let me give you a short clarification of these two.
When you say affiliate marketing, you earn commissions by promoting a product or service to another person. You don't need to purchase any item because all you have to do is create content and insert a unique link to it. If a visitor buys a product using your link, you will be compensated.
With multi-level marketing, you have two options to make money. One is by buying products from the MLM company and selling it based on their suggested retail price. Another way is to invite people to join the platform.
Both business models are legit but when it comes to profitability and convenience, I prefer affiliate marketing since you don't need to spend money on the products and membership fees. If you're interested in this kind of opportunity, I suggest you start with Wealthy Affiliate for free!
CEO Movement Product Line
There are no tangible products with CEO Movement. What you'll see instead are programs that will train you to become a better version of yourself -- or so they say.
Below is a glimpse of what they offer:
Masterminds
This is a weekly training performed live by the founders on their private Facebook group. It can be accessed by members from different parts of the globe and in case they aren't available on the designated time, they can play the training video again.
Connectivity
As mentioned above, CEO Movement lets you earn through affiliate marketing. In this program, they offer you products and services that provide huge commissions. The customized list of programs also lets you save time as you don't need to look for these yourself.
Branding And Marketing
For those who are establishing a business online, branding is important. With CEO Movement, you'll get strategies on how you can grow your brand and market your business properly and efficiently.
Online Advertising
In this segment, the brand will share techniques on how you can advertise your brand so you can make more sales.
Not Just Business
This offers tools and resources that will help the entrepreneur grow personally. The founders believe that there's more to life than just the business, thus the name of the program.
Automation
This segment provides everything you need to know on how to automate your business.
Keep Fit
CEO Movement is not just about growing professionally, it also focuses on your physique. In this segment, you'll find the tools and other resources you need to stay fit and healthy. Basically, it offers various fitness programs you can use at home or when traveling.
Personal Development
The main goal of CEO Movement is to help you quit your day job so you can become an entrepreneur. In this segment, the founders will help you develop the right mindset so you can build a successful business.
CEO Movement Product Reviews
When it comes to self-improvement programs, it's not easy to see the results… unless there's an instant growth in your business online. However, if there is no progress, it doesn't mean that it's not working because it still depends on you. You can have all the training you want from the experts but if you don't apply the learning, then it's useless.
Anyway, I did not take the program so I can't testify about this. But I checked their official Facebook Page and these are the reviews I found:
How To Make Money With CEO Movement?
Other than the affiliate marketing, I mentioned about MLM and that's another way to make money with this brand. Basically, you're going to promote products from Kangen Water. It's under a Japan-based company called Enagic.
The products promoted are supposed to filter water and "produce ionized alkaline and acidic waters through electrolysis."
CEO Movement is not a scam. However, it's something that you should think twice about before paying almost a hundred dollars every month.
First, I noticed that their Facebook Page is not updated at all and other than that, there's no way to find information about the program since you need to become a member first before you can log into their website.
Second, I read the reviews about the brand banning members who call them MLM. CEO Movement labels itself as a business and not a network marketing company. However, if you'll understand how it works, it describes what an MLM program is about. I don't see anything wrong with since multi-level marketing is a legit business model in the first place.
Here's a video of the founder, Rob Brautigam, explaining how CEO Movement works:
CEO Movement offers various programs and here's a breakdown of each training and the corresponding amount:
Social Media Training Academy $12/Month
Automated Online Sales System $1,908
1-On-1 Half Hour Coaching Call $378
Global Facebook Community $1,271
Weekly Team Mastermind Calls $761
Invite To Future Live Events $1,268
Overall, it costs $5,597 and yes, that's a massive amount. Whether you're a beginner or a seasoned marketer or entrepreneur, this can rip your wallet off! Fortunately, they only all these training resources for $99 a month.
Here Is My Top Recommendation to Start Highly Profitable Online Business from Comfort Of Your Home
PROS
Valuable Training Program
There are a lot of free resources online that would help you grow personally and professionally but, there's a difference when you learn these things from experts who have started with nothing.
You'll pay $99 every month but the founders, they are teaching from experience. They are sharing strategies that they have personally used, techniques that have worked on their behalf so for me, it's worth the price.
CONS
No Way To Learn More About The Program
Except for the free video, which is definitely just about pitching the platform, there's no way to find more details about the platform. You'll have no idea what it offers, how it works or any other essential information you need before you sign up.
You have to become a member first and that means paying $99 upfront.
They do have social media but then it's limited. Even their Facebook Page is not updated at all.
Hiding The Truth
CEO Movement provides a business opportunity through Kangen Water and to make money from it, you have to sell the products and recruit other people, just like how a typical MLM works. However, the company denies the MLM allegations and maybe it's because most people have a wrong impression about network marketing.
Nonetheless, the fact that this brand is not honest about this is enough to make you think twice. Unless you're fine with a program that's not transparent.
Tired of Trading Your Precious Time for Money?
Here is a Blueprint to Owing Highly Profitable Online Business Without Any Experience REVEALED!
This program is for aspiring entrepreneurs and business people who want to have an overall improvement. It offers various training resources that can help you change your mindset and for me, this is important if you want to become a successful business person.
Valuable self-improvement programs are worth it -- that's my opinion. You may not be into selling the Kangen Water products or joining their MLM opportunity but the training they provide is definitely worth the price.
I may not have experienced the training personally but if it is true to its promises, I don't see any reason why you should not take it at all, especially if you're aiming to become a better person.
I know, I know, you still need to make money so I'm here to offer you a better, if not the best alternative. Sign up for my #1 recommended program for free and learn how you can make money online the right way!
It's under Wealthy Affiliate and you can take advantage of its benefits without paying anything, such as:
Training Tools, Coaching, And Webinars
24/7 Chat Support
Live Active Community
And A Lot More!
I hope you enjoyed my CEO Movement review and if you have any questions and concerns, feel free to share it below.
Thank you!
We Constantly Review Programs in "Make Money Online" Niche,
So That You Don't Have to Waste Countless Hours
Want To See Our
TOP RECOMMENDATION?