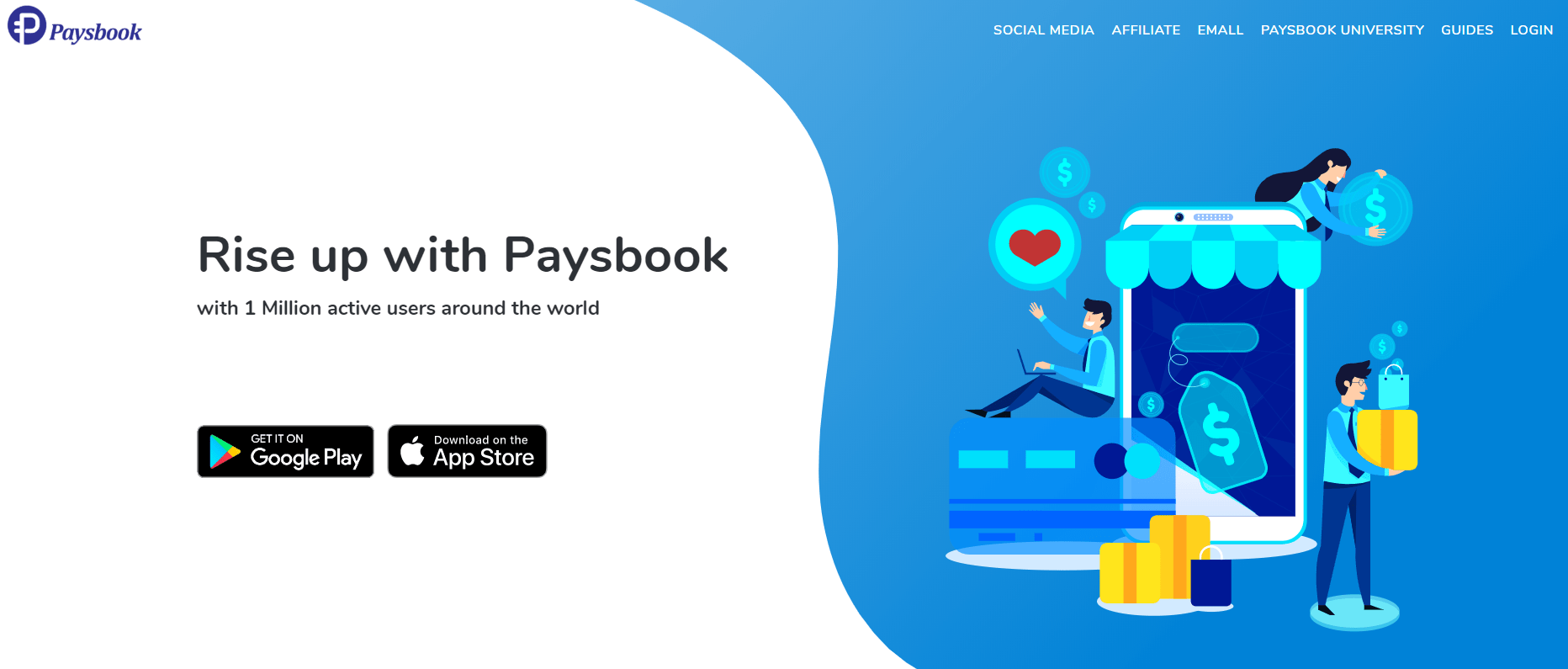 Welcome to My Paysbook Review!
A couple of months ago, I was looking for another income opportunity online and I happen to find Paysbook on my Facebook feed… for the hundredth time.
Paysbook Review Summary
---
Name: Paysbook
Website: www.paysbook.com
Founders: Arjay Gallenero
Product Type: Pyramid Scheme
Price: $20-One-Time Fee
Quick Summary: Paysbook is a system that claims to pay its affiliates for recruiting people to join the platform. The company has enough paperwork to operate but there are several red flags that you should take note of.
Overall Rating: 1/10
Recommended: No
I've been working online for more than a couple of years and I've tried various platforms that claim to make money so more or less, I know what a scam is when I see one. So, when I see Paysbook and how its affiliates market it, I know what kind of system it is right away. And no, it's NOT something you should sign up with if you want serious cash.
In this unbiased Paysbook review, I'll tell you what it's all about, its pros and cons, and whether it's a legit make-money-online or not.
P.S.
I may have given you a hint if Paysbook is worth your time or not so if you want to make money online without wasting your time, I suggest that you check out my FREE Step-By-Step Guide now.
The first time I saw Paysbook, I already knew that I should ignore it without any second thoughts. The way it marketed its platform made people think that it's easy to earn cash. All you have to do is to invest a certain amount, recruit, and wait for your cash.
If only making money was that easy.
Then after a few weeks, I saw more and more people posting photos that would prove their earnings with Paysbook and stories about how it changed their lives. It even claims that it's approved by the Securities and Exchange Commission (SEC) so interested individuals should have nothing to worry about.
But what's the truth behind this platform? Is my instinct right this time?
Before we go into this, let's find out what Paysbook is really about.
Paysbook is a platform that claims to stay-at-home moms and dads, students, working professionals, and other interested individuals make money online through e-commerce, social media, and affiliate marketing.
It has its own website where you can login but you can also download their app on your Android or iOS device.
It was founded by Arjay Gallanero in 2017, the Philippine-based company has had proper registrations from SEC and DTI (Department of Trade and Industry). The brand also managed to have other local business permits necessary to operate; however, I found out a few conflicts regarding these permits.
For one, they claimed that they are SEC-registered and that's true. However, they are registered for a different purpose, which is to provide information technology and computer services. Other than that, they have no license to ask individuals for any investment.
SEC has already given not one, but two warnings against Paysbook but I'm not sure if until, they are still operating. Based on their social media updates, the last post made was in 2018 but who knows? The founder's LinkedIn account suggests that the company is still active until now.
How Paysbook Works?
Signing up is free and all you have to do is enter basic details, such as the name, username, email address, mobile number, and password. After the registration, you now have access to your back office where you can check your online business.
But before you sign up, you should know that it's NOT really free. At first, the founder will make you believe that you don't have to pay for anything but the truth is, you have to spend a huge amount first before you can earn.
How To Make Money With Paysbook?
There are two ways to make money with Paysbook. First is by logging in and logging out of your account. Every log in and log out pays $1 and you can log in and out twice a day. That means you'll have $4 every day. However, you can only do this and get a bonus for 6 days. After that, you can make money using the other option.
The other alternative is through recruitment. For every direct or indirect commission, you'll earn $2 and you can only earn $30 or 15 recruits a day.
You can also earn $2 for every pair recruited directly or indirectly on your team. The maximum amount you can get from this is $80 a day or $2,400 a month. There's also another commission called "Levelling Commission", which lets you earn around $8 per level.
To learn more about Paysbook Compensation Plan, you can watch the video below:
Paysbook might be a legit company with proper registration but then again, the investment part is illegal. So for me, this is NOT the type of program that you should trust.

It's not transparent about what it's all about. All you know is that you can make money by recruiting people, which resembles a pyramid scheme. You see, there are no tangible products to sell and make money from so I can't even consider it as a multi-level marketing program. The only way to get paid is by inviting people and putting them on your right and left leg, thus forming a pyramid.

It's not even under an affiliate marketing program, which is legit by the way. Affiliate marketing's focus is on promoting products using a unique link and once a visitor clicks on that link and purchase the item, you'll get a commission. No recruitment or any fee required.

So if I were you and you want to promote products without investing cash, no matter how small or big it is, I suggest that you start your own affiliate marketing business instead with Wealthy Affiliate. This is the #1 program recommended by newbies and seasoned marketer so be sure to sign up now!
The signup fee for Paysbook is free and you'll automatically get $6 on your account. However, you cannot withdraw this unless you have $60 on your account and you need to activate your account beforehand.
To activate your account, you need to pay $20 for the activation code. This is a one-time fee and this lets you earn through:
Affiliate Marketing
eLoading
Social Media Plan
eMall
Unilevel System
Binary System
Here Is My Top Recommendation to Start Highly Profitable Online Business from Comfort Of Your Home
CONS
Warnings From SEC
Receiving one warning is already bad, what more if the company has received another notice from the SEC. This only shows how harmful the business can be to interested individuals. As mentioned above, Paysbook was registered with the SEC but for another reason, and that doesn't include recruitment.
Pyramid Scheme In Disguise
Actually, it's not even in disguise at all. It's blatantly telling its prospects that they only need to recruit members to earn cash.
A pyramid scheme doesn't only put your money at risk, it's also illegal in most states and countries so if I were you, I'd skip this platform ASAP!
FREE TRAINING
Learn How I Started Highly Profitable Online Business From Comfort of My Home Following This Blueprint
Despite having the necessary registrations, I do not recommend Paysbook to anyone. For one, many people are becoming wiser when it comes to opportunities. Once they learned that the program is a scam through reviews, there's a huge chance that you won't be able to get your money back through recruitments.
Paysbook is supposed to have Paysbook University. Apparently, it's a training ground for their affiliates who want to learn how to make money online. However, when I clicked the tab, it sent an error message.
I'm not sure what happened but it said that it's not connected to a website yet. For a company claiming that they are making a huge amount, I think they have enough money to hire a web developer who can fix this problem. So, it's either they don't have cash or they don't really care about their affiliates at all.
Paysbook has victimized a lot of people in PH alone and who knows how many more people were lured into joining this program. I know, getting rich in the soonest possible time is a dream of many people (myself included) but it's almost impossible unless you won the lottery.
Programs like this may only be good for a few days but after a week or so, you'll know that you've wasted your time. It's better to exert effort and time only to get long-lasting results than to fall into scams.
Hard work pays off, people and that's one thing for sure.
If you want to make money and you believe in hard work, the best program I can recommend is Wealthy Affiliate.
Sign up and get all the tools you need to start your own business online, such as:
FREE Training Tools, Webinars, And Coaching
FREE Websites
FREE Customer Support
And Many More!
I hope I've helped you decide whether Paysbook is good for you or not and if you have questions or you want to share your personal experience, please feel free to do so below.
Thank you!
We Constantly Review Programs in "Make Money Online" Niche,
So That You Don't Have to Waste Countless Hours
Want To See Our
TOP RECOMMENDATION?