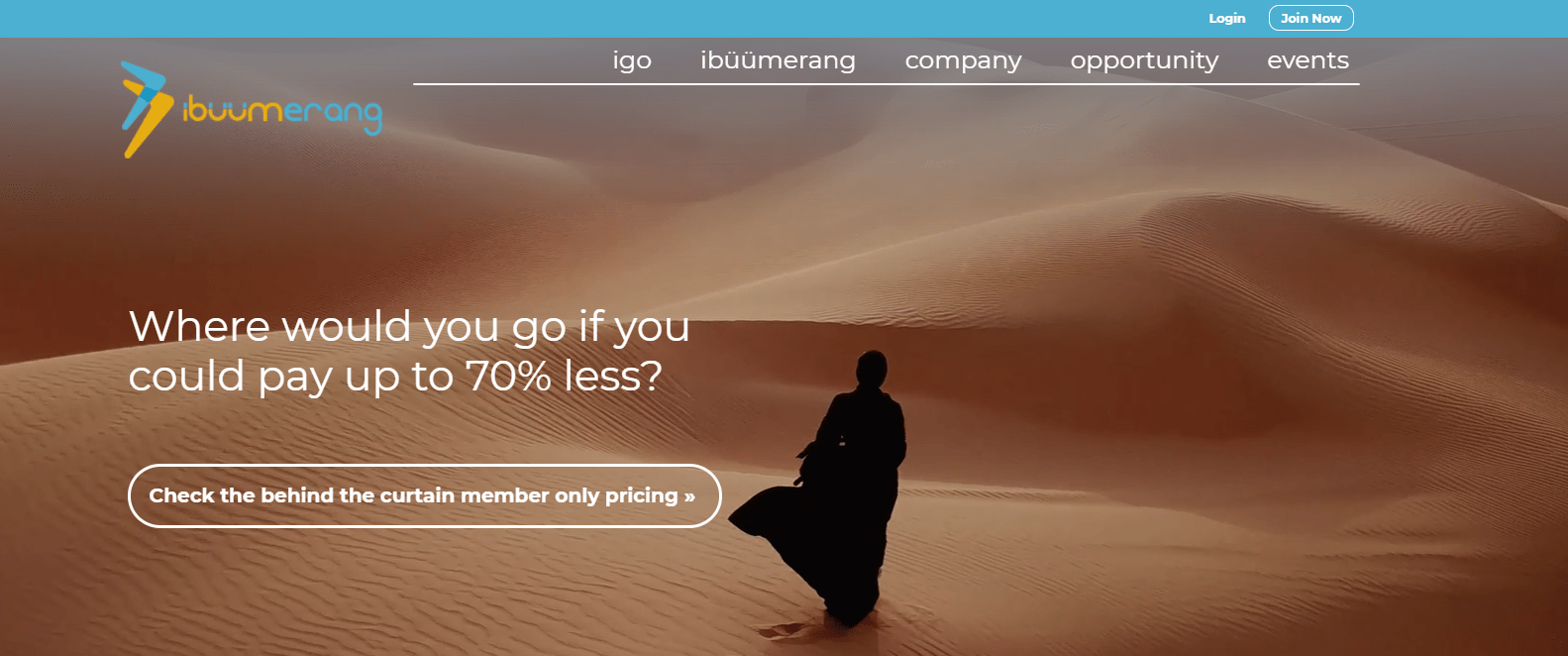 Welcome to My iBuumerang Review!
Most people of today's generation enjoys traveling and often people search for discounts and promo packages and here comes iBuumerang- a travel agency that offers this stuff and as well provides an opportunity to earn money for those who would want to join their affiliate program.
iBuumerang Review Summary
---
Name: iBuumerang
Website: www.ibuumerang.com
Founders: Holton Buggs
Product Type: Multi-Level Marketing
Price: $49.95/ Month Or $250 -$1000-Worth Of Package
Quick Summary: iBuumerang is a travel agency that offers a multi-level marketing (MLM) opportunity. Being in the travel niche, it provides not only travel discounts but offers as well a chance to make money for those who will join as an affiliate to their company.

But with the company's red flags, probably not a good business to enter and earn a living!
Overall Rating: 2/10
Recommended: No
Now, we will discuss more of this in my iBuumerang review so be sure to sit back, relax, and just keep on reading.
P.S.
You can also check my FREE Step-By-Step Guide on how to make money online.
What Is iBuumerang About?
iBuumerang is a travel agency based in Houston, Texas USA and this company provides a multi-level marketing opportunity for those who would want to earn by selling their company products. Being in the travel niche, they offer services that are travel related- stuff such as Hotel Reservations, Flight Tickets, Cruises, Timeshare, Tour Packages, and Car Rental.
As the name depicts, the idea of the business is from a Boomerang. Do you know the stick that returns after you throw it? Yes, that's exactly a boomerang! Take a look at their company logo, it's even shaped as a Boomerang.
This MLM company entices potential joiners with its a "pay-it-forward" kind of program because of the way it works. Just like a Boomerang, you throw something at this company in the hopes of getting something in return, thus the name iBuumerang!
Still very fresh on the MLM scene, iBuumerang was just recently launched this year (2019) in March. The company was founded by an MLM veteran, Holton Buggs who was best known for his work with Organo Gold - a coffee MLM.
iBuumerang is also associated with Xstream, which is run by CEO David Manning. Xstream has been involved with other travel-based MLM's such as InteleTravel and Traverus Global. And what's intriguing and puts the brand on a bad note, is that these companies mentioned were either gone out of business or have failed.
But the company has as well great people in their management team who all have impressive credentials. Here are the rest of the iBuumerang's management team: Terrance Gray "T.Gray" – VP of Business Development; Mark Kithcart – VP of Marketing; Peter Hirsch – Chief Giving Officer of the Buum Foundation; Lori Speers – Director of Travel Services.
iBuumerang Product Line
This company is not based on selling products but rather on services. As mentioned above, iBuumerang market and sells travel-related services that offer discounted travel packages and here are their most popular discounted products:
Hotel Reservations
Flight Tickets
Cruises
Timeshare
Tour Packages
Car Rental
Does it work? iBuumerang's system is powered by a third-party provider- iGo Engine (which is from XStream Travel). iGo Engine will always be the provider, regardless of what discount you will go to, it will redirect you to their third-party provider. There are even no direct reviews with regards to iBuumerang services since searching will redirect you to the reviews of its third-party system provider.
HowTo Make Money With iBuumerang?
So you start by signing up as an affiliate and pay the affiliate membership which is at $49.95 monthly. Then, you'll choose to purchase from these following packages:
Coach Class – Will cost you $250 one time and then $49.95 per month
Business Class –Wwill cost you $500 one time and then $99 per month
First Class – Will cost you $1000 one time and then $99 per month
When you sign up and log in to the iGo booking engine (their third-party provider), you will then receive these boomerangs. Quantity will be based on the package that you choose. For the 1st package (the affiliate membership), you will receive 5 boomerangs, for the 2nd package 10, for the 3rd package 25 and for the 4th package you get 50 Boomerangs.
You then "send" your customers a Boomerang that will allow them to access the iGo engine and avail of discounts which in turn will also give profit and commission.
The package will as well determine the commission you will earn. If someone buys the First Class package, you will as well receive higher commissions than those who'll buy the Coach Class and Business Class package. You would probably opt to persuade your customers to buy the expensive one to earn bigger.
Just like most MLM opportunities, you will earn income in iBuumerang through:
Retail commissions- You earn this from making a sale through the program. It is considered a sale once your customers book a ticket or a service using the iGo engine through the referral link that you sent them. It will be acknowledged as your own retail sales and you'll earn your commission.
Recruitment commissions - This is a commission you'll earn if you recruit someone to join into the system and it will be dependent on the type of package your recruit availed. As mentioned above, the more expensive the package is, the bigger the commission you can gain.
Residual commissions- You can gain this commission if your recruits make a sale. All your recruits are automatically your downlines. As a company running on an MLM business model, you will earn through your downline's sales. The more you recruit and the more that they make a sale, the more commissions you can have.
See more about iBuumerang's compensation plan in this video:
At first, it's quite hard to tell if it is or it is not since iBuumerang is relatively new in the MLM scene but based on thorough surveys on reviews and through the research I've made, I can conclude that iBuumerang is not a scam.
It appears to be a legitimate MLM business opportunity, but it has a lot of red flags which makes me not recommend you in joining the program. It is not as well Better Bureau Business (BBB) accredited.
Joining as an affiliate, you will choose from their packages and pay for the package's corresponding prices. Each package is inclusive of a boomerang that gives discounts to your customers when you send these links to them which in turn gives you profit and commissions.
These are the following packages:
Affiliate membership – will cost you $49.95 per month
Coach Class – will cost you $250 one time and then $49.95 per month
Business-Class – will cost you $500 one time and then $99 per month
First Class – will cost you $1000 one time and then $99 per month
Here Is My Top Recommendation to Start Highly Profitable Online Business from Comfort Of Your Home
PROS
Bonuses
As mentioned above, affiliates can receive rewards (depending on rank) such as Gift Cars, Worldwide Tours, Theme Park Entries, Wine Club, Restaurant Discounts, etc.
CONS
Costly
Yes, it's pricey to join in this MLM opportunity. They have expensive packages that you'll even have to purchase monthly. It can even cost you up to a maximum of $1000 for the first purchase of a package.
With the idea of the boomerang returning, the company offers a promising and enticing offer but probably your money invested can't return like a boomerang in an instant.
No Income Disclosure
Since the company is new, I still can't find an income disclosure statement (IDS). How are company affiliates doing in the business? We can't be sure if they are earning money or losing it.
Relatively New In The MLM Scene
Since the company has just recently launched this year, we can't be sure if it can offer success to its affiliates. It's not even Better Bureau Business (BBB) and the Association of British Travel Agents (ABTA) Accredited. With no merited credentials, joining this MLM opportunity can be of low success guarantee!
MLM Business Model
RECRUITMENT! RECRUITMENT! Yes just like any other MLM opportunity, iBuumerang is one of those companies that are also encouraging a focus on recruitment. Yes, it's not compulsory but you will still probably opt to recruit to be promoted and earn big.
Your promotion and as well as being eligible in gaining big company bonuses is dependent on how well you've recruited people. In short, you level up with your rank and earn big commissions with the team that you build and the sales that they make.
Tired of Wasting Time on Low Quality Programs?
I'm so grateful that I was able to find THIS PROGRAM which helped me to finally start making money online!
It is a business opportunity intended for those who have skills in sales and are consummate in the MLM world. It's probably intended for those who want to earn at home. Well, this MLM opportunity can be a part-time business but can't be for a living! Being in the travel niche, it is also for those who love traveling.
Being an affiliate in this company gives you access to training tools and resources, commissions and other materials that would help you expand your business. They have as well iBuumerang support sites to help you through tutorials and marketing materials.
In conclusion, iBuumerang is an MLM company that is legitimate. But if you want a full-time, stable job, yes it somehow gives a decent compensation plan that you could probably gain money from but it's not enough for a living.
Since the company is relatively new and just has recently launched this year, we can't be sure of its success. It doesn't even have an Income Disclosure Statement (IDS), so we can't be sure if affiliates are earning for the past months that it had started operating.
For me, I recommend you not to take this business opportunity, it is hard to risk when it's not even Better Bureau Business (BBB) and the Association of British Travel Agents (ABTA) Accredited. It's even more expensive to join in their affiliate program and we can't guarantee the "boomerang" or return of our investment.
Well, it's still new and maybe it can still offer more and prove more in the future. But with a lot of red flags, for now, I definitely do not recommend you to join this MLM opportunity!
So it might be good that you skip this platform and check out my #1 recommended program instead.
Tired of the same programs that only gets your money… not help you make money? Then it's time to join a top-recommended platform that will give you value and of course, a legit source of income.
Sign up now and enjoy the following perks:
Training Resources And Webinars
24/7 Chat Support
Live Active Community
And A Lot More!


I hope you enjoyed my iBuumerang review and if you have any concerns or you want to share your experience with this brand, please feel free to share it in the comment box below.
Thank you!
We Constantly Review Programs in "Make Money Online" Niche,
So That You Don't Have to Waste Countless Hours
Want To See Our
TOP RECOMMENDATION?