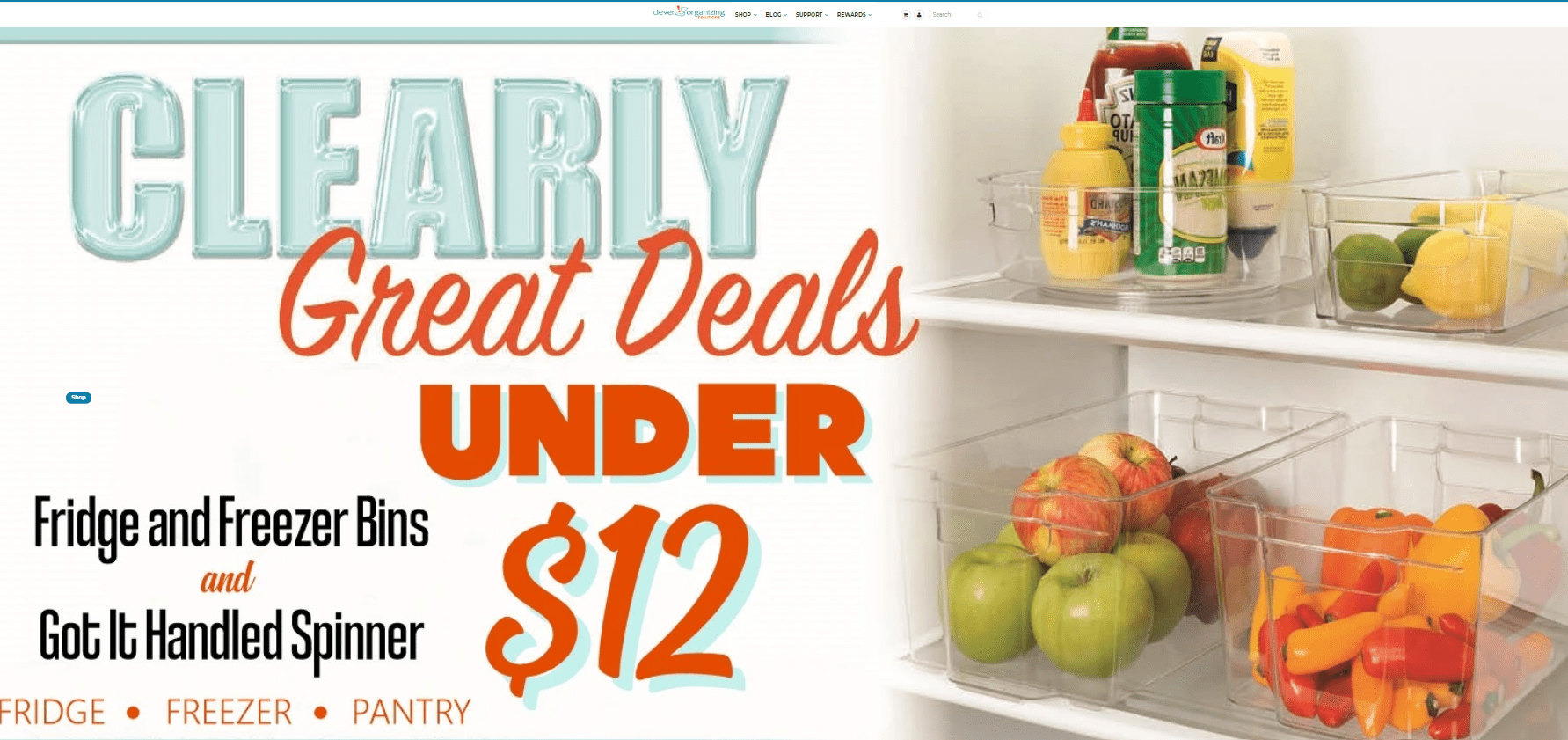 Welcome to My Clever Container Review!
If you are considering joining a multi-level marketing (MLM) program called "Clever Container", then you're in the right place.
I'm not related to this brand so rest assured that I will not pitch it to you rather, I will provide a helpful Clever Container review to help you decide.
Clever Container Review Summary
---
Name: Clever Container
Website: www.cleverorganizingsolutions.com
Founders: Karen Eschebach and Jennifer Weaver
Product Type: Multi-Level Marketing
Price: $49 to $99 For The Starter Kits + $16 To $20 For The Shipping Fee + Tax
Quick Summary: Clever Container is a network marketing company that provides organizing solutions. The brand markets bags, trays, shelf organizers, and more. They also offer an opportunity to make money by becoming their member.
Overall Rating: 5/10
Recommended: No
I will try to tackle all the necessary details, such as the costs of joining the program, its pros, and cons if it's a scam or a legit platform, and many more. But before that, I would like to clear the difference between an MLM and a pyramid scheme since I know most people think of these are just the same.
MLM or network marketing is a legit business model; it offers tangible products and/or valuable programs or services. It requires recruitment but it doesn't compensate the person directly for every successful invite.
A pyramid scheme, on the other hand, does not have tangible products and even if they do, it's not of quality because the main goal is to invite people to join the platform. The members are compensated directly for doing so and compared to an MLM program, the structure is not sustainable.
What Is Clever Container About?
Based in Illinois, Clever Container is multi-level marketing that provides organizing solutions. This includes bags, containers, hangers, and more. Think of Tupperware but with more organizer selections.
It was founded by Karen Eschebach and Jennifer Weaver in 2006 and until now, it's creating a buzz online. However, unlike typical MLM schemes, the brand focuses on selling their products and that's just one reason why I like Clever Container.
Other than this, Clever Container earns $4.1 million a year, which is a good sign of stability.
Unfortunately, there's little to no details about the company or its founders on its website. I just wish there is as this would help aspiring distributors to learn more about its foundation before diving headfirst into the opportunity.
Clever Container Product Line
As mentioned above, the brand offers organizing solutions and it covers almost everything. On their website, you will find various categories, including bath, clearance, closet, garage, kitchen, laundry, office, on the go, specials, and travel.
As someone who loves organizers, I would say that I like the fact that there are many options and designs to choose from but other than that, the price they charge is different from usual MLM programs.
Normally, network marketing companies have overpriced products but with Clever Container, I could say that the rates are reasonable, if not affordable enough. For instance, their makeup organizer (Morning Manager) only costs $10.
Meanwhile, if you want to save more, you can simply head over to their Clearance category and see products with 75% off!
How To Make Money With Clever Container?
Being an MLM company, there are two main ways to make money with Clever Container.
One is by promoting the products as their distributor. That being said, you have to become a member first (I'll discuss how to become one below)) so you have access to the discounted rates of their products.
For retail commissions, you will get 20% to 33%commission, depending on your monthly Personal Volume (PV).
For instance, you get a 25% commission for every $1,000 worth of PV every month; 28% commission for every $2,500 worth of PV every month; 30% commission for every $4,000 worth of PV every month; and 33% commission for every $6,000 worth of PV every month.
The other option is to recruit people to join the platform. Take note that as a legit network marketing company, you will not be directly compensated for inviting rather, you will earn a certain percentage from your downline's sales.
Also, having at least 3 active members plus $700 Personal Volume a month will increase your rank to Director, thus being qualified for more bonuses and incentives. However, one of your downlines must be on a Managing Consultant level or above and must generate at least $3,500 Group Volume (GV) every month.
You can watch the video below to learn more about Clever Container's compensation plan:
Is A Clever Container Scam?
Clever Container is not a scam. It's a legit MLM company you can consider if you love organizing and making money.
To be honest, I'm not a fan of network marketing because of the personal experiences I had before. In fact, I don't recommend this business model most of the time due to the hassle of recruitment, aggressive distributors, bold claims, and many more.
But with Clever Container's case, it's not the same. I actually like it and might consider it. There's little to no complaints about the company, the price of their products are reasonable, it focuses and rewards members because of the sales they make, and the membership fee is affordable.
While there's still recruitment involved, the compensation plan is based on the personal volume that the member makes every month and not on the number of people that they have to invite.
If you rely on the Better Business Bureau (BBB) when it comes to the legitimacy of the business, Clever Container has a record on it but it's not accredited. However, it has an A+ rating and I guess that's not bad enough.
I just hope that the company will consider adding more details about its brand and the owners itself on its own website.
Here Is My Top Recommendation to Start Highly Profitable Online Business from Comfort Of Your Home
To become a member of Clever Container, you have two starter kits to choose from -- the Clever Essentials Kit and the Business Builder Kit.
Clever Essentials Kit costs $49 while the Business Builder Kit is worth $99. Both contain 25 catalogs, 50 order forms, training, and marketing materials. The only difference is the value of the products; Clever Essentials Kit has $120 worth of retail value while the Business Builder Kit has $345 worth of retail value.
On top of this, you have to pay around $16 to $20 for the shipping fee and tax.
Compared to other MLM companies, the price is fair enough even for beginners. And again, you can get your investment back by focusing on the sales you make rather than the recruitment. While it means improving your skills and expertise, you don't have to worry about annoying your friends and family just to invite them to join the program.
PROS
Legit Company With Quality Products
Clever Container was founded in 2006 and until now, it's operating and distributing quality products. It focuses on the sales that the members make and not on the recruitment and perhaps, this is one of the reasons why there's little to no complaints about the brand.
Affordable Products And Membership Fee
Of course, it's not easy to bring out $50 to $100 to start a business but compared to other MLM brands, their fees are reasonable. I've reviewed more than a dozen network marketing platforms and usually, $100 is just the membership price. You have to pay for other things, too such as the training, website, etc.
CONS
Lack Of Transparency
One thing that I don't like about the brand is its lack of transparency. On their website, they failed to share the most important things, such as the details about their founders, the Income Disclosure Statement, the executive team, and their company's background.
I just hope that they would consider adding this information to their site in the future.
Tired of Trading Your Precious Time for Money?
Here is a Blueprint to Owing Highly Profitable Online Business Without Any Experience REVEALED!
Clever Container is for anyone who loves organizing. There are many bags, hangers, and other organizing tools to choose from and if you hate clutters, this might be the opportunity for you. Also, it would help if you have experience with sales. After all, you will make money by selling their products and maybe inviting a few people in.
If you're a beginner, they provide training and you can always rely on the Internet for more learning. You might also consider my FREE Step-By-Step Guide to make money online.
As mentioned, their starter kit already includes training. Also, like most MLM companies, your mentor/upline might be able to provide you the learning you need to start this business.
Clever Container is a legit business that you can consider if you want to make money through selling and recruiting. It's an MLM company so whether you like it or not, it's still necessary to invite people to earn more bonuses and commissions.
The good thing about this brand is that you don't have to be aggressive in doing so as their compensation plan is based on your PV or monthly sales.
Also, I like the fact that their products and membership fee are reasonable. It's not as expensive as the other network marketing companies but still, you have to maintain a certain amount of PV to keep your account active.
It's not a bad thing though since you are starting a business and you need products to make money. However, if you're still looking for a better opportunity or you have no capital, to begin with, I suggest that you consider my alternative below.
Making money is not always easy. It requires time, effort, and consistency.
However, it doesn't have to be extremely difficult or expensive. In fact, my #1 recommended program can help you start a business and provide the tools and support you need, such as:
Proven strategy to work smart and earn a lot (literally)
Step-by-step guidance
Best possible support including your own training coach
Lots of training resources
My personal help
And so much more!
Sign up now and who knows where this would lead you.
Thank you in advance for doing so and for reading my unbiased Clever Container review. If you have questions or comments, please feel free to drop it down below.
We Constantly Review Programs in "Make Money Online" Niche,
So That You Don't Have to Waste Countless Hours
Want To See Our
TOP RECOMMENDATION?