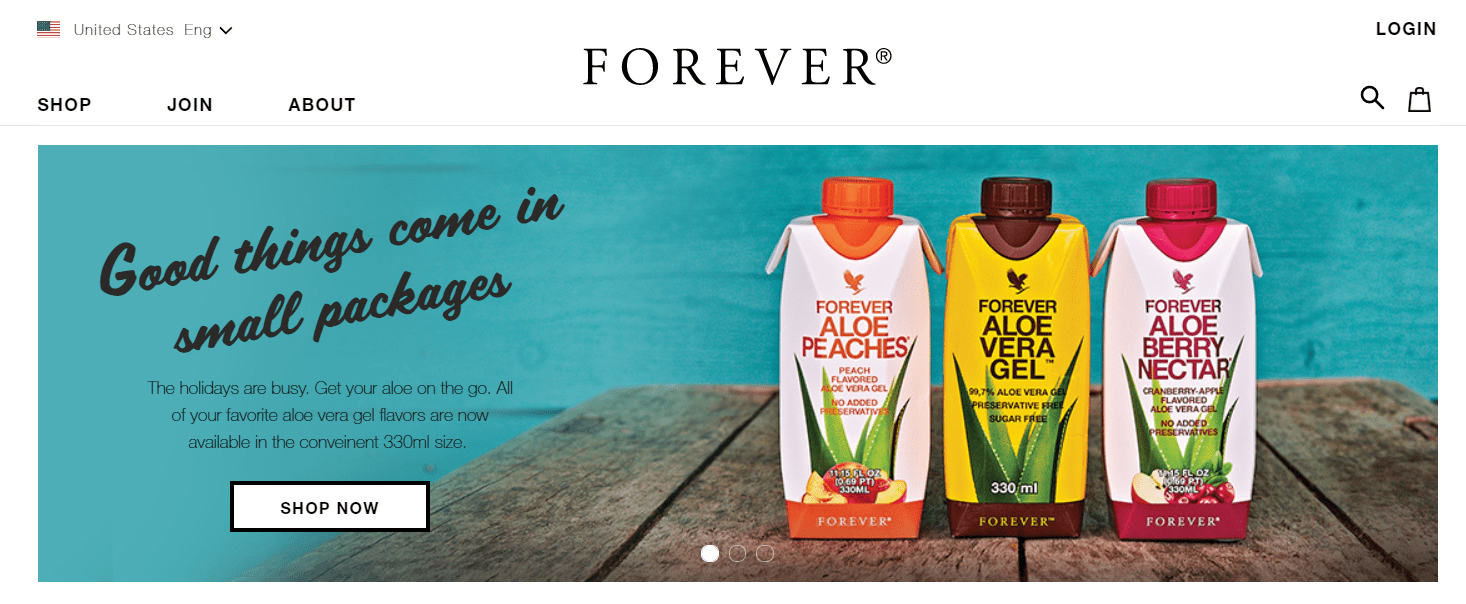 Welcome to My Forever Living Review!
You're probably in this site trying to gain insights and information about a business you're trying to pursue. So pat yourselves for trying the extra mile by researching and investigating. It is better to be meticulous rather than being too risky and careless.
That's a great way to avert scams. And after all you will be investing your time, money, effort and energy in whatever business you will opt to try and of course you won't want to lose it afterwards.
Forever Living Review Summary
---
Name: Forever Living Products International, Inc.(FLPI)
Website: www.foreverliving.com
Founders: Rex Maughan
Product Type: Multi-Level Marketing
Price: Free Sign-Up + $140/Monthly
Quick Summary: Forever living is a multi-level marketing (MLM) company that sells and markets various products in the health and wellness niche. Most of their products are derived from aloe vera that are cultivated on their own plantations.

They also have bee-derived products. But just like other MLM opportunities, you can earn in this company through retail sales and through recruitment commissions. Earning big would really require you to recruit people to join. The company is not transparent with regards to their income disclosure statement.

Would this be a great way to earn a lucrative income for beginners? Probably not!
Overall Rating: 4/10
Recommended: No
Nowadays, MLM opportunities are anywhere. And now we will be discussing about a health and wellness distributing MLM company- Forever Living. With a lot of competition in this kind of niche, including popular companies such as USANA (which was a former company of their top executives), will this be a great opportunity to try your aces as a rookie in this kind of business?
Is Forever Living a scam? With no income disclosure, how sure are you if you're gonna earn in this MLM opportunity? What are the pros and cons in joining this company?
Let's find out in this Forever Living review.
What Is Forever Living About?
Forever Living or Forever Living Products International, Inc. (FLPI) is another MLM company in the health and wellness niche. This company sells and markets aloe vera based products and as well as bee products such as bee pollen, bee propolis and royal jelly.
They have a variety of products such as health drinks, nutritional supplements, personal care, skin care, weight management, essential oils and many more. And all over the globe, there are about 160 countries that have Forever Living Business Owners.
Forever Living was founded by Rex Maughan in 1978. This company is based in Scottsdale, Arizona. Rex Maughan was impressed with the healing power and benefits of aloe vera, thus he established Forever Living to put into motion what he envisioned to produce a product line which is of aloe vera based.
In the 1990s, Forever Living acquired the company "Aloe Vera of America" and built their own aloe vera plantations in Texas and in Dominican Republic. Forever Living now is on the pinnacle as they are esteemed as the highest grower, manufacturer and distributor of aloe vera products internationally.
Forever Living Product Line
Forever Living is a multi-level marketing (MLM) company that sells and markets various products in the health and wellness niche. Aloe Vera being their major product is what comprises most of their products. As most of us know, it is a natural plant with great healing benefits.
Forever living has as well other variety of products such as healthy drinks, nutritional supplements, personal care, skin care, weight management, essential oils, bee products and many more.
With regards to Bee Products – they are derived from bee activity byproducts which include honey, bee pollen, bee propolis, and royal jelly
Forever Living Product Reviews
Operating for more than four decades, their products are legit! I've only seen minimal complaints (most complaints are about the product price and taste) but mostly are outweighed with positive feedbacks.
How To Make With Forever Living?
First things first, you have to begin by signing up for free, yes FREE but you will have to purchase upsells which will be your capital to sell Forever Living products and their products are quite costly.
Yes, you can choose not to purchase products upon registration but you will still opt to buy so you could be eligible for commission.
Here's what you need to do to become an active member and qualify for commission:
Purchase 2 Case Credits (CC) worth of products (1 CC is equivalent to $140)
Get 4 Personal CC monthly and 1 of those you must purchase (So it would cost you at least $140 monthly)
Just like other MLM companies, you will earn in this company through retail sales and passive residual income from recruitment commissions.
Retail Sales - You will earn from each product you sell
Recruitment Commissions And Bonuses - You'll earn commissions from your downlines
With an initial order of just $100, you will get started as a Novus Customer. This gets you onto the first rung of the ladder and means you will earn a 15% commission on your orders. Many people join as a Novus Customer with the Clean 9 or F.I.T. Packs.
To skip this first rung of the ladder and get straight to the 2nd level then you can buy a Touch of Forever pack or a Fast Start pack for $250 or 2 CC. These are called Business Owner Boxes and contain all you need to get your business off to a fantastic start.
The 2nd level, Assistant Supervisor, means you immediately jump to 35% *commission on all your orders, which is an excellent profit margin for your new business.
Same as other MLM opportunities, there are big incentives and bonuses when you raise your rank and here are the incentives in Forever Living
Forever2Drive – Car Bonus
Eagle Manager
Global Rally – Travel Incentive
Chairman's Bonus
Global Leadership Team
To learn more about Forever Living, you can watch the video below:
Is Forever Living A Scam?
No, it's not a scam. Forever Living is a legit MLM company, selling and distributing tangible health and wellness products. You could hold, touch, use and sell these products they supply. You can also earn these products depending on your sales and recruitment commissions.
With Aloe Vera as their main product, they are even regarded as are the largest grower, manufacturer, and distributor of aloe vera products in the world.
Also, Forever Living is a Better Business Bureau (BBB) accredited company since 1978 and that makes it more legitimate! And they do hold a lot of good ratings and reviews from buyers and has been rated A+ by BBB.
Joining Forever Living is free but to be eligible for commissions, it would cost members to pay $140 for case credits (CC) which should be purchased monthly.
Here Is My Top Recommendation to Start Highly Profitable Online Business from Comfort Of Your Home
PROS
Bonuses
As you can see in their compensation plan, if you are eligible, they will compensate you with bonuses and incentives such as
Manufacture Their Products
As mentioned above, they have their company plantations (one in Texas and the other in the Dominican Republic) and that would be of an advantage for they can ensure quality control and as well as control the costs of these products rather than relying on third-party companies to supply them which is quite risky.
They have their farms to cultivate these aloe vera which is the main ingredient of most of their products. They say that they have over 6,500 acres of farmlands which is the largest in the world. And with that, Forever Living was even regarded as the largest grower, manufacturer, and distributor of aloe vera products globally.
60-day Money-back Guarantee
All Forever Living products are refundable within 60 days. That's great news for consumers who will opt to buy their products. And 60 days is quite a long time!
Reliable Company
Being on the run for more than 4 decades, they are a well-established company. They are as well a member of the Direct Selling Association (DSA) which further confirms that they are truly a reliable MLM company.
CONS
Costly
Joining is indeed free but you still will have to purchase case credits (CC) which will cost you about $140 monthly and that would be about $1680 annually! Their products are as well said to be quite expensive.
No Income Disclosure
An income disclosure statement is necessary for MLM companies to officially disclose the income potential of their existing members. If would be nice if they would be transparent and provide information with regards to how are company members doing in the business. At least, potential joiners will be aware and informed.
Too Many Competitors
With a lot of competition in the health and wellness niche, it would be quite a challenge to market Forever Living products since there are a lot of well-known companies selling the same line of products.
Deceiving Health Claims
This is a usual problem not just for Forever Living but for most MLM companies in the health & wellness niche. There will always be distributors who would give false health claims just to market and sell their products. The truth of the matter is that none of these are supported by the Food and Drug Authority (FDA).
Some customers may find these Forever Living products to be effective, for some maybe not and for some, it had caused side effects. But with all of these, there are still no clinical trials or studies that could verify and back up their health claims.
Emphasis On Recruitment
Just like any other MLM opportunities, instead of focusing on the progress of sales and customer satisfaction, Forever Living is also encouraging a focus on recruitment. Your promotion and as well as being eligible in gaining big company bonuses is dependent on how well you've recruited people. In short, you level up with your rank with the team that you build. With a lot in mind including sales, it would require your hard work and persistence.
FREE TRAINING
Learn How I Started Highly Profitable Online Business From Comfort of My Home Following This Blueprint
It is good for individuals who are looking to start a home-based business, yes it can be a part-time job for them but not for a living. This business opportunity is intended for those who have skills in sales and are consummate in the MLM world. It is also for those who are health and wellness enthusiasts, especially those who are aloe-vera advocates.
Overall, I would not recommend joining this MLM business venture. Yes, Forever Living is not a scam. It is a well-established MLM company that's already running for 41 years. But just like other MLM opportunities, this company puts more focus on recruitment to earn big and be eligible for special incentives and bonuses.
So, it will require your hard work, great recruitment skills and the guts to progress and be promoted in this business and to succeed. Therefore, for newbies and those who are new in this kind of business, it's of low success guarantee. Yes, it can give you income, but not for a living. Thus, low-income potential! With a lot of competition in the market, it may be difficult to sell and market their products.
With so many opportunities out there, it's pretty hard to figure which one works the best. So, it's always a good idea to try a platform that won't require you to spend a huge amount before you start earning, such as my top-recommended program.
Sign up now and enjoy the following perks:
Free Websites
Free Training Resources
Free Webinars And Coaching Session
Free Customer Support
And Many More
Don't miss the chance and who knows, you might score yourself a source of passive income.
As always, thank you for reading my Forever Living review and if you have questions or comments, please feel free to share it below.
We Constantly Review Programs in "Make Money Online" Niche,
So That You Don't Have to Waste Countless Hours
Want To See Our
TOP RECOMMENDATION?