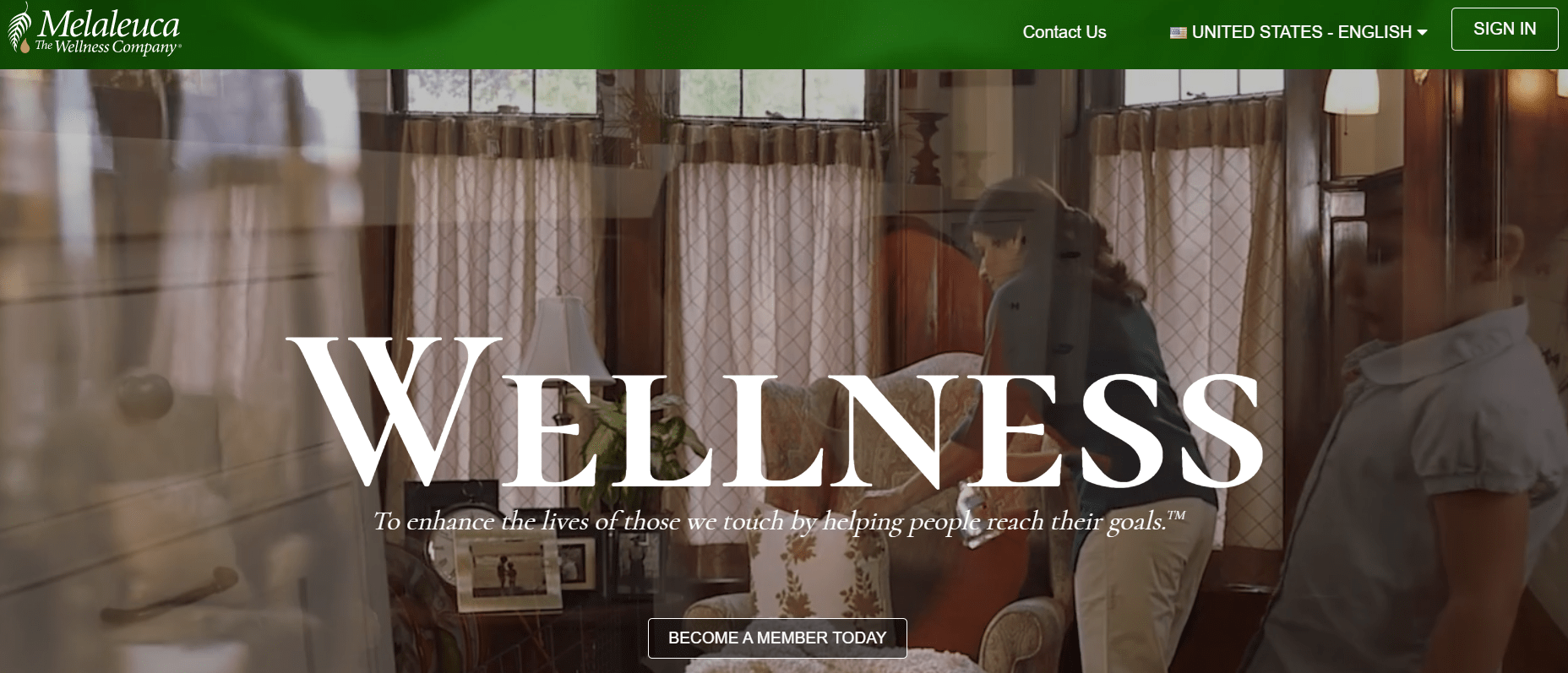 Welcome to My Melaleuca Review!
MLM is popular and it's not always for the best reasons. Often, it's because of the pyramid-like practices, overpriced products, or the owner's involvement in controversies. Nonetheless, the business model is legit so it's fair to say that it's worth a try.
Melaleuca Review Summary
---
Name: Melaleuca
Website: www.melaleuca.com
Founders: Frank L. Vandersloot
Product Type: Multi-Level Marketing
Price: $29 For Initial Fee + $19.90/Year + Products
Quick Summary: Melaleuca is a legit MLM company that's founded 30 years ago. It promotes more than 400 products, such as lotion and skincare essentials, essential oils, nutritional supplements, and more.

Find out everything you need to know in this honest Melaleuca review.
Overall Rating: 4/10
Recommended: No
However, before you sign up for any networking opportunities, it's best to check the company itself first. Many brands will claim to help you become better, achieve financial freedom, and more but until you do a background check will you realize if it deserves your time and money.
In this post, we'll talk about an MLM company that's making abuzz online. It's been in the industry for more than 20 years but does it mean that it's a safe business to try?
Let's find out in this honest Melaleuca review.
P.S.
If you're looking for a better opportunity that would help you make money even with a day job, I suggest you take my FREE Step-By-Step Guide now.
Founded in 1985 by Frank L. Vandersloot, Melaleuca is one of the oldest multi-level marketing companies in the world. Some of its physical headquarters are located in Idaho, United States but it's operating in various countries, such as Taiwan, New Zealand, Japan, Korea, and the United Kingdom.
The multi-billion dollar company has received various awards and recognitions, including the Blue Chip Enterprise Award by the United States Chamber of Commerce and the Psychologically Healthy Workplace Award.
However, despite the numerous recognitions, the brand has faced several controversies. For one, there are complaints against the brand for violating Michigan's anti-pyramiding laws.
There are also complaints about it using "false and misleading" claims to market their product and for failing to "disclose that approximately 99% of all participants lose money."
Even its CEO and founder, Vandersloot, has been in hot water for threatening journalists, bloggers, and magazines who criticize him.
Now this is a lot of things to consider. I mean, do you really want to get involved in a company that has tons of issues?
Melaleuca Product Line
Melaleuca focuses on health and wellness and it has over 400 products to choose from. On their website, it's divided into these categories:
Nutrition
Medicine Cabinet
Beauty
Household
Bath & Body
Essential Oils
Extra Savings
Logo Gear
I'd rather not discuss their products since there's nothing groundbreaking about it anyway. It's good to know that they produce environmentally-friendly essentials but it's almost the same as the ones produced by these MLM brands:
Considering this, it's obvious that the market is saturated with similar products so if you're thinking about signing up, it pays to think twice or even more.
The question is, does it work?
I checked reliable resources online and when it comes to their products, it's a combination of good and bad reviews. What I like about it is that the positive feedback outweighs the negative ones.
Melaleuca has been operating since 1985 so somehow, it's safe to say that the company is not a scam. It's well-known globally and has acquired various recognitions. On top of this, the brand has been accredited in the Better Business Bureau since 1987 with an A+ rating.
With many new MLM programs closing because of unethical practices, it's worth commending Melaleuca for a job well done.
It's legit and has provided an opportunity to people who want to earn money by promoting products and recruitment. However, I don't recommend this program at all.
Why?
I'll share all the reasons below:
Previous Scandals
Nowadays, more and more people are relying on the reviews they find online and knowing that Melaleuca has been involved in controversies in the past, such as the bold claims on their products, it might be difficult to earn from this program.
More Than 300++ Products To Choose From
It's good to see variety in your products but having more than a hundred items to promote is difficult.
As a distributor, it will take a lot of time for you to know the products deeply, and not just by name. You will market it and to be able to do it effectively, you need to know what each essential is about and who it is good for.
Not Honest About The Program And Products
There are many things Melaleuca is not honest about. For one, their founder, Frank, has not been honest about what kind of business model his company is. He implies that it's a direct marketing company but the way it's structured, it's obvious that it's an MLM program.
Also, it uses a compensation plan, which is present only in network marketing companies.
And of course, there's the illegal health claims on their products.
On top of this, the company is not transparent about the prices of their items. You can also see the amount you can save and add the items to cart but you won't be able to see the product's rate unless you sign up.
What are they hiding, anyway?
Low-Income Potential
Melaleuca, despite being a legit company, is still an MLM and according to a study, 99% of MLM participants fail.
Anyway, let's base the actual earnings of their distributor with their Income Disclosure Statement. The average income for those who are just starting to make money with Melaleuca is around $2,093 per year, which means $174 per month.
I don't think anyone can survive on this income alone. It's barely enough, especially if you have a family to raise.
Is Melaleuca A Pyramid/Ponzi Scheme?
Now, the most awaited question, is Melaleuca a pyramid scheme?
Considering how it works, especially its compensation plan, I won't directly say that Melaleuca is a pyramid scheme since it offers more than one way to make money. First is through retail commissions and the other one is by building a team.
Unlike a pyramid scheme whose sole source of income is through recruitment.
It can't be considered a Ponzi scheme, too.
For the benefit of the doubt, Ponzi schemes will ask investors to buy into the program in return of a huge return of interest.
That being said, Melaleuca is more like a legit MLM but with tons of complaints.
Here Is My Top Recommendation to Start Highly Profitable Online Business from Comfort Of Your Home
Melaleuca Compensation Plan
Melaleuca is a typical MLM program that lets you earn in two main ways:
Purchase their products at a discounted rate and sell it based on the suggested retail price. This way, you earn through profit sales.
Invite more people to join the platform. The more people you have on your team, the bigger the chance to hit sales quota.
It's a typical networking company with a typical compensation plan.
But just to clarify, you don't earn directly by recruiting individuals; rather, you get bonuses for the products you sell as a team. This is one of the good things about Melaleuca -- they compensate based on the distributor and the distributor's team performance.
Considering this, Melaleuca is an MLM platform that is far from being a pyramid scheme. In case you're still confused between a network marketing program and a pyramid scam, pyramiding compensates you directly for just recruiting new people.
There are no tangible products to sell and there's only one way to make money with them -- recruitment.
With MLM platforms, you have real products or services to sell and you're not paid directly to grow your team.
However, when it comes to the amount of commissions or bonuses you can get, it depends on the number of downlines you have under you, your personal and team purchases, and you and your downline's ranking.
To learn more about Melaleuca's compensation plan, you can watch the video below:
How Much To Join Melaleuca?
To become their distributor -- or what they call Independent Marketing Executive -- you have to pay $29 for the initial fee and $19.90 for the annual fee.
On top of this, you have to buy the products that you are going to sell. It sounds like a bad deal but this is normal with MLM companies. You have to maintain a certain number of personal volumes every month.
The good thing about Melaleuca is that you only need at least 35 PV or $80-worth of products.
PROS
Legit MLM Companies
Melaleuca has been in the industry for more than 30 years and if it's a scam, operating for a long time would not be possible.
As for this brand, it's legitimate and it's even accredited by BBB with an A+ rating.
4 Out Of 5 Stars Review
The brand has received a few backlashes against them but still, they've managed to retain positive reviews online.
Yes, there are complaints but it seems like the company's customer support is good at responding to them.
Affordable Required Monthly Purchase
I've reviewed more than a dozen MLM companies in the past and often, one of the complaints is the required monthly purchase. More or less, it costs $300 to 500 but with Melaleuca, it only costs $80.
CONS
Poor Cancellation Policy
One of the common complaints is their cancelation policy. On their website, it says that you only have to follow 4 easy steps but it seems a bit complicated in real life, or so the reviews say.
Many members complained about canceling their membership but even after a few weeks of sending emails, calling them, and following their instruction, their account remains active and the company still charges them.
Now, this is a red flag!
I mean, for a business that's been running for a long time and has been dealing with the same problems, they should be able to improve their cancelation process now or at least, their customer service.
Bad Reputation
Melaleuca and even its founder, Vandersloot, have been involved in many controversies and most of which are just too bad to ignore. Let's say the brand is running and has made a name in the industry, is this enough for your name to get involved with a brand that's been called a scam?
Too Many Products
While this gives consumers a lot of options to choose from, it's not a good thing for members. First, if you want to sell it effectively, you should know what each product is about. Second, it might also be difficult for you to suggest a specific essential since there are literally over a hundred products to choose from.
Tired of Trading Your Precious Time for Money?
Here is a Blueprint to Owing Highly Profitable Online Business Without Any Experience REVEALED!
This MLM brand is ideal for anyone who wants to make money at home but has experience with network marketing. Despite the low investment, you still need to have expertise and skills when you want to make this business model work.
Melaleuca has provided some business training materials for their distributors; however, some of them are not for free.
You can expect training from your potential upline though, which is normal with MLM platforms.
Melaleuca is a legit MLM company that you can try if you have experience with network marketing. Despite being NOT a scam, it would still be challenging to make this business work because the market is saturated with similar products.
Next, there are too many competitors already. Aside from the other brands, there are also your co-distributors so you have to exert effort in making your business stand out.
Another thing to consider is the earning potential. The income disclosure statement clearly shows that the amount you'll get every month is barely enough so I suggest that you skip this platform.
Want to make money without recruiting or worrying about monthly autoships?
If yes, then I suggest that you take my #1 recommended program!
Sign up now and have everything you need to get started:
One-on-one coaching
Comprehensive guide
The best business tools and support you need
Webinars and training resources
And many more!
Thank you for reading my Melaleuca review. If you have any comments or concerns, please feel free to share your thoughts below.
We Constantly Review Programs in "Make Money Online" Niche,
So That You Don't Have to Waste Countless Hours
Want To See Our
TOP RECOMMENDATION?