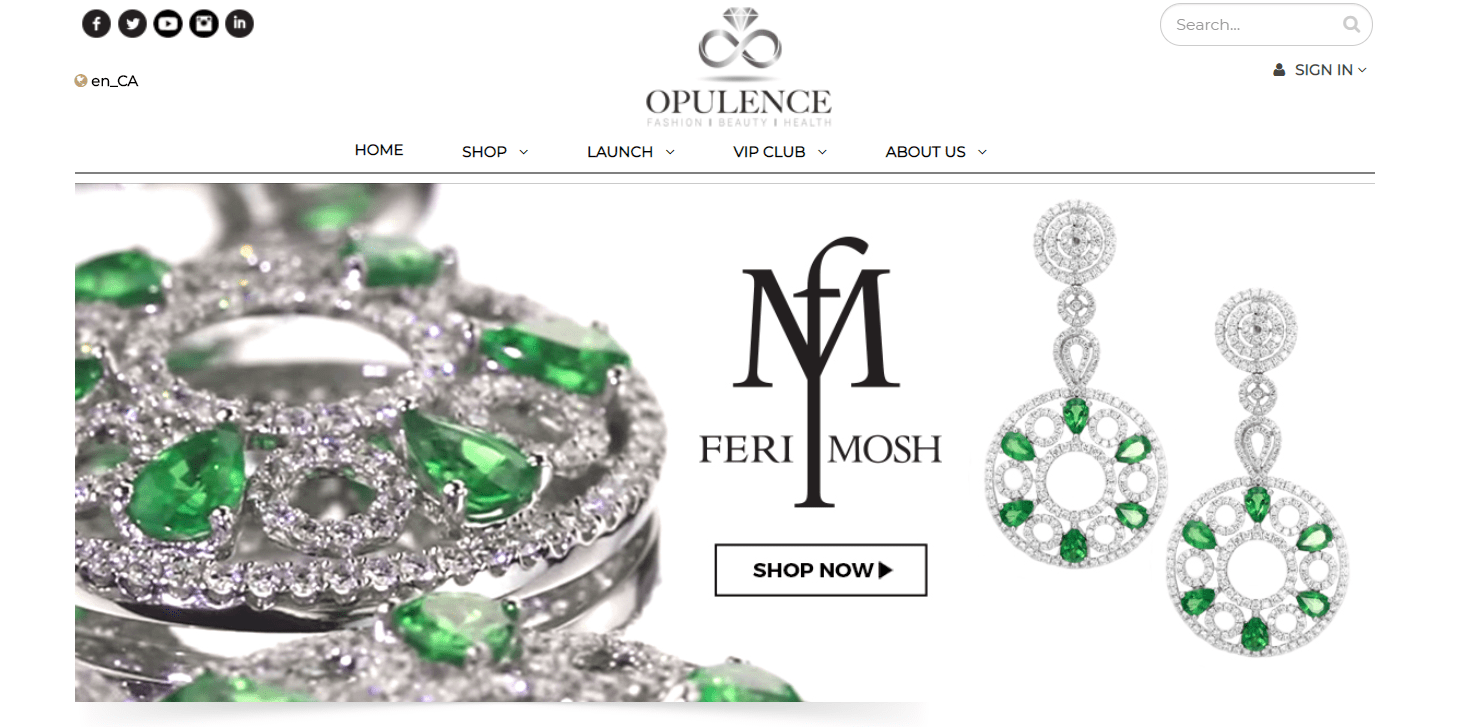 Welcome to My Global Wealth Trade Review!
MLM businesses normally show as luxurious companies. Premium cars, photos of recent travels, and basically, a lavish lifestyle.
But did you know that there's a brand that's actually promoting an opulent lifestyle? Formerly known as Global Wealth Trade, Opulence Global is a network marketing business that sells deluxe jewelry and skincare.
Global Wealth Trade Review Summary
---
Name: Global Wealth Trade
Website: www.globalwealthtrade.com
Founders: Ramin Mesgarlou
Product Type: Multi-Level Marketing
Price: Membership Fee Starting From $270 To $1,800
Quick Summary: Global Wealth Trade, now renamed as Opulence Global, is an MLM program that promotes designer bags, shoes, personal care, and health essentials. It's been in the industry for more than 10 years, offering products and a business opportunity.
Overall Rating: 4/10
Recommended: No
It's inviting, especially if you want a luscious lifestyle but before you dive into the opportunity, let's find out what it's about.
Is Global Wealth Trade a scam? How does it work? Can you make money from this program?
P.S.
Whether GWT is a scam or not, it's best if you have another source of income so you can grow your finances. Check out my FREE Step-By-Step Guide to learn more!
What Is Global Wealth Trade About?
Global Wealth Trade is a multi-level marketing company that promotes a luxury lifestyle. Unlike the usual products that MLM businesses market, such as dietary supplements and slimming coffee, GWT sells belts, bags, and skincare essentials.
Think of it as Avon and Mary Kay but it an upscale way of marketing.
The brand was founded by Ramin Mesgarlou, a former direct sales distributor for 14 years. I believe that's long enough for him to obtain the necessary skills and expertise to run a business. But does that mean that GWT's worth your time?
Why Global Wealth Trade Rebranded To Opulence Global?
Global Wealth Trade was founded in 2005 and it was only last 2018 when the brand decided to change its name. According to Ramin, their company was different from what it was 13 years ago and they need to rebrand to represent who they are today.
Overall, there are no major changes in the brand as well as to its executives. The products are still the same and it's managed by the same people present in GWT.
Global Wealth Trade Products
As mentioned, GWT looks almost the same as Mary Kay and Avon, two of the most well-known direct sales companies in the world.
The difference lies in how they present their brand, which is opulent, perhaps the reason for the rebrand.
Ther product line is divided into three categories: fashion, personal care, and health.
Under Fashion, there are shoes, bags, wallets, jewelry, and care and maintenance products, such as cleaning cloths, ring tray, and shoehorns.
Under Personal Care, there's the usual shampoo, facial cleansers, hair conditioners, and lip treatments.
Under Health is their flagship product -- the Fountain Of Life (FOL). It contains lignans that have anti-inflammatory, anti-microbial, and antioxidant properties.
As expected the pricing of their products is exaggerated. For instance, their FERI Flawless - Dream Lips - Lip Treatment costs $105.60. Talking about luxury products!
Global Wealth Trade Product Reviews
I couldn't find any reliable reviews online other than their own site and apparently, their consumers like it. For example, one review about FERI Flawless - Revive 5 Day Moisturizer says that the user loved the day cream even after hours of use.
How To Make Money With Global Wealth Trade?
Luxury Consultants (the term they use for their distributors) can earn in two ways: selling the products and recruiting people.
This means that you can buy the products on a member's price and sell it based on the suggested retail price (SRP). This allows you to earn from retail sales.
Another way is to invite more people to join the platform. This is normal in most MLM companies and as a distributor, you are often required to do this so you can earn more commissions, bonuses, and incentives.
As Luxury Consultants, you can market your products and invite people using the traditional method of word-of-mouth advertising and using social media.
Global Wealth Trade Compensation Plan
Before becoming a Luxury Consultant, you have to shell out a massive amount for membership so it's best to know what you're going to get once you join the program.
That being said, I'll discuss their compensation plan briefly to give you an idea. You can also click the link to learn more.
Retail Commissions - This commission is earned through retail sales. You can get a 30% commission based on the products sold.
Recruitment Commissions - This commission is based on the membership that your newly-recruit sign up for. If they sign up for the Luxury Promoter Package, you'll earn $35 and if they sign up for the Lifestyle Advisor Package, you'll get $105.
Residual Commissions - This follows a binary compensation plan and it pays an unstated amount.
Global Revenue Sharing Pool - As the name suggests, this is a sharing pool based on the sales volume worldwide.
Organizational Revenue Sharing - This commission is only available to Royal Lifestyle Directors and Presidential Lifestyle Directors. Based on the sales volume of their team, they will get a bonus.
To learn more about their membership and compensation plan, you can watch the video below:
Is Global Wealth Trade A Scam?
Global Wealth Trade is not a scam and being in the industry for more than 10 years (which is hard to attain if your brand's a Ponzi scheme in disguise), that only suggests how strong the company is.
Also, if you check the Better Business Bureau, Opulence Global is accredited since 2015 and it has received an A+ rating, which may be a good sign that the company is operating well.
However, I cannot recommend this brand because the investment is huge. For someone who has little to no experience, this could be risky since you are spending a huge amount just for the fee alone.
What more if you need to market it online. That means you have to pay for the ads and other marketing strategies, too.
If you're a beginner or even a seasoned marketer or individual who wants to make money online, I suggest you take my FREE Step-By-Step Guide first.
This lets you learn more about making money online without paying any fee or buying products. Plus, there is no recruitment required!
And the much-awaited part -- the membership fees!
To become a Luxury Consultant, you have to become a member first. There are three types of memberships offered; however, only two of those memberships will give you access to their MLM opportunity. Meaning, you have the chance to earn from bonuses and other incentives.
Retail Membership $270 - If you get this offer, you can resell their products and earn at least 20% commission.
Lifestyle Promoter $720 - This membership lets you earn 25$ commissions and earn from their MLM opportunity.
Lifestyle Advisor $1,800 - Same as the one above but this one offers a 30% discount on their bags, jewelry, and other products.
Here Is My Top Recommendation to Start Highly Profitable Online Business from Comfort Of Your Home
PROS
Compensation Plan
Despite the unspecified rates, the compensation plan that GWT or Opulence Global offers is more simple compared to other MLM companies. There are no complicated processes involved.
For example, if you sell a certain product, you can earn at least 25% from profit sales plus another 30% commission. So, if you can sell their items, there's already a chance to get the investment back.
Other than that, there are other ways to earn bonuses, such as residual commissions.
CONS
High-Upfront Costs
The minimum amount to join GWT is $270 and this only includes 2 bottles of Fountain Of Life, an online shop, and a 20% discount. For starters, this is huge and risky unless you're a pro when it comes to network marketing.
Also, since you have to recruit members to get commissions, this makes it more challenging since not everyone is comfortable enough to shell out such a huge amount.
Complicated Sign-Up Procedure
Whether you want to become a Luxury Distributor or only as a shopper, you need to provide the name of their distributor. You also need to provide your details, such as your name, email address, and contact number.
No Income Disclosure Statement
They've been in the industry for more than 10 years and that's more than enough to gather the income statement of their members. That made me wonder why they haven't shared this on their website.
How will we know if any of their distributors (excluding the executive team) really earned from the program?
FREE TRAINING
Learn How I Started Highly Profitable Online Business From Comfort of My Home Following This Blueprint
For training, the brand provides a USB key called "Business In A File", which includes the basic training materials necessary to start the business.
GWT also offers a virtual back office to its distributors. This provides access to training materials that will help them earn more from retail sales.
In addition, their distributors can go to The Forensic Networker -- an MLM/Direct Sales online university that helps MLM participants grow and run their business.
It's good to know that the brand has not been involved in any scandals, such as being tagged as a Ponzi scheme or a scam.
However, I cannot recommend this brand at all unless you're extremely into luxury brands or you are willing to invest a massive amount. The startup cost is already a deal-breaker. Imagine if you're a newbie and you have no idea about how MLM works, then it's less likely for you to get your investment back.
It's not practical, especially if you want to make money online.
Also, the fact that they have not disclosed their income statement is skeptical. The brand's been operating for more than 10 years so they have enough time to share the average income that their distributors acquire.
If I were you, I'd really think twice before joining this program or better yet, skip this one asap.
Want to start a business without investing a huge amount? Better yet, without recruiting other people or buying products?
Then join my top-recommended program now!
Sign up for free and take advantage of these benefits:
The best business tools and support you need
Webinars and training resources
One-on-one coaching
Comprehensive guide
And many more!
As always, I hope I've helped you decide whether Global Wealth Trade is for you or not and if you have any comments or you want to share your experience with GWT or Opulence Global, feel free to drop it in the comment box below.
Thank you!
We Constantly Review Programs in "Make Money Online" Niche,
So That You Don't Have to Waste Countless Hours
Want To See Our
TOP RECOMMENDATION?