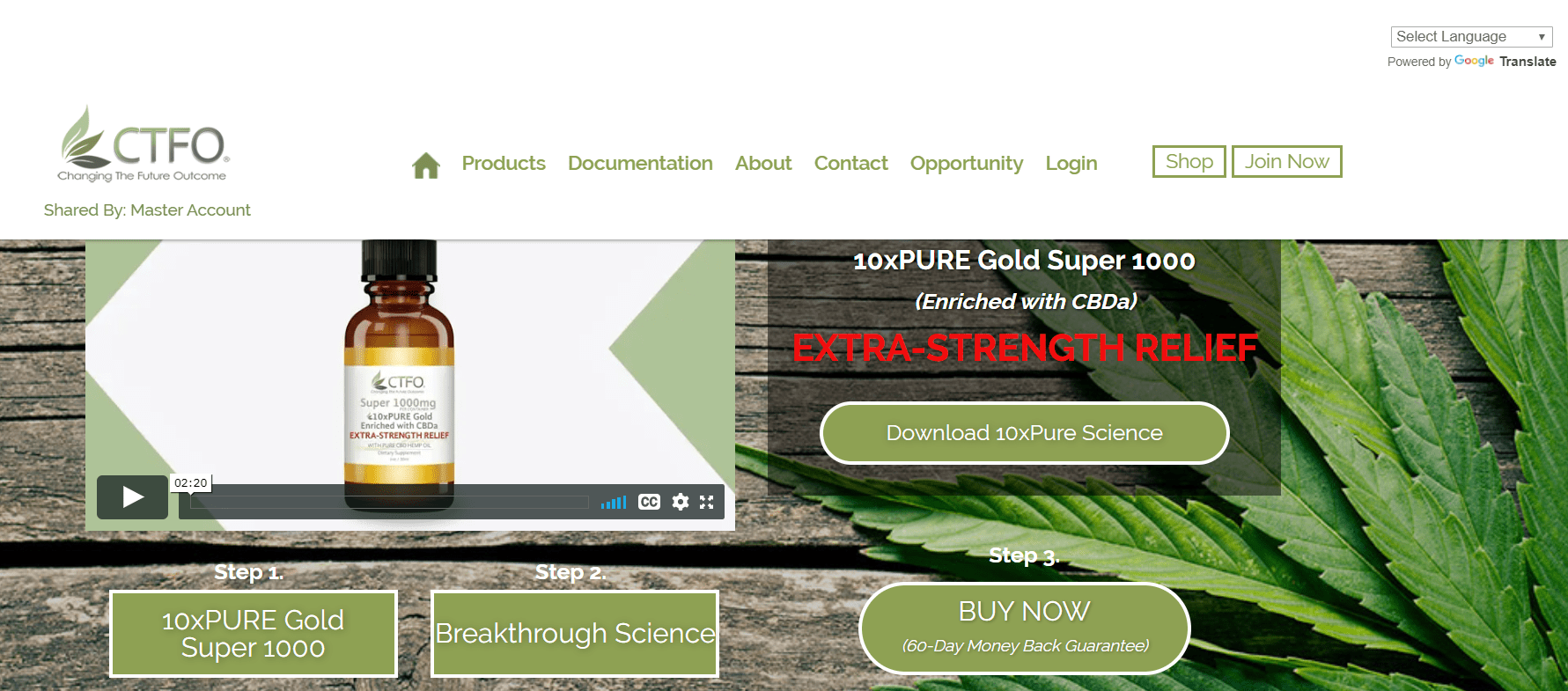 Welcome to My Changing The Future Outcome Review!
CBD or Cannabidiol is one of the most popular products among multi-level marketing companies now. Perhaps, it's because of the numerous benefits it can provide to the body and mind.
That being said, many MLM businesses, such as Changing The Future Outcome (CTFO), have used it as a primary ingredient in their products. However, being popular doesn't mean that the products and business opportunities offered are worth the hype.
Changing The Future Outcome Review Summary
---
Name: Changing The Future Outcome
Website: www.myctfocbd.com
Founders: Stuart Finger, Steve Finger, and Michael Kahn
Product Type: Multi-Level Marketing
Price: Free Membership Fee + $47.47 Monthly Autoship
Quick Summary: Changing The Future Outcome or formerly known as Chew The Fat Off (CTFO) is an MLM platform that sells weight-loss and CBD-infused products. It's legit but does it guarantee a good source of income? Let's find out in this unbiased review!
Overall Rating: 5/10
Recommended: No
If you're interested in this company, whether as a consumer or a distributor, then you've come to the right place. In this Changing The Future Outcome, we'll leave no stone unturned.
What is it about? Is Changing The Future Outcome a scam? Can you make money using this program?
P.S.
Joining an MLM program often requires three things: paying for a membership fee (and other fees), selling overpriced products, and recruiting people to join the platform. If these sound like daunting tasks or you just want to be sure that you have money even if you lose your investment, then I suggest that you sign up for my top-recommended program now.
What Is Changing The Future Outcome About?
Changing The Future Outcome is a multi-level marketing company under the health and wealth niche. Basically, they sell CBD-infused products but other than that, they also sell weight-loss essentials.
Speaking of which, CTFO is originally known as Chew The Fat Off. It was founded by Stuart and Steve Finger in 2015. The company rebranded but they did not disclose the reason behind the changes.
However, aside from adding new products, such as the CBD-infused essentials and its name (from Chew The Fat Off to Changing The Future Outcome), there's no significant difference. The executive team is still the same.
Changing The Future Outcome Products
CTFO's main products used to be weight-loss and they decided to retain this line even after the rebrand. This includes meal replacement shake and supplements.
Other than that, they also have hemp-based products, like other MLM programs I've reviewed in the past:
Going back, they have all sorts of health and beauty essentials for human and pet consumption. Unfortunately, you cannot easily see the prices and order their products unless you know a CTFO Associate.
Is CBD Safe And Legal?
Now, this is one challenge when you want to sell hemp-based products. Not all countries are open to this kind of ingredient. CBD came from the Cannabis plant -- or more popularly known as Marijuana.
Now, Marijuana normally has a bad impression and only a few people know about its benefits. But just to be clear, CBD is a component of the Cannabis plant that has medicinal advantages. What contributes to the psychological effects of the plant is the chemical called Tetrahydrocannabinol (THC).
That being said, CBD is safe and usually legal while THC is unauthorized.
But then again, the legality of this component is limited to only a few states and countries. Probably, if they truly understand its benefits in mental and physical health, the decision would change. Also, if people only know how to use it properly, and not for the sake of recreation, then it might not be an issue at all.
Still, I believe that the CBD industry would grow massively in the future but there's no guarantee that the MLM companies promoting this would do the same.
How To Make Money With Changing The Future Outcome?
CTFO may have rebranded and made changes but when it comes to the business opportunity offered, it's the same as the previous brand and other MLM programs.
There are two ways to make money with them: one is to sell the products and earn through retail profit and the other one is to invite people and earn commissions, incentives, and bonuses.
In retail sales, you can earn a 20% commission for all products sold. Now, that's good enough providing that you know how to market and close deals with your clients.
Meanwhile, when you want to make more cash, you can sign up as a CTFO Associate, invite people, and earn bonuses and incentives.
Changing The Future Outcome
CTFO doesn't really have a complicated compensation plan but I believe it's best explained in video format, so feel free to watch the clip below:
Basically, you earn a commission by selling the products but if you want to get more bonuses, you have to recruit more people to join the platform. Be careful though since not everyone is open with MLM programs.
Some people even think of it as a scam so unless you want to put a strain in your relationship, you have to think of ways on how you can attract individuals to join your team without sounding aggressive or intimidating.
Otherwise, just skip this and sign up with other legit money-making platforms instead.
Is Changing The Profit A Scam?
Fortunately, Changing The Profit Outcome is legit. It's been operating for a long time now and so far, it's not been involved with scandals or controversies.
However, if you rely on the Better Business Bureau (BBB), you might be disappointed to know that it's not accredited and that it has an "F" rating.
Like other programs, it has positive and negative reviews, such as the ones below:
Becoming a CTFO retailer is free. Meaning, there's no need to pay for any membership or enrollment fee, unlike other programs. However, if you want to earn commissions, you need to sign up as a member and register for their monthly auto-ship worth $47.47.
That's just it. Normally, MLM companies will require a high upfront cost but not with this brand, which, for me, is a good thing. At least you don't need a massive capital to begin with. The problem is the monthly auto-ship; you have to pay almost $50 every month to keep your account active and to earn commissions.
If you want to make money without capital and even monthly auto ships, I suggest you take my FREE Step-By-Step Guide now!
Here Is My Top Recommendation to Start Highly Profitable Online Business from Comfort Of Your Home
PROS
Variety Of Products
There are varieties of products to choose from -- skincare essentials, supplements for you and your pet, etc. As a distributor, this gives you different products to market and a higher chance to earn an income through profit sales.
CONS
Limited Income Potential
Every state and country has their own rules when it comes to selling and using CBD-infused products. For example, anyone who is prescribed to use Hemp-based products in Germany should have a medical marijuana card or prescription first before they can avail of the products. It's not allowed to be used for recreational purposes.
Considering this and the other rules from other places, your market is limited. Also, since there's still a stigma against marijuana, it would be a challenge for you as a distributor to promote your products.
Focused On Recruitment
Based on their compensation plan, bonuses and other compensation goes to those who can recruit more people to join the platform. While inviting individuals is usual in MLM, putting too much attention on this can cause a negative impression.
Some people might call it a scam or a pyramid scheme and who knows, it might be the next program that FTC will shut down.
Tired of Trading Your Precious Time for Money?
Here is a Blueprint to Owing Highly Profitable Online Business Without Any Experience REVEALED!
If you like CTFO, I suggest that you should check your state or country's rules and regulations about CBD first. If it's illegal in your place, it's not worth the risk.
If it's legal, that's good. As long as you believe in the product and you know how to convince people to join your team, then you're good to go.
First of all, I'm not against the use of CBD. I somehow know how beneficial it is, especially in treating illnesses that are often hard to relieve. However, there's still a doubt in case the component itself becomes legal.
I mean, there will be people who will take advantage of it so I guess it's still good if the government is still strict about its consumption and production.
As for the business opportunity, joining an MLM program is challenging, let alone selling products that are expensive and almost prohibited so if I were, I would consider other options instead.
It's worth noting though that the company has not been involved in any issues but still, I won't waste my time using this program.
If you're someone like me who would rather stay home and avoid bothering other people, then I suggest you take my #1 recommended program.
It's perfect for stay-at-home parents, working individuals, or anyone who wants to earn extra income without capital. Sign up now and enjoy the following benefits:
Proven strategy to work smart and earn a lot (literally)
Step-by-step guidance
Best possible support including your own training coach
Lots of training resources
My personal help
And so much more!
As always, thank you for reading my Changing The Future Outcome review and if you have any comments or questions, please feel free to drop it down below.
We Constantly Review Programs in "Make Money Online" Niche,
So That You Don't Have to Waste Countless Hours
Want To See Our
TOP RECOMMENDATION?