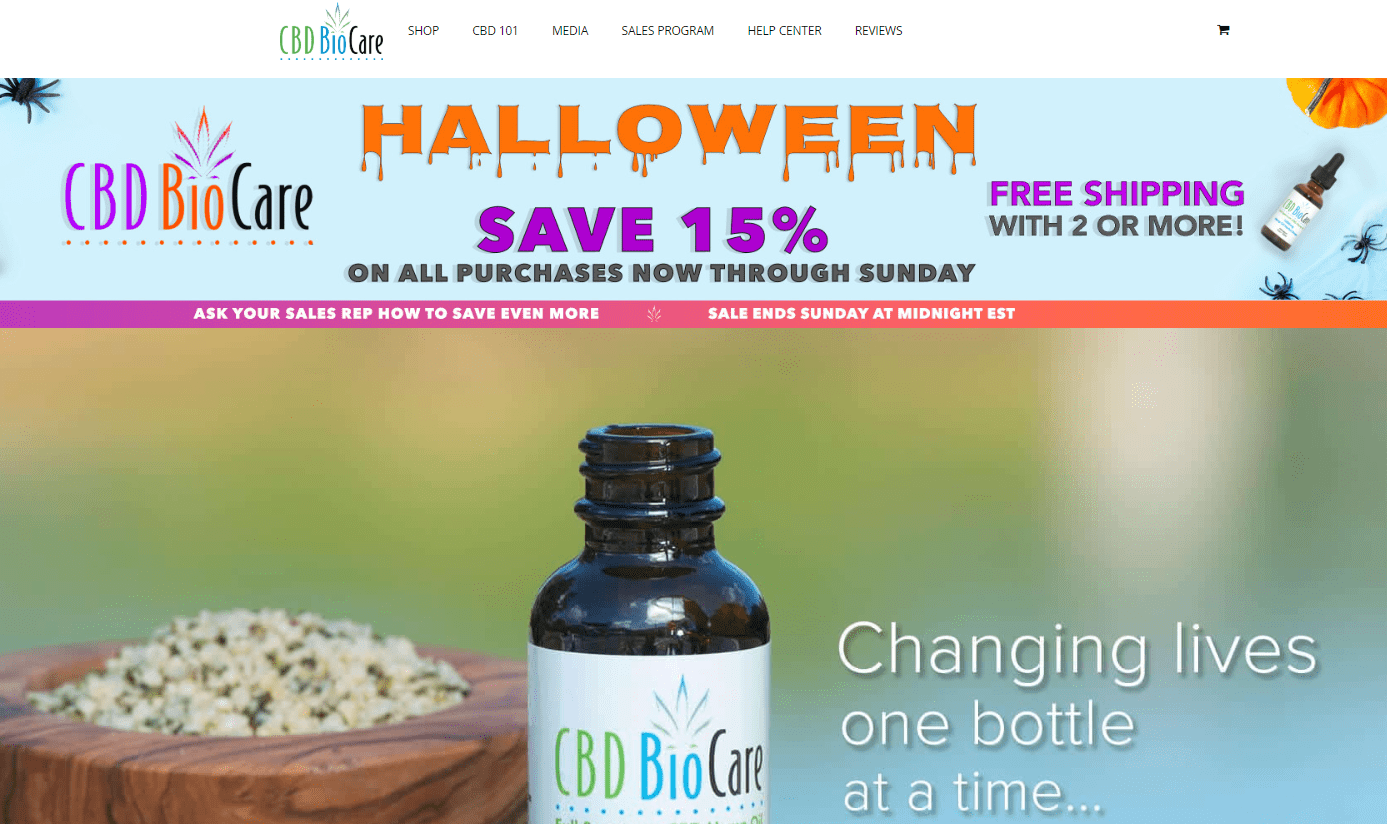 Welcome to My CBD BioCare Review!
You're probably in this site trying to gain insights and information about a business you're trying to pursue. So pat yourselves for trying the extra mile by researching and investigating.
It is better to be meticulous rather than being too risky and careless. That's a great way to avoid scams. And after all, you will be investing your time, money, effort and energy in whatever business you will opt to try and of course, you won't want to lose it afterward.
CBD BioCare Review Summary
---
Name: CBD BioCare
Website: www.cbdbiocare.com
Founders: Matthew and Stacy Pitts
Product Type: Multi-Level Marketing
Price: Free + Optional Packages Ranging from $99 to $349
Quick Summary: CBD BioCare is another E-commerce MLM company that markets and provides products infused with CBD (Cannabidiol) to buyers and distributors whom they refer to as "sales representative". This MLM company's transparency is commendable. You could check their website and see everything about their products, founders, compensation plan and many more. They market high-quality products that are certified as well by 3rd party agencies.
Overall Rating: 5/10
Recommended: No
Nowadays, products concerning health and wellness are rampant in the market and CBD Biocare is one of them. It's one of the many MLM companies in the CBD and Hemp niche.
This MLM company supplies a product with CBD (Cannabidiol) which is extracted from Cannabis plants. We know that in some places and cases, it is still not legalized.
Yet, this plant is also therapeutic and is used for the treatment of some diseases but would it be safe selling products containing this?
Is it legalized? Is CBD BioCare a Scam? Does it really offer FREE REGISTRATION? Would it be a great job to start earning as a beginner?
Well, all that and some other questions in your mind, we will answer in this CBD BioCare REVIEW!
P.S.
Whether you're not comfortable joining an MLM platform or you just want a side hustle, I suggest you take my FREE Step-By-Step Guide on how to make money online.
CBD BioCare is one of those multi-level marketing (MLM) companies that are enthusiasts of the CBD industry.
CBD (Cannabidiol) is one of the most prevalent active ingredients of Cannabis, along with THC (tetrahydrocannabinol) but compared to THC, CBD is non-intoxicating. With the company's transparency, you can see more details and information about CBD, Cannabis and many more on their website.
So as mentioned above, CBD BioCare is multi-level marketing (MLM) that markets and sells CBD infused products. From oils to beautiful skincare products.
CBD Biocare was founded in Florida by the husband and wife team-up of Matthew and Stacy Pitts.
It's about 3 years in the business. Matthew and Stacy established the company with the goal to spread the benefits of CBD to the communities and even globally. They transact business in the USA, UK, Mexico, Puerto Rico and many more.
The story of how the company began was when Matthew visited a friend from high school who was suffering from Cancer and he later found out that Cannabis was one of the most effective pain relief for that friend. It made him develop an interest to help others through the medicinal benefits of marijuana and thus the CBD BioCare company was born!
CBD BioCare Product Line
CBD BioCare is an E-commerce MLM company that sells health and wellness products infused with CBD. And yes, from what I've researched, they have great ratings and reviews with regards to their products.
Their products are said to be manufactured and organically grown in the US. Their products are as well third-party tested, ensuring the high quality of products.
Here are the 4 lines of their products:
CBD BIOCARE – Full Spectrum CBD supplements (CBD oil - best seller)
CBD BIOSKINCARE – CBD infused cosmetics and personal products
ALL NATURAL CBD BIOSKINCARE – CBD infused, all-natural cosmetics and personal products
CBD BIOPETCARE – for pets
How To Make Money With CBD BioCare?
So how to make money with CBD BioCare? First, you'll have to register. Registration is free or you have the option to upgrade it by paying $99, $199 or $349 respectively. By signing up as a sales representative in the FREE option, you are given access to Member's area, a sales dashboard where you can track visitor's sales and commissions.
But if you have upgraded, these are the following fees and inclusions:
$99 – gives you FREE features (as discussed with FREE membership), personalized landing pages, coupons and more
$199- you well as get FREE features and with the $99 features, products such as the CBD oil, Apple Stem Cell, Rejuvenation Cream, and Pain balm.
$349 – you'll get the FREE, $99 and $199 features plus products such as anti-aging skincare products, pain balm, and CBD oils
As a CBD BioCare sales representative, you can make money through: your product sales, allowing you to earn 20% commission and the people you recruit to join the company, letting you earn a 10% commission.
You can also earn more by moving up your ranking so you can get a maximum of 40% commission.
Ranks In CBD BioCare Compensation Plan
Sales representative
Sales Manager
CBD CEO
Learn more about their compensation plan here.
You can also watch the video below to learn more about CBD BioCare compensation plan:
Are CBD BioCare Products Legal?
Yes, CBD BioCare markets products that are with CBD and these are from Cannabis. And as we know, Cannabis is restricted and not legalized in other states and most countries. In CBD, the chemical, THC or tetrahydrocannabinol is removed so that taking products with this won't get you high.
As with the Food and Drug Administration, they approved the use of Epidiolex, a drug that contains a purified form of CBD. But, currently, there is no FDA approved products that are with CBD. So if there is a company that sells these products and saying its FDA approved, then that's illegal!
But again I'd like to commend this company for being transparent, they've even made it clear on their website that the Food and Drug Administration (FDA) has not evaluated all statements made about their products.
Well, to answer the million-dollar question if it's legal or not? I believe it is LEGAL in SOME PLACES. I have found that CBD and legal marijuana is legal in 33 states in the US. (As shown in the picture below)
So I guess, in most countries, it is still not legalized. Then, for most market population, it is still ILLEGAL. So if I were you better check first and research.
CBD BioCare is not a scam. It is a legit MLM company that's been already in the business for 3 years. They are selling tangible products that can be used and the market. Though they are not a Better Bureau Business (BBB) accredited company due to some rules, procedures, and ways that are not convincing and questioning their credibility (like with regards to CBD), they still do hold an excellent A+ rating with no complaints and numerous good ratings and reviews.
Starting with this MLM opportunity, to be a sales representative you have to sign up for FREE or pay the optional packages if you want to upgrade. The packages come along with various inclusions (See picture below). You could choose from $99, $199 and $349.
Here Is My Top Recommendation to Start Highly Profitable Online Business from Comfort Of Your Home
PROS
Company's Transparency
One thing I really like about CBD BioCare is that they are transparent, from CBD information, manufacturing process, compensation plan and even to accreditations /certifications, they have everything posted on their website. At least, you will be well-informed before joining or buying.
Friendly Website For Customers
The CBD Biocare website's transparency gives a lot of valuable information to customers visiting their page. Going through their website will provide you everything you need to know about the company, CBD, what they offer and many more. I believe it will be beneficial and convenient for customers to be well-informed.
Quality Of Products
As said in their website, their products are full-spectrum (means that they are full of terpenes, cannabinoids, and flavonoids minus the THC), manufactured in the US and even tested by third-party agencies ensuring its safety and efficacy.
CONS
Pay Particular Attention To Recruitment
Just like any other MLM, they suggest recruitment. Yes, they don't have a minimum sales or target quota but you have to raise your rank to earn more.
Low Income Potential
For those who are looking for a full-time job, this could not give much of a living. And as well as for rookies with no experience in the MLM world, this would be a struggle. It could be really of low-income potential.
CBD Not Legalized In Other States
Due to the fact that CBD is still not legalized in most states and countries, how sure are we that we are legally selling these products? And also, CBD is still not FDA accredited.
I'm not against medical cannabis and marijuana but it can still be a threat to abuse. And these substances should be well-regulated and only be used with a doctor's prescription and consent. CBD BioCare even stated that they are not yet FDA Accredited and not certified by the US Hemp Authority.
Cosmetic Products Contains Toxic Chemicals
A source said that their cosmetic products contain harmful substances such as Polysorbate 20, Phenoxyethanol, Dimethicone and PEG 100 Stearate that are said to cause cancer and irreversible health problems. Now, that is a BIG DISADVANTAGE!
FREE TRAINING
Learn How I Started Highly Profitable Online Business From Comfort of My Home Following This Blueprint
Signing up as a CBD BioCare Sales Representative gives you a sales dashboard that will help you track visitor's sales and commissions. It will also allow you to access business tools and resources. You can also have a team that will help you or a team that you will build to expand more sales and earn more commissions.
CBD products are not intended to diagnose, treat, cure or prevent any disease. So, it is really essential to search and investigate more before using it. You could use it at your own risk but for me, it's better safe than sorry! Health is wealth and for me, I don't want to risk my health on the line.
Overall, I would not recommend joining this MLM business venture. Yes, it is a well-established MLM company and it is not a SCAM. It is a legit MLM company that sells tangible products. But due to the fact that CBD is still not legalized in other states, it would be too risky. As well as the fact that they are not yet FDA accredited and their products are not certified by the US hemp Authority.
And also, just like other MLM companies, it encourages recruitment in order to earn more. Yes, you don't have a sales minimum or quota but it will really require your hard work, great recruitment skills, and the guts to progress and be promoted in this business. Therefore, for newbies and those who are new in this kind of business, it's of low-income potential.
MLM is really a challenging and risky world to venture within starting a business. It would cost you a lot, for you will have to risk not only your time and effort but also your money.
Want a safe and legit way to make money online without putting your money on products? Then I have the perfect solution!
Sign up with my top-recommended program now and take advantage of the following offer:
Training resources
Webinars to help you start your business online
One-on-one coaching
Comprehensive guide
And many more!
By the way, thank you for taking the time to read my CBD BioCare review. I hope this was helpful and informative. Feel free to share your thoughts in the comment box below.
Thank you!
We Constantly Review Programs in "Make Money Online" Niche,
So That You Don't Have to Waste Countless Hours
Want To See Our
TOP RECOMMENDATION?