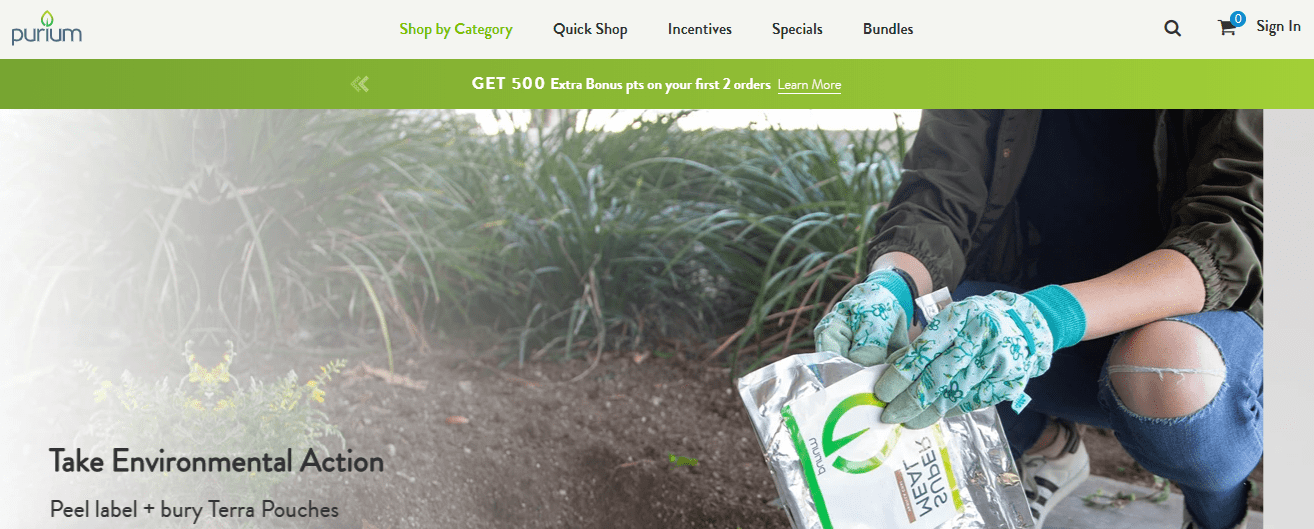 Welcome to My Purium Review!
The first time I visited Purium website and immediately I had a good grasp of what this company is trying to sell. Initially, you wouldn't think of it as a multi-level marketing (MLM) company because the first thing that you would notice is their products.
Purium Review Summary
---
Name: Purium
Website: www.ishoppurium.com
Founders: David Sandoval and Amy Venner
Product Type: Multi-Level Marketing
Price: $49 Starter Pack Or $199 To $500 For Launch Pack
Quick Summary: Purium is a health and wellness multi-level marketing, claiming to earn money by giving out $50 worth of gift cards to its members and distributor. But if you look closer, you'll realize it is not easy.
Overall Rating: 5/10
Recommended: No
But once you start browsing their website, you'll see that they are offering opportunities for business-minded people and those who want to earn extra income.
I've reviewed MLM programs with both good and bad feedback. But in all honesty, Purium is, in fact, one of the good ones. So, let's go into the details and find out.
Purium is a health and wellness MLM company founded by Dave Sandoval and Amy Venner in 2004. Based in Longbeach, California, the company started as a green foods manufacturing company back in 1993 using homegrown local products from a privately-owned farm. Even before hitting it big in the industry, the company is already known in selling products that are related to health and diet.
Promoting a holistic approach for healthier living, Purium's motto is "we want to help you eat better, age more gracefully and live longer." Mostly, Purium is about combating the processed food pollution with many of their products staying true to the principles of naturopathy.
In fact, Dave has developed a 10-Day Transformation Program, which eventually became the company's flagship product and promising "the fastest, healthiest, simplest weight loss program on the planet."
Purium Health And Wellness Products
Purium offers health and wellness organic superfoods that support nutritional and fitness, cleansing, weight loss, and anti-aging. In total, they have over 100 products to offer that fall into one or more of the categories listed below. Let's take a closer look:
Weight Loss - They offer a series of shakes, supplements, and meal replacements designed to help you lose weight. Some of which are included in the 10-Day Transformation Program.
Greens - These are made from green plants, consisting of organic juices varieties and healthy green supplements.
Athletes - Shakes and supplements for active and athletic types to boost performance and agility.
Anti-Aging - These are created so fight or decrease the signs of aging. It includes products for joint health, heart health, and other parts of the body.
Family Nutrition - A line primarily composed of meals and products designed for children's health.
How To Make Money With Purium?
Purium also offers different types of commissions where you can earn. See the summarized breakdown for guidance:
Gift Card Marketing System - Purium provides a set of $50 gift cards to distribute at their own preference. Distributors don't need to pay anything for the gift cards. However, they can't receive any commissions until the gift cards are used for to avail 10-Day Transformation Kit.
Affiliate Health Ranks - There are 18 affiliate rankings that you can achieve and move up the ranks by reaching certain achievements (sales + recruitment + group sales). Once you reach the 18th rank, you'll start earning hundreds of thousands a year. However, there is a difficulty to reach that rank.
Recruitment Commissions - Recruiting people into the system lets you earn bonuses. If one of your recruits avail one of the Get Started Enrollment Packs you receive a $50 commission.
Unilevel Compensation Structure - This is a commission you get when your recruit or a retail customer places their first order.
See the details below on how the structures look and works:
1st Level – This level will only have your personally referred members on it
2nd Level – This level will only have your team members that you personally referred or level 1 members sponsored into Purium.
3rd Level – This level will only have your team members that your level 2 team members personally referred to Purium.
Other Bonuses - There are various bonuses you can achieve as you progress further into the compensation plan such as the Infinity Bonus, Matching Bonus, Rank Achievement Bonus, Lifestyle Bonus and more.
For me, you don't really need to focus so much about all these available bonuses until you really start earning good money. But if you want to really know and study these in-depth, here's the link to the entire compensation plan. Also, I like and appreciate how this company displays the potential average earnings on their website.
To learn more about Purium, you can watch the video below:
With all the information I've read, I don't think the company is a scam. It is a real business offering real products. In fact, their products are the United States Department of Agriculture (USDA) Organic Certified, Non-GMO Project Verified, and Good Manufacturing Practice Certified.
One thing that sets Purium apart from other MLMs is their unique recruitment scheme. Breaking the traditional style, the company gives out gift cards as a way to advertise not only their products but also the entire business opportunity.
If you're interested in joining Purium, you have to avail either one of their enrollment packs. You can be a brand partner by purchasing a starter pack that costs $49. The starter pack only includes an electronic kit without any products. You are also required to purchase a minimum of 50 volume worth of products each month to gain an active status and receive any commissions you may earn.
The other enrollment pack is known as 'launch pack' which costs at around $199 to $500. This pack includes essential training and marketing resources, online back office with access to their mobile app, Green Foods Bible book written by David Sandoval and unlimited $50-worth of gift cards that you can distribute at your own preference.
Here Is My Top Recommendation to Start Highly Profitable Online Business from Comfort Of Your Home
PROS
60-day Unconditional Money-Back Guarantee
Aside from their recruitment scheme that I like, Purium offers '60-day Unconditional Money-Back Guarantee' promo that lets you avail refund if the product didn't work for you the way you anticipated it to work. Beyond the negative feedbacks that they receive, you cannot erase the fact that despite these backlashes, Purium remains to have a solid list of satisfied customers. If you will take time to read some of their product reviews, you'll notice that some are indeed true and legitimate.
Health And Wellness Advocate
Another way Purium sets its brands among other health MLMs is hey are an advocate of the principles of naturopath and offers free nutritional consultations to their members. For people who follow this kind of lifestyle, this can be a big factor. The company has been around for some time and has a good list of products to choose from.
CONS
Expensive Product Line
How many people in your circle do you think will buy a $249 product that only lasts for 10 days? This is the case for their 10-Day Transformation Plan. Also, it took time to scout the market, you'll find cheaper products that offer the same benefits.
Auto Shipment Scheme
Purium is very strict on selling quotas to maintain a ranking level and an active status. Take note that you have to reach a certain product selling rate to be qualified for commissions. If you won't be able to sell, you have to buy it.
Low Success Rate
Selling health and wellness products are difficult, especially with the tight competition in the market. You have to double your efforts but that doesn't guarantee you a big earning. Yes, some people get rich by joining Purium. But most MLMs are the same where the majority rate of the people who join failed with their investments!
Tired of Wasting Time on Low Quality Programs?
I'm so grateful that I was able to find THIS PROGRAM which helped me to finally start making money online!
Purium is definitely a match for people who advocates healthy living and actually practice on it. I believe that selling products related to nutrition, health, and wellness should first be tried and tested by the seller. This guarantee a truthful recommendation and indeed plus a bonus when pitching your unique selling proposition.
To be able to sell these types of products, you should first believe in its value and capabilities rather than creating make-believe principles. After all, bad side effects resulting in negative feedback is a no-no on the company's brand and reputation.
For people who joined Purium, you will be required to pay additional costs to avail conventions, seminars, additional training, products. These are indirect costs that are associated with starting a business.
On the good side, the company still offers guidance about the business. They set up their distributors with training and support materials that can help teach the right way to go about building their business. However, this training may not be as in-depth as you expect it to be. The end result is that recruits are faced with a difficult model and rarely have the skills or knowledge to fully take advantage of it.
If we're going to rely on the products offered alone, I would honestly say that Purium has lots of business and earning potential in-store. Setting aside the fact that their products are expensive, they have an edge among their competitions in the market.
However, doing a quick glance at their income disclosure report clearly demonstrate that before your reach success level, you'll have to work hard by selling their products and recruiting people - most common requirements of joining an MLM company.
I can recommend Purium because it is not a scam, but on a very personal level, I would not join. Other health and wellness companies in the market don't require you to sell products with quotas. Some health and wellness companies even offer direct affiliate and online marketing with wider audiences and more competitive products.
Earning with Purium is not impossible. However, you should carefully weigh the pros and cons of joining. You don't want to end up wasting not only your time and effort but also a huge amount of money.
Tired of all the programs claiming how they can make you rich almost in an instant? Don't worry, you can check out my top recommended program.
It lets you have the best make-money online opportunity without the need to invest a huge amount of cash. Now that sounds almost risk-free!
All you have to do is sign up and enjoy the following perks:
Training resources
Webinars to help you start your business online
One-on-one coaching
Comprehensive guide
And many more!
Join now and have the business opportunity you have always wanted.
Thank you!
We Constantly Review Programs in "Make Money Online" Niche,
So That You Don't Have to Waste Countless Hours
Want To See Our
TOP RECOMMENDATION?