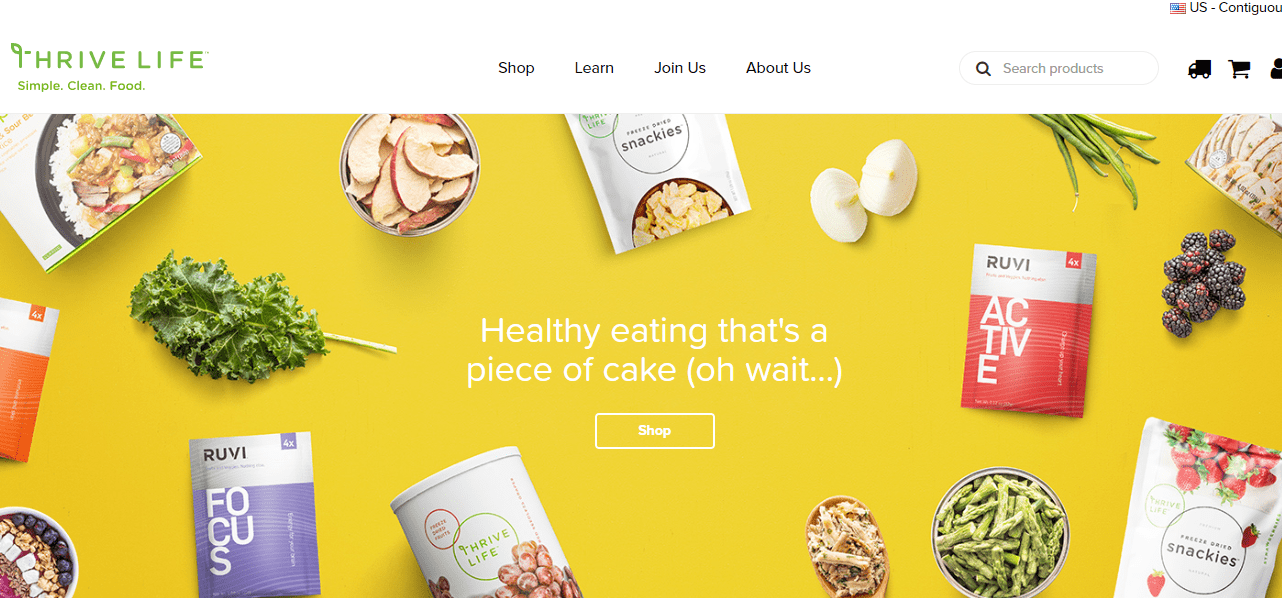 Welcome to My Thrive Life Review!
Nowadays, more and more people are becoming health conscious that's why the demand for health and wellness products is increasing. MLM companies, such as Thrive Life, is using this to promote not only their products but also their business opportunity.
But before signing up and becoming one of their consultants, it's good to know what the company is about. How does it work? Can it really help you make money online? Is Thrive Life a scam or not
Thrive Life Review Summary
---
Name: Thrive Life
Website: www.thrivelife.com
Founders: Steve and Amy Palmer and Jason and Lindsay Budge
Product Type: Multi-Level Marketing
Price: Starting From $100 To $475
Quick Summary: Thrive Life is an MLM company founded in 2004. It promotes ready-to-eat snacks, meals, and merchandises. Like typical MLM companies, their distributors earn money by selling their products and achieving milestones.
Overall Rating: 5/10
Recommended: No
The first time I visited their website, I already knew what it's about.
It's a multi-level marketing company that compensates you for selling the products and recruiting new people to join the program. At first glance, it looks good but I have always been skeptical about this kind of business model so before you sign up and become a consultant, be sure to read the entire Thrive Life review first.
P.S.
If you want to avoid scams or investing a huge amount of cash, I highly suggest my #1 recommended program.
What Is Thrive Life About?
Unlike usual health and wellness MLM companies that focus on supplements, Thrive Life promotes food supplies, such as cereals, ready-to-eat fruits and snacks, sauces, seasonings, etc. They also have apparels, bags, and phone pop sockets.
It's under health and wellness brands but it's not like the usual ones, such as Valentus, Purium , Nature's Sunshine, CELLiS, and TruVision Health that focus on producing supplements and beverages. Rather, they promote real food that you can consume to make you healthy.
Who Owns Thrive Life?
Thrive Life is founded by Steve and Amy Palmer and Jason and Lindsay Budge in 2004. It started out as Shelf Reliance, a direct sales company that sells shelving units and shelf-stable food, thus the name.
In 2006, it rebranded to Thrive Life while adopting the business model of multi-level marketing.
Thrive Life Product Line
Basically, their products are divided into three categories: Grab 'n Go, In The Pantry, and Other.
Under Grab 'n Go, you'll find food supplies, such as meat, fruits, cereals, vegetables, and dairy that are ready-to-eat. The food supplies under In The Pantry category are almost the same, except that you need to cook it before consuming. On Others, you'll find accessories, such as can openers and phone pop socket, shirts, and bags.
When it comes to food quality, have a few organic food supplies to offer so if you're into this kind of fruits and vegetables, you may consider this company. However, not all of their snacks and drinks are certified organic, probably because of its long and expensive procedure.
Nonetheless, the brand claimed that their "foods are fully cleaned and tested before they are packaged to ensure there are no foreign particles or contaminates".
Thrive Life Product Reviews
The brand has received a few positive and negative product reviews, such as the ones below:
How To Make Money With Thrive Life?
There are three ways to earn with Thrive Life: personal sales, team sales/commissions, and residual income. But before you and your team receives a commission, you must achieve certain milestones or personal and team sales for the month.
To learn more about Thrive Life's Compensation Plan, you can watch the video below:
Thrive Life is a new company, with over 10 years of experience in the industry. However, despite being new, it shows potential to the market. Also, the good news is that it hasn't involved itself in any controversial issues, like AIM Global.
However, like most MLM stories, it's not easy to make money with this kind of business model. From what I heard, only those who have started with the company makes the most money. The downline -- not so much.
Also, you need to exert extra effort in convincing people to buy your products. Compared to Amazon or other online shops, most MLM essentials are two or three times more expensive so you really have to know how to persuade your market.
Another thing that you have to worry about is training and growing your team. Most people assume that MLM and pyramid scheme is alike. No one can blame them though because some consultants have unethical practices when it comes to inviting new people.
On top of this, you have to put a huge investment first before you stop earning so if you want to avoid these drawbacks, you can take my FREE STEP-BY-STEP GUIDE on how to make money online.
Like typical MLM companies, you have to purchase a Starter Kit if you want to join Thrive Life, such as:
Social Seller $100
This includes a few food samples that you can consume or share with your friends, plus a marketing supplies.
Ruvi Kit $120
This includes a month-worth of Ruvi supplies and marketing materials, such as Ruvi flyers, order forms, and catalog.
Business Builder $200
This includes a combination of Ruvi and Thrive products plus marketing materials, such as tastings recipe cards, sample cups, and postcard invitations.
Business Builder Plus $475
This includes 2 Business Builder Kits and 1 Social Seller Kit.
You have the freedom to choose any kit you want but if you're new to MLM or this brand, it's wise to start with the cheapest first just to have a grasp of what their product is about. Also, it reduces the risk of losing money.
In case you don't know, a study conducted by Jon M. Taylor suggests that only 1% of MLM participants get their money back. Therefore, the rest, which is around 99%, lose their investment.
I believe this because I've had friends who have joined MLM companies. The business itself is lucrative but since the products they promote are expensive, they can only convince a few people to purchase it. Plus, you have to recruit people to join your team for a higher chance to get more sales, which, by the way, is a daunting task.
Here Is My Top Recommendation to Start Highly Profitable Online Business from Comfort Of Your Home
PROS
Quality Products
Thrive Life has a few organic products if you are specific with how you want your food to be produced. They offer to-go snacks, which I think is a good thing since most people have a busy lifestyle.
CONS
No Income Disclosure Statement
I browsed their website and found none of their income disclosure so I checked it online and the only thing I found is a blog from its consultant. First of all, the income disclosure statement as it gives aspiring distributors and idea of how much their current consultants are earning.
They've been operating for 10 years so they should already know about this.
Low Income Potential
There are too many competitors and since their products are overpriced, it would be a challenge to sell all these. Although the products of Thrive Life are of high quality, there are cheaper alternatives around.
Tired of Trading Your Precious Time for Money?
Here is a Blueprint to Owing Highly Profitable Online Business Without Any Experience REVEALED!
Thrive Life is ideal for anyone who wants to make money selling nutritional foods. I recommend this to those who have tried their cereals, beverages, and ready-to-eat snacks personally since it's already an advantage. You already know the product and you believe in it so it would be easier for you to sell it.
Also, it's good for those who have tried multi-level marketing before since they have an idea about the system. Network marketing is not an easy business and most of the times, you are risking money. So, unless you're confident with this kind of business model, you should look for a better alternative to make money online.
What's good about some MLM companies is the training they provide. They ensure that their people have enough knowledge about their products and that they are motivated to promote the brand.
As with Thrive Life, you can find Home Party Consultant Training Manual online. This gives you a thorough explanation of their history, mission and vision, products, and how to host a Thrive Life party.
Your upline may also provide you a few training to learn more about the products and marketing strategies.
Overall, Thrive Life sounds like a good MLM brand. They promote quality products that you can consume if you're conscious about your health. Also, unlike other MLM companies, there are no reported unethical practices from their distributors.
I reviewed more than a dozen network marketing brands and most of them are compared to a pyramid scheme because of their aggressive consultants. Luckily, this is not the case with Thrive Life.
Despite being a good brand, I know that there are other people who are not fond of MLM programs -- and I completely understand this. The risk of losing money and even friends is high so I suggest that you sign up with my top recommended program instead.
It's free and it lets you enjoy the following benefits:
Proven strategy to work smart and earn a lot (literally)
Step-by-step guidance
Lots of training resources
Best possible support including your own training coach
My personal help
And so much more!
I hope you liked my Thrive Life review and if you have any questions or comments -- or you want to share your personal experience with this brand -- please feel free to drop it down below.
Thank you!
We Constantly Review Programs in "Make Money Online" Niche,
So That You Don't Have to Waste Countless Hours
Want To See Our
TOP RECOMMENDATION?