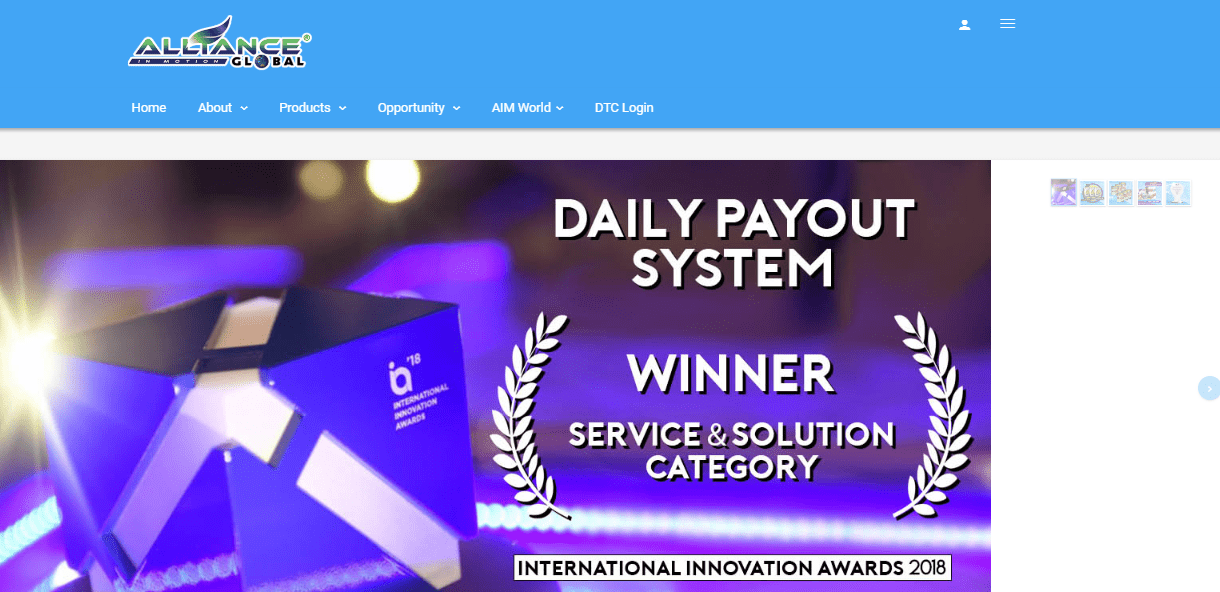 Welcome to My AIM Global Review!
The biggest question - Is AIM Global legit?
If you're here, you're probably wondering whether this network marketing company is a scam or not. After all, they're all over Facebook, especially last year. A couple of friends even invited me to join the program. However, I've always been skeptical about multi-level marketing because of their distributors' unethical ways.
AIM Global Review Summary
---
Name: Alliance In Motion Global (AIM Global)
Website: ww.allianceinmotion.com
Founders: Raymond Asperin, Engr. Francis Miguel, and Dr. Eduardo Cabantog
Product Type: Multi-Level Marketing
Price: $260 + Monthly Purchase
Quick Summary: AIM Global is an MLM company that almost resembles a pyramid scheme. It faced a lot of issues, such as providing bold claims. Despite the complaints, it's still operating for more than 10 years and has expanded in Asia, Africa, and Europe.
Overall Rating: 2/10
Recommended: No
Anyway, before I answer your question, it's important that you understand what an MLM and a pyramid scheme are and whether these two are the same thing or not -- and that I'll answer in a bit.
I'll also talk about what AIM Global is about, its compensation plan, pros and cons, controversies (if there's any, who knows?), and whether it's a good program for you or not. Plus, I'll share with you my #1 recommended program that's truly the best opportunity to start online business.
What Is AIM Global About?
"Turning ordinary people into extraordinary millionaires" -- that's what Alliance In Motion Global is about, or so they say. Also known as AIM Global, this multi-level marketing company was founded in 2006 by Raymond Asperin, Engr. Francis Miguel, and Dr. Eduardo Cabantog. It's one of the most popular MLM companies in the Philippines.
The direct sales network has also tapped in other markets from Europe, Africa, and other parts of Asia. Some of their products include whitening capsules, slimming coffee and choco drink, and health supplements.
I browsed its website and after seeing the tagline, I was skeptical already. While having a business makes a difference in our finances, you cannot simply make someone a millionaire in a short time; however, the company makes it sound like an easy goal to achieve.
It's 2019 already and people are wiser now when it comes to investing their money and time. Many of us know already that if something sounds too good to be true, it's because it is.
AIM Global may have placed itself as an MLM company; however, the way it's structured makes it look like a pyramid scheme.
Multi-Level Marketing VS Pyramid Scheme
Before we go any further, let's discuss the difference between the two -- MLM and pyramid scheme.
Multi-level marketing, which is also known as direct sales or network marketing, is a legit business model. It's sustainable and most MLM companies were able to operate for more than 15 years.
What makes this business legit is the fact that there's a real income opportunity offered. For one, they promote tangible products to their market and two, they compensate their distributors for the sales that their team makes.
A pyramid scheme, on the other hand, is illegal. Many pyramid scams were forced to shut down because of their structure. They don't have physical products to sell and the only way they make money is by recruiting "investors".
They promise to pay cash or incentives to their members for inviting a new person and that new person will be compensated for their new referral and so on and so forth. It's illicit and many people have lost their money because of this business model.
The thing is, these two are different but because of the practices that their distributors make, a legit MLM company almost sounds like an illegal one. For example, I was once invited to an MLM company but since I don't have enough cash to pay for their enrollment fee and starter kits, they asked me to "borrow" my dad's laptop, sell it, and pretend that I "lost" it so that I can have the money to join them. Do you think this is ethical or not?
Also, not all MLM companies are legal. Some are pyramid schemes in disguise. They promote products just to conceal what they are but their main attention is to expand their network by recruiting more people to the program.
Now that we know the difference between a pyramid scheme and a legit MLM program, it's time to answer the question we're all dying to know -- is AIM Global a scam?
While I don't like anything about this program, I can't directly say that it's a scam. They have tangible products, to begin with, and they are operating legally in the Philippines. They are not accredited by the Better Business Bureau (BBB) though but they have an A+ rating.
However, it's something that I don't recommend at all. First of all, the products that you are going to sell are overpriced and yes, I know this is usual for all MLM companies.
However, I reside here in the Philippines, so basically, I know if the product is in demand or not. Sadly, it's NOT so if you're a distributor of this brand, it would be difficult for you to make an income out of it.
Also, the product is not approved by the Food and Drug Authority (FDA). It is approved by FDA Philippines though but it doesn't mean that it can be used to treat any disease, such as gout, insomnia, or even breast cancer -- unlike what they are claiming.
Another alarming detail about AIM Global is that you need to pay to level up. I've reviewed more than a dozen MLM companies in the past but none of them work like this. Normally, legit network marketing companies will increase your rank based on the number of personal and group volume you achieve and your referrals.
Now, that sounds suspicious, right? Instead of an MLM company, I believe they work like a Ponzi scheme instead wherein they focus on inviting new people who are willing to spend money rather than promoting their products.
Finally, the website itself is low-quality. If you're a company who's earning a massive amount, based on their claims, why not pay for a good web developer. After all, it represents their brand. Well, I don't think they even care about this anyway.
Here are a few MLM programs I've reviewed and you can see the HUGE DIFFERENCE in how they compensate their members and increase their rank:
If AIM Global sounds like a risk (and I bet it is), I suggest that you look at my top recommended program to make money online.
The Global Package or Starter Kit costs $260. It is the smallest kit they offer and it includes a start-up sales kit, products you can sell, personal accident insurance, a transferable scholarship certificate, coverage for a medical checkup, and online access to your earnings and sales transaction.
AIM Global Compensation Plan
Basically, there are two ways to earn from an MLM program, such as AIM Global. One is via retail profit where you buy their products at a discounted price and sell it based on the suggested retail price.
Next is by inviting people to join the program and purchase a Global Package or Starter Kit. You'll earn around $10 per kit sold.
To learn more about their AIM Global's Compensation Plan, you can watch the video below:
Meanwhile, if you want to increase your rank, you need to pay the following amount:
1 Position - $179.51
3 Positions - $538.53
5 Positions - $899.57
7 Positions - $1,256.57
On top of this, you need to purchase at least $40-worth of products every month to keep your account active and to be qualified for the commissions/incentives.
Here Is My Top Recommendation to Start Highly Profitable Online Business from Comfort Of Your Home
PROS
I honestly don't like anything about AIM Global. Living here in the Philippines, I somehow know how the company works and it's disappointing. Members are posting bold claims everywhere to lure unsuspecting people, and I'll expose more of this below.
CONS
False Claims About Being A Member Of The Direct Selling Association Of The Philippines (DSAP)
There's an uploaded video claiming that Alliance In Motion Global is one of the members of DSAP; however, their official Facebook Page says otherwise. A Facebook user named Rosalin Cos Collado asks if AIM Global is a member of DSAP and the association replied that it's not and that the logo of DSAP they used is a false claim.
False Claim About C247 Being US FDA Registered
First of all, AIM Globa's C247 is a supplement and the Food and Drug Administration "does not have the authority to review dietary supplement products for safety and effectiveness before they are marketed.'' That being said, this MLM company has made another bold claim yet.
Overpriced Products
I know it's usual for MLM companies to sell their products at a higher price but for something that doesn't provide solid claims and value, I don't think it's fair. For example, one gummy from Kiddi 247 almost cost $1. Meanwhile, you can find similar products online at a cheaper rate.
Tired of Wasting Time on Low Quality Programs?
I'm so grateful that I was able to find THIS PROGRAM which helped me to finally start making money online!
Considering all these and from what I see here in Philippine market, AIM Global is not worth anybody's time. Distributors may show flashy things or a bundle of cash to capture the attention of anyone who sees but many people know what's really going on. If there's anyone who will benefit from this, these are the co-founders and pioneers or distributors at the top.
Also, I believe in what
Jon M. Taylor
has concluded in his study: "The loss rate for MLMs is at least 99%". So, are you still willing to risk your money, time, and effort in this kind of business?
MLM is not really a bad business model; however, because of their will to attract new people, most of them resolve to provide false claims or intimidating other people. Honestly, that's just one of the things that make network marketing sound like a scam.
AIM Global only made it worse so if I were you, I'm not going to have second thoughts. I'll ignore this brand asap.
Starting a business is risky; however, many legit options can make it a little bit easier, such as my top recommended program.
Unlike MLM companies, there's no need to recruit new people or sell overpriced products with false claims. You have the freedom to choose whatever product you want to promote and most of all, you'll have the step-by-step guide you need.
Join now and enjoy the following perks:
Step-by-step guidance
Proven strategy to work smart and earn a lot (literally)
My personal help
Lots of training resources
And so much more!
Best possible support including your own training coachI hope you've enjoyed my AIM Global review and if you have any questions or comments -- or you want to share your experience with Alliance In Motion Global, please feel free to drop it down below.
Thank you!
We Constantly Review Programs in "Make Money Online" Niche,
So That You Don't Have to Waste Countless Hours
Want To See Our
TOP RECOMMENDATION?