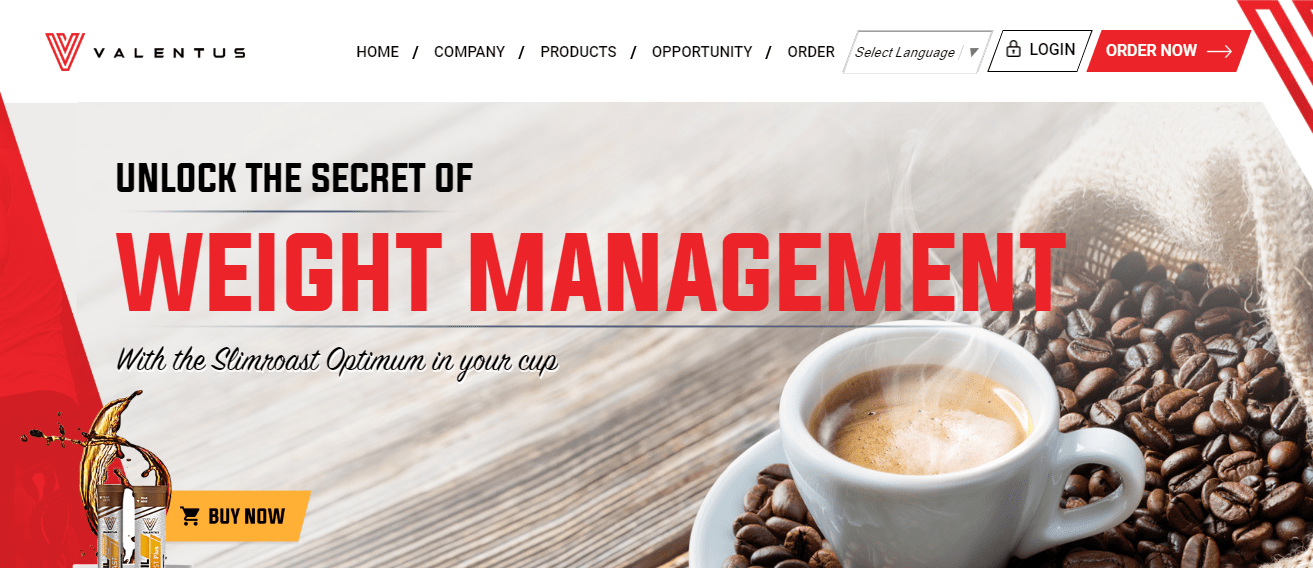 Welcome to my Valentus Review!
One of the most talked-about MLM companies as of today is Valentus, and your Facebook feed can surely attest that. Before-and-after photos of body slimming down as well as the number of orders that their distributors get are almost everywhere -- and once, I almost became very interested.
So, if you're also wondering if this company's legit or just overhyped, then welcome to my Valentus review.
Valentus Review Summary
---
Name: Valentus
Website: www.valentus.com
Founders: Dave Jordan
Product Type: Multi-Level Marketing
Price: $29 One-Time Enrollment Fee + $59 Up To $499 Monthly Autoship
Quick Summary: Valentus is famous for its SlimRoast Coffee -- a coffee designed to help lose weight. Other than that, there are other products to choose from which you can sell if you want to become their distributor. As an MLM company, you can also earn commissions by recruiting new people to join the platform but is Valentus worth your time?
Overall Rating: 3/10
Recommended: No
In this post, you'll learn what it's about, if this opportunity is legit or not, the compensation plan, pros and cons, and whether you should join the program or look for another one.
P.S.
I'm not an affiliate of Valentus and although I was interested in promoting their products, I was still skeptical so, expect that I'm not here to pitch the company.
Valentus is a multi-level marketing (MLM) company that is under the health and wellness niche. They are popular for their slimming coffees but they also have other products to choose from. Speaking of their weight loss coffee, did you know that they were asked to change its formula? Why? -- that, I will answer in a bit. For now, let's talk about their company.
Who Founded Valentus?
Valentus was founded by Dave Jordan in 2014. Before launching his own company, he was involved in other MLM brands, such as Waiora, Melaleuca, and LiveSmart. While having his own experience with network marketing is an advantage, I found out a few things that would make you think twice about joining his program:
A lawsuit had been filed against Waiora. The said suit suggests that "the company sold a mineral-enhanced anti-aging product that, in reality, contained little more than water".
It was reported that LiveSmart 360 wasn't able to pay their Distributors and vendors. Also, some of their employees have been laid off.
NOW THIS ONE'S A SHOCKER: According to a source, Jordan has used "90 million people database of networkers and opportunity seekers and several lead generation technologies to "force-feed" enrollees in Valentus' IRs power teams"
There are several allegations online stating about Jordan's questionable practices, such as taking over commissions and downlines and altering downlines without consent.
One leading Distributor for Valentus, Korey Johnson, apparently left the company and started his own coffee business called Cellis because of Dave's unethical business approach.
According to this document, each box of Valentus coffee only costs $6 but the company is selling it to their distributors for $59.95 each.
Valentus is illegal in the United Kingdom since they are not registered in the UK. the sad thing about this is that their distributors were not informed before joining their program. So basically, they have invested in a product that they're not allowed to market.
Advanced Laboratories -- one of Valentus' suppliers, claimed that the company owed them more than $3M. It has been settled afterward.
The company has been accused of being an illegal pyramid scheme.
If this is not enough to convince you that this is NOT the right program for you, I don't know what else will. While I'm not a fan of MLM programs, I know that there are other health and wellness companies that you can consider if you want to become a distributor and start your own business, such as:
Valentus Product Line
Valentus came from the Latin word "Prevail", thus it's the name used for most of its products. Originally, most of their products include weight loss coffee, an immune system enhancer, and an energy drink. But in 2018, the company added a few more products that, like their previous drinks, are easy to prepare.
Every product comes in powdered form that you can mix with other liquid beverages, such as water. Below is the products lineup of Valentus:
Breakthrough AM/PM
Keto Creamer
Prevail Energy
Prevail Immune
Prevail K-9
PrevailMax
Prevail Trim
SlimRoast
SlimRoast Cocoa
Valentus Compensation Plan
Like other MLM companies, you earn money with them by selling Valentus products and by inviting more people to join the program.
But, the only way to earn more cash with them is by increasing your rank.
In the photo above, you can see what you need to do, such as the required monthly BV and monthly autoship to move into the next rank.
To learn about Valentus compensation plan, you can watch the video below:
No, it's not a scam. So far, Valentus has proven to be a legit MLM company despite the controversies that it is facing. However, if you're asking whether this brand will work for you or not, that's another issue.
For one, the exorbitant pricing of their coffee is a problem. There are more than a hundred slimming coffee in the market that are lower than Valentus' suggested retail price. I mean, are you willing to pay $60 for a box of coffee?
Reality speaking, the demand for such an overpriced coffee is low. Also, can you really expect to lose weight even without exercise or proper diet? Let's say SlimRoast coffee helps in curbing appetite but without having an active lifestyle and altering your diet, it won't help you lose weight safely in the long run.
As a seller, these things can be challenging so the question is: is Valentus worth it? If you're willing to take the risk, then it's up to you.
If not, don't worry. There are other options to choose from such as my #1 Recommended Program. Unlike MLM companies, there's no pressure to had sell anything and you can freely choose whatever niche you want to promote.
Is Valentus Accredited By The Better Business Bureau?
One of the best ways to check the company's legitimacy, for me, is by checking them on the Better Business Bureau (BBB). I found out that Valentus is not accredited by BBB and that it received a B+ rating.
Some MLM companies I've known which are not certified by BBB have an A+ rating, so for me, it's one way to tell that the company's not worth my time.
Here Is My Top Recommendation to Start Highly Profitable Online Business from Comfort Of Your Home
Like most MLM companies, Valentus will offer you a low price to start your membership but eventually, you'll end up spending a huge amount in the long run. To get started, you need to pay a $29 one-time fee. In addition, you have to shoulder the required monthly autoship of any of these packages:
Basic Pack $59
Starter Pack $129
Advanced Pack $199
Business Builder Pack $499
Tired of Wasting Time on Low Quality Programs?
I'm so grateful that I was able to find THIS PROGRAM which helped me to finally start making money online!
PROS
Coffee tastes good and according to most reviews, it's true to what it says.
CONS
Product prices are hidden.
Company is involved in too many issues.
Required monthly autoship.
Focused on recruitment instead of selling.
Too many competitions when it comes to slimming products.
No income disclosure statement posted on their website.
It is for anyone willing to risk their money and time on a company that has unresolved issues, to begin with. I admit, SlimRoast Coffee is one of the most popular weight loss coffee nowadays and it even came to a point that I became interested to join their company.
However, after all these revelations, I don't see myself earning money through this kind of business model.
For one, I'm not a fan of overpriced products and as an entrepreneur myself, it's hard to sell a product that you don't believe in. Second, I don't like inviting people.
I've done this in the past and it's sad to realize that your friends and families are hiding from you because they know that you're going to invite them to a pyramid scheme. We know a pyramid and MLM are two different things but we can't deny the fact that they almost have the same practice.
One of the good things about joining an MLM program is their training. Since their distributors are after the incentives and commissions, they want to make sure that their team will do their best in achieving milestones.
Valentus offers training online and through the sponsors/uplines. However, I found out that they do not provide a comprehensive guide on how to find more leads, which, for me, is crucial when starting a business.
If this is your problem, I got a solution which I'll discuss in a bit.
Valentus would have been a good program -- if not because of the many allegations it faces. You'll be investing time and money so it's just important to know all these things and if I were you, I would not think of signing up anymore. Just in case more problems occurred in the future and it decided to shut down, what would happen to your business?
Also, the fact that the founder is not transparent to its distributors, vendors, and even suppliers are more than enough to drive me away.
Finding leads for your business is crucial and my #1 recommended program can help you not only find leads but also get the highest rewards. Here is what you are going to unveil:
Top Education to get started quickly
The blueprint with Step by Step guidance
Access to community with top earning entrepreneurs
Maximum support when you needed most
All you need is to commit to your business and put in some great work. There is really no hidden secret for success. It's all laid out. You just need to implement it.
Let me know if you have any thoughts on Valentus by leaving comments below:
We Constantly Review Programs in "Make Money Online" Niche,
So That You Don't Have to Waste Countless Hours
Want To See Our
TOP RECOMMENDATION?