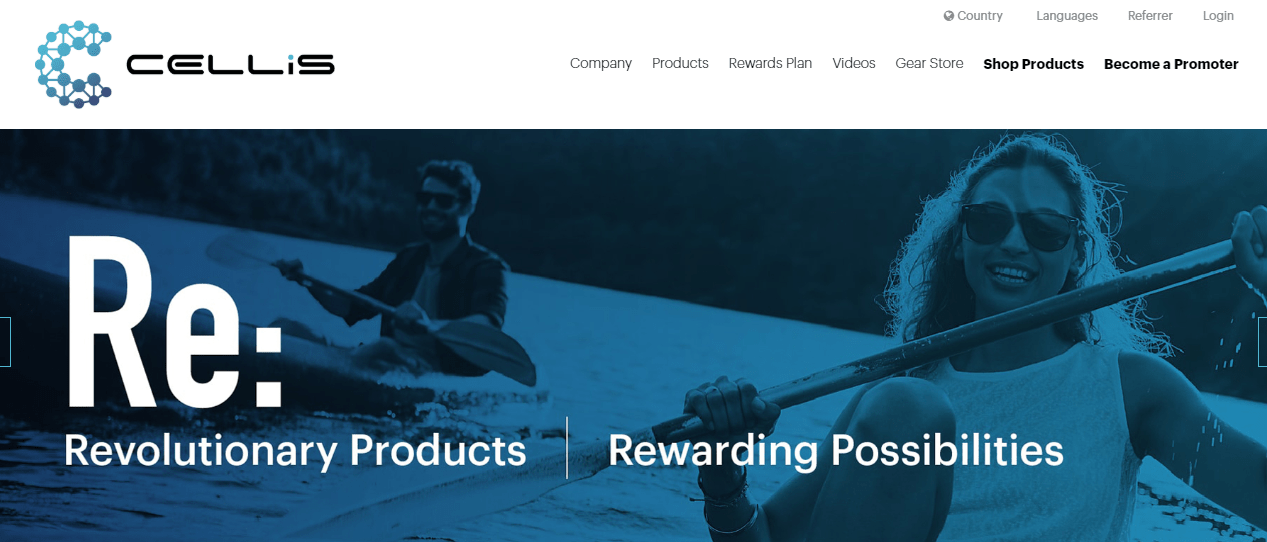 Welcome to My Cellis Review!
Last time, I did a review about Valentus -- one of the hottest weight loss coffee brands nowadays and that's when I learned about CELLiS.
Korey Johnson was a former distributor of the said coffee brand but after getting tired of Dave's unethical business practices, he left and started his own multi-level marketing program and that's when CELLiS was born.
CELLiS Review Summary
---
Name: CELLiS
Website: www.cellisnow.com
Founders: Korey Johnson
Product Type: Multi-Level Marketing
Price: Starts At $536
Quick Summary: CELLiS is a new network marketing business under the health and wellness niche. Like Valentus, it's known for its weight loss coffee, supplements, and patented Zeolite. It's still new to the market but should you take advantage of it?
Overall Rating: 4/10
Recommended: No
But how is this CELLiS different from Valentus;? Is it a scam or legit? How much money can you make from joining this program?
P.S.
CELLiS may be a different brand but considering that it's another MLM business, you should expect to sell overpriced products and recruiting new people. If this is not your thing (and I understand why), I got a better solution for you!
Check out my top recommended program to learn how you can make money online -- FOR FREE!
CELLiS is a multi-level marketing company under the health and wellness niche. Their main products are dietary supplements and weight loss coffee. From what I see, it's almost similar to these MLM brands: Zurvita, TruVision Health, and Max International. It was founded by Korey Johnson, who, as mentioned above, was a former Distributor of Valentus.
About Korey Johnson (H4)
Based in Texas, United States, the newly-founded company is making already making a buzz online. Thanks to its well-known founder, Korey. According to their website, Johnson, who has "almost 30 years" of experience in MLM, was able to earn a 6-figure income in various companies.
Aside from Valentus, he was also a former distributor of Waiora in 2010. Considering this, it might be safe to assume that Korey has the skills and expertise to run a network marketing business.
CELLiS Product Line
One thing I noticed when browsing their website is that you need to enter a member's web ID before you check the price and purchase their products. For me, this is one drawback. What if you don't know any CELLiS distributor and you just want to try the product on your own, without bothering anyone?
Anyway, this is their product line:
A dietary supplement mainly designed to stabilize insulin levels. It costs $87 a month for 60 capsules, which you can consume for 30 days. You can take this if you want to burn body fat, improve metabolism, regulate blood sugar, and curb appetite.
The company's flagship product -- CELLiS Joe+. Their own coffee brand was created to promote weight loss, improve metabolism, increase focus, reduce depression, and suppress appetite. It cost $67 for one box and it includes 15 sachets.
Another dietary supplement that can be added to Joe+. It cost $37 for 30 capsules, which you can consume for 30 days. This is taken if you want to reduce body fat, promote weight loss, and decrease triglyceride level and cholesterol.
"The only patented Zeolite water solution", this product was developed by Nikolaos Tsirikos PharmD, MD, PhD, FETCS -- a well-known cardiovascular surgeon. It claims to boost energy, vitality, and mental clarity as well as promote weight loss, too. However, its main function is to clear the body from harmful toxins and minerals.
CELLiS Compensation Plan
As an MLM company, CELLiS offers two ways to make money. First is by purchasing the products on a wholesale/discounted price and selling it based on the suggested retail price. The difference between the retail and discounted rate is your profit.
Another way is to invite people to join the program. CELLiS emphasizes this option as this is how they and their distributors make money. It uses a unilevel type of compensation plan and if you're not familiar with this, here's a quick explanation of the structure:
1st Level - This level ONLY covers the members you personally referred.
2nd Level - This level covers the referrals of your direct downline.
3rd Level - This level covers the referrals of your second level.
4th Level - This level covers the referrals of your third level.
As for the next levels, the same thing applies and if illustrated, it looks like a pyramid -- and this is why most people confuse MLMs with a pyramid scheme. Basically, these two business models are different.
To learn more about CELLiS Compensation Plan, you can watch the video below:
First of all, network marketing or MLM is legal. It makes money by selling tangible products that usually have exorbitant rates. It also compensates its members for reaching certain milestones. That being said, distributors don't make money directly by just inviting new people; rather, by achieving sales quota. Their logic behind inviting new people is that the more members they have, the higher the chance they have to get a bigger sale.
A pyramid scheme, on the other hand, only makes money by referring new people. Now, to become a member, you have to pay a certain amount and you are expected to invite new people you know to make money. From what I see, this type of business model is not stable since they don't have other ways to generate income. Also, it's proven that this kind of business doesn't last for a long time.
While MLM companies are legit, some of their unethical practices make them look like a scam. For example, some distributors are aggressive when it comes to recruiting new people for the sake of getting commissions. This results in providing misleading details and other intimidating recruitment strategies -- and this is why I'm not a fan of network marketing.
Aside from the way they invite people and the price of their products, I also don't like to interact face-to-face and this is one of the advantages of my #1 recommended program. I can make money without bothering the people I know plus, I have the freedom to promote the products I want and believe in.
CELLiS is not a scam, in my own opinion. Compared to other low-quality or sketchy programs I've reviewed in the past, they have solid products to offer, their founder is not hiding under a pen name, and they've provided as much detail as they can about their company.
Is CELLis A Pyramid Scheme?
CELLiS is still new to the industry so you can't find much reviews online.
If you rely on the Better Business Bureau (BBB) to find out about the legitimacy of the program, you might be disappointed. It's not accredited and you won't get much information about the company from the site since their "profile is currently being updated".
However, despite being not accredited, it doesn't mean that CELLiS is a scam.
There are only two memberships available when you want to join CELLiS, namely:
Lifestyle Pack $536
VIP Lifestyle Pack $1036
The two packages are almost the same; however, the main differences are the income opportunity plus the number of products you'll have. Obviously, when you choose VIP Lifestyle, you'll get more products to sell and higher income potential.
Here Is My Top Recommendation to Start Highly Profitable Online Business from Comfort Of Your Home
PROS
New Company
Normally, those who have joined MLM companies as pioneers get the most benefits. If you're an experienced marketer, you can take advantage of this program since there's a chance for you to earn more. Chances are, there are only a few distributors in your area so you have the opportunity to get more market.
CONS
Prices Are Not Shown
As mentioned, you have to contact a member first or provide its ID before you can view the price or purchase their supplements and/or weight loss coffee.
Expensive Products
This is not new with MLM companies though. Normally, the price of their products are steep and this is a disadvantage for me. You see, there are many weight loss coffee and supplements in the market today so, unless you've marketed the product well, your chance of making money from it is low.
New Company
While this is an advantage, this is also a drawback. As a new company, it will be a challenge for them to stand out. There are many brands under the health and wellness niche already so they have to exert as much effort as they can to attract more distributors and clients.
Tired of Wasting Time on Low Quality Programs?
I'm so grateful that I was able to find THIS PROGRAM which helped me to finally start making money online!
Maybe, since it's a rival of Valentus, former Valentus distributors might consider this in case they don't like how their CEO works. Pretty much, they know how to sell weight loss coffee and they can compare SlimRoast with Joe+. If they find Joe+ more convincing, they can use their testimonials as part of their marketing.
This is also an option for those who want to make money selling products and inviting people.
Overall, CELLiS might have the potential to grow and become a stable company. It might take time for them to overcome their competitors but as long as they focus on the improvement of their products and distributors, they can surely become one of the well-known MLM brands. They are still new so it's too early to assume whether CELLiS is worthy or not.
For now, it's good to know that it's legit and they have solid products to promote. However, if you don't feel comfortable with using this platform to make money online, I have a better solution below.
If you're a good salesperson and you can interact well personally, you can make good money with MLM programs. However, if you are more comfortable with doing things online, I suggest that you join my #1 RECOMMENDED PROGRAM now and enjoy the following perks:
One-on-one coaching
Comprehensive guide
The best business tools and support you need
Webinars and training resources
And many more!
I hope that I have enlightened you with my CELLiS review. If you have any questions or comments, please feel free to share it down below. You can also share this post to spread awareness.
Thank you!
We Constantly Review Programs in "Make Money Online" Niche,
So That You Don't Have to Waste Countless Hours
Want To See Our
TOP RECOMMENDATION?