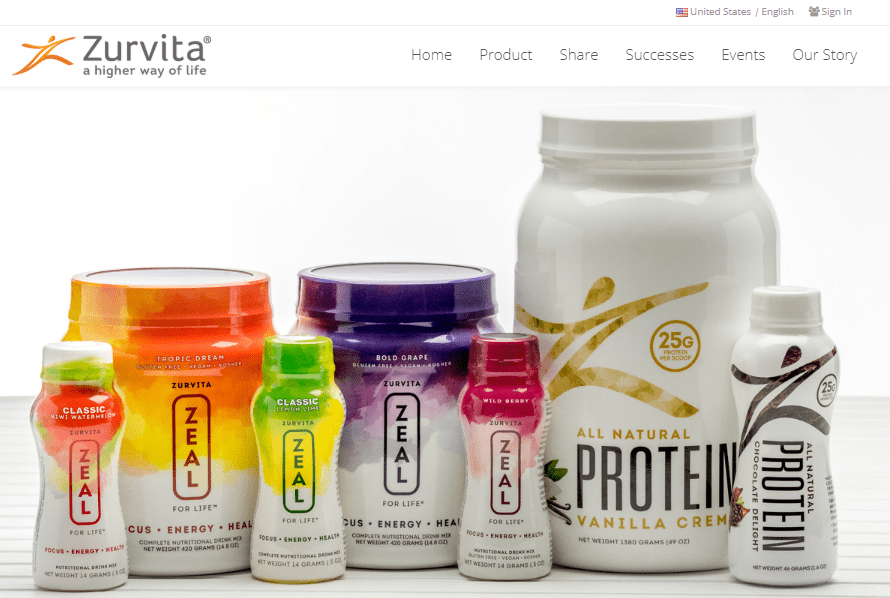 Welcome to My Zurvita Review!
If you're here, you're probably looking for an honest Zurvita review that would help you decide whether you should join this program or not. If that's the case, then you're in the right place!
Is Zurvita a scam?
To begin with, this multi-level marketing company is legit and has been operating for quite some time now. They are known for selling nutritional drinks and offering opportunities to start a business online. So, should you join them?
Zurvita Review Summary
---
Name: Zurvita
Website: www.zurvita.com
Founders: Mark and Tracy Jarvis
Product Type: Multi-Level Marketing
Price: $9.95 For Enrollment Fee + More For Kits, Back Office, Etc.
Quick Summary: Zurvita is an MLM company that promotes nutritional drinks. What's good about this brand is that, unlike other products with false claims, their essentials have been clinically tested and proven to be effective and safe. The founders are experienced with direct selling so it's fair to say that they know how to handle the business. However, I still found a few loopholes that you should consider before joining.
Overall Rating: 5/10
Recommended: No
Let this review help you decide as we discuss what it's about, its compensation plan, pros and cons, and a lot more.
BONUS: You've probably heard that when you join an MLM company, you're required to invite more people to join the platform. If that sounds uncomfortable, I got a better, if not the best solution!
Click this link to get a FREE STEP-BY-STEP GUIDE on making money online.
"A higher way of life" -- that's what Zurvita's main mission is about.
Founded by Mark and Tracy Javis in 2008, the brand aims to help people have a better life while offering a business opportunity at the same time. Before they created this company, both founders were successful in direct selling so for me, I believe they know what they are doing. They have experienced handling their own businesses in this line so there's a huge chance that they can help others do the same, too.
Zurvita Product Line
There are many health and wellness products in the market today but fortunately, the brand managed to create unique nutritional drinks for their consumers. Their main product is called "Zeal For Like" -- a $2-worth healthy drink that is packed with vitamins, minerals, and superfoods.
Other products include Protein Chocolate Delight and supplements that are made to promote metabolism, detoxify the body, and energize. All products are designed by their own patented manufacturing.
If you enjoy these products and find it effective, which has been proven effective and safe by the way, then you can also take this opportunity to start a business and become their Independent Consultant (IC). All you have to do is pay for the enrollment fee and purchase a Welcome Kit, which I'll discuss more in a bit.
Zurvita Reviews
I researched about their products and I found out that while there are complaints against it, many people are actually fond of consuming their nutritional drinks. According to them, it did provide more energy and helped improve their health.
Looking at their ingredients and considering the process they use to make their products, I can see why most consumers like it. They use rice bran and performed rice bran stabilization process that protects its nutritional value while cutting off the Lipase enzyme carefully.
Apart from the rice bran, which is considered as one of the healthiest superfoods, by the way, their products are packed with other nutritious ingredients, such as acai berries, turmeric, aloe vera, etc.
Zurvita Compensation Plan
Like their products, the compensation plan they offer is not as complicated as other MLM companies. For every product you sell, you'll get 20% of it and 5% for every product sold by your downline. So, aside from recruiting more people, you have to make sure that your team is doing well with their sales. Otherwise, you cannot get a commission.
Anyway, your commission depends on your current rank; the higher your rank is, the more commission you get.
You can learn more about their compensation plan by watching the video below:
Zurvita is not a scam. It's legit 100% and it's good to know that it wasn't involved in any scandals or issues with FDA, unlike other MLM companies that promote health and wellness products, like Plexus.
I also checked the company with the Better Business Bureau and although no accredited, it has an A+ and 4-star rating. Plus, Zurvita is a proud member of the Direct Selling Association (DSA) -- it's an organization for businesses that produce, promote, and sell products and services directly to customers. In case you don't know, it takes months or even years to get your company accredited to DSA so it only shows that Zurvita has complied with their strict standards.
Zurvita might sound like a good company to consider; however, there are just too many things to pay for, such as:
Online Enrollment Free - $9.95
Enrollment Fee + Welcome Kit - $39.95
Starter Kit - Ranging from $274.95 to $549.95
Annual Renewal Fee - $25
Personal Website - $34.95
Here Is My Top Recommendation to Start Highly Profitable Online Business from Comfort Of Your Home
PROS
Legit Company
Zurvita is a 100% legitimate company that is a member of DSA. it also received an A+ rating from BBB so it's fairly safe to assume that Zurvita is not a scam. Actually, it's one of the only few MLM companies that I like -- sort of!
Patented Products
I like the fact that Zurvita has its own patented manufacturing, ensuring that their products are unique. Plus, unlike other MLM brands with false claims, their nutritional drinks are clinically proven to be effective and safe.
Massive Growth
Zurvita has produced its products at the right time. Since there's little to no competition and there are products are unique, it let their company grow massively in just a short time. In less than 10 years, they already had a revenue of 100 million.
No Monthly Fees
In order to keep your account active and to be qualified to get commissions, some MLM companies will require you to pay for a monthly fee. Good thing, it's not the case with Zurvita since they have their own autoship system. Instead of being pressured to buy products with a certain amount, you can only take what you need and the fee will be reduced to your account.
30-Day Money-Back Guarantee
In case you're not satisfied with their product, you can return it and ask for a refund within 30 days. However, this does not apply to their Weight Loss Program.
CONS
Available In Limited Countries ONLY
Zurvita has been in the industry for a long time now but it's still only available in a few countries, like Canada, Australia, United States, Hong Kong, Dominican Republic, Singapore, and Puerto Rico. That being said, your income potential is also limited.
Plus, if you're not a resident in any of these countries, then you cannot distribute their products.
Joining Is NOT Easy
Some companies will allow you to join even without a distributor; some would help you find the nearest consultant in your area. However, with Zurvita, if you don't know any distributor, then you can't join them at all.
Low Income Potential
This is a common problem when it comes to MLM opportunities (and this is also one reason why I like affiliate marketing instead of this).
Based on their Income Disclosure Statement (IDS), 78% of their Consultants earn an average of $618 a year while 11% of them earn $136 annually. If you use this as your only source of income, it might not be enough to suffice your daily expenses. $600 is barely enough to even support a month-worth of bills, rental fee, and other costs.
Therefore, if you want to have a stable source of income, you can only rely on Zurvita as a side hustle.
Now, if you're interested in affiliate marketing -- a business model used by many individuals and internet marketers online -- then that's good! Like MLM, you'll have your own business and you can do it anytime and anywhere you are. The difference, however, is that you don't need to purchase anything. You can promote products and services by just posting a link and you can learn more here.
Tired of Wasting Time on Low Quality Programs?
I'm so grateful that I was able to find THIS PROGRAM which helped me to finally start making money online!
If you like Zurvita products and you can attest to the effectivity of their essentials, you can consider their business offer. However, you need to get yourself ready first. Like usual MLM companies, you should be able to convince people to try products that are not only new to the market but also, products that are more expensive than the usual brands.
Plus, you have to learn how to grow your downline. MLM is all about inviting new people to join the program and helping each other achieve quotas and sales goals so you can have incentives and bonuses.
If there's one thing I like about MLM companies, that would be their training and support. Everybody wants to get incentives and higher commissions so uplines are more likely to provide better training materials and even webinars to help their downlines learn more about the products and marketing strategies.
The same thing with Zurvita; you will receive direct support from the person who invited you to join the program. The problem with this, however, is the upline itself. If the sponsor is incapable of teaching the right techniques, then it will be relayed to you and you might pass it to your downline.
Another support you'll get from Zurvita is the personal website you can use to promote your products. However, unlike other MLM programs, it's not free and you need to purchase it for $34.95. Also, owning a website can only be a daunting task since you have to learn many things, such as generating leads and traffic. Otherwise, the site is useless.
If you want to market your products and services using a website, I suggest you take my top recommended program now to learn how you can start a successful business online.
Zurvita also offers an online virtual office where you can access digital resources and a mobile application that lets you connect and follow-up with your potential client.
Overall, I like Zurvita and while I don't see myself doing this or any MLM products, I can recommend it to anyone willing to take the challenge. However, if you're someone who is not fond of face-to-face interaction and convincing other people to join the platform, then you should just consider another option, such as the one below!
Want to make money without bothering the people around you? Then you're in the right place!
In this section, I'll share with you THE BEST MONEY-MAKING OPPORTUNITY ONLINE that don't require capital, membership fees, starter kits, and recruiting people.
Sign up now and enjoy the following perks:
Thank you for reading my review and if you have any questions or comments, please feel free to share it below.
We Constantly Review Programs in "Make Money Online" Niche,
So That You Don't Have to Waste Countless Hours
Want To See Our
TOP RECOMMENDATION?