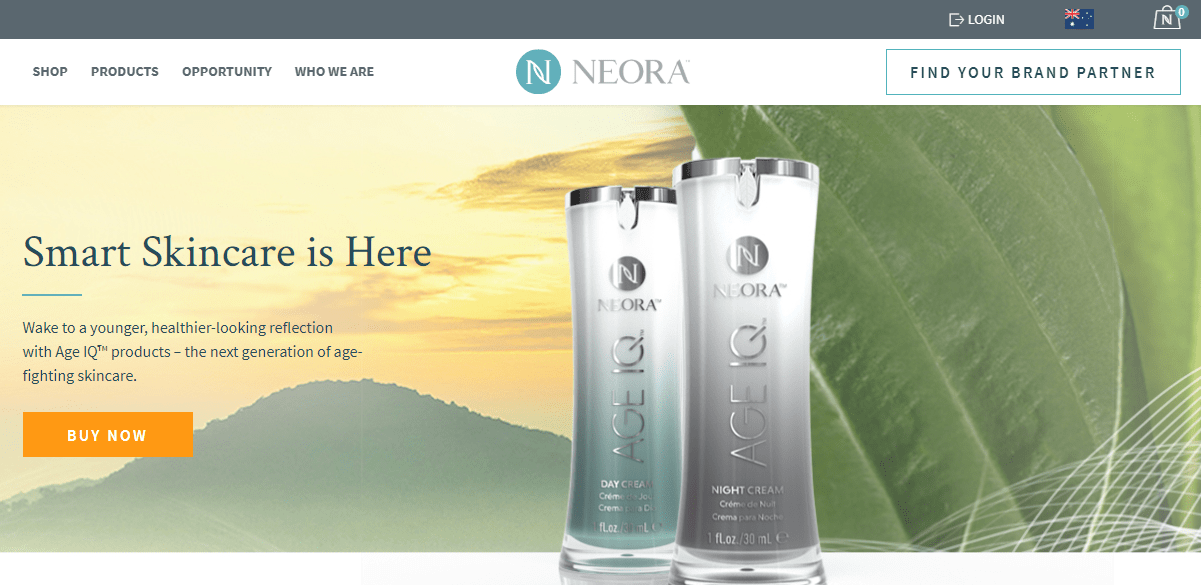 Welcome to My Neora Review!
If there's one thing that I'm passionate about aside from writing, that would be skincare. So last time, I looked for an essential that would not only take care of my skin but also, my finances. And that's when I found a website called "Neora".
As much as I liked how they presented their brand, I know that the opportunity they offer is called "multi-level marketing" -- and I've always been hesitant about this kind of program. It's daunting since I have to invite people to join the program.
Neora Review Summary
---
Name: Neora
Website: www.neora.com
Founders: Jeff Olson
Product Type: Multi-Level Marketing
Price: $695
Quick Summary: Formerly known as Nerium International, Neora is an MLM company that promotes skincare essentials. It also offers an opportunity to make money by selling their products and recruiting new people to join the program. From what I understand, it's legit, however, it's not a program that I could recommend because it has too many red flags to watch out for.
Overall Rating: 3/10
Recommended: No
On top of that, I found out several issues connected with Neora that raised red flags, so before you sign up or even purchase their products, be sure to read the entire Neora review first!
P.S.
Want to make money online without bothering your friends and relatives? Then here's the #1 solution that I (and many marketers) recommends!
For most businesses, rebranding gives a positive impression. However, this might not be the case with Neora. Before the remodeling took place, the company has been involved in too many issues that would make anyone question its legitimacy.
In case you didn't know, Neora is known as Nerium International and this opportunity has been reviewed in this site before. It's a legit MLM website; however, because of its unethical practices, it sounds almost the same as a pyramid scheme -- and I'll discuss more of this in a bit. For now, let's talk about Neora.
Neora is an MLM opportunity that helps you make money by promoting skincare and wellness essentials. Many MLM companies market the same products, such as LifeWave, Zija, Act Labs, Kyani, and Rodan + Fields.
Their products are designed to make the skin look younger and healthier. It also lets aspiring "Brand Partners" (the term they use for members or distributors) sell the item and earn more commissions by recruiting new members.
Neora Product Line
Advanced Skincare Set
The skincare set includes 5 skincare essentials, such as a day cream, an eye serum, facial cleanser, a night cream, and a brightening mist.
EHT Brain Formula
It's a supplement consumed when you want to improve energy metabolism, immune system, and memory functions.
Other Products
In case you don't want to avail the skincare set, you can buy each individually. There are also other options to choose from, such as lotions, hydrogel patches, and contour cream.
Red Flags To Watch Out For
As mentioned, Neora is not a new company instead of a rebrand of the controversial MLM company called Nerium International. In fact, when you search "Neora" online, you'll have an idea what it's all about. If not, I'll share the controversies it's been involved within this section.
Toxic Ingredients
Nerium International's products are popular and not only for good reasons. For instance, one of the main ingredients they used for their skincare items, Oleander, is known for being poisonous. Ingesting any part of it can kill a pet or a child; even inhaling a burning Oleander can be deadly.
Unethical Practices Resulting To FTC Complaints
Most of its distributors have received complaints filed on FTC against them for making false health and income claims. You see, this is one of the things that I don't like about network marketing company. They'll set you up, a coffee date for instance, and talk about their company, how much they are making, and the wonders that their products can make. I know that there are still good MLM brands around but the unethical practices that most distributors create a bad name for this business model.
Pyramid Scheme In Disguise?
Before anything else, I'd like to clear one thing: MLM is different from a pyramid scheme. For one, multi-level marketing is legal and it promotes TANGIBLE products that their distributors could make money from. Network marketing companies compensate their members NOT for bringing a new person to their platform but by the SALES they make as a team. The concept for inviting new people is that the more people they have on their team, the higher the chance is for making a bigger sales.
A pyramid scheme, on the other hand, is ILLEGAL. It has no tangible products to sell and the only way you can make money from them is by bringing new people who are willing to pay money. It's not stable and this type of business shuts down easily.
So, is Neora a pyramid scheme? Basically, not. They have REAL products to market; however, they still managed to receive 3 lawsuits against them.
Lawsuits Between The Company And Distributors
While the top distributors of Neorium have earned a lot of money (and by that, I mean millions of dollars), they have sued the company and guess what? Nerium sued them back. Now, does this brand still sound appealing?
Same Founder And CEO
Nerium International has remodeled itself probably because of the red flags stated above; however, despite the efforts, it still has the same leader -- Jeff Olson. I don't know about you but I think the same things will happen eventually because it's headed by the same person.
So, the much-awaited question: is Neora a scam?
The answer is: IT'S NOT. It's legit. In fact, it's accredited by the Better Business Bureau and it has an A+ rating. Surprisingly, it received more positive reviews than negative ones but still, it's not safe to assume that it's safe to join this program.
Moreover, the red flags stated above are alarming. Considering that it has the same leadership, it's still likely to receive the same problems. If I were you, I'd rather invest my time on a program that will help me make money, let me promote the products that I want, and allow me to earn without capital -- ALL AT THE SAME TIME!
If this sounds interesting, I'd like to invite you to my #1 recommended platform -- Wealthy Affiliate. Unlike MLM companies, there's no need to pay for fees and invite new people to join the platform. All you have to worry about is… NOTHING! You'll have the training and support you need.
Joining an MLM program comes with costs. Normally, you have to pay for the enrollment or membership fee, starter kits, monthly recurring fees, annual fees, etc.
In Neora's case, you need to pay $695 for their Starter Pack to get the following:
11 Neora Products
Website
Marketing Materials
Digital Tools
24/7 Online Training
Order Fulfillment
Customer Service
To learn more about Neora's Starter Kit, you can watch the video below:
Here Is My Top Recommendation to Start Highly Profitable Online Business from Comfort Of Your Home
PROS
Honestly, I don't see any pros in joining the program. While positive reviews are claiming that the platform has helped them earn cash. I can't shake off the red flags I've stated above. So, I'll discuss the CONS instead.
CONS
Toxic Products
The key ingredient for their skincare essential is Oleander -- a common houseplant that is, surprisingly, extremely poisonous. Do you feel safe knowing that what you're applying to your skin can harm you and your family? Even if you're just selling it, can you sleep well at night knowing that your products are highly toxic?
Misleading Health And Income Claims
How can you trust a program that is being sued for providing false claims about the benefits of their products and income? Are you willing to spend more than $500 dollars on a company that's been facing a lot of controversies?
Lawsuits After Lawsuits
Not only did Neora (Nerium International) received a complaint filed on FTC, it also received a lawsuit from its top distributors. If this doesn't make you skeptical about the company, I don't know what else will.
FREE TRAINING
Learn How I Started Highly Profitable Online Business From Comfort of My Home Following This Blueprint
To be honest, I can't recommend Neora to anyone even after the rebranding. It's still managed by the same person/people so more or less, aspiring distributors will encounter the same problem. Even if you're earning now, what if the company shuts down suddenly? What will happen to your business? Do you think you can get your investment back?
Like most MLM companies, you can expect training and support from your upline. The Starter Kit also includes the training you need to be able to sell the products and to improve your marketing.
Neora is an MLM company that I would definitely stay away from. While I'm not a fan of network marketing, I've seen a few brands that are still worth considering -- and sadly, Nerium International is not one. If you want to pursue MLM as your business, I suggest you consider other options, and you can look for more alternatives here.
Otherwise, you can check my # suggested program below!
MLM is a legit business model; however, it's not for everyone. If you don't like the idea of selling overpriced products and bothering the people you know to join your team and to earn commissions, I get you. It's not bad. After all, you have other options, such as Wealthy Affiliate!
Unlike network marketing, you can promote products even without paying for an enrollment fee, products, and other costs. You don't even need to invite new people to earn commissions, all you need to do is follow the step-by-step guide FOR FREE!
Join now and enjoy the following perks:
Step-By-Step Guide
24/7 Chat Support
Live Active Community
And A Lot More!
I hope I've enlightened you with my honest Neora review and if you have any questions or comments, please feel free to drop it down below.
Thank you!
We Constantly Review Programs in "Make Money Online" Niche,
So That You Don't Have to Waste Countless Hours
Want To See Our
TOP RECOMMENDATION?