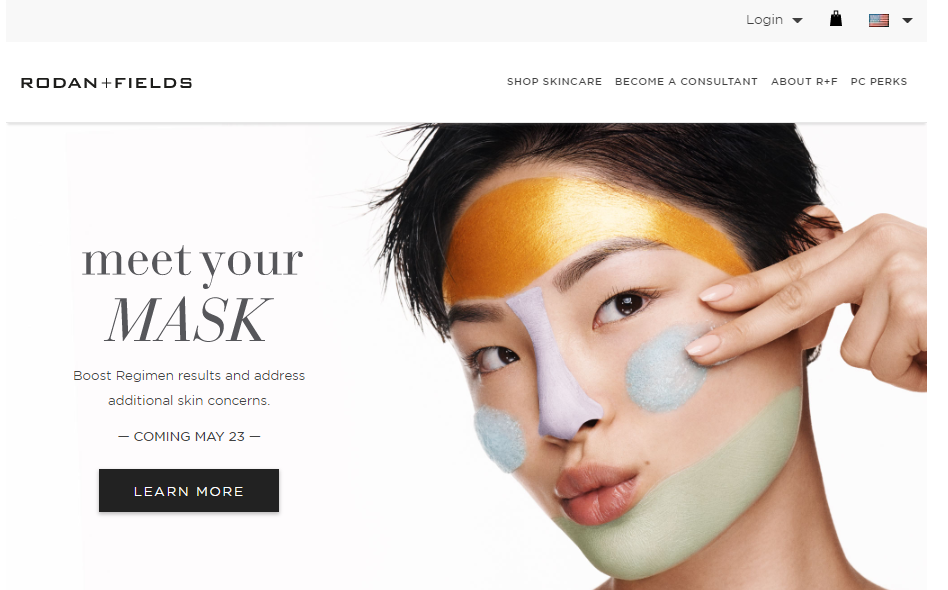 Welcome to My Rodan + Fields Review!
Skincare routine plays an important role not only to women but also to men. Without a doubt, an acne-free, glowing skin can instantly boost the confidence of an individual that's why companies like Rodan+Fields is a hit!
Rodan + Fields Review Summary
---
Name: Rodan + Fields
Website: www.rodanandfields.com/
Founders: Dr. Katie Rodan And Dr. Kathy Fields
Product Type: Multi-Level Marketing
Price: $45 Just For The Basic Kit + Products
Quick Summary: Rodan + Fields is an MLM company that promotes skincare essentials. They also offer a business opportunity to their "consultants" who want to sell their products. Like other network marketing, they have to recruit members to their team but instead of earning money from it directly, their downlines have to make a sale. This makes them different from the usual MLM programs; however, they've received complaints that you can't just ignore.

Find out what it's all about in this honest Rodan + Fields review.
Overall Rating: 4/10
Recommended: No
Based on the research that I've conducted, there's a huge chance that this multi-level marketing is not a scam; however, are their claims really true? How lucrative is the business opportunity that they are trying to offer? Is Rodan + Fields a scam or a legit way to earn an income?
Find out everything you need to know in this honest Rodan + Fields review.
What Is Rodan + Fields About?
Rodan +Fields is a popular skincare line founded by Dr. Katie Rodan and Dr. Kathy Fields -- who were also the co-founders of Proactiv Solutions. In fairness with their product, most of the reviews they acquire are positive, thus proving the effectivity of their skincare essentials. However, this brand is more than just selling, they also offer a business opportunity to those who want to earn an extra income.
Basically, Rodan + Fields is a multi-level marketing company which was founded in 2007. If you're not familiar with MLM, you might easily confuse with a pyramid scheme because you need to recruit new members to earn a commission.
While it's true, there's a huge difference between the two. With MLM, you have to sell real products to earn money and invite new people to join the program to get additional rewards. With a pyramid scheme, you will only encourage other individuals to pay and join the platform. There are no tangible products involved and with this kind of business model, it's pretty obvious that it won't last for a long time.
Think of doTERRA, Evolution Travel, Optavia, Modere, or HempWorx, you need to build a team under you so you can grow your income. This means that apart from promoting your products, you also need to persuade new people to join the program so you can have your downline. But unlike the usual MLM companies, you do not get compensated directly when you invite new members rather, you get paid when your downline makes a sale. This is a better scheme since it supports the legitimacy of Rodan + Fields.
After all, Wikipedia defines a pyramid scheme as "a business model that recruits members via a promise of payments or services for enrolling others into the scheme, rather than supplying investments or sale of products or services."
However, like other MLM companies, Rodan + Fields have received a number of complaints that are hard to ignore. For one, the lawsuit filed against them because of their Lash Boost Serum.
Is Rodan + Fields A Scam?
Rodan + Fields is not a scam. From what I understand, they do not pay you directly for inviting a new member instead, you will get a commission only when these newly-recruited individuals have made a sale. However, most people think that this company and other MLM businesses are a scam simply because of the exaggerated claims they make.
Normally, the distributors will focus on the amount you will get for completing tasks, such as selling a certain number of their products or when you invite a particular number of people. They only talk about the bonuses you can get but it's very rare for them to discuss the hardships you need to overcome. When it comes to network marketing, you need to exert as much effort as you can so you can earn a massive amount or at least, get your investment back.
If you think that this opportunity is not for you, you can try other legit platforms that can help you make money online. Apparently, Rodan + Fields failed to disclose the negative side effects of their product and many of its users claim to experience the following: itchy eyes, eye discoloration, change in iris color, vision impairment, and eye infections.
Another major complaint against Rodan + Fields is the unauthorized charges on credit cards. Although it was accredited by the Better Business Bureau (BBB) and has received an A+ rating, some users complained about receiving products or being enrolled for an ongoing subscription without their consent, such as the one shown below:
To learn more about Rodan + Fields, you can watch the video below:
To become a consultant (this is how they call their distributors) and start your business with Rodan + Fields, you only need to purchase their $45-worth Business Portfolio. This includes will allow you to earn commissions, receive training, and a customized website.
You can also choose the Personal Results Kit which costs $395 and it includes your personal choice of Regimen, other essential products, training materials, and other business-building tools.
If you are willing to spend a larger amount of cash, you can opt for the Big Business Launch Kit. It costs $695 and it includes various Rodan + Fields Regimens and their latest products, training materials, and other tools that will help you start your business online.
Here Is My Top Recommendation to Start Highly Profitable Online Business from Comfort Of Your Home
PROS
High-Quality Products
I've seen a lot of reviews about their products and although skincare essentials, by nature, is not a one-size-fits-all, meaning, there are still negative feedback, the positive reviews outweigh the cons.
A lot of Rodan + Fields users can attest to the efficiency of their product when it comes to improving their skin, such as the one shared below.
Reliable Company
Dr. Katie Rodan and Dr. Kathy Fields are well-known in the beauty and health industry. In addition, their community is big enough and it's a good sign that the company is stable and reputable. They have massive followers on their social media accounts and the sales they acquire every year is huge. For instance, in 2015 alone, they have reached $627 million.
CONS
Challenging Way To Earn An Income
Even if this MLM company is legit and has maintained a good reputation, many people still associate this business model with a pyramid scheme. After all, consultants are still encouraged to invite more and more people for a chance to get a higher commission.
If you want to join Rodan + Fields and hope for a massive income every month, you need to be a very skilled salesperson and work on your convincing power. Because like the typical MLM scenarios, you will invest a huge amount to get started so you need to hustle really hard to get it back.
If you want to start an online business that doesn't involve recruiting new members, you can click this link to know more about my top recommended money-making opportunity online.
Very Expensive Kits And Products
You need to pay $45 to start earning commissions and that doesn't include any products that you need to sell yet. In addition, you'll be selling skincare essentials that are over a hundred dollars, which makes it more challenging.
There are a lot of well-known brands in the market today which are relatively cheaper compared to Rodan + Fields so if you really want to promote this brand, you have to believe in it first. You have to know what makes their essentials different from other skincare products.
Major Complaints
One of the major complaints against Rodan +Fields is the unauthorized use of credit cards. Many individuals claim that they receive a product that they did not order or being enrolled in a subscription that they are not aware of.
FREE TRAINING
Learn How I Started Highly Profitable Online Business From Comfort of My Home Following This Blueprint
Rodan + Fields might be a good brand but it's best for those who are into skincare. For me, it would be easier to sell products like this if you believe in the efficiency of their product and/or you have knowledge of how each of their essential works. Also, it's good for those who have experience with network marketing. Although it's easier to market products nowadays because of the different social media platforms, there's still a need to talk and approach different people so you can generate sales and invite new members.
Rodan + Fields offer complimentary online training for its consultants which is led by their own Home Office Team. workshops that will talk about their product and leadership development will be provided to help their members sell and find new recruits.
Meanwhile, when it comes to customer support, Rodan + Fields almost everything so you can reach them easily. This includes their headquarters address, email address, and phone number.
For someone who's passionate about skincare, it's good to hear that there are high-quality brands, like Rodan + Fields, who offer legit and effective products. Based on the reviews, their essentials are true to their claims and many users love it. In addition, their consultants who are really earning from the program.
However, I can't recommend it to people who, like me, are not into network marketing and MLM per se. It's very risky since you need to bring out a huge amount first before you start earning commissions, let alone the required monthly amount you need to purchase. If you want to start a business without capital, just continue reading.
Start a business without capital? Is this possible? Yes, it is! With the platform that I (and many marketers) are using, it's possible to make money without paying for anything.
Sign up now with my top recommended program and enjoy these perks:
One-on-one coaching
Comprehensive guide
The best business tools and support you need
Webinars and training resources
And many more!
I hope I have enlightened you with my Rodan + Fields review and if you have any comments or questions, please feel free to share it below.
Thank you!
We Constantly Review Programs in "Make Money Online" Niche,
So That You Don't Have to Waste Countless Hours
Want To See Our
TOP RECOMMENDATION?