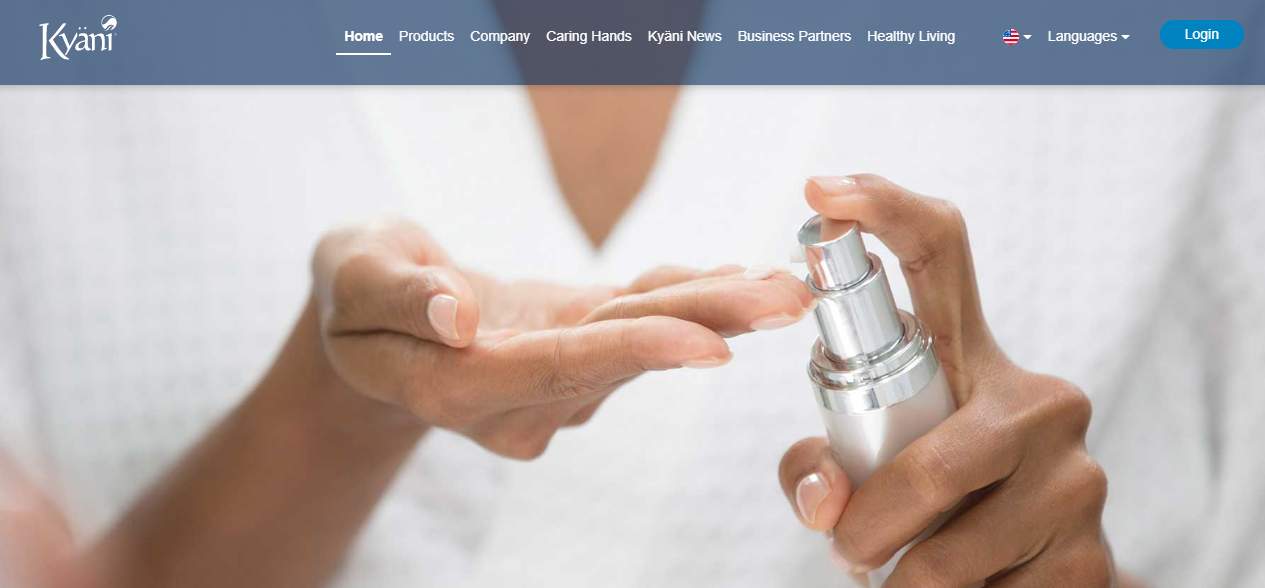 Welcome to My Kyani Review!
I've never believed in multi-level marketing. I thought that these companies are nothing but a scam but after doing a ton of reviews on MLM, I found out that most MLM organizations are legit. However, there are two common problems that might hinder the member from earning.
For one, the products are expensive -- like the rate is two to three times higher than the ones sold in the market.
Another problem is the need to invite members for the sake of commissions. This is very challenging for anyone who doesn't want face-to-face interaction. It also puts relationships at risk -- if you know what I mean.
Kyani Review Summary
---
Name: Kyani
Website: kyani.com
Founders: Kirk Hansen, Jim Hansen, and Carl Taylor
Product Type: Multi-Level Marketing
Price: Starting at $499
Quick Summary: Kyani is a legit multi-level marketing company that has received recognition and awards. It promotes supplements and skincare essentials as well as a business opportunity. It's a new company that is available to over 50 countries; however, compared to other MLM programs, the earning potential is smaller in this platform. I also found various complaints that you should consider before becoming a distributor.
Overall Rating: 4/10
Recommended: No
But to be fair, there are a lot of members who became successful with the help of this business model so I'd have to say that the earnings depend on the person joining the opportunity and obviously how easy it is to promote any given MLM program.
One of the most popular MLM companies nowadays is Kyani and you might be wondering if it's really worth the hype. What makes is different from other brands? How much money can you make from it? Is Kyani a scam?
Find out all the answers you need to know in this Kyani review.
Kyani is a multi-level marketing company that promotes health supplements. It's just fitting because the name itself -- "kyani" -- is the Alaskan term for "strong medicine". While their product line consists of supplements made of wild Alaskan salmon and Alaskan blueberries, they also sell skincare essentials.
Founded by Kirk Hansen, Jim Hansen, and Carl Taylor in 2005, Kyani is available to more than 50 countries but other than selling their products, they also offer a business opportunity, which I'll discuss more in a bit. For now, let's see what their products are about.
Kyani Product Line
The primary product of Kyani is the Triangle Of Health, whose main ingredient is the Wild Alaskan Berries. This includes Kyani Sunrise, Kyani Sunset, and Kyani Nitro and it claims to reinforce the body.
Another product that Kyani has is the Kyani Fleuresse -- which are skincare essentials that promote younger-looking skin.
Kyani has this charity program called "Kyani Caring Hands" and through this, they donate a "complete meal", as per the World Food Program, to different less fortunate children all over the world. As of now, they have contributed over 2 million of their "life-sustaining nutrition" meal.
How To Make Money With Kyani?
On their website, you will find a page labeled as "Kyani Opportunity". It says that being their Business Partner means having "fresh and unique" opportunities but as I read more, I found out that the opportunities are not unique at all. In fact, I've heard these from other MLM companies, too.
Some of these opportunities involved having your own business, the chance to help other people, getting your Dream Car, traveling around the world, and the list go on. These are part of their incentive program, thus you just don't get any of this right after joining. You have to achieve a few milestones first before you get a car or travel incentive.
These milestones involved selling the products and recruiting new members. As their "business partner", you will purchase the supplements and skincare essentials on a discounted rate, which they call "distributor price".
This is lower compared to the retail price or the price you will give to the buyer. For example, the Kyani sunset costs $35.95 for distributors and you will sell it according to their suggested retail price which is $43.95.
The difference between $43.95 and $35.95 is $8 and that's your profit. However, you need to order a certain amount of products per month to be eligible for their incentives or commissions.
Another way to make money is by recruiting more and more people to join the program, which is a typical MLM strategy. But you don't get directly paid for a successful referral rather, for the purchases that your new member makes. And, as your downline grows, your rank gets higher, and this opens you to new opportunities.
Here's a glimpse of their compensation plan:
And you can watch the video below to know Kyani's updated compensation plan:
Kyani is not a scam. It's a legit opportunity that's accredited by the Better Business Bureau, which has received an A+ rating. Basically, most MLM companies are not a scam anyways; however, I believe there are two main reasons why most people don't trust this kind of programs.
First, you have to invite more people to join the program and spend a large amount to become a member. They mistake this for a pyramid scheme; however, these are two different things.
Multi-level marketing may require you to invite your friends and families but they have real products to sell. A pyramid scheme, on the other hand, is just a "system" with no tangible products to deliver.
Here Is My Top Recommendation to Start Highly Profitable Online Business from Comfort Of Your Home
Another reason why most individuals are not in favor of network marketing is because of exaggerated claims. Normally, you will be invited to listen to a speaker and this speaker will talk about the success that their members get.
A huge amount of cash. Fancy cars. Travel incentives. Basically, anything that will encourage you to join the program. Sadly, MLM is a tough game to play and you need to work a lot in selling high-ticket products and inviting new members before you get any of these claims.
I found a copy of their Income Disclosure Statement in 2018 and it says that 39% of their distributors earned less than $15 every month. This is barely enough to fund daily expenses so if I were you.
I would really think twice before joining this program unless you are very good and eager at inviting new people and making a sale. But if not, there are other legit online businesses you can try, and this free step-by-step guide will help you.
If you're familiar with other MLM companies, such as OPTAVIA, Norwex, Xyngular, or Rodan + Fields, you probably have an idea about their expensive startup cost.
To become a distributor, a.k.a. business partner, you have to purchase their Business Builder Pack. This can be the regular Business Builder Pack that costs $499 or the Premium Pack, which costs $999.
For most people, this is a huge investment and I think that you should know what to expect before purchasing any of their builder packages. That includes the challenge of selling high-ticket products and recruiting new members.
If you're not comfortable with this kind of investments, you can always find a one legit program that will help you make money, or even a source of passive income online. However, you must remember that legit programs will still require you to put hard work before you get the rewards.
When it comes to money-making opportunity online, here's one legit program that most individuals and marketers trust.
Tired of Trading Your Precious Time for Money?
Here is a Blueprint to Owing Highly Profitable Online Business Without Any Experience REVEALED!
PROS
They Have Received Recognitions And Awards
Kyani has received a number of awards and recognition for their products and charitable programs, such as the Grand Gold Quality Award and Red Cross Recognition. This is a plus if you're looking for a reputable company to join.
Positive Feedback In Their Products
Kyani claims that their products are made of natural ingredients and although it targets a specific market, most individuals who have used it seem to love their supplements and skincare essentials.
CONS
Expensive Startup Cost
The cheaper Builder Pack already costs $499 and it's a huge amount that you need to get back. Considering the price of their products, it would be a challenge to sell this as well as to recruit other members who will also spend the same amount.
Reports Of Unethical Practice
Kyani faces various types of complaints but what got my attention the most is the feedback about returning the products. Apparently, the company will refund a package as long as it is still in marketable conditions. Most distributors, however, complained that Kyani refuses to give their money back, saying that the returned products are damaged when they know that it's not.
Here's one complaint about it:
Kyani is a legit MLM company that promotes health supplements and skincare essentials as well as the opportunity to start a business. While this business model can be profitable, it's more difficult compared to other types of business since you have to convince other people to join the program and purchase a high-ticket builder pack.
If you are new to network marketing, it might take a lot of time and training before you achieve a milestone. In short, earning commissions and those promising incentives is almost impossible. But then, there are members who have succeeded in this platform so basically, it depends on how you will market your business.
However, if you want more freedom to earn in your own ways, without relying on anybody else, I can offer you a better opportunity that you can do at the comfort of your own home.
First of all, you really need to exert hard work before you reap the rewards of success -- and this is applicable to any types of business. That's why in this opportunity that I'm going to share with you, you also need to spend time and effort.
The difference is that there's no need to pitch any products to any of your friends and family. Our Top Recommendation is all about education and online marketing and how you can build sustainable online business with long term benefits.
Here is what you are going to learn:
A Fine Blueprint on Making Money Online
Live And Active Community
Top Quality Support
And A Lot More!
I hope that I've enlightened you with my Kyani review and if you have any questions, please feel free to drop it down below.
Thank you!
We Constantly Review Programs in "Make Money Online" Niche,
So That You Don't Have to Waste Countless Hours
Want To See Our
TOP RECOMMENDATION?