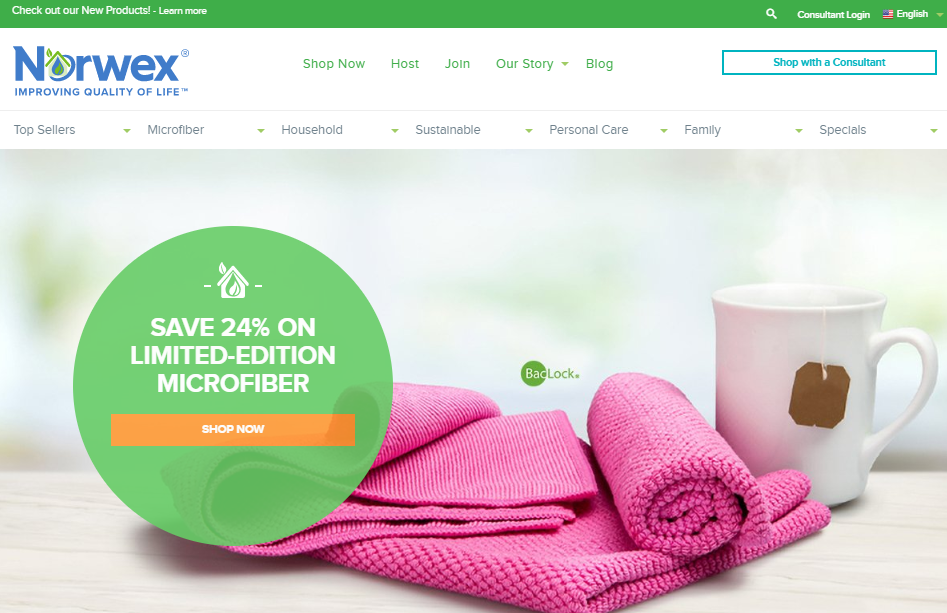 Welcome to My Norwex Review!
The last time I visited an event for a multi-level marketing company, I've seen a lot of people dressed very well, with flashy smiles, handbags, and watches. Typical MLM people. I don't mean to offend anyone but this scene is typical to all the MLM establishments I've visited.
Everyone seemed friendly and living their best life but still, even if I've been invited a dozen times by my friends (who said that they'll only be taking me to a harmless coffee date), I've never joined one.
Norwex Review Summary
---
Name: Norwex
Website: norwex.biz
Founders: Bjørn Nicolaisen
Product Type: Multi-Level Marketing
Price: $9.99 For Starter Kit
Quick Summary: Norwex is an MLM company that sells chemical-free cleaning materials and body essentials. It's been in the industry since 1994 and has over a thousand distributors in 12 countries. Like other network marketing, you will earn profit by selling their products and recruiting new members but is this a good opportunity? Can you trust their products? Is Norwex a scam?

All the questions you want to ask -- answered!
Overall Rating: 4/10
Recommended: No
Why? For one, I need to take out a huge amount and sell expensive items in return and second, I need to do the same thing -- invite more people to join the company.
I'm not much of sales person, let alone talking to another individual, face-to-face, and asking them to become a member. And perhaps, this is just one of my reasons why I don't like MLM companies in the first place.
But to be fair, I've heard a lot of success stories about it and at some point, I know that it's indeed helping many people, too. And perhaps, that's one of the two reasons why you're here. It's either you're looking for a new opportunity or you want to know whether Norwex MLM opportunity is the right company to join.
P.S.
I'm not a member of this brand so expect that I will only give an honest unbiased Norwex review.
"The power to clean without harmful chemicals" -- that's one of the first things you are going to see on their website. Apparently, the main focus of Norwex is to promote cleaning products that are safe not only to the user but to the environment as well.
Originally from Norway, this MLM brand was founded in 1994 and has expanded to the USA, Canada, UK, Germany, and other countries, tapping more than 40,000 distributors. They want to be known for their high-quality products that are natural, clean, eco-friendly, green, and chemical-free.
It sounds appealing especially with the global warming crisis nowadays. I think these products are helpful when we want to at least reduce the existing dilemma but the real question is: is Norwex true to its claims when it comes to having an environment-friendly and chemical-free products?
Anyways, here are some of the cleaning essentials that Norwex is promoting. Aside from keeping your home tidy, they also body products you can use during and after taking a bath.
Apart from selling its products, Norwex has other things to offer, such as hosting a party and business opportunity.
Hold Norwex Host Program
According to their website, you can host or "co-host a party with a friend" and it can be done in the comforts of your own home or any other place that will allow you to present their products -- which is the main goal of Norwex's Host Program.
It's like hosting a typical party but aside from just having drinks and games, your Consultant (the term they use to refer to their distributor) will demonstrate various Norwex products and let your friends experience it.
It will not cost you anything (aside from the refreshments and food) but you need to have at least 3 friends who will buy the products, have 1 booking, and accumulate sales worth of $350.
Become A Norwex Consultant
Like other MLM companies, Norwex gives you the chance to have a business opportunity where you can "become your own boss". When you join as a Consultant, you can get 35% off from your own retail sales, create your own team and earn more based on your team sales, and win awards and gifts by joining their team building promotions and sales incentives programs.
How The Business Opportunity Really Works
MLM is one of the most common businesses nowadays but there are still those who have no idea what it's about -- and most of them think that multi-level marketing is similar to a pyramid scheme.
Basically, these two have similar concept -- to invite more people to join the program; however, the main difference is that in MLM, you are selling real, tangible products while in a pyramid scheme, you are just paying off the "system". Multi-level marketing or network marketing is legal while the other one is not, and most of the times, pyramid scams do not last for a long time.
With Norwex's case, they've been in the industry for more than 20 years. Going back to the main question -- how does Norwex work?
As a Norwex Consultant, you will grow your business by promoting their products and earning a profit and by inviting more people to join their program. The good news, I think, is that they offer huge commissions and I'm not going to have doubts about that because the products they are selling are expensive in the first place.
However, you will not earn directly by just inviting new people rather, you will get commissions when your members start making a sale -- and this is how legit MLM companies work, such as OPTAVIA, HempWorx, Xyngular, Rodan + Fields, and Modere
And in case if you were wondering: Is Norwex a Pyramid Scheme? No it is not because they sell real product and pay commission to their partners from the sale of their products.
To learn more about Norwex business opportunity, you can watch the video below:
Is Norwex legit? Yes, it is. And remember, it's been here since 1994 and until now, it's operating legally, so there is no blatant Norwex scam for sure. However, if you're asking if it's worth it, it actually depends.
As for me, I'm not a fan of MLM companies and the only reason why I've visited their presentations is because of my friends, who have joined the program, have crafted their way of inviting me but if only I've known their strategies before, I would have not wasted my time.
I'm not saying that MLM companies are a waste of time. I've seen people who have succeeded in this business model and perhaps, your success depends on different things such as the training provided by your upline, your marketing and social skills, and your eagerness to earn.
Anyway, I found out that Norwex is not accredited by the Better Business Bureau; however, it has received an A+ rating.
Here Is My Top Recommendation to Start Highly Profitable Online Business from Comfort Of Your Home
The cost of joining Norwex is only $9.99 because the only thing you need to pay for is the shipping and handling fee. You will receive a free starter kit which will give you almost everything you need to get started, such as a bathroom scrub mitt, cleaning paste, and dusting mitt.
What's the catch? Why give a free starter kit?
The catch is: you have to sell all these cleaning materials which are worth $2,000. I know, it sounds crazy and apparently, it takes at least 3 to 4 host programs to do this. If you haven't sold all the products in three months, you will be charged $200, which, as one consultant says, is cheaper than the value of the entire sales kit.
PROS
60-Day Money Back Guarantee
Norwex is proud of the high-quality materials they've used in their products and they are confident enough to replace or give a refund in case you're not satisfied with it. You can also ask to exchange it to other Norwex products if you desire.
Huge Commissions
If you're fond of joining MLM, good news! They give higher commissions if you meet any milestone and as I've said, it's all because they are promoting expensive products which are hard to sell so it's just right to give their consultants a good reward.
CONS
Challenging To Sell Expensive, Targeted Products
In line with the statement above, selling this kind of products under a very expensive price would be very challenging. I mean, how many people can you convince to buy a $20-worth of dusting mitten? In addition, the kind of products they have are targeted and although it's good for the environment, not everyone is a fan of eco-friendly products.
If you're someone like me who doesn't want face-to-face interaction, you can consider other legit money-making alternatives instead such as starting an online shop, blogging, or affiliate marketing.
Lack Of Information
Unlike other MLM companies, Norwex did not share any compensation plans on their website. For me, showing this kind of details will help the company attract more consultants and for the consultants, this is important because this gives you an idea of what you should expect when you join them.
Tired of Wasting Time on Low Quality Programs?
I'm so grateful that I was able to find THIS PROGRAM which helped me to finally start making money online!
Since it's kind of challenging to sell this kind of goods, it would be ideal for those who have strong advocacy in the environment. It's also good for those who have experience with joining MLM as you already have an idea on how you will approach people to buy the products and join the program.
As for the training, it will be provided by the uplines, therefore the quality of it depends on who will be your mentor. If you wish, you can do it on your own by watching free training videos online or reading materials over the Internet.
Norwex has proven how stable they have been for a long time and it's good to know that they offer a legit business opportunity to people. However, it would be very challenging for consultants to sell expensive products in a targeted niche.
While I would not advice you to stay away from this program, you can take as much time as you can before you pay for their $9-worth of the shipping fee. Find out if you can really commit to this kind of business and if you can't don't worry, there are still other legit business opportunities to try.
Don't like recruiting people? Don't worry, you're not alone! And I've got the best opportunity for people like you.
However, like MLM, you need to exert effort, determination, and commitment before you reap the rewards.
If you are looking for legitimate opportunity to kick start online business - make sure to check out my Top Recommendation and enjoy the following perks:
A Fine Blueprint on How to Make Money Online
Top Quality Tarining
Free Access To A Live Community
Best Support in the Industry
And A Lot More!


I hope I have helped you decide with my Norwex review and if you have any questions, comments, or violent reactions (kidding though), please feel free to drop it down below.
Thank you!
We Constantly Review Programs in "Make Money Online" Niche,
So That You Don't Have to Waste Countless Hours
Want To See Our
TOP RECOMMENDATION?