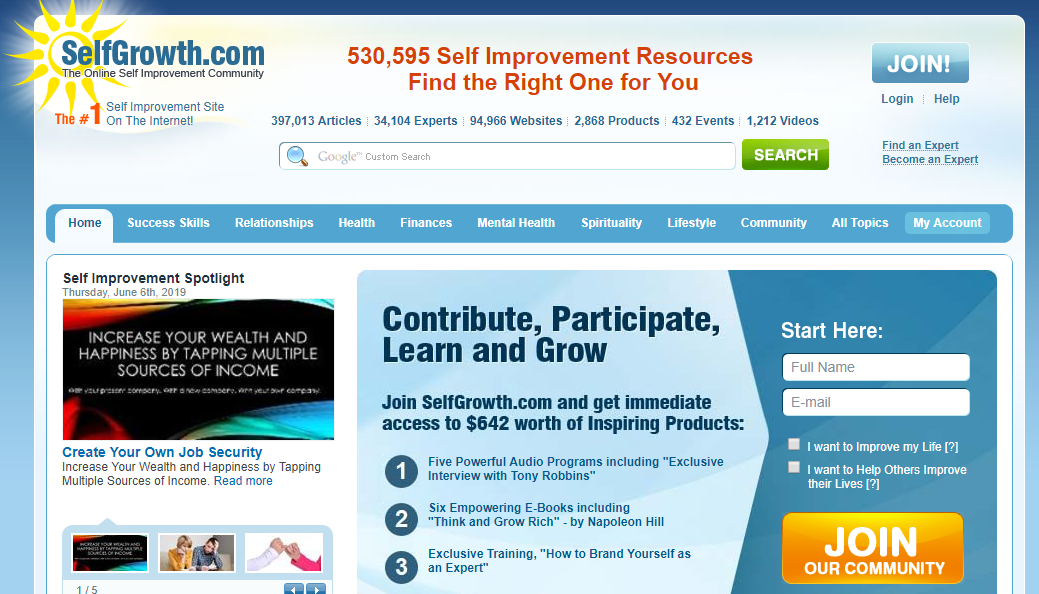 Welcome to My SelfGrowth.Com Review!
Some people think that self-growth can be achieved in a short period of time, doing minor things that would "apparently" add up to their value as a person. However, developing one's self is a lifelong process and even if you've accomplished many things, it never ends. As they say: "there's always a room for improvement".
Quick Summary: SelfGrowth.com is the most complete guide to information about Self -Improvement, Personal Growth and Self Help on the Internet. It is designed to be an organized directory, with articles and references to thousands of other Web Sites on the World Wide Web.
In addition, visitors can find mentors who can help them grow as an individual and mentors, on the other hand, can use the site to promote their service.
Overall Rating: 7/10
Recommended: Yes
The good thing about is that you can start it in simple ways and as early as now. Just by reading and watching self-development articles and videos is a big help, let alone having a mentor who can guide you all throughout the process.
If you're one of those who is in search for the best personal development materials online, you may have stumbled across a site called SelfGrowth.com.
What is it all about? Can SelfGrowth.com help you with your personal goals? Or as a mentor, how can it help you promote your service?
What Is SelfGrowth.Com About?
SelfGrowth.com, as the name suggests, is a website that offers a comprehensive guide on self-development. Founded in 1995 by David Riklan and Michelle RIklan, the site's main goal is to offer quality resources that would help people become better on different aspects, such as Love and Relationship, Success Skills, Lifestyle, Money and Careers, Mental Health, and Spirituality.
With over a million visitors every month, SelfGrowth has become of one of the well-known websites that provides access to thousands of curated articles, blogs, newsletters, events, and products. The site takes pride in having more than 20,000 experts, 900 videos, and other resources tailored to self-improvement. These mentors and materials are not only available for personal use but also for business purposes.
How To Sign Up With Self.Growth.Com?
On their homepage, you just need to provide your full name and email address. You can also choose whether you "want to improve your life" or you "want to help others improve their lives". These two options are different things and I'll discuss more of that in a bit.
For now, let's proceed with the registration. After the initial steps, you will be led to another page so you can create your password. Once you are done, a verification link will be sent to your email. After verification, you can now access the member's dashboard, and this is how it looks like:
If you're creating an account for personal use, this is how your dashboard will look like; however, if you upgrade it into a professional account, there will be additional tools for you to use.
FREE TRAINING
Learn How I Started Highly Profitable Online Business From Comfort of My Home Following This Blueprint
Signing up for SelfGrowth.com is free, and it will allow you to receive over "10 free stuff", which are basically eBooks. It also lets you connect with other members through discussion boards and instant messaging. This is a great way to talk to other like-minded individuals who are also aiming for self-development.

To encourage participation and motivate each member, SelfGrowth.com offers contests and prizes as well as the chance for you to promote yourself and your business. How are you going to win this, you ask?

User Points

When you enter the dashboard, you will see "User Points" on the upper right corner of the page. The user points are one way for the website to acknowledge active users and it can be acquired by fulfilling various tasks, such as logging into the account daily, commenting on any article or video, rating a blog, article, video, or website, and adding an article or site. For each action, corresponding points will be given.


Other resources include 13 free newsletters, access to mentors, directory of professional websites under the niche of self-development, and links to EQ and IQ tests.
You can also earn points for bringing new members to SelfGrowth.com. To do this, simply click "invite a friend" on the left side of your dashboard. Every successful referral is equal to 50 User Points.
Benefits Of Getting User Points
As mentioned above, you will be rewarded for being an active member of the website. SelfGrowth.com displays the name of the most active users of the day, of the week, and their "all-time user point leaders." This means that if you are an expert and you want your page to be promoted, other users can see your name and when they click it, they will be directed to your account.
However, you need to have a professional account first and you can start creating one by creating an expert page on the SelfGrowth.com platform.
Active users also have access to various contests where you can win prizes. According to their website, they will offer monetary rewards in the future for top users.
Here Is My Top Recommendation to Start Highly Profitable Online Business from Comfort Of Your Home
Professional Account
When you have a professional account, you can do more than just commenting on videos, articles, and blogs. You can also use it to help other people by submitting articles, creating events, and sharing website links.
You also have access to additional tools that can help you market your business, products and yourself. This is ideal if you are a mentor or a life coach and you want to motivate others or simply promote your services.
How To Have A Professional Account?
Surprisingly, it's easy and free to switch to a professional account. All you need to do is click "Upgrade Account" and you're all set. You can now submit events, articles, and websites, which is a good idea if you want to promote your own site and acquire traffic. After all, SelfGrowth.com has over a million visitors per month and you can take advantage of this for free.
Before you can submit an article, an event, and a website, you'll have to read and agree with their terms first. This is to ensure that their policy is clear prior to sending any write-up. Typically, they will require you to write a blog with 500-1,500 words.
If you want to know how you can submit an article to SelfGrowth.Com, you can watch the video below:
No matter how old or young you are, it's never too early or late to start taking a step towards self-growth. Everyone needs it -- yes, even the people you admire the most. The best part, it doesn't have to be expensive. You can begin your self-improvement journey even without spending a dime -- and that's when SelfGrowth.com comes in.
The site offers a lot of articles and blogs that are valuable and high-quality. I've read some and I could say that it's eye-opening. I know that there are a lot of things to learn and this site is a huge help.
Signing up is free and each task you do is rewarded. If you're a mentor, you can take advantage of this site to acquire new clients or if you're a writer writing under this niche, you can upgrade your account to a professional one -- for free -- and use it to drive traffic to your website.
We Constantly Review Programs in "Make Money Online" Niche,
So That You Don't Have to Waste Countless Hours
Want To See Our
TOP RECOMMENDATION?