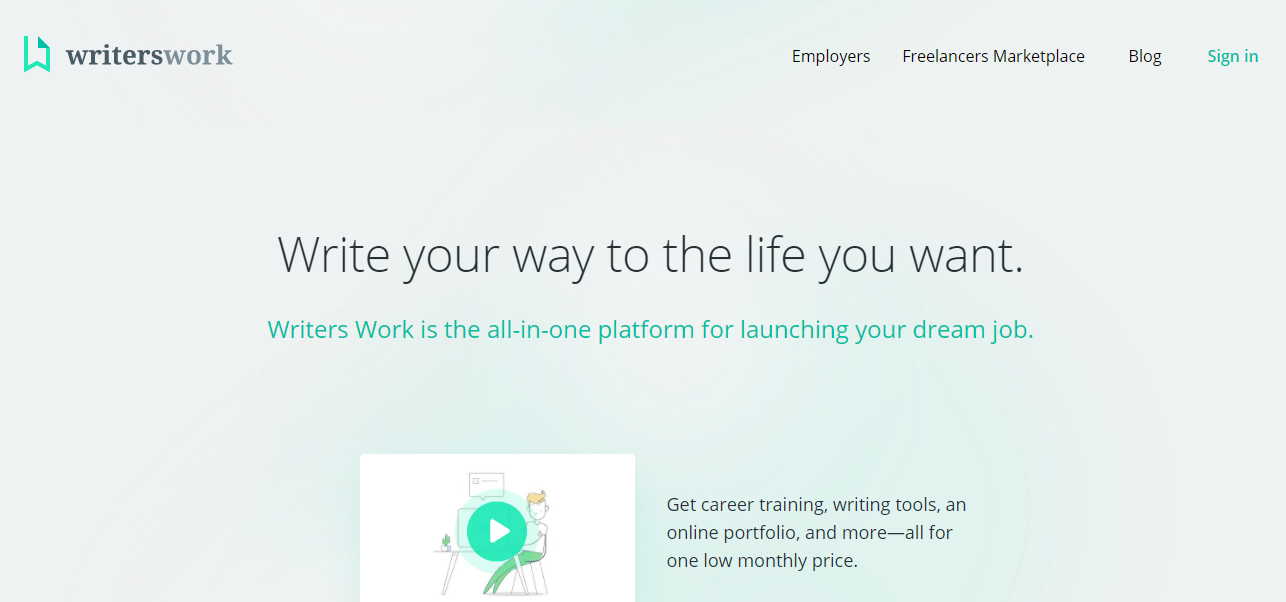 Welcome to My Writers Work Review!
Being a freelance writer gives you the chance to earn money without the need to go outside your comfort zone. You can offer your service to anyone you know or sign up for different programs.
You can try various job search engines, such as Upwork or you can find your own clients by using social media platforms, such as LinkedIn.
Writers Work Review Summary
---
Name: Writers Work
Website: writers.work
Founders: Undisclosed
Product Type: All-In-One Writer's Platform
Price: $15 Per Month / $47 For Lifetime Membership + Upsells
Quick Summary: Writers.Work is an online platform for freelance writers that claim to provide all the necessary tools needed, such as the training, job listing, etc. However, it comes with a cost -- and you have two membership options to choose from.

But the questions are: is it worth the price? Is Writers.Work a scam? Should you join this program?
Overall Rating: 3/10
Recommended: No
However, if you're a beginner, it feels like there's a lot of things to do before you can land on your first job, therefore joining programs is a big help. And that's what Writers.Work is basically about.
This site claims to help freelance writers earn money through writing by offering several tools and training but how true is this claim? Is Writers.Work a scam? How much money can you make from this program?
In this honest Writers.Work review, you'll find out all the good and the bad regarding this program.
What Is Writers Work About?
Writers.Work is more than just a job search engine for freelance writers; it claims to have all the necessary tools that will make the user productive, organized, and relaxed. According to their website, they offer an all-in-one platform for those who want to launch their freelance career.
At first glance, Writers.Work sounds appealing because it's not every day you'll see a platform like this. I mean, I've been working as a freelance writer for more than a couple of years and it's the first time see a site that offers "built-in audio tracks" so you can work without distractions. However, as I continue to browse the website, I found red flags that made me think twice -- and end up not signing up at all -- and I'll discuss all of that in a bit. For now, let's find out how it works.
How Does Writers.Work Work?
As mentioned, Writers.Work is not just a site that offers freelance writing tools; it provides Career Training Videos -- a series of training modules for new writers that will give them an idea on how they will find their new client, the rate for their service, and a lot more.
Writers Work also has Magical Job Finder and Instant Submission Finder. This gives you a list of job listing websites so you don't have to search on your own. This means that rather than signing up for a new platform and check the internet for various job offers, this site will display the writing opportunities in your platform.
It even comes with "built-in audio tracks" that you can listen to in case you don't want any distractions. Plus, it comes with a grammar checker that works like Grammarly -- my favorite tool for checking my writeup. Anyway, their built-in software will help you edit the right article, verb, spelling, etc.
Writers.Work also has Project Organization System -- a tool that lets its users stay organized. Using their platform, the writer can link their files into a specific project, track the time, set a due date, and create main tasks and sub-tasks. There's also this Habit Builder Tool -- which is basically a word-counting tool. Apart from letting you know how much words you've already written, this will also help keep you motivated with writing more.
In addition, Writers.Work help writers create their professional portfolio, which, for me, is very important if you want to promote your own writing business soon. This all sounds amazing but obviously, it comes with a fee and this is one of the reasons why I became hesitant about this site.
For two years, I've had international and local clients and I've never experienced paying an upfront fee. Some job search engines, such as Upwork, will charge you for using their platform but you don't have to pay for it before joining the program. But that's not the case with Writers.Work. -- there's a cost for joining the platform and you have two options to choose from -- The Lifetime Membership and The Monthly Membership.
I can't really say that Writers.Work is a scam; I mean, there are still positive feedback about this program; however, the bad reviews outweigh the good ones. For example, the complaints about the refund.
As shown in Better Business Bureau (BBB), there are users who have refunded the program within 30 days, some have even done it in less than 24 hours, but they have not received their money back. In addition, they are having a hard time communicating with their customer service.
Also, if BBB rating is a big deal for you, it's unfortunate to find out that aside from being not accredited, Writers.Work has received an F rating.
If I were you and you want to work as your own boss, you can start by creating your own blog site and monetizing it or you can join an affiliate program. Even if you search online, this platform is one of the most lucrative ways to make money online and if this sounds interesting, I have the best program for you! It's 100% legit and it will give you everything you need to get started -- FOR FREE! Simply click the link to know more.
As mentioned above, there's an upfront cost for joining the platform and you can choose between The Lifetime Membership and The Monthly Membership.
The Lifetime Membership $47
As the name suggests, this membership allows you to pay once without worrying about any fees in the future. It's kind of strange though because they said that this is "early-bird pricing". If you'll check other reviews made a few months ago, The Lifetime Membership fee has always been the same. I believe this is just some fake scarcity technique so aspiring freelance writers don't have to think twice before signing up.
The Monthly Membership $15
If you want to have the same tools and training but you don't want to avail the $47-worth Lifetime Membership, you can choose The Monthly Membership instead. You read it right! This membership will give you access to the same features that the other account has.
Upsells
Aside from the membership fee, Writers.Work also has various upsells for their members WHICH YOU CAN COMPLETELY IGNORE. I've found several complaints about the program, leading to a refund so I bet that purchasing any of their add-ons would be useless. If that doesn't convince you, maybe this will: there's no refund policy about their upsells, unlike the two memberships.
According to their page, you can get your money back within 30 days in case you're not satisfied with the platform but then again, this is not applicable with their add-ons.
Anyway, here's an outline of their upsells:
The Tool Kit Bundle
The Coaching Add-ON\
The Premium Video Modules
Additional Freelancer's Toolkit
To know more about Writers.Work, you can watch the video below:
PROS
Good Program For Beginners
I know how overwhelming it is for a new writer to set everything up -- looking for a client, creating a portfolio, writing the first article, checking your grammar, and so and so forth. So for me, the tools, training, and other features in this program is a big help.
Even Seasoned Writers Are Welcome
Even if you're an experienced writer, you will benefit from Writers.Work because the tools mentioned above will surely help you as you go along. However, there is a lot of free a lot of free alternatives to choose from.
For example, if you want an online organizer, you can download Trello on your phone or use it on your desktop; for music, just visit Spotify or YouTube; for checking of spelling and Grammar, just go to Grammarly.
CONS
No Free Trial
Whether it's a small or big amount, having a free trial is crucial for me since this will give me an overview of what I should expect within the program. I don't know about you but I think the main reason why there's no free trial is because Writers.Work is not confident about their program. Either it's a scam or a low-quality program that they don't want people to know immediately.
Complaint About Refund
Aside from the no free trial issue, another complaint against Writers.Work is about their refund. On their site, they mentioned about the 30-day money back guarantee but more than 10 users on BBB alone have complaints about not receiving the promised refund. To make matters worse, they don't receive any response from customer support.
No Contact Details
In line with the statement above, there are no contact details on their website, not even a social media account. This is another red flag and by now, I hope you're thinking about other legit alternatives instead. I mean, good customer support is important because no matter how good the program is, you will encounter a problem or concern every now and then and you need solid assistance.
Lucky you, I know one of the best platforms you can try. Aside from the free training, they also offer 24/7 customer support so you can have the guidance you need anytime of the day.
Owner's Name Not Disclosed
Their website may have been professionally-designed but it missed important things such as the contact details and the About Page. For me, this is very important as it would help me find out the legitimacy of the program, who owns it, when the platform was created, etc.
Here Is My Top Recommendation to Start Highly Profitable Online Business from Comfort Of Your Home
The platform is good for newbies and seasoned writers but after reading this review, I hope you can decide now if it's the best program for you or not. Sure every platform, no matter how stable or legit it is, have its own pros and cons but Writers.Work have too many red flags for me. But then again, I'd leave this on your own discretion.
Tired of Trading Your Precious Time for Money?
Here is a Blueprint to Owing Highly Profitable Online Business Without Any Experience REVEALED!
Writers.Work appeared to be a very good program at first. Honestly, even as a seasoned writer, the tools and features it presented will help me a lot but after finding out the truth about this program, one thing is for sure -- I would not waste my time signing up for this platform.
If I'd look for another job as a writer, I'd go to Upwork or onlinejobs.ph instead; if I want to start and grow my own online business, I'd rather go blogging or venture with affiliate marketing.
I know how disappointing it is to be scammed, believe me. That's why I continued writing reviews that will help you know whether the program is a scam, low-quality, or legit.
Now, if you're tired of experimenting on your own and you want a legit platform that will help you make money online -- and possibly score a passive source of income, you can sign up by clicking this link and enjoy the following perks:
Free Membership
Free Training
Free Access To A Live Community
Free 24/7 Support
And A Lot More!
I hope I have enlightened you with my Writers.Work review and if you have any comments or questions, please feel free to share it below.
Thank you!
We Constantly Review Programs in "Make Money Online" Niche,
So That You Don't Have to Waste Countless Hours
Want To See Our
TOP RECOMMENDATION?