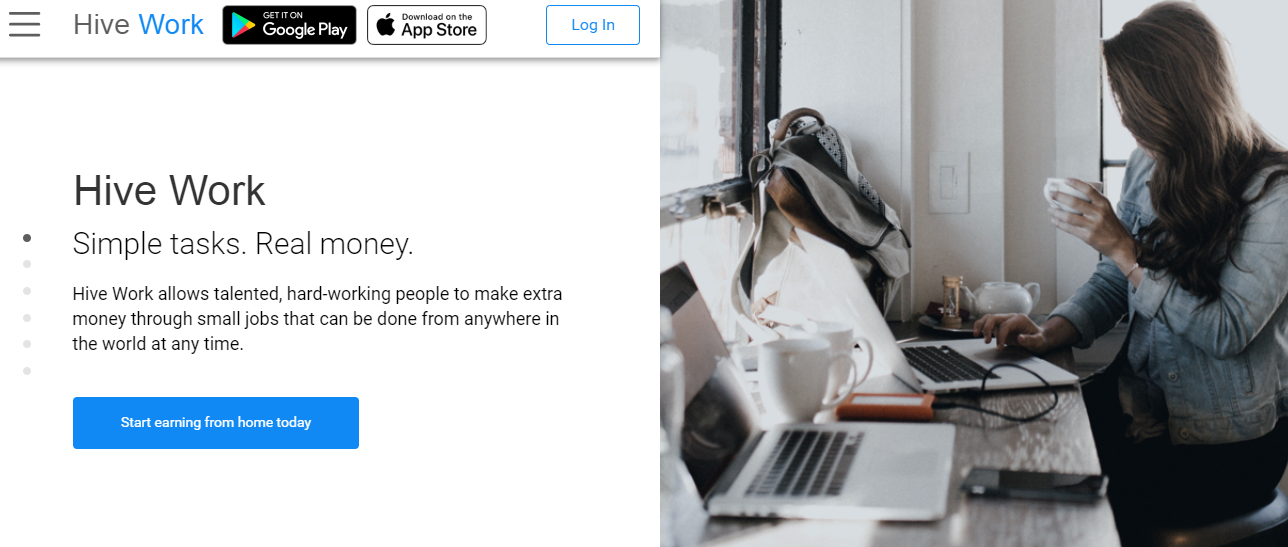 Welcome to My Hive Work Review!
Three years ago, I started looking for money-making opportunities online and the first option that worked for me are home-based jobs. Until now, it's the source of my regular income; however, it wasn't easy.
Hive Work Review Summary
---
Name: Hive Work
Website: hivemicro.com
Founders: Developed By Chatous
Product Type: Mobile Application
Price: Free
Quick Summary: Hive Work is an online platform that offers minor tasks online. You can also download it on your iOS and Android device. The tasks you can do vary from categorizing to typing.

It is legit; however, can you earn a good income using this program? Is Hive Work a scam? How does it really work? Find out all the answer you need to know in this Hive Work review.
Overall Rating: 4/10
Recommended: No
I've been scammed a lot of times so I could definitely say that not every job posted online are true. Therefore, it's crucial to do research about the company, the site, and the employer first before working for them.
So if you want to know the truth about Hive Work, then you're in the right place.
In this Hive Work review, you'll find out what it's really about. How does it work? Is Hive Work a scam? Can it give you a good income?
Hive Work is a mobile application that can be downloaded on iOS and Android device. According to their website, they provide "small jobs" to individuals so they can earn money online.
Before we go on, I want to clear something: their website indicated HiveMicro but they are branded as Hive Work so basically, these two things are the same.
To begin, all you need to do is install the app on your smartphone, sign up, and start looking for jobs you can work on. After completing tasks, you will be paid via PayPal on a weekly basis.
What Kind Of Jobs Are Available At Hive Work?
There are three jobs offered in Hive Work, namely:
Categorization
Your task is to choose the best answer or category that suits best on what photo they are showing. This is one of the simplest jobs inside Hive Work but it's also one of the lowest paid tasks.
Bounding Box
Your task is to simply draw a box on the image that they are looking for. If you're signing up with various websites, you may have seen the same exercise before; the one that will verify that you're not a robot.
Text Transcription
As the name suggests, you will type whatever it is that you see in the photo.
However, it is not limited to these tasks as your work may also involve classifying TV shows and movies, differentiating animated clips from real ones, timestamp jobs, etc. The minor jobs you will do are very simple and repetitive. However, considering this, you will be paid with a very small amount which may or may not be enough depending on your location. I mean, there are countries where the cost of living is high and there are also those with low expenses.
Nevertheless, you will be paid every week, on a Tuesday to be exact, via PayPal or Bitcoin. In addition, the threshold can be as low as $2.
I've also learned that you can also earn through referrals and every successful downloads or registration is equal to $5. Sounds easy? Wait until you learn this: to be able to earn from inviting people, you need to make $2 first and your referral should make $5 before you get paid.
Here's a quick look at their platform:
As you can see, you need to take a qualification test first before you can do any of the tasks. I tried the quick test; there's only one question and you can quickly proceed to the actual examination. It's simple and often a matter of yes or no; however, the pay is very low and more or less, you'll spend 5 minutes or so to finish one task.
Anyway, most tests are consist of 20 questions and there's little to no room for mistakes. But in case you fail, you can re-take as many exams as you can until you reach the required score.
Hive Work says that the jobs you will take are minor but some of it will require you to go through various qualification exams or training prior to earning.
Based on my research, Hive Work is not a scam. I also found a forum on Reddit that would support the company's legitimacy. According to the comment of the users, it is an "interesting" site that pays; however, the amount is small.
Despite not disclosing the name of the owner or the company behind it, I don't think it's fair to say that it's a sham. Their site is professionally designed, they even have mobile apps available for iOS and Android device. By the way, I found out that the developer of the app is Chatous -- a social networking mobile application that lets random individuals talk to each other.
While it's safe to say that Hive Work is not a scam, you cannot rely on it when you want to replace your day job. The pay is very low and for some, is very insulting. Imagine spending a lot of hours only to earn a few dollars. There are other legit platforms out there that you can try. For instance, you can apply for reputable job search engines or start your own online business.
And, in case you want to start your own business online but don't know how to begin, you can click this link.
To learn more about Hive Work, please watch the video below:
Hive Work is free and you can sign up on their website or by downloading their mobile application. You can start earning right after you create an account and take qualification tests. While there's no need to pay anything and the tasks you're going to do are simple, the amount you can get out of it is low unless you decided to spend the entire day categorizing images, identifying logos, movies, and TV series, and typing words.
Here Is My Top Recommendation to Start Highly Profitable Online Business from Comfort Of Your Home
PROS
Legit Money-Making Opportunity
Hive Work doesn't just sound too good to be true as they really do offer minor tasks you can work on during your free time so you can earn money online. It's legit and there are people claiming that they have received the money from working on the tasks within the app.
Low Minimum Threshold
Compared to other low paying jobs, such as paid survey and Get-Paid-To (GPT) websites, the minimum threshold they require before you can cash out your earnings is very low. You can withdraw your money through PayPal for as low as $2.
CONS
Extremely Low Pay
Hive Work may be legit and it may have paid a number of users but look at how much tasks they need to accomplish before they can earn $50. For example, the number one on the leaderboard has completed 13,723 tests for a week just to get $54.88. Imagine how much hours he spent to earn this.
Tired of Trading Your Precious Time for Money?
Here is a Blueprint to Owing Highly Profitable Online Business Without Any Experience REVEALED!
Hive Work is good for those who are looking for options on how to spend their free time. While others choose to play games, read books, or listen to music, you can take advantage of this site to earn money. You can even do both -- play songs and complete tasks.
It's not a lot of money but for someone who's frugal and values their finances, even a dollar counts. Also, compared to the paid survey websites I've reviewed, I think Hive Work is better because the payment threshold is low and the amount you can get per week is a decent especially when you spend a lot of time on it (which I think is not advisable).
Hive Work is not enough to support your daily expenses and if you know that you're willing to spend more time for a task, why not invest on a legit program that will help you make good money?
As mentioned above, there are a few tutorials and qualification tests for some exams. As for their customer service, you can fill out an online ticket form and you can expect a reply within one business day.
Hive Work has proven its legitimacy and it has a fair share of good reviews but then again, the amount that you will get from it every week is barely enough. It's not also advisable to spend so much time using this platform because there are other legit opportunities online that have better offers -- and I can share one with you.
Just keep on reading.
If you want to have a career change or perhaps, find a better platform that will help you earn cash online, you can check my top recommended program and enjoy these perks:
One-on-one coaching
The best business tools and support you need
Comprehensive guide
Webinars and training resources
And many more!
I hope I have enlightened you with my Hive Work review and if you have any comments or questions, please feel free to share it below.
Thank you!
We Constantly Review Programs in "Make Money Online" Niche,
So That You Don't Have to Waste Countless Hours
Want To See Our
TOP RECOMMENDATION?