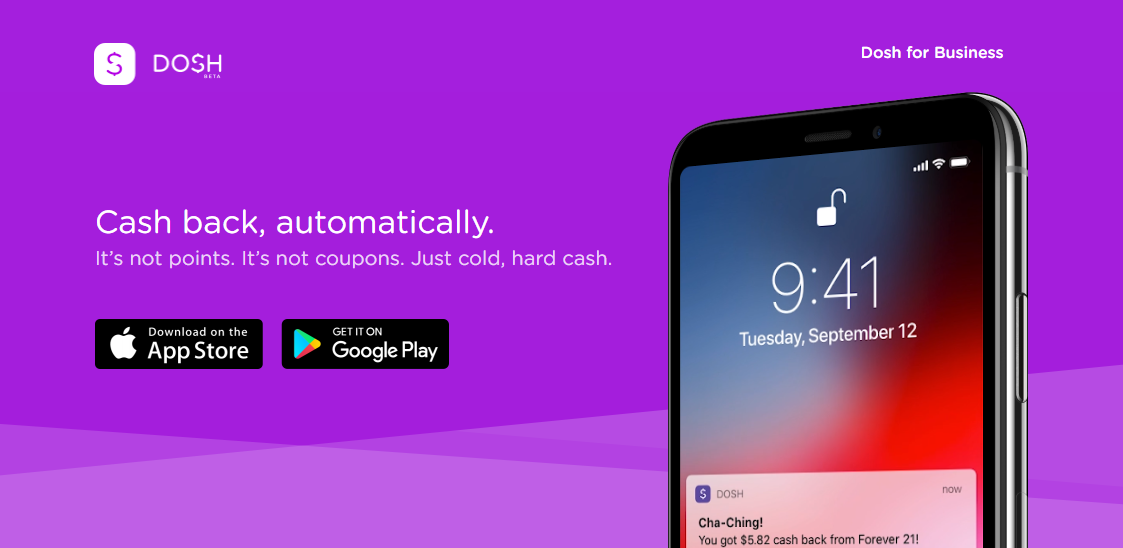 Welcome to My Dosh App Review!
Mobile applications are developed and released in the market almost every single day and it helped people in various ways.
Dosh App Review Summary
---
Name: Dosh App
Website: www.dosh.cash
Founders: Ryan Wuerch
Product Type: Mobile Application
Price: Free
Quick Summary: Dosh App is a mobile application platform that gives cash back. It's available to iOS and Android devices and you can get a small amount back by connecting your credit and debit card and making a purchase. It can also be used for hotel bookings or dining out but before you install the app and link your card, be sure to read the full Dosh App review first.
Overall Rating: 5/10
Recommended: Yes... And No
For instance, there are apps that reduce stress through guided meditation and music; there are apps that provide a small amount of cash or gift cards, such as Cash For Apps, Panel App, and Lucky Day; there are apps that made commuting two times easier through ride-hailing transport services.
And then there are apps that claim to give you cash back every use.
In this guide, we'll expose the truth behind a mobile application called Dosh App. How does it work? Will it really give cash back? Is Dosh App a scam?
"The easiest money you've ever made" -- that's what their website claims. But what is Dosh App really about?
Dosh App is a mobile application that's available for both iOS and Android users. It claims to give users "cold, hard cash" just by connecting their debit and credit cards to the app. Every time you purchase or settle something using any of the cards you linked, the app will give you a small amount back.
According to their site, Dosh App gives back at least 10% of the amount you've paid in shopping and dining out using your linked card -- and you don't have to wait for hours or days to receive it as they will send it to your Dosh Wallet automatically.
Other Ways To Get Cash Back With Dosh App
Aside from using the linked cards, you can also receive cash back by sending cash to various bank accounts, contributing to charities, or transferring cash to a PayPal account. Another option is by referring to any of your friends to download the app.
For every successful sign-up, you'll get $5 so let's say you've invited 20 friends and these "friends" have linked their credit and debit cards to Dosh App, you'll get $100 in your Dosh Wallet.
Sounds easy? I bet it is. But why get cash back?
Basically, Dosh App has partnered with various merchants, hotels, and restaurants. The mobile application has allowed these business establishments to promote their promotions and latest deals and in exchange, they provide cash back.
For hotels, restaurants, and merchants, this is a good form of marketing since Dosh App has around three million subscribers with linked credit and debit cards. That's a huge market and these businesses can take advantage of the app to attract more clients and promote their goods and services.
For users, Dosh App is also a huge help because it's not every day that you are able to get a small percentage of your money back. Even if it's not worth a hundred dollars, you can use the small amount for another purchase or as additional savings.
Dosh App is not a scam and unlike other low-quality programs with unknown owners, the mobile app was founded by a well-known man named Ryan Wuerch -- who is also the founder of a multi-level marketing company called Solavei.
Although Ryan's former business has shut down, the newly developed app has shown a positive result in its users in 2018. In fact, it has paid around $25 million to its users in the U.S. Meanwhile, if you check their rating on Google App Store and Apple Store, the app has 4.6-4.7 stars out of 5.
However, like other apps, there are various drawbacks and issues from aspiring and current users, such as the ones shown below:
Issue With Privacy And Security
There are people who are not comfortable with sharing or linking their debit and/or credit cards for fear of fraud. Dosh App, however, has guaranteed that their app is protected with 256-bit encryption. Also, the app doesn't save any banking or credit card details rather, it is "tokenized" through a PayPal service called BrainTree.
Problems With Downloading The App
Like other apps, some people have a hard time installing the app, installing their debit and/or credit cards, and even earning cash back. However, if you will check Google Play Store or Apple Store, there's a response on almost all the comments and from what I understand, most problems are resolved and the app seems to be working better now.
Here Is My Top Recommendation to Start Highly Profitable Online Business from Comfort Of Your Home
Dosh App is free to download on iOS and Android device; however, as of now, the mobile application is available to US residents. Meaning, if you're living outside the United States, you cannot install the app on your smartphone and even if you do, it will not function properly.
Anyway, if you're living in the U.S., you can link your card and earn a 1% to 5% cash back by using your authorized card in booking a hotel, dining out, purchasing items, and more. As long as you have reached the $15 threshold, you can cash out via Venmo, Direct Deposit, or PayPal and you will receive it within 2-3 days.
Tired of Wasting Time on Low Quality Programs?
I'm so grateful that I was able to find THIS PROGRAM which helped me to finally start making money online!
PROS
Uses BrainTree To Store Credit And Banking Card Information
As mentioned above, Dosh App does not store credit and debit card details instead, they use a PayPal service called BrainTree. The good thing is: PayPal is one of the most trusted payment platforms of today and many people and businesses (including me) have used this platform for various transactions.
Financial Details Are Heavily Encrypted
Dosh App is guaranteed with 256-bit encryption, keeping any credit and debit card information protected. This means that it won't be easy for any third-party to acquire your details and use it for their own interest.
CONS
Limited Accessibility
As of now, Dosh App is available only to those living in the United States. However, since the mobile application is gaining popularity and trust, it might be possible for it to expand to other countries.
Issue With Other Cash Back Apps
If you are using other cash back apps, such as Yelp Cash Back, you might have a hard time linking your debit or credit card to Dosh App as it is against their Terms Of Service.
Not A Source Of Income
Obviously, you cannot use Dosh App to earn a stable source of income, not even when you're looking for a side hustle. Even if you get a cash back for a successful hotel booking or purchase, you will still need to spend money first.
Meanwhile, if you're looking for a legit money-making opportunity, you can try paid surveys instead (that is, if you're fine with answering questionnaires and receiving a small amount). But if you're looking for an alternative that can give you a good source of income, you can consider affiliate marketing and you can click this link to know more.
Security Concerns
There are people who are not comfortable with sharing their personal and financial details no matter how legit the program is -- and if you're one of those, Dosh App is not for you. To link your credit and debit cards successfully, you need to share financial details to Dosh App and their merchants, according to their Privacy Policy, and if you don't like this idea, you can skip this option and look for another app or legit money-making opportunity instead.
To know more about Dosh App, you can watch the video below:
Dosh App is for US residents who are 18 years old and above and are fond of shopping, dining out, and/or traveling. You can use the mobile application to get a small percentage back for hotel booking, purchasing items, or paying for food. You can also take advantage of this app if you donate to a charity regularly or send payments or money via PayPal.
Dosh App is a legit mobile application that gives you a small amount of your money back just by linking your debit and credit card and making a purchase. It's a good app to consider if you shop and travel most of the time because every dollar matters. However, it's only available to the US but hopefully, it can be accessed worldwide.
But then, if you're looking for a legit platform that will provide you cash -- without the need to purchase anything -- just continue reading.
There are a lot of opportunities online that claim to help you make money online -- and it can either be legit, a scam, or a low-quality program. If you want to join one of the best money-making platforms online, the first thing that you should know is that it won't be easy.
Making money takes time but if you're up for a challenge, I'd like to invite you to join my top recommended program and have all the things you need to get started, such as:
One-on-one coaching
Comprehensive guide
The best business tools and support you need
Webinars and training resources
And many more!
I hope I have enlightened you with my Dosh App review and if you have any comments or questions, please feel free to share it below.
Thank you!
We Constantly Review Programs in "Make Money Online" Niche,
So That You Don't Have to Waste Countless Hours
Want To See Our
TOP RECOMMENDATION?