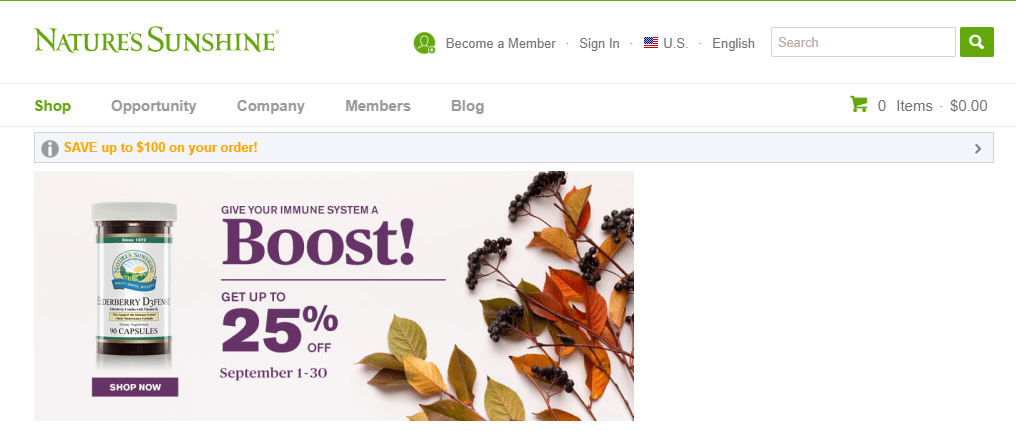 Welcome to My Nature's Sunshine Review!
Multi-level marketing is one of the biggest and oldest business models in the world so I won't be surprised if the majority of the people you know have invited you or have been invited to join the program.
Nature's Sunshine Review Summary
---
Name: Nature's Sunshine
Website: www.naturessunshine.com
Founders: Gene and Kristine Hughes
Product Type: Multi-Level Marketing
Price: $40 For Enrollment + Optional Training Starting From $399
Quick Summary: Nature's Sunshine is a health and wellness multi-level marketing company. It was established in 1972, making it one of the longest operating MLM. They are also the first company to encapsulate herbs and although not FDA approved, their products follow strict quality standards.
Overall Rating: 5/10
Recommended: No
Perhaps, someone from Nature's Sunshine has already made a pitch and you're wondering if this opportunity is legit or a scam. First of all, this MLM company has been in the industry for more than 10 years and from what I understand, they are operating legally but I found out several controversies that they have been involved with.
So, before you sign up, be sure to read my entire Nature' Sunshine review first to know what it's about, what people say about it, and whether it's worth your time or not.
What Is Nature's Sunshine About?
Founded by Gene and Kristine Hughes in 1972, the health and wellness MLM company is one of the first companies to encapsulate herbs. Normally, herbs were consumed by eating or drinking it to acquire its benefits but thanks to this innovation, the herbal ingredients can be taken orally through a capsule.
Nature Sunshine's Product Line
Nature's Sunshine is known for encapsulating herbs but they also promote other essentials, such as personal care products. They have been in the industry for almost 50 years, serving more than 40 countries with products, such as:
Supplements for antioxidants, brain health, weight loss, and energy
Essential oils
Body cleaning solutions
All their products are made out of natural ingredients and each has a specific function. For example, their bestselling Dieter's Cleanse detoxifies the body for 2 weeks or 14 days.
Is Nature Sunshine FDA Approved?
Nature's Sunshine products are popular because apparently, their products are effective. However, the company is not FDA approved because the Food and Drug Administration "does not have the authority to review dietary supplement products for safety and effectiveness before they are marketed".
Normally, supplements and nutritional drinks from MLM companies are not approved, such as the ones from AIM Global. The difference with Nature's Sunshine, however, is that they put the effort in complying with the rules and regulations set specifically for dietary supplements. Also, they were supported by a team of medical professionals, scientists, and biological researchers from Hughes Center For Research And Innovation -- a facility that they have personally created.
Nature's Sunshine Reviews
The funny thing about MLM program is that most of their products do not have therapeutic claims but many people are still patronizing it. Why? It's because most of them are overhyped. However, this doesn't seem to be the case with Nature's Sunshine. Based on the review I conducted, many individuals believe in their products.
You can take a look at the review for Nature's Sunshine Focus Attention below. You can also find more feedback here.
How To Make Money With Nature's Sunshine
Nature's Sunshine may be one of the oldest MLM companies as of today but still, they offer the same money-making opportunities that today's network marketing businesses do. If you want to earn income with them, you can do so by:
Buying their products at a wholesale price and selling it according to the suggested retail price to earn a profit.
Inviting people to join the program. However, you don't earn directly by just recruiting new people; rather, you get incentives and commissions when your downline/team hit a certain milestone.
If the company promises to compensate you for just recruiting new people, you must think twice about it. Even if they claim that they are a legit MLM company and have products you can sell, such strategy resembles a pyramid scheme.
Nature's Sunshine Compensation Plan
Nature's Sunshine offers two types of compensation plans -- Classic and Legacy.
Classic Plan
This plan is created for those who want to be a part-time or full-time distributor for Nature's Sunshine.
Here's a quick explanation of Classic's compensation plan:
Legacy Plan
This plan is created for those who just plan to be Nature's Sunshine's customer or who want to sponsor other NS consultants.
Here's a quick explanation of Legacy's compensation plan:
Is Nature's Sunshine A Scam?
No, Nature's Sunshine is not a scam. It's 100% legit and if you rely on the Better Business Bureau when it comes to the legitimacy of a business, you'll be glad to know that it's been accredited since 2015 with an A+ rating.
However, I have to stress out a few things that I don't like about the program, such as:
Controversial Issue With SEC
According to this source, Nature's Sunshine was accused by SEC for bribing officials in Brazil. Apparently, the MLM company wants to bring unregistered products into the country and they are willing to pay more than a million dollars for this.
The lawsuit was settled in 2009 for $6 million.
Income Disclosure Statement Was Not Disclosed
The company has been operating for a long time but I don't know why they're not transparent with their income statement. The statement is crucial since it gives aspiring consultants a glimpse of what they should expect from the company. It answers a few questions, like:
How many of their consultants are earning?
How much are they earning per month?
Unfortunately, there's no information about their income disclosure statement online so we'll never know the TRUE answers for this unless, maybe, we sign up and become a consultant.
Compensation Plan Not Disclosed
Another transparency issue -- Nature's Sunshine failed to provide details of their compensation plan on their site. Unlike other MLM companies, this MLM business did not share any information about this at all.
So, if you're wondering about their compensation plan, you can only rely on the reviews online.
However, there are also a few things that I like about Nature's Sunshine, such as:
High-Quality Products
Perhaps, one reason why many people patronize their products is because of the tough quality control they have when testing their supplements. Their essentials may not be FDA-approved but it is certified by NSF International, a third-party organization that ensures that quality control standards are met by manufacturers.
Valuable Training And Support
Nature's Sunshine is doing a great job when it comes to providing training and support. While this is normal for most MLM companies, NS is going the extra mile by giving their distributors the following:
Free webinars every month
Two conferences every year
Online community
Personalized business website
Here Is My Top Recommendation to Start Highly Profitable Online Business from Comfort Of Your Home
Nature's Sunshine's membership or enrollment fee is cheaper compared to some health and wellness companies, such as CELLiS, Valentus, and TruVision Health. To begin, you have to pay $40 or they can waive this if you purchase products worth $40.
Additional Costs
The health and wellness program provides free training for their members and they also offer these training programs (optional) with a fee:
This is a certification program that you can get online.
IN.FORM Coach Certificate $549
Same as the ones stated above but instead of getting it online, you'll have to attend the training in person.
Tired of Wasting Time on Low Quality Programs?
I'm so grateful that I was able to find THIS PROGRAM which helped me to finally start making money online!
Nature's Sunshine is ideal for anyone who believes in herbal medicines. For me, it's hard to market a product that you are not confident with so if you think NS' supplements have helped you, you might consider joining this platform.
You can also use this option when you are comfortable with selling expensive products and recruiting new people. While you can earn by simply promoting their essentials, you also have to invite people since this is what most MLM companies will ask you to do.
Nature's Sunshine, for me, is a good MLM program to consider if you're into health and wellness. There may be a few issues involved but unlike other network marketing businesses I've reviewed, the brand has a good reputation. They've been in the industry for more than 40 years and me, that only shows how stable they are. They could use a couple of improvements though, such as being transparent to their compensation plan and income disclosure statement.
Nonetheless, Nature's Sunshine still works like a typical company wherein you have to rely on other people to earn commissions and incentives. If that doesn't sound like you and you want to start a business online -- without calling and inviting people you know -- then I suggest you sign up with my #1 recommended program.
Find out more about in the next section.
Joining an MLM program can be beneficial for some but according to a study conducted by, 99% of those who take this opportunity lose their money. If you don't want to put your time, cash, and effort at risk, I suggest you take my top recommended program.
It's easy to get started and there's no need to cash out a huge amount. You can even get these perks for free:
Step-By-Step Guide
24/7 Chat Support
Live Active Community
And A Lot More!


I hope you've enjoyed my Nature's Sunshine review and if you have any questions or comments, please feel free to drop it down below.
Thank you!
We Constantly Review Programs in "Make Money Online" Niche,
So That You Don't Have to Waste Countless Hours
Want To See Our
TOP RECOMMENDATION?