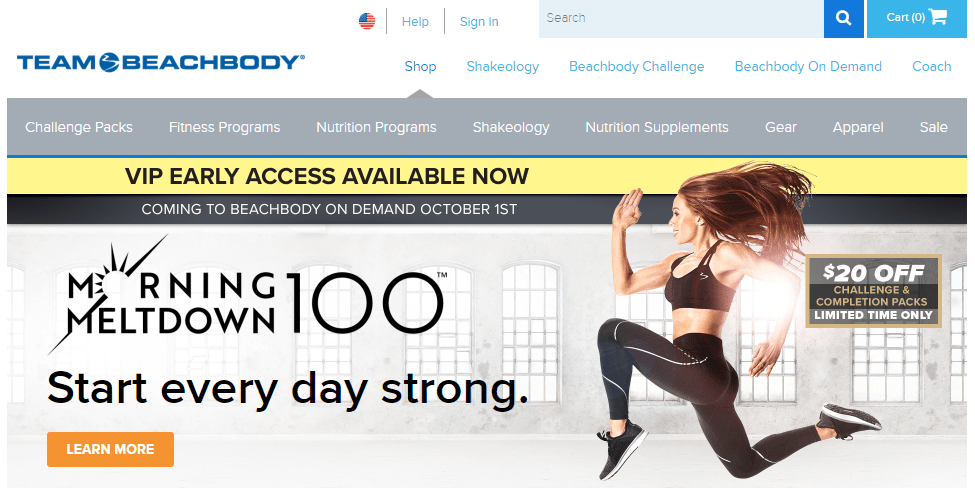 Welcome to My Team Beachbody Review!
You've heard it with your friends gushing over or probably seen it all over Instagram and Facebook as it has become the talk of the town for quite some time now. You've probably been curious how your friends – people you know that would rather eat pizza and chug down beers – now have six-packed abs and buff arms.
Team Beachbody Review Summary
---
Name: Team Beachbody
Website: www.teambeachbody.com
Founders: Carl Daikeler and Jon Congdon
Product Type: Multi-Level Marketing
Price: $39.95 For Digital Business Starter Kit + 15.95/Month
Quick Summary: Beachbody is a multi-level and direct selling company that offers everything you need to lose weight and get fit, including 700+ workout videos and nutritional and health supplements.
Overall Rating: 5/10
Recommended: No
How did that happen? They've probably got hooked in Team Beachbody, a fitness program that offers easy-to-follow workouts, protein shakes and coaches.
I actually saw these viral posts of before and after and chose to ignore them. But curiosity got the best of me, plus I finally found the extra time to review and know that things behind all these photos. Keep scrolling down, so you'll know if the buzz about Team Beachbody is all worth it.
What Is Team Beachbody About?
Based in California, Beachbody was established by Carl Diakeler and Jon Congdon in 1998. It is a fitness company that provides a holistic approach to the concept of weight-loss. It offers workout routines, nutritional and health supplements, and fitness coaches.
However, in 2007, Beachbody became a direct selling marketing company that promises business opportunities and extra income by selling its products and becoming a fitness coach. They employ an estimated 1,000 staff and supported by 450,000 independent distributors known as "Beachbody Coaches".
All these things and following its objective of "being passionate about helping to end the trend of obesity in this country".
What Products Does Team Beachbody Offer?
This MLM company is almost similar to other health and wellness programs I've reviewed in the past -- OPTAVIA, AdvoCare, and doTERRA.
Beachbody created workout programs that include the following:
P90X® Series
INSANITY®
21 Day Fix®
Body Beast®
PiYo®
80 Day Obsession™
Transform :20™
LIIFT4™
Aside from that, they have easy-to-follow diet and meal plan, nutritional supplements.
Shakeology
3-Day Refresh
Beachbody Ultimate Reset
Beachbody Performance Line
ActiVit Daily Nutritional Advantage
Beachbody Ultimate Performance Stack
Daily Sunshine
Plus tons more
One of their products that gained a lot of buzzes is the Shakeology®. It is a weight-loss program that uses meal replacement shakes of various flavors that only total at about 140 calories apiece. The protein shake cost $120 per month and suggests one shake a day amounting to $4 each shake.
They also branch out into selling athletic and fitness gears. From yoga mats, to shake cups and color-coded food containers. All of these are branded after various workout programs under the company's fitness banner.
How To Make Money With Beachbody?
Just like how most of multi-level marketing (MLM) works, Beachbody operates on binary scheme. In layman's term, it simply means that coaches have to recruit people down in two legs – left and right – in order to earn. Coaches earn from the product sales commissions of their entire downline team.
Coaches also earn bonuses every time a 300 Balanced Volume Points cycle is achieved. The bonuses are $14 for Emerald Coaches, $16 for Ruby Coaches, and $18 for Diamond Coaches. This is very possible to happen multiple times a day for top-level coaches.
But you have to remember this: You have to sell at least $55 worth of products within one month to retain suitability for bonuses. Otherwise, you only earn your commission, no bonuses.
Is Team Beachbody A Scam?
Just because you have to recruit people to build your downline team, it means it is already a scam or a pyramid scheme. Beachbody is not a scam because it has real, tangible products that people actually purchase, use and consume, and even enjoy. As a customer, you receive the workout training and products that you pay for.
It may only seem like it is a pyramid scheme because of the more people you recruit, the more you make with BeachBody. That reason makes it look a bit scammy.
Another increasing concern is Beachbody's open-door approach to becoming a coach. Preferably, people should be consulting accredited health professionals with proven track records physiology and nutrition. People should be wary that an untrained health coach might overlook potential health hazards. Despite this caution, the company argues that it "provides a variety of training materials and sessions that coaches tap into to enhance their experience."
If you're thinking of joining Team Beachbody as a coach, just be aware of this: You're not likely to get rich overnight in this path. It will take lots of selling, lots of persuasion and efforts. Worst, you may find yourself giving out health and fitness advice that you're not qualified to give. All to earn a few extra bucks.
To learn more about Team Beachbody, you can watch the video below:
To become a Beachbody coach, you'll have to pay $39.95. On top of that is $15.95 per month to pay for a personalised website and office support administration. This includes a starter kit consists of a welcome book, 30-day access to your Coach Online Office, a personalised Coach website, and support tools to completely run your business.
Here Is My Top Recommendation to Start Highly Profitable Online Business from Comfort Of Your Home
PROS
Being a well-established fitness company since 1998, this means that Beachbody has already survived (and continues to survive) for two decades.
The company was able to anticipate the influx of fitness buff and health-minded population. We've seen a growing trend of people switching to healthier lifestyles to look and feel much better.
The product line is actually good. They have workout videos created and hosted by celebrities. If you go to product reviews, it is arguable that effectiveness varies to the people who use it. After all, it's ultimately up to the individual and their own efforts.
CONS
There are some additional costs that the company doesn't disclose early on. Aside from the start-up investment cost and monthly fee, coaches are advised to purchase Challenge Packs upon enrollment which ranges from $140-$275 and up.
Back in 2017, Beachbody paid $3.6 million to settle a lawsuit from over automated credit card renewals. They keep charging the credit cards and sending products monthly even after confirming customer cancellations.
As with most MLMs, Beachbody slim and rate of success and has a very high dropout rate. According resources, average Coach will be completely out of the business within 24 months, only earning roughly $219-$500 a month.
Tired of Wasting Time on Low Quality Programs?
I'm so grateful that I was able to find THIS PROGRAM which helped me to finally start making money online!
Beachbody is not a scam in the purest sense of the word. Nevertheless, it is also the kind of business opportunity that does not fit everyone.
In my opinion, this business opportunity might actually work if you are the combination of health-fitness buff and sociable. Exploring this kind of MLM, you should be passionate about fitness, want to buy and test the products, and get genuine pleasure out of helping others achieve fitness success. Have numerous followers on social media would be an added bonus as you need to show off and convince people on the effectiveness of the program through your own experience.
But if you're more of an introvert and not really passionate about fitness or their products, then this is not for you. You may be better of considering legit alternatives.
Despite the alarming concerns of with Beachbody coaches giving fitness and nutritional advice when they are not accredited health professionals, the company argues that it provides training materials and sessions for coaches.
When Iexplore their website, I came across this webpage called Coach Office, a simplified learning and training hub for coaches. It requires sign-in credentials and each section includes essential skills and training organised by what coaches need to do, know, and learn at a given rank. Coaches interested in accelerating the growth of their business through the Leadership Ladder can use the provided goals to strive for, referred to as Benchmarks.
Here's the list of available training:
Training
This is an overview of the Coach Training page.
Getting Started
As a new Team Beachbody Coach, the first week is crucial. Coaches learn how to navigate their online businesses, set goals, and start creating a list of potential customers.
Coach
Coaches learn the fundamentals that will strengthen their foundation.
Emerald/Ruby
Refine the skills learned as a new Coach and begin to build valuable leadership skills to train and support others.
Diamond/1 Star Diamond
Coaches learn leadership skills to develop and support their team; use simple, duplicable systems; and provide an environment for their team to thrive.
2-4 Star Diamond
Coaches learn how to optimize their activity to get the most out of their businesses, develop leaders on their teams, keep their team communication strong, and advance to the next level.
5-15 Star Diamond
Shows Coaches how to keep their momentum moving and master the skills necessary to achieve long-lasting success.
Training Library
Access an index of all training materials available. This is a reference section only. Coaches are advised to start first with the training associated with their rank and use the Training Library for additional resources.
Leadership Ladder
The Leadership Ladder identifies an additional set of Benchmarks around each rank that will help Coaches focus on "stretch goals" that are bigger than rank. Achieving these benchmarks will better position a Coach's business for stability and growth.
Despite not being a scam or pyramid scheme, I would recommend BeachBody as a form of solid and consistent income-generating opportunity. Just like all typical MLMs, endless recruiting and meeting, increasing required selling quotas are needed for you to advance in rank in the binary compensation plan.
Another big concerning factor for me is the company encouraging unqualified coaches giving health and fitness advice. If you decided to join, you're risking your credibility and reputation, that may result in a lawsuit filed against you in case you overlooked a health hazard. This is a very dangerous path to lead on, more so if you recruit people to build your downline team.
We can also add to the red flags is Beachbody's unresolved complaints of unauthorized charges and difficulty in canceling auto shipment orders and monthly coach fees.
If your reason for joining is the need to lose weight and improve health, you don't need BeachBody and their products to help you stay motivated. There are free apps or groups you can join to keep you on track.
Want to know how others start a business without investing a huge amount of cash? If yes, check out my FREE Step-By-Step Guide to know how you can make money online.
No need to worry about inventory or inviting new people to join the program. All you have to worry about is how you will enjoy the following perks:
Training resources
Webinars to help you start your business online
One-on-one coaching
Comprehensive guide
And many more!
Sign up now and find out why many individuals switch to this program.
Thank you!
We Constantly Review Programs in "Make Money Online" Niche,
So That You Don't Have to Waste Countless Hours
Want To See Our
TOP RECOMMENDATION?