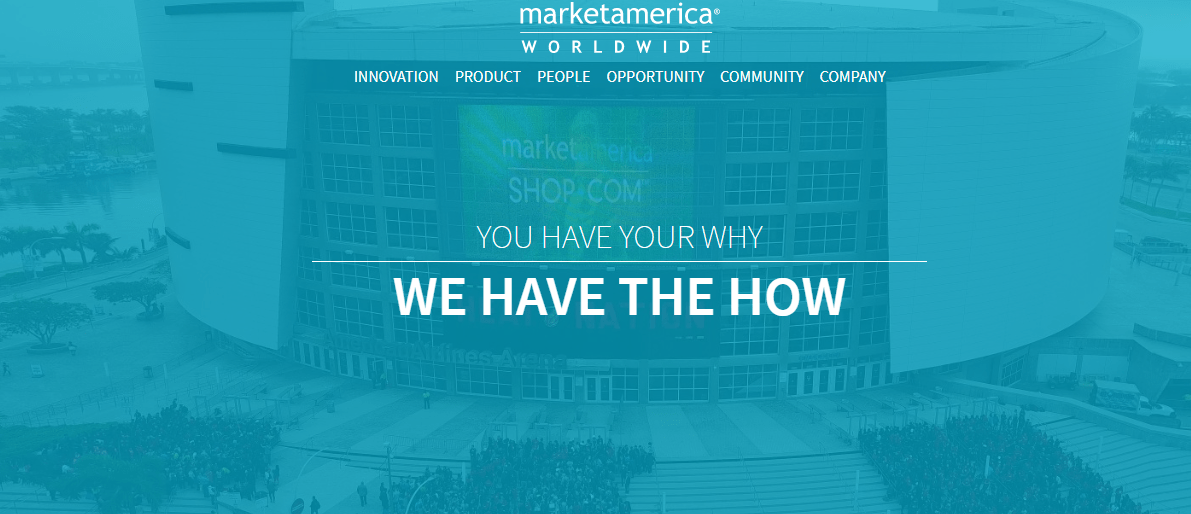 Welcome to My Market America Review!
Last time, I was looking for great opportunities to try online and that's when I found Market America.
Market America Review Summary
---
Name: Market America
Website: www.marketamerica.com
Founders: Loren and JD Ridinger
Product Type: Multi-Level Marketing
Price: $399 For The Unfranchise Business Owner Startup Kit + $129/Month For Online Back Office + $99.95/Year For Subscription Renewal + $500 - $1,000 For Products
Quick Summary: Market America is a product brokerage and internet marketing company specializing in One-to-One Marketing and Social Shopping. It provides a system for entrepreneurs to earn while providing consumers shopping alternatives.
Overall Rating: 4/10
Recommended: No
I was clueless about it and when I visited its website, I got confused even more. From what I see, there are a lot of photos of people and less of products -- which is weird since this company claimed that they operate a multi-level marketing company.
I did more than a dozen reviews of MLM companies in the past and I'm used to seeing their products flashed on their homepage but not with Market America. It seems like they focus on encouraging people to become entrepreneurs.
So, I did what I had to do to help you answer whether Market America is a legit opportunity or not.
What Is Market America About?
Founded by JD Ridinger, whose real name is James Howard Ridinger, and his wife Loren in 1992, Market America is a combination of an online retailer and an MLM concept.
They promote more than a thousand products and earn through affiliate marketing business.
Think of it like Amazon.com -- they promote almost all types of products ranging from personal care to appliances, partnering with large brands like Barnes & Noble, Apple, Target, Victoria's Secret, and Best Buy. They also offer their own product line where their distributors can make money from.
It sounds like a profitable business because of the various business models it uses and it's one popular opportunity that most people have heard worldwide.
However, it's been tagged as a pyramid scheme in 2017 and I'll discuss more of this in a bit. For now, let's find out how you can make money with this program.
How to make money with Market America?
Market America is not like any typical MLM companies, except for the bold claims. According to its website, they offer a "PROVEN plan for your financial success".
From this alone, I know that something doesn't really sit perfectly right. I mean, no matter how lucrative your business opportunities are, there's no guarantee that it will bring consistent success. Eventually, some things will not work that way it should be.
Also, according to a study, 99% of MLM participants lose money. This alone makes me wonder how Market America can provide such a claim. Anyway, the first option to earn money with them is called Management Performance Compensation Plan (MCPC).
Under MCPC, a customer can make money through profits from retail sales and by sponsoring two distributors. They claim that the customer can manage a Business Development Center (BDC) and make money from it by sponsoring two distributors.
However, the customer should generate at least $3,600 for each sponsored distributor before they start earning every week. The company claims that there's no limit to the number of BDC you can create. This approach ensures a continuous income flow and without capping it.
Another option to earn money is through their cashback commission scheme. How does this work? The distributor receives cashback through their personal purchases as well as their customer's purchases.
Items and products that are eligible for cashback commissions are only those that are sold through Shop.com and needs to be Market America-branded products. However, it is still possible to earn up to 35% cashback on your personal purchases.5% cashback on purchases of every customer you refer.
So how much total earnings you can get with Market America? It has been shared that distributors for Market America are capped at $3,600 in team commissions every week.
If you're a distributor who developed a team of representatives that is evenly distributed between right and left legs then, you can qualify for team commissions.
Is Market America A Scam?
Not likely. Market America has a long list of achievements to add to its name. They received the BBB Torch Award for Ethics in 2013 and again in 2018.
They also have been listed among the 2018 Internet Retailer Top 500 companies, 2013 Fast 50 companies, and Grant Thomson 100 companies.
These awards and recognitions give the company a legitimacy vibe among its potential partners and distributors. They are also a global company expanding to other countries like Mexico, Hong Kong, Philippines, and the United Kingdom.
Aside from this, Market America has a store that is bigger than Wal-Mart with more than 3,000 proprietary products.
In the early years, the company got NBA player Scottie Pippen to represent a product supplement called Isotonix while Kim Kardashian made a guest appearance at their Annual International Convention to promote their cashback commission scheme.
However, just like most of MLM, the company faced federal lawsuits. In 1999, the Securities and Exchange Commission (SEC) charged the founders with fraud that is related to illegal sales of Market America stock.
The founders never admitted nor denied the guilt and the case was eventually settled by a payment of $235,498 plus interest to a fund administered by the SEC along with a fine of $100,000.
Another lawsuit filed is they have been accused of racketeering or being an illegal pyramid company.
Several of their distributors complained that they weren't able to profit from the two-year plan and believe that the company provides them unmatched financial opportunities.
I personally wouldn't call the company a scam, but I don't seriously believe their claims that joining will help you build a stable financial future.
If you feel the same thing, don't worry. I got a perfect solution! Check out my FREE Step-By-Step Guide on how you can make money online without selling unknown products and paying a huge investment.
If you're interested to join Market America, you'll have to pay for UnFranchise Business Owner Startup Kit amounting to $399 along with monthly payments of $129 for online back office fee and $99.95 per year for your annual subscription renewal.
You also need to purchase products that are worth $500 to $1,100. This depends on your chosen package and product choices.
Representatives, who are independent contractors, are also required to spend $130 to $300 on Market America products offered on Shop.com. Distributors are also required to attend seminars and training events, which cost between $20 and $200.
To learn more about Market America, you can watch the video below:
Here Is My Top Recommendation to Start Highly Profitable Online Business from Comfort Of Your Home
PROS
Income Potential
You can actually make money with their compensation plans. But it is not as easy as the company wants you to believe. You need to work double-time - selling their products and recruiting people in your downline.
You always have to remember that before you can earn, which is by the way very low at just 0.5%, your downline members need to make sales.
CONS
Overpriced Products And Services
Due to highly pricing their products, the distributors find it hard to sell them. They still have to come up believable selling propositions and product value to match the given prices. This also results to difficulty in recruiting downline members.
Products Are Not Properly Promoted And Advertised
How would you be able to sell if people are hardly familiar with the products? This reason results in distributors finding a hard time selling and making meaningful sales.
This also means double effort on their part because that means you have to personally do your sales pitch to your customers and schedule meetings, which honestly time-consuming.
You also have to convince people that you have got to bring other people in so that in return you can all get fair earnings and cashbacks.
Investment Costs Are Too Expensive For Some People - Some people have complained that before they could start earning with the company, they have to invest big amounts of money.
When you invest 20k or 30k, you could not even 10% of the investment, which is really bad feedback especially when you need to recruit your downline members.
FREE TRAINING
Learn How I Started Highly Profitable Online Business From Comfort of My Home Following This Blueprint
Market America is for people who don't have a focused or targeted customers. Since the company sells every type of product you could want or need - from apparels and accessories, home and personal care, food and beverages, health and wellness products, internet services, financial services, and entertainment.
It is for individuals who have a goal of selling everything that can be sold. The wide variety of products allows a person to switch from one to another, making a sales pitch under the concept of "anything you want and need under the sun is available".
For people who have availed the UnFranchise Business Owner Startup Kit, the company provides access to Getting Started Guide.
This is a virtual mentor, senior and experienced business partners with standardized training experiences. Aside from that, all UnFranchise Owners are required to take the following to learn and familiarise themselves on how to run the system:
New UnFranchise Owner Training (NUOT)
Basic 5 Training
Executive Coordinator Certification Training (ECCT)
Another training available in the Market America Global Meeting, Training and Seminar System. This provides the development of a systematic, coordinated, and comprehensive business introduction, training, motivational and support system in every location where there is Market America organizational growth. The program is comprised of various types of meetings, training, seminars, conferences, and conventions.
If we're going on the facts, Market America is a legitimized company that sells a variety of products, has a global distribution and long list of business achievements.
However, just like any other MLM company, this is not an easy way to earn money. Take note that you have to sell their products for you to earn.
You are required to sell and present the products to a large number of potential customers consistently to rack up selling quotas and build a strong team.
Since their products are not properly promoted, it makes them difficult to sell and the products would not sell itself. The only people you can consistently sell to are the people you know and if you have a strong and wide network.
But in a nutshell, many other people would not be convinced to buy the products that easily.
Also, joining Market America would require a big investment with very little chance that you can get even a percentage back. There are higher chances of losing money than gaining from it.
Tired of low-quality programs with false or bold claims? Don't worry, there are other legit opportunities that would help you make money online without paying a huge amount of cash.
With my #1 recommended program, you can earn an extra income (or even use it to replace your day job) and have everything you need for free! Sign up now and enjoy the following perks:
Proven strategy to work smart and earn a lot (literally)
Step-by-step guidance
Lots of training resources
Best possible support including your own training coach
My personal help
And so much more!
I hope you enjoyed my Market America review. If you have any questions or comments, please feel free to share your thoughts below.
Thank you!
We Constantly Review Programs in "Make Money Online" Niche,
So That You Don't Have to Waste Countless Hours
Want To See Our
TOP RECOMMENDATION?