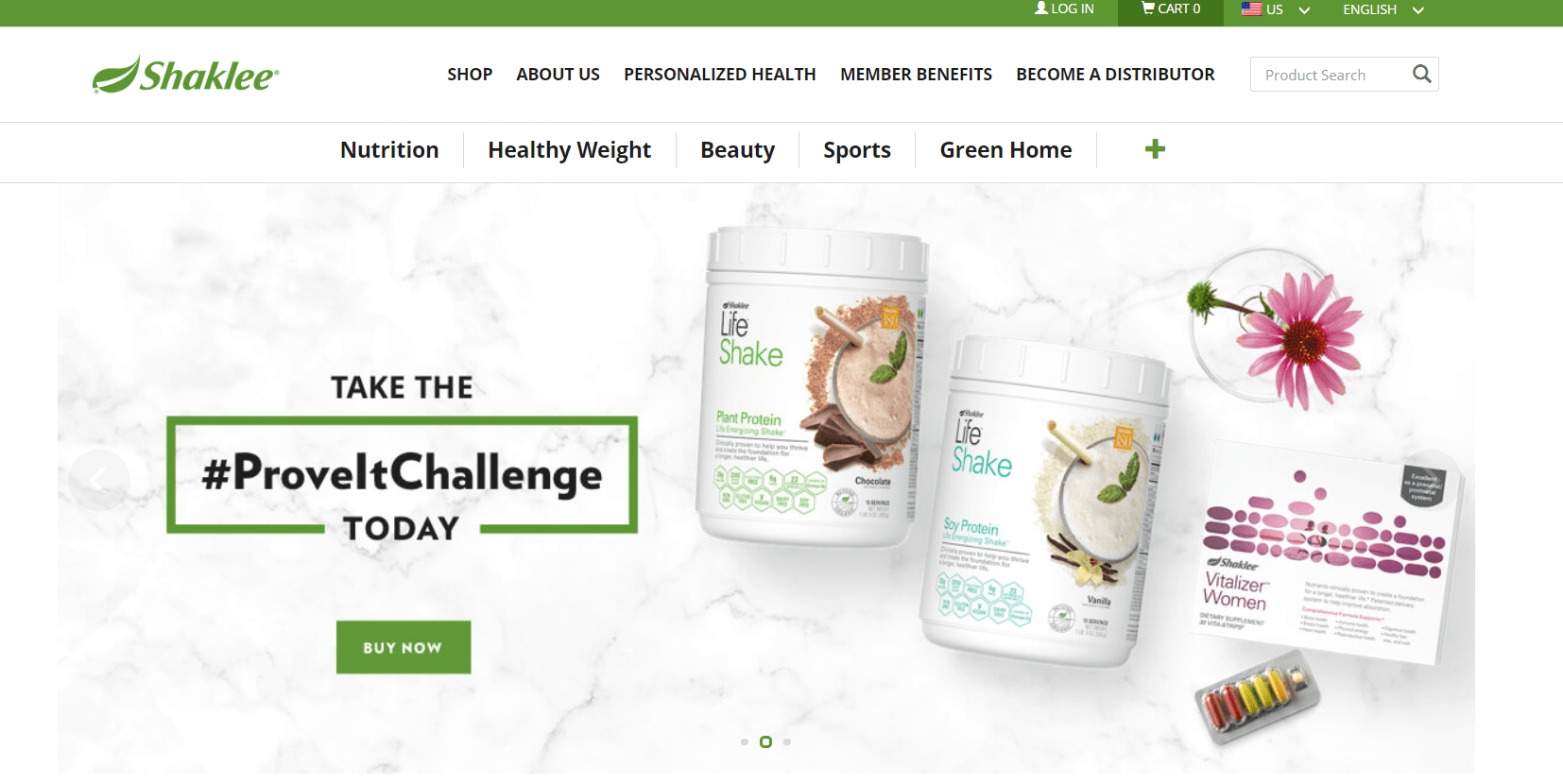 Welcome to My Shaklee Review!
Nowadays, more and more people are prioritizing their physical and mental health and because of this, many companies see this as an opportunity to promote nutritional products. In line with this, they also offer individuals a chance to make money with them.
One of which is a company called Shaklee. It's a network marketing company that sells supplements, protein shakes, and other health essentials and a business opportunity for interested people.
Shaklee Review Summary
---
Name: Shaklee
Website: https://us.shaklee.com/
Founders: Forrest Shaklee
Product Type: Multi-Level Marketing
Price: $49.95 + Monthly Purchase Or $299 To $599 + $49.95 + Monthly Purchase
Quick Summary: Shaklee is a network marketing company that promotes eco-friendly skincare essentials, homecare products, water filtrations, and more. It also offers an opportunity to make money by selling their products.

The brand has been operating for more than 60 years now but is it worth it? Let's find out in this Shaklee review.
Overall Rating: 6/10
Recommended: No
It sounds like a good offer considering that it's been operating for more than 60 years but before you join the program, it's worth knowing what's it all about first.
In this post, you'll learn more about the products, its pros and cons, and whether it's the right opportunity for you or not.
P.S.
Want to make extra money while having a full-time job? Of course, you do! Check out my FREE Step-By-Step Guide on how you can earn cash online.
Founded in 1956 by Forrest Shaklee, Shaklee is one of the longest operating multi-level marketing companies in the world. As of now, it's located in Pleasanton, California but has been launched in many countries, such as Taiwan, Canada, Japan, Indonesia, Malaysia, China, and Mexico.
Originally, the brand has promoted weight loss and nutritional products but now, it's also selling skincare, water filtration, home essentials, and more.
What makes this company stand out is the fact that they are trying to promote products that are both safe for humans and the environment. I think that's something people should take note of, especially with the current situation of our planet.
Shaklee Product Line
On their website, their products are categorized into:
Nutrition
This consists of health supplements that claim to improve the immune system, boost energy, increase metabolism, build muscle, and more.
Healthy Weight
This consists of weight-loss teas, protein shakes, protein bars and snacks, and more.
Beauty
This consists of beauty essentials, such as eye treatment and anti-aging creams, serums, oil cleansers, moisturizers, toners, and more.
Sports
This consists of energy drinks, energy chews, electrolyte drinks, recovery supplements, and more.
Green Home
This consists of home cleaning essentials, such as cleaning wipes, laundry powders, pump dispensers, water filtration, and more.
More Category
This consists of merchandise shirts, caps, paper bags, tumblers, mugs, and more.
How To Make Money With Shaklee?
When it comes to Shaklee's opportunity, it's almost the same as the ones offered by other MLM companies.
First, you make money by selling their products based on the suggested retail price. Second, you earn commissions and bonuses by recruiting people to join the platform. However, you must take note that you don't DIRECTLY earn by inviting individuals; rather, you get paid for the sales that your downline makes.
Anyway, there are four types of memberships to choose from and the amount of cash you can get depends on this. I'll discuss more of this below. For now, let's have a glance at their compensation plan.
There are about "Nine Income Streams" present in Shaklee's compensation plan, namely:
Gold Bonuses
Power Bonuses
Price Differential
Personal Group Bonuses
FastTRACK Bonuses
Incentives
Car Bonuses
Leadership Bonuses
Infinity Bonuses
Basically, you need to rank higher to get more bonuses and incentives, such as the car bonuses, and to achieve this, you have to maintain a higher PV and recruit more people in your team.
You can learn more about this by watching the video below:
Shaklee is not a scam, that's one thing I'm sure of. It's been in the industry for almost 65 years and an MLM company, it only means that they are doing something worthwhile.
Many network marketing brands have been shut down by the FTC in the past because of their unethical practices, product issues, and other concerns and knowing that Shaklee's still operating until now is good news.
Also, if you rely on the Better Business Bureau (BBB), you'll find out that Shaklee has been accredited since 1965 with an A+ rating.
However, despite its legitimacy, I would not recommend this to anyone because of two things: the membership fee plus the product itself.
About the fees you need to pay, I'll discuss it below. As for the products, we all know how saturated the market already is with nutritional supplements, weight loss teas and coffees, skincare essentials, and home cleaning products.
Plus, the price for each product is a little bit higher than the ones sold in online and offline stores so, without a doubt, it'll be hard to make money from this business.
Whether you find this program good for you or not, I suggest that you take my FREE Step-By-Step Guide to know how you can make money on your extra time.
Level 1: Customer FREE
It's free but there's no way to make money with this type of membership. No discounts on the product (you buy it at a retail price) and you can't sell products or invite people to earn commissions.
Level 2: Member $19.95
This is almost the same as the free membership since you are not allowed to promote the products or invite people; however, you get a 15% to 25% discount on all items.
Level 3: Distributor $49.95
As the name suggests, this type of membership lets you earn cash with Shaklee. However, before you are entitled to get commissions, you need to maintain at least 100 Personal Volume (PV) worth of products every month.
Level 4: GOLD Ambassador $299 To $599
Another type of membership is the GOLD Ambassador, and it comes in two options: GOLD PAK and GOLD PLUS PACK.
GOLD PACK costs $299 while GOLD PLUS PACK costs $599. On top of this, you still have to pay $49.95 and maintain the required 100 PV every month.
Here Is My Top Recommendation to Start Highly Profitable Online Business from Comfort Of Your Home
PROS
Focus On Distributing Products
While you'll still earn a percentage from recruitment, you'll be compensated many times for your personal volume or sales. This is good news since most MLM programs focus on inviting new people to join the platform.
Luckily, this is not the case with Shaklee and perhaps, this is one reason why the company is still operating. They don't put pressure on the recruitment, therefore, they do not seem like a pyramid scheme or scam.
Excellent Training Resources
Training is normal with a network marketing company but often, it is only provided by the upline. With Shaklee, there are 3 main types of training and support, including:
Live Events
Sponsor Guidance
Shakless University
Good Reputation
Shaklee has been in the market for more than 60 years and it's good to know that they've not been involved with any scandals or controversies.
There may be a few complaints, which is normal for all businesses, but still, the brand has maintained a good reputation.
CONS
Expensive Start-Up Cost
If you want to make money with Shaklee, the cheapest membership costs almost $50 plus, you have to retain 100 PV.
Also, if you want to become a GOLD Ambassador, you $299 or $599 plus the $49.95 and of course, maintain the required personal volume.
If you're new to MLM or even if you've been doing network marketing for some time now, this is expensive and getting your investment back might take some time.
Too Many Competitors
In the MLM industry alone, there are too many brands selling the same products -- weight loss supplements, nutritional drinks, and the like. As a distributor, this will be a challenge since you have too many competitors, such as other distributors, other MLM brands, and other companies in the market online and offline.
FREE TRAINING
Learn How I Started Highly Profitable Online Business From Comfort of My Home Following This Blueprint
Shaklee is good for any individual who is into fitness and health. Also, those who have used the products and can testify to its efficiency.
Since this requires a huge start-up cost, it would be good if you have experience with MLM before so you know what strategies you need to make it work.
As mentioned above, Shaklee has good training resources, such as:
The Shakless University where you can get various training materials for your business.
Live Events that include conference calls, local meetups, training events, etc.
Sponsor Guidance where your upline provides you the training and support you need.
Overall, Shaklee sounds like a good deal. It's legit and it has maintained a good reputation for more than 60 years. The products are promising, especially the fact that it's safe for the environment. The problem is the opportunity.
Joining an MLM program is risky since most distributors end up with nothing. If you want to make it work, you should somehow be aggressive with selling and recruitment, which is not a good thing in the long run.
The people you know (those who receive your invitation) might stay away because they don't want to get involved with your opportunity. Meanwhile, you have to think of ways on how you can sell your overpriced products.
Considering this, you're better off with an alternative.
Making money is not easy but it doesn't need to make you feel terrible. If you want to earn extra bucks without spending a huge capital, I suggest that you sign up with my top-recommended program and enjoy the following benefits:
Training resources
One-on-one coaching
Webinars to help you start your business online
Comprehensive guide
And many more!
Thank you for reading my Shaklee review and if you have any questions or product suggestions, please feel free to share it below.
We Constantly Review Programs in "Make Money Online" Niche,
So That You Don't Have to Waste Countless Hours
Want To See Our
TOP RECOMMENDATION?