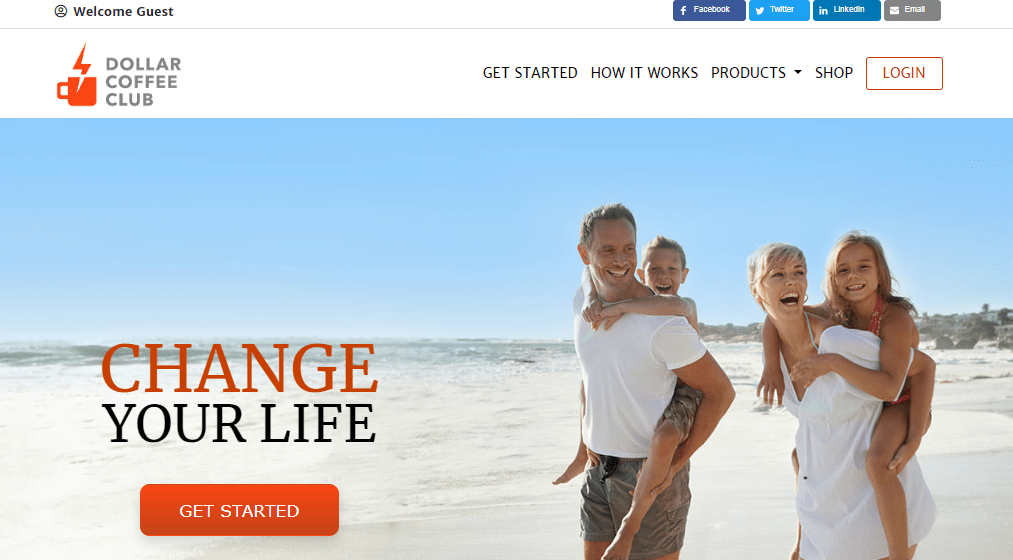 Welcome to My Javita Review!
You're probably in this site trying to gain insights and information about a business you're trying to pursue. So pat yourselves for trying the extra mile by researching and investigating. It is better to be meticulous rather than being too risky and careless. That's a great way to avert scams. And after all, you will be investing your time, money, effort and energy in whatever business you will opt to try and of course, you won't want to lose it afterward.
Javita Review Summary
---
Name: Javita
Website: www.dollarcoffeeclub.com
Founders: Stan Cherelstein
Product Type: Multi-Level Marketing
Price: $49 Initial Membership + $19.95 Annual Renewal Fee + $99 Choice Of Club Box + $299 Autoships/Monthly
Quick Summary: Javita is a multi-level marketing (MLM) company that sells and markets a wide variety of health drinks which are mostly coffee products, from energy-boosting to weight loss effects. They also have tea and fruit drink mix but a lot of complaints said that their products don't work and that they're pretty expensive.

It is also really costly to join this company. Javita launched their "Dollar Coffee Club" (DCC), as it claims that it can give you lucrative income through their MLM opportunity and even can give luxury car incentives. But how to achieve that?

Of course, just like any other MLM company, you have to increase your sales and recruit a lot of people to join. With a lot of competition (even in the company), probably not a good idea for newbies to start with this business!
Overall Rating: 3/10
Recommended: No
Nowadays, coffee is anywhere just like MLM opportunities that are spurring from one point to another. Most people really crave and live for coffee. Would it be great to have your favorite coffee packed with weight loss effects or other health benefits? And would it even be greater if it can give you an opportunity to earn money?
Now we will be discussing a coffee-distributing MLM company with all these opportunities offered. It's the MLM company - Javita. With a lot of competition in this kind of niche, will this be a great opportunity to try your aces as a rookie in this kind of business? Is Javita a legit MLM company? Is it not a scam? How about the profit that you'll get? With bad records with regards to products from a number of people, how sure are you if you're gonna sell it well and earn in this MLM opportunity? What are the pros and cons of joining this company?
Yes, we will tackle all of that here in my honest Javita review.
In 2012, Javita is founded by Stanley J. Cherelstein in Florida. Javita's founder, Stan Cherelstein has been in the MLM business for 11 years. He is also the CEO and president of Waiora which he founded in 2004. Waoira happens to be the sister company of Javita. Waoira carries the health and wellness products while Javita carries the weight loss of coffee products. Javita's Corporate office is located in Boca Raton, Florida, USA.
Javita aimed to esteem their coffee by providing coffee packed with health benefits and also to promote vitality. As you can see on their site, Javita already operates in the following countries: USA, Australia, Canada, Japan, New Zealand, and the Philippines.
Javita Product Line
Javita just like their name suggests sells different kinds of coffee products. Just as mentioned above, they distribute coffee products that have health benefits and weight loss effects. Most in their product line are coffee but they also sell teas with the same benefits.
They also have ActiveBlendz which is a fruit drink mix.
Javita's main product is a coffee blend which is marketed as "Coffee Evolved". This is a blend of herbs and other natural ingredients with organic estate-grown South American coffee.
Do their products work? To what I've seen, a lot of complaints have been testified with regards to JAVITA products saying that they don't work -- no slimming effects or they get ill and so on. But to the company's defense, they just said some are just maybe intolerant to caffeine. Well, it's yours to judge.
Javita launched its Dollar Coffee Club (DCC). It is their Preferred Customer program – offering its product line of healthy coffees, teas, and other functional beverages.
So how to earn in this MLM Opportunity- Javita?
First things first, you will begin by signing up in their affiliate program. Joining their club (DCC), you'll have to pay for $49 for your initial purchase which then you will renew yearly for $19.95, you'll also have to purchase your club box of choice.
Club Membership offers:
$1 a cup coffees, tea, and fruit fusions
15-40% Club savings off retail
Unique, world-class, science-based formulas
Coffees, tea, fruit fusions and more!
SAVINGS on convenient, monthly subscriptions
Member-only promotions
Earn money as a Club Affiliate
Referral Bonuses
Customer Rebates
$1-4 per box team bonuses and many more
FYI: To maintain active status in the company, you have to maintain a monthly quota of Javita's products by monthly product purchases or auto-ships.
So after registering and all, you will earn in this company through sales commissions and recruitment commissions just like most MLM opportunities.
Sales commissions – volume-dependent, the more products you sell, the bigger your commission
Recruitment commissions – the more your team grows, the more commissions and incentives you will get
Well, that's the two major ways you can earn from Javita and they are not lying when they say that you could earn in their MLM opportunity in 12 ways.
These are:
Retail profits - You can make profits through retail sales
Direct Commissions-30% commission on direct sales
First Order Bonus- given when a new member makes his or her first order and in order to be eligible for this bonus, you are required to maintain a minimum of 150 personal volume (PV).
Top Enrollers Bonus - awarded to top enrollers each month. Javita allots $10,000 monthly to be shared among the top 5 recruiters of each month. The bonus depends on the total commissionable volume in each affiliate enrolled member's first order.
Car Bonus- as you progress into a certain rank, you're awarded an increasing payment for a luxury car lease.
Team Commissions - yes, you will earn from your recruits or downline. The Unilevel compensation structure pays out up to 15 levels!
Leadership Development Bonus
Diamond Infinity Bonus
STAR bonus
Fast Track 60/90 bonus
Rank Advancement bonus
Team Development Infinity bonus
Learn how to maximize the Javita Compensation Plan through this latest video:
No, it's not a Scam. Javita is a legit MLM company, selling and distributing tangible products. You can also earn these products depending on your sales and recruitment commissions.
Though they don't have a Better Business Bureau (BBB) profile they do hold an A+ rating. They've been as well running in the business for 8 years. Now, that's quite a long time to consider it a scam. But still, I would not recommend you with this MLM opportunity, see more in the pros and cons corner.
You start by registering and by paying the initial membership fee of $49 (which you will renew yearly and pay $19.95) and you will then choose and purchase one of the following club boxes which you will also have autoships or will have to purchase monthly.
Starter Club box – $99
Variety Club box – $299
Here Is My Top Recommendation to Start Highly Profitable Online Business from Comfort Of Your Home
PROS
Bonuses and Incentives
As mentioned above, depending on your affiliate rank and if you are good at recruiting and as well as those under your team are productive especially in their sales and also in building their team, you can gain many bonuses and incentives such as the luxury car bonus.
They make their own products - For me, it would be an advantage if you are producing your products for you cannot only ensure the quality control but also as well the control of the costs of your products.
Charity Work
As you can see on their website, they offer a beneficiary for a certain cause stating "Every box sold creates a better future for our children". Now, that's something heartwarming!
CONS
High Emphasis On Recruitment
Just like any other MLM opportunities, instead of focusing on the progress of sales and customer satisfaction, Javita is also encouraging a focus on recruitment. Your promotion and as well as being eligible in gaining big company bonuses is dependent on how well you've recruited people. In short, you level up with your rank with the team that you build.
With a lot in mind including sales, it would require your hard work and persistence.
Expensive Products
With a lot of competition in the market with companies selling also health drinks and weight loss coffees, it would be hard selling Javita products since they are pretty expensive. And also with the fact that there are available products from other companies which are more cheaper and effective.
Reviews Said That Their Products Aren't Effective
Javita claims that they are not your usual "band-aid solution" to weight problems. With the overhyped endorsements that their products can take your weight loss efforts to the next level, it's quite disappointing to see reviews saying their products don't work and aren't effective.
For me, it's really important to take care of the standing of your products because it's the thing that you are selling and marketing. And your commissions will be dependant on it. Since consumers will buy more if they are satisfied with the products.
Too Costly To Join
Not to mention the autoships that will cost you a lot since the products are also very expensive. It would cost you a lot and still not ensure your lucrative income especially if you are a newbie in this kind of business. The flexibility offered by the company makes it an attractive venture. However, it is too expensive!
Low-Income Potential
Not only that it may cost you big joining this company, but it doesn't also guarantee you a high income. It will also be a struggle to earn full time, for it will require you more of doing network marketing. It can give you some earnings but not for a living. Thus, low-income potential!
Tired of Wasting Time on Low Quality Programs?
I'm so grateful that I was able to find THIS PROGRAM which helped me to finally start making money online!
It is a business opportunity intended for those who have skills in sales and are consummate in the MLM world. It is also for those who are coffee, tea, health, and weight loss enthusiasts. It is also for those who are hardworking and competitive since gaining incentives requires a lot of hard work and competence to gain more sales and to recruit more people to join.
Javita ensures that every affiliate receives tools and resources that will help them to be successful with their business. The company has a sturdy system that will help train its affiliates plus you can only make money and earn compensation with Javita if you are an active member. You will also have a team that will help you grow your own team.
Overall, I would not recommend joining this MLM business venture. Yes JAVITA is a well-established MLM company and it is not a SCAM. Just like other MLM opportunities, this company places more focus on recruitment to earn big and be eligible for special bonuses.
So, it requires hard work and great recruitment skills to gain bonuses and big incentives. Therefore, for newbies and those who are new in this kind of business, it's of low success guarantee. It would really be of low-income potential! Plus the fact that their products are so expensive and a lot are saying that they are not effective.
So, it will be difficult to sell and market their products, aside from the fact that there are many competitions in this kind of niche. It's also really costly joining this MLM opportunity because probably you'll spend as much as $3000 yearly.
Tired of wasting your time on the wrong program? Don't worry, I got you!
Sign up to my top-recommended platform and enjoy the following benefits for free:
Webinars, Coaching, And Other Training Resources
Access To A Live Community
Customer Support
And A Lot More!
I hope this Javita review has been informative and if you have any questions or comments, please feel free to drop it down below.
We Constantly Review Programs in "Make Money Online" Niche,
So That You Don't Have to Waste Countless Hours
Want To See Our
TOP RECOMMENDATION?