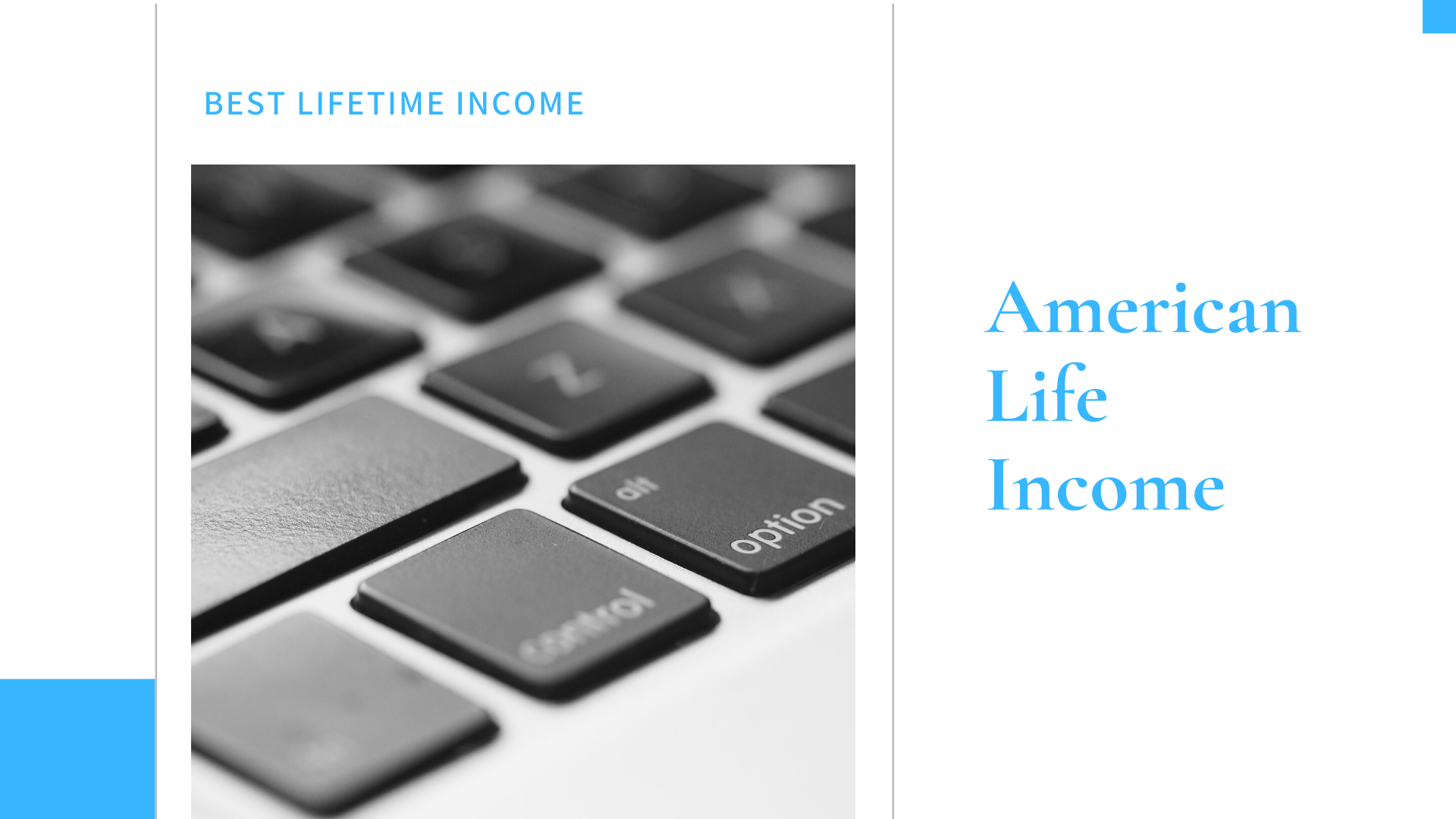 Welcome to My American Life Income Review!
You're probably in this site trying to gain insights and information about an income opportunity you're trying to pursue. So pat yourselves for trying the extra mile by researching and investigating -- that's a great way to avoid scams.
And after all, you will be investing your time, money, effort and energy in whatever business you will opt to try and of course, you won't want to lose it afterwards.
American Life Income Review Summary
---
Name: American Life Income
Website: www.ailife.com
Founders: Harold Goodman and Bernard Rapoport
Product Type: Multi-Level Marketing
Price: $490 For Training Fee
Quick Summary: American Income Life (AIL) is a legit insurance company that utilizes a multi-level marketing (MLM) business, model. It sells insurance products as well as group policies. It is a multi-level marketing opportunity thereby income is not only dependent on sales but also on recruitment.
And you have to purchase first their training and pass the requirements to be their sales representative. You also work independently! Yes, independently and you'll have to pay all business-related expenses. For newbies, not a great way to earn a living!
Overall Rating: 2/10
Recommended: No
Nowadays, MLM opportunities are anywhere. Most of the time they market products, from beauty to the health and wellness niche, name it, they have a lot right? And now, we will be discussing a different kind of MLM opportunity, one that is disguised in an insurance firm - American Income Life (AI Life).
Will this be a great opportunity to try your aces as a rookie in this kind of business? Is American Income Life (AI Life) a scam? Would this give you a lucrative income?
Find out everything you need to know in this American Income Life review.
P.S.
Want to make money online even with a full-time job? Then check out my FREE Step-By-Step Guide now!
What Is American Income Life About?
American Income Life provides affordable insurance and supplemental health benefits to working families in the United States and Canada.
It's a legitimate insurance company with multi-level marketing (MLM) opportunity. It was founded by an uncle and nephew team-up of Harold Goodman and Bernard Rapoport. The company started from a borrowed capital of $25,000. Their original office was established in Indianapolis, Indiana and now their current headquarters is in Waco, Texas. A company listed on the New York Stock Exchange (NYSE), Torchmark now owns the company.
American Income Life Product line
Being an insurance company, they sell insurance products to associations, specifically labor and credit unions. They sell as well group policies to schools, youth groups, and churches.
These are the following policies that they sell and their coverage:
Whole Life Insurance – Lifetime-covered insurance policy (premiums don't increase)
Term Life Insurance – Covered on a limited period of time (premiums increase after the initial cover period)
Accident And Supplemental Insurance – A policy which covers members in cases of accidents and illnesses
Final Expensive Plan – Cover for the insured's funeral expenses
Terminal Illness Rider – Gives members who are diagnosed with a terminal illness and their riders an accelerated benefit payment of half of the policy's value if their life expectancy is within a year of diagnosis
Accident Protection – Gives cash benefits when the insured is injured accidentally or is killed
Hospital Indemnity – Covers additional long hospital stay related expenses caused by injury or accident
Cancer Protection – Covers financial aid with regards to medical expenses and loss of work due to cancer treatment
Critical Illness – Provides financial aid for medical expenses for patients who are critically-ill such as stroke or heart attack
Do Their Products Work?
With regards to insurance companies, their products are judged based on how convenient and easy it is to be processed and filed and as well as settle claims. Well, based on what I've found and searched, AI life has several complaints but was mostly settled. They were even rated A+ by the Better Bureau Business (BBB).


How To Make Money With American Income Life?
So how to make money with American Income Life (AI Life)? First, you'll start by signing up and avail their training which will cost you $490. But it will still not guarantee you to have the slot of a sales representative in AI life, for you still have to undergo job interviews, sign required papers and other things that you are required when joining a company.
However, you are not qualified to get paid, yes, the company will not issue a salary for you. You will operate on your own. The sales representative of AI life is all considered independent contractors. So if you do nothing, you won't gain income!
In AI Life, just like other MLM opportunities, you'll earn money in this company through:
Sales Commissions – Yes, you will earn from selling insurance policies. You will earn a 50% commission from each policy sold. (But out of that, you'll only get 65% of the pay-out, for the remaining 65% will be handed over after 6months)

Residual Commissions – Yes, you will as well earn commissions from the sales of the person you have referred or recruited in AI Life. So the more sales representative you recruit and the more they as well increase their sales, you too will earn.
Is American Life Income A Scam?
American Income Life is not a scam. It is a legit company that provides an MLM opportunity. It has been already in the business for 72 years and was accredited by BBB since January 1, 1952. With those long years in the business and that they are BBB accredited, who would have said it's a scam? Definitely it's a legitimate company! Not to mention the fact that they do hold an A+ rating.
But still, I would not recommend this to anyone since they somehow place people into a deception saying that they offer a job when in fact, they operate in an MLM Business model. That's why there are a lot of issues concerning sales representatives leaving the company! They leave when they figure out and realize that they are on an MLM scheme.
Starting with this MLM opportunity, you have to sign up and pay the training fee that is for $490 which is already inclusive of everything you need to be equipped as a sales representative in the company.
They provide comprehensive and in-depth training with regards to their products (policies) for the sales representative to be knowledgeable and well-versed with the products they sell which will also help them strategize and go on with their business.
To learn more about American Life Income, you can watch the video below:
PROS
You Can Earn Money
Yes, you can earn money in this MLM Opportunity. Being on the run for 72 years, AI Life is definitely an MLM opportunity that can somehow give you a decent income and you can even earn big, only if you work hard and know the right leads, retain all your clients and recruit more to join in the company. A 50% commission on sales is a big thing, as long as your clients don't cancel.
A+ BBB Rating
They do hold some complaints but AI life is a BBB accredited company and they do hold an A+ rating.
CONS
Encouragement on Recruitment
Just like MLM companies, AI life also encourages recruiting. Your promotion and as well as being able to earn big commissions is not only dependant on your sales but as well as on how well you've recruited people.
You Are On Your Own
Not only that it will cost you quite big in joining this MLM opportunity, for you will have to pay for the pricey training fee. Operating as independent contractors, you will also have to pay all your business-related expenses. Like in meeting potential clients, you'll have to pay for your transportation, food and other expenses.
Low-Income Potential
For those who are consummate in this type of business and if you know the rights leads, you'd probably earn big but it will be a struggle to earn full time, especially for newbies for it will require you more of skills in sales and recruitment. They are not even transparent about the company's income disclosure statement.
No Income Disclosure
Yes, they don't have a statement about their company's income disclosure. If would be nice if they would divulge information with regards to how are sales representatives are doing in the AL life business. Are they really earning money or losing it?
High Turnover Rate
As I discussed above, due to deception, many sales representatives in the company are disappointed and end up leaving AL life when they find out that they joined a networking company, when at first they thought they land a job, when in reality it's just another MLM opportunity! There were as well issues saying that these sales representatives leave because of the way how they are treated.
Those sales representative leaving the company ends up turning over their commissions, which is good news to those who are incoming and are lucky enough to benefit what these former sales representatives have started.
Here Is My Top Recommendation to Start Highly Profitable Online Business from Comfort Of Your Home
American Income Life is a business opportunity for those who are experienced in direct selling, network marketing and in the MLM industry, especially for those who are consummate in selling insurance policies.
For a rookie, it will be hard to try your aces in this business since this company encourages the need for recruitment. That's why it takes not only the guts, effort but also the skills gained from previous MLM experiences. It is for those who are really good at recruiting.
FREE TRAINING
Learn How I Started Highly Profitable Online Business From Comfort of My Home Following This Blueprint
Signing up and availing the training will provide an aspiring member a comprehensive and in-depth training with regards to their company products (policies). It will help them to be knowledgeable about the products they sell which will also help them strategize and go on with their business. They will be equipped with everything they will need to be a sales representative.
As stated in their website, you could as well contact them through phone, email or filling their contact form for your needs to be accommodated.
Overall, I would not recommend joining this MLM business venture. Yes, it is a well-established MLM company and it is not a SCAM. But because it has done deception to potential joiners, it would be hard to trust. And also just like other MLM companies, AI life is encouraging recruitment.
So, it will require your hard work, great skills in sales and recruitment and the guts to progress and succeed in this business. Therefore, for newbies and those who are new in this kind of business, it's of low success guarantee. It would really be of low-income potential! They are not even transparent when it comes to their income disclosure statement.
And one reason that I don't recommend Al life is that it would cost you a lot financially not to mention your starting fees but even in your AI life business-related transactions that you will all pay on your own. No company benefits and no company incentives!
Tired of low-quality programs with bold claims? Don't worry, I got the perfect solution!
Sign up with my top-recommended program and have everything you need to get started -- without paying for anything.
Training Resources, Webinars, Coaching
24/7 Customer Support
Access To Online Community
And Many More
All these -- FOR FREE!
Sign up now and have the perfect opportunity you've been waiting for.
Thank you for reading my review and if you have any concerns or you'd like to talk about your personal experience with American Life Income, then feel free to share it below.
We Constantly Review Programs in "Make Money Online" Niche,
So That You Don't Have to Waste Countless Hours
Want To See Our
TOP RECOMMENDATION?