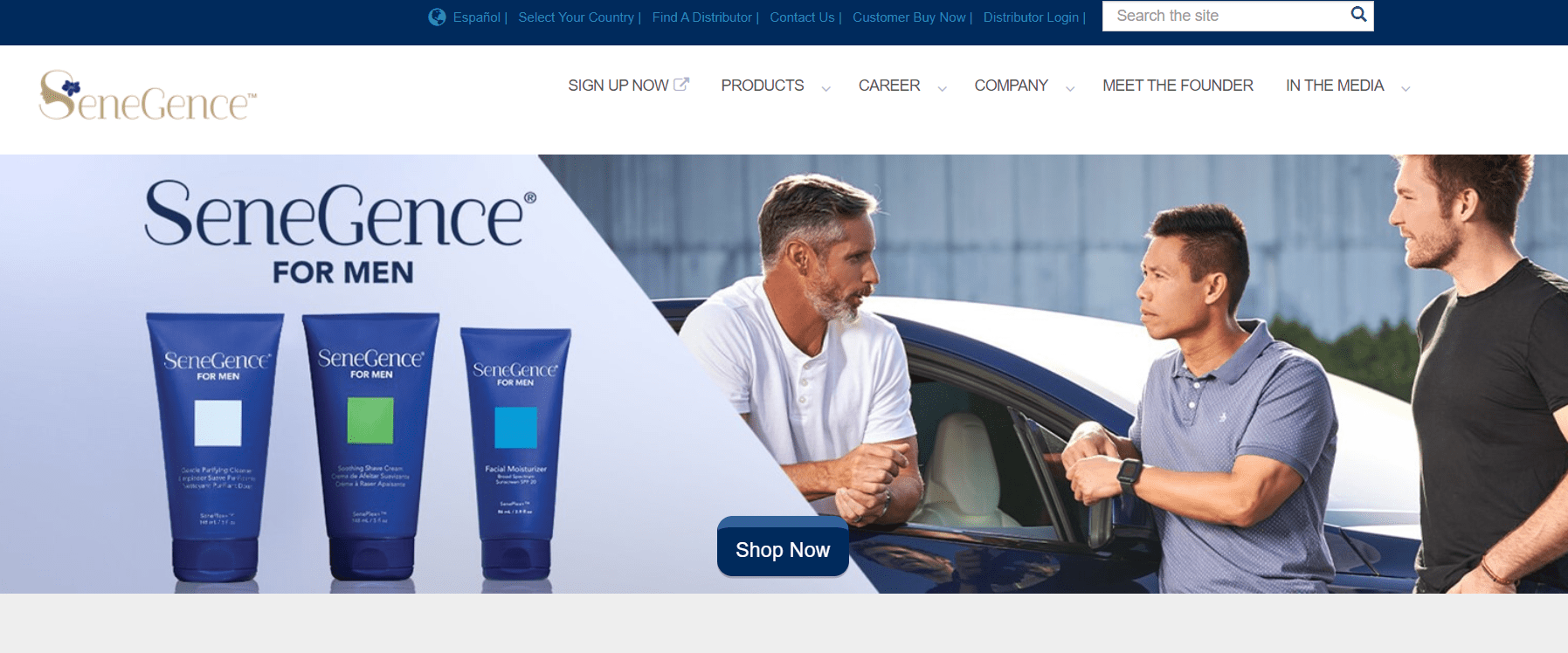 Welcome to My SeneGence Review!
You're probably in this site trying to gain insights and information about a business you're trying to pursue. So pat yourselves for trying the extra mile by researching and investigating. It is better to be meticulous rather than being too risky and careless.
That's a great way to avoid scams. And after all, you will be investing your time, money, effort and energy in whatever business you will opt to try and of course, you won't want to lose it afterward.
SeneGence Review Summary
---
Name: SeneGence
Website: seneweb.senegence.com
Founders: Joni-Rogers Kante
Product Type: Multi-Level Marketing
Price: $500 Initial Payments + $550 Optional Training Package
Quick Summary: SeneGence is a multi-level marketing (MLM) company that sells and markets beauty and cosmetic products that are said to be of great quality and safe materials but a lot of product reviews revealed otherwise!
And just like most MLM opportunities, you can earn in this company through retail sales and commissions earned from recruitments. With a decent compensation plan, would joining SeneGence, let you earn lucrative income? With a lot of issues, probably not!
Overall Rating: 2/10
Recommended: No
Nowadays, MLM opportunities are anywhere. Most of the time they market products, from beauty to the health and wellness niche, name it, they have a lot right? And now, we will be discussing a cosmetic, beauty and skincare distributing MLM company- SeneGence.
With a lot of competition in the market, including popular companies such as MaryKay and Avon, and as an international company like Usana and Young Living, will this be a great opportunity to try your aces as a rookie in this kind of business?
Is SeneGence a legitimate MLM company? Is it not a scam? Would this give you a lucrative income? What are the pros and cons of joining this company?
All your questions answered in this SeneGence review.
SeneGence is a multi-level marketing (MLM) company on the beauty and skincare niche. Their products range from a variety of cosmetics and skincare products. Their flagship product is the LipSense that is loved by the ladies. The company was established in 1999 by Joni Rogers-Kante. SeneGence is founded and still runs up to this day in Irvine, California.
SeneGence International operates to offer an opportunity to work from home for women and this is also by selling the products they love.
Joni traveled to the other side of the world to find different ingredients than those available in the U.S. for the unique formulas in SeneGence products along with a team of scientists and botanists. After she learned that cosmetic companies continuously use the same ingredients in one product to the next – just in varying amounts, she knew SeneGence had to be different.
To Joni, as stated in their website, it is just as important as a flourishing business, is the commitment to high-quality products that not only truly work but give value to our consumers and the communities in which our Distributors live while not depleting the earth of natural resources or creating unnecessary waste.
SeneGence Product Line
SeneGence provides a variety of beauty products, from skincare to anti-aging, face, eyes, lips and body products. They indeed supply their distributors and retail customers with a variety of products.
Their products are said to be safe, stating that their products are pharmaceutically graded and are made in the US for strict quality control. And most of their products are also Gluten and GMO-free. And they claim that their products are formulated with FDA (Food and Drug Authority) approved ingredients. Their flagship product LipSense is said to be lead-free and does not contain any wax.
LIPSENSE (Flagship Product)
Well, do their products work? As to what I've found out and researched, I have seen many negative feedbacks which most are in contrary to what the company claims. It's like the negative comments outweigh the positive reviews.
Here is some SeneGence products review:
How To Make Money With SeneGence?
You will begin by registering as a distributor and pay the membership fee of $55 plus you will have to purchase their Distributor Business kit which costs for $75, plus the LIPS kit for $75 and for the Glamour Demo Kit which is at $295.
Initial payment would cost you $500.
You will then have the choice to avail their Distributor Training Package which costs you $550. But this training package is inclusive of the following:
Weekly online training
SeneGence Website ($300 yearly renewal)
Seminar General Seating
SeneU Event Registration
PIT Stop registration
SeneMedia Collection
SeneLibrary Training Materials
MSF Donation
Launch Demo
And just like most MLM companies, you'll earn in SeneGence through:
Sales Income - You'll earn 20% to 50% commissions through products you sold
Distributor Product Discount Schedule
0 to 99.5 Personal Volume (PV)- 20%
100 to 299.5 PV - 30%
300 to 749.5 PV - 40%750 up PV - 50%
Commission Income - You will gain commissions through your downlines and as well as the sales of your group (which in turn raise your rank)
To learn more about SeneGence, you can watch the video below:
SeneGence is a legitimate MLM company that's already been in the business for 2 decades. Now, that's quite a long time to consider it a scam. Thereby, SeneGence is not a Scam! It is an MLM company, selling and distributing tangible cosmetics, beauty and skincare products. You could hold, touch, use and sell these products they supply.
You can also earn these products depending on your sales and the bonuses you'll get from recruitment and your ranking. They somehow give a decent compensation plan. Products are said to be of great quality and are safe but numerous negative reviews are exposed over the internet.
You will start by registering and pay the distributor membership fee which costs $55. You will as well purchase the following kits:
Distributor Business kit ($75)
LIPS kit ($75)
Glamour Demo Kit ($295)
You will then have the choice to avail their Distributor Training Package which costs you $550. It is inclusive of training materials, weekly online training, website (which you will renew yearly for $300) and many more.
Here Is My Top Recommendation to Start Highly Profitable Online Business from Comfort Of Your Home
PROS
No Quota
Unlike other MLM companies, SeneGence has no quotas to meet and you can purchase a decent product wholesale and you can earn by selling it.
Decent Profit Margins
Based on their compensation plan, the product discount is about 20%-50% which is just on the right level.
CONS
No Income Disclosure
Yes, they don't have a statement about their company's income disclosure. If would be nice if they would divulge information with regards to how are company members are doing in the business, are they earning money or losing it?
Expensive Products
Yes, they claim to have products that are safe and of great quality but their products don't only have a lot of negative reviews but they are as well pretty expensive! Products should be worth it. After all, every business really stands because of the products they have and it's the cause why people are coming back for more.
Many Competition In The Market
With a lot of competitors in the beauty and skincare niche, it would be quite a challenge to sell SeneGence products since there are a lot of well-known companies selling the same line of products and are cheaper and effective compared to them.
Low Income Potential
For those looking for a full-time job, this could not give much of a lucrative income especially for rookies with no experience in the MLM world, this would be a struggle. It would take a lot of hard work to sell a volume of these pricey products, you would not only need the guts and skills but also the experience to strategize and identify the potential buyers and market SeneGence products well.
Stock Issues
Most distributors have complaints with regards to stock issues including "being out of stock" which is a big No, No in retail business! Because you will be missing out on some potential sales which are supposed to be an extra profit for you. And what will you do if you have a decent compensation plan but don't have the stocks to sell? It would still be of no use.
Too Costly Join
Joining the company will cost you almost $500, not to mention the $550 for the training package if you choose to avail it. You will as well pay $300 for website renewal yearly. That's about more than a thousand dollars! It would really cost you a lot and still not ensure your lucrative income especially if you are a newbie in this kind of business.
Tired of Wasting Time on Low Quality Programs?
I'm so grateful that I was able to find THIS PROGRAM which helped me to finally start making money online!
It is a business opportunity intended for those who have skills in sales and are consummate in the MLM world. It is also for those who are beauty and skincare enthusiasts in which women are the majority since SeneGence International operates with the goal to offer an opportunity for women to work from home through selling the products they love which in this company, beauty, and cosmetic products.
Purchasing their Distributor Training Package is inclusive of training materials, weekly online training, website and many more tools you can use to push through with this business venture.
SeneGence is not a SCAM. It's been already in the MLM world for 2 decades. It is a well-established MLM company selling tangible cosmetics, beauty and skincare products that are quite expensive.

But with a lot of negative product reviews as well as stock issues, not to mention the competition in this niche, it would be really hard to sell their products and earn big in this MLM opportunity, especially for a beginner. It is also really costly, to begin with, and there's no income disclosure from the company.

It's probably of low-income potential! Yes, it could give you an income but not for a living. So it will definitely require you so much hard work and as well as the skills in sales to succeed in this business since your income would depend more on the status of your sales and of your recruits.
Want to start a business without capital?
Then I suggest that you sign up with my top-recommended program now. Have everything you need to get started FOR FREE, such as:
Training Resources And Webinars
24/7 Chat Support
Live Active Community
And A Lot More!
I hope I've helped you decide whether SeneGence is for you or not and if you have any questions, please feel free to share it down below.
Thank you!
We Constantly Review Programs in "Make Money Online" Niche,
So That You Don't Have to Waste Countless Hours
Want To See Our
TOP RECOMMENDATION?