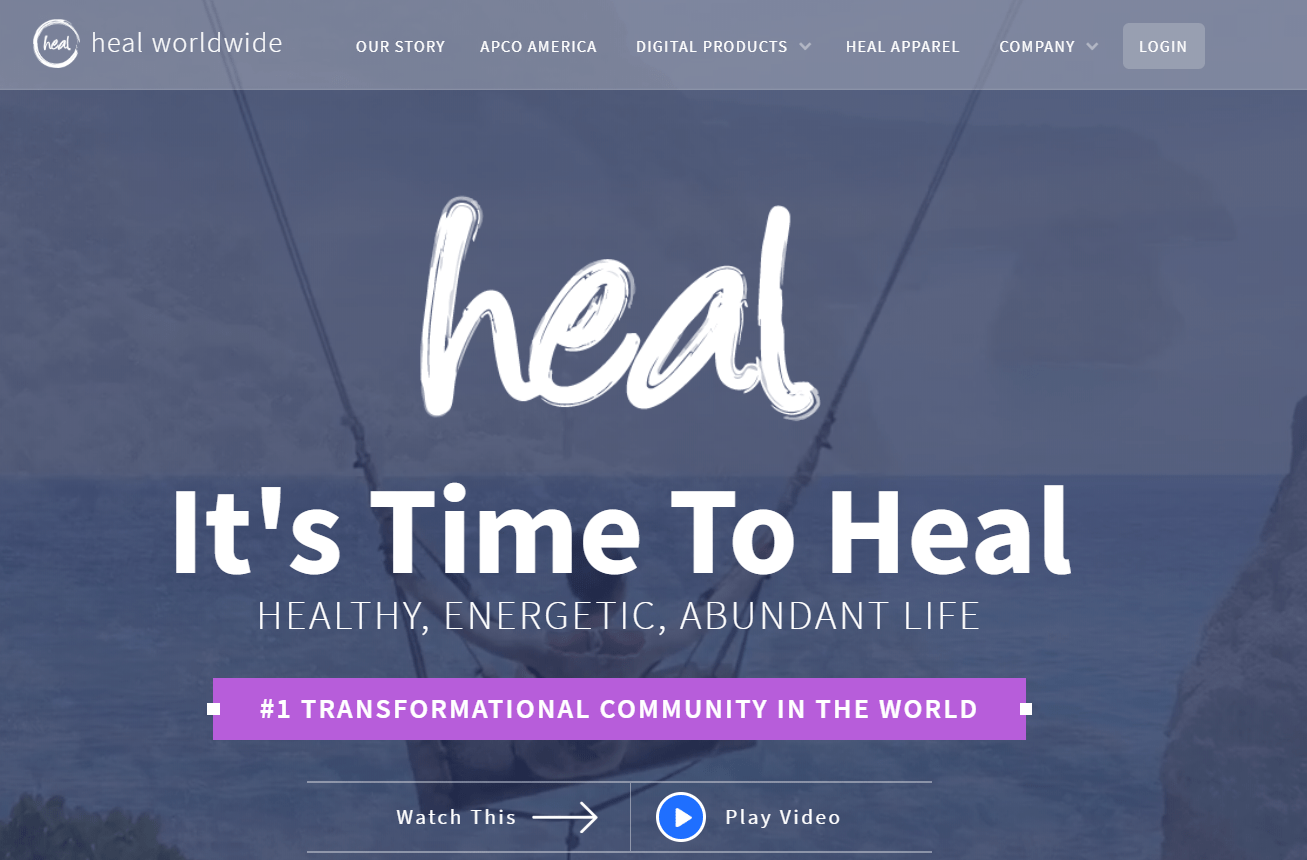 Welcome to My Heal Worldwide Review!
Multi-level marketing (MLM) has made a negative for most people (myself included) because of many things, such as aggressive distributors, overpriced products, and the recruitment required. Because of this, many individuals think that it is a scam.
However, MLM or network marketing is a legit business model and although not all distributors end up rich as promised, no one can deny the fact that it's profitable, especially if you're skilled with sales and marketing.
Heal Worldwide Review Summary
---
Name: Heal Worldwide
Website: www.healworldwide.com
Founders: Stephen Munson, Vincent Webb, and Eric Sharpp
Product Type: Multi-Level Marketing
Price: $9.97 For Membership Fee Every Month Or $99.97 Every Year
Quick Summary: Heal Worldwide is an MLM opportunity that sells plant-based nutritional supplements and digital products. It claims to offer a 15% to 50% commission for every product sold but is it worth your time?
Overall Rating: 5/10
Recommended: No
But then, not all MLM companies are created equal; some can help you make a decent income while there are platforms that are not good at all.
In this post, we'll find out what Heal Worldwide is about. Is it a legit MLM company or a scam? What are its pros and cons? Can you really make money from this platform?
P.S.
I'm not a distributor of this platform so rest assured that I will provide nothing but honest Heal Worldwide review.
What Is Heal Worldwide About?
Heal Worldwide is an MLM company under the health and wellness niche. According to their site, it's all about: HEALTH – WEALTH – LOVE – HAPPINESS – FAITH – FAMILY and FUN!
Founded by Stephon Munson, Vincent Webb, and Eric Sharpp but basically, Stephen represents the company, especially in their marketing collateral.
Apparently, it all started when Munson hit his rock bottom. Homeless and battling depression, he also suffered from an allergy to certain foods, such as garlic, bananas, and strawberries. Fortunately, he met a doctor named Dr. Pichaet who introduced a plant-based diet.
Thus, the birth of Heal Worldwide. Stephen, together with his co-founders, understands that he is not alone when it comes to battling health issues so he started a platform that promotes plant-based products and an opportunity to make money from it.
Heal Worldwide Product Line
As mentioned, the founder was inspired by the plant-based diet he had so he brought it into his MLM company. That being said, plants played a major role in all their products, which are mainly created to boost and support the immune system.
These plants include:
Centella Asiatica
White Guava
Isolated Soy Protein
Black Sesame
Mangosteen
On their website, you will find that their products are divided into three-- APCO America, Digital Products, and Heal Apparel.
Under APCO America or Asian Phytoceuticals Public Co are supplements that help increase stamina, improve sleep quality and the skin, regulate blood sugar, prevent health issues, aid in digestion, and support the immune system.
They also have Digital Products, which obviously are not tangible rather. Instead, it helps the distributor expand their skills and knowledge in able to grow and expand their business. These products are produced in the form of training videos, namely:
Big Profile Profits
21 Day Challenge
Business Class
And then there is Heal Apparel -- their own labeled merchandise that includes jackets, shirts, and caps.
Heal Worldwide Product Reviews
I've never used any of their products so I can't attest whether it's effective or not. Also, I can't find any feedback about their supplements or digital products online. So it's either no one uses it or Heal Worldwide consumers don't know how to post reviews online.
How To Make Money With Heal Worldwide
Like most MLM companies, there are two ways to make money with Heal Worldwide.
The first thing you have to do to be qualified for commissions is to become a member. Now, as a member, you have access to wholesale discounts so you can sell their products based on the suggested retail price (SRP).
This lets you earn retail profits; in Heal Worldwide's case, you get a 15% off on their products and 50% commission for every digital product sold.
The next option, which is normal for all network marketing companies, is to recruit people to join the platform. This means inviting your friends, families, or anyone you know to your team so it's easier to achieve goals and milestones.
To learn more about Heal Worldwide's compensation plan, you can watch the video below:
Is Heal Worldwide A Scam?
No, Heal Worldwide is not a scam.
It's a legit business model that offers tangible and digital products. So far, the brand has managed to keep a good reputation and for me, this is something that you should consider before joining any opportunity -- MLM or not.
As mentioned, you have to become a member first to be qualified for their bonuses, incentives, and commissions and that means paying $9.97 every month for the membership fee or $99.97 on an annual basis.
You can also choose the VIP membership, which costs $99.97 a month. This grants you access to additional business tools.
Compared to other MLM companies, the fee for a basic membership is not too steep. I think it's good even for those who are just starting. However, you must consider the products that you will sell, too, as these are not included.
Here Is My Top Recommendation to Start Highly Profitable Online Business from Comfort Of Your Home
PROS
Legit MLM Company With Reasonable Commissions
A 15% commission for their physical products and 50% for their digital ones are not bad. In fact, it's really good, especially for those who have experienced with network marketing. In case you know how to market their products, you can make a good income out of this program.
Also, it's legit so there's nothing to worry about.
Affordable Membership Fee
I've reviewed a dozen MLM platforms before and some membership fees are so expensive, it's worth almost a thousand dollars.
With Heal Worldwide, the membership only costs $9.97 a month or $99.97 per year and for me, it's not bad. But then again, this doesn't include the products yet.
CONS
No Income Disclosure Statement
When it comes to MLM platforms, one of the things that you should consider is their Income Disclosure Statement (IDS) since it's a good resource to know whether their distributors are earning or not.
Sadly, Heal Worldwide was not able to share their own IDS so we're clueless about the average income that their distributors make in a year.
Overpriced Products
This is another norm for MLM companies -- the expensive products. While it's not really as steep as the other brands, it might be challenging for distributors to sell these supplements and digital products since there are cheaper alternatives online and offline.
Tired of Wasting Time on Low Quality Programs?
I'm so grateful that I was able to find THIS PROGRAM which helped me to finally start making money online!
Heal Worldwide is ideal for people who have personally tried the product; those who have consumed their supplements and like the results. This way, you can vouch for the effectiveness of the product.
It's also ideal for seasoned marketers since they have the skills to promote not only the products but also the business.
If you're a beginner, it's best if you can think of other opportunities unless you're willing to shell out a huge amount even without the guarantee that you can get it back. Otherwise, you can check out my FREE Step-By-Step Guide on how you can make money online.
To be honest, I'm not a fan of MLM companies because of the unpleasant experiences I had in the past. However, I know that this business opportunity is profitable for other people so as much as possible, I try my best to provide unbiased reviews.
As for Heal Worldwide, I like the fact that it's legit and that it doesn't put too much attention on recruiting. It's good since it's less likely to be tagged as a Ponzi scheme or a scam. After all, many people still don't realize the difference between MLM opportunity and a pyramid.
Also, I think Heal Worldwide offers a lucrative business because of the decent commissions. Imagine receiving a 50% commission for selling one product? I bet that's good news!
But then again, there's no guarantee to this. Even Heal Worldwide wasn't able to provide proof that their distributors are earnings. I mean, it's 2020 now and still, there's no Income Disclosure Statement.
Perhaps, it would be better if they can provide this so aspiring members will have an idea of the current members' income.
If you want to make money online without purchasing products or inviting new people, I got a better offer for you!
Sign up with my top-recommended program and you'll be amazed about the business tools and support you'll get for free:
Comprehensive guide
One-on-one coaching
The best business tools and support you need
Webinars and training resources
And many more!
Thank you for reading my Heal Worldwide review and good luck to you whatever opportunity you choose. Feel free to visit my website anytime you need guidance on money-making opportunities online.
We Constantly Review Programs in "Make Money Online" Niche,
So That You Don't Have to Waste Countless Hours
Want To See Our
TOP RECOMMENDATION?