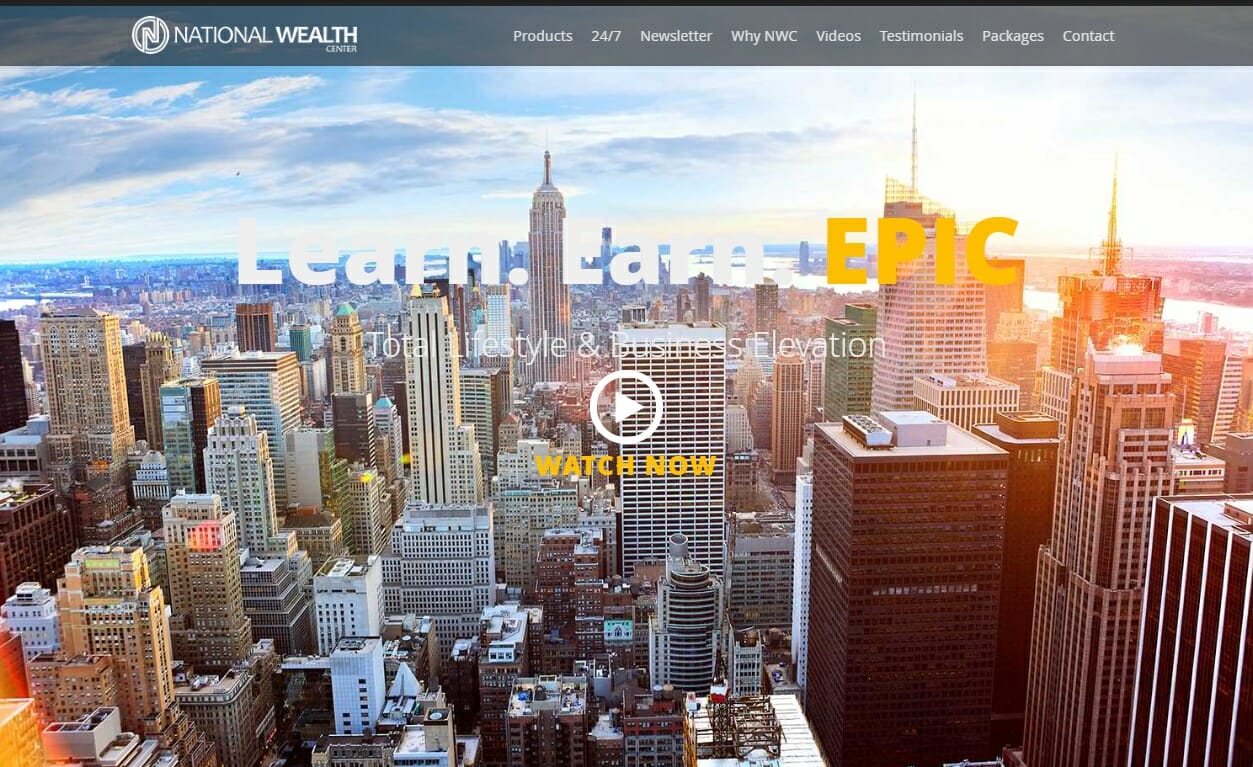 Welcome to My National Wealth Center Review!
Being in a world filled with business opportunities, it's hard to find a reliable and stable earning job. That's why you've probably landed on this page to inquire of a business opportunity you're trying to venture.
Well, I salute you for doing the extra mile to be informed. Being aware and informed, are one of the best ways to avoid SCAMS!
National Wealth Center Review Summary
---
Name: National Wealth Center
Website: www.nationalwealthcenter.com
Founders: Peter Wolfing
Product Type: Multi-Level Marketing
Price: $175/Month For The Products + $250 To $7,500 For One-Time Fee Packages + $9.95 Admin Fee
Quick Summary: National Wealth Center(NWC) is formerly known as the Infinity Downline. It is another company with a multi-level marketing (MLM) scheme that pays members to recruit additional members. It offers seven products, some require a monthly subscription, and the others with a one-time fee payment.
Overall Rating: 5/10
Recommended: No
A lot of businesses operate with multi-level marketing (MLM) compensation plan and yes, these MLM companies are teeming the business scene.
So now we talk about the National Wealth Center -- an MLM opportunity that offers a great promise to make money online.
What Is The National Wealth Center About?
National Wealth Center (NWC) is an MLM company that offers products that provide you with all the information that you need to improve various aspects of your life. But as an MLM scheme, it pays members to recruit additional members.
Yes, it compensates affiliates as they recruit more people to join in the business by buying market affiliate memberships or packages since they have no tangible products or services. National Wealth Center focuses more on recruitment as to what most MLM companies do. The company claims to be the solution to ultimate wealth and location independence.
Based in New York, USA, the company began as Infinity100 which was a comeback of what was previously known as Infinity Downline. Infinity100 was a $100 cash gifting scheme. It began to collapse in business in early 2014.
But in the middle of the same year, the scheme was relaunched as National Wealth Center. It was on July 7, 2014, when Peter Wolfing (The owner and founder) established the new Infinity Downline 2.0 as the National Wealth Center.
As to the CEO/Founder, Peter Wolfing was a sergeant in the US Marine Corps in the 80s. At that time he also ventured into the world of Network Marketing and applied the leadership skills that he learned in the military to the MLM industry and soon became a top Networker.
In 1998, he launched Multiplex Systems Inc. and the first company that he launched through Multiplex Systems was Infinity Downline. Soon after came Infinity 100. Then finally, the National Wealth Center launched in July of 2014. Wolfing explained that Infinity Downline and Infinity100 were moved over into New Wealth Center to start a similar but more powerful opportunity.
National Wealth Center Product Line
A mentioned above, National Wealth Center has no retailable products or services, with affiliates only able to market affiliate membership with the opportunity itself. They offer products/packages that provide you with all the information that you need to improve various aspects of your life.
As of now, these are the following packages/affiliate membership that National Wealth center offers:
Self Development
They offer powerful self-development through their robust audio library. Promoting self-development as an investment for oneself.
Fitness Advantage
Fitness Advantage helps people to achieve their goals and enjoy a healthy, fulfilling life! For many entrepreneurs, it's easy to ignore the warning signs that you're unhealthy-much less take notice if your business isn't well. On the inside of Fitness Advantage, you will receive life essential complete fitness and lifestyle healthy meal plans, workout plans, fitness empowerment and motivation to help you in your health journey.
Digital Entrepreneur
From e-books, audios, videos, affiliate programs, membership sites and more, thousands of people around the globe have learned how to leverage the power of the Internet and generate the income necessary to create a better life.
One-TIme Package Fees
Relationship Edge
Inside of Relationship Edge, you'll learn how to shift your operating system and get the training you need to reinvent and elevate your understanding and performance today. NWC instructors are passionate about relationships and exceptionally relevant. They have this Relationship Edge Course and Content.
Wealth Advantage
Wealth Advantage is like video training ON DEMAND providing the advantage you need in the forex, stock market, and real estate arena. Experience top-notch training via the Wealth Advantage e-book library, browse topics such as House Flipping Basics, Home Business Taxes, Best Investment Ideas and so much more. You'll also gain access to advanced trading strategies and learn how you can benefit from market trends and fluctuations. Lastly, you'll receive various money making and saving strategies as well as over 15 Traffic generation video training modules.
Network Marketing Edge
Whether you're a newbie or a veteran in the network marketing arena, as they claim, their Network Marketing Edge package will teach you from A-Z how to achieve massive success on and offline in the network marketing industry. You'll discover the mindset of a millionaire, learn the mastery of list building, prospecting, postcard marketing, email marketing, lead generation, webinars and so much more. Network Marketing Edge is loaded with hours of industry-leading authentic audio and video training. Their CEO, Peter Wolfing, and a few hand-picked NWC leaders collectively offer theirs over 75 years of experience in the industry.
The Vault
Inside of the NWC Vault, you'll gain access to a muscular library of e-books, software, hundreds of hours of audio and video training modules
Over two decades of wisdom and knowledge in several billion dollar niches, including Self Development, Finances, Network Marketing, Health & Fitness, Building Your Credit, The Stock Market, Investing, Real Estate and so much more. It's an all-out synergy of information that will raise your level of impact, influence, and income for generations to come.
How To Make Money With National Wealth Center?
The NWC affiliate program is decent and members can earn 100% commission fees. On top of that, the commission fees are subscription-based which means that you'll receive recurring income.
National Wealth Center uses a "one-up" model which sends the commission fee for one sale up the ladder to the person who recruited you. And if someone you recruited also recruits someone, you will as well earn a commission on every purchase that will take place.
In other words, all of the purchases that your downline and their downline's downline make, you will also gain commission.
To learn more about National Wealth Center, you can watch the video below:
Is National Wealth Center A Scam?
No. Apparently, New Wealth Center is not a scam. It is somehow a legitimate MLM opportunity that offers a quite decent compensation plan but nothing is quite extraordinary about it since it operates just like most MLM opportunities.
It might not be the best way to earn money online but at least they are honest and pay on-time. It's also been operating for more or less 6 years, so NWC is not a scam.
After signing up as an affiliate, you'll choose to purchase from the following bundles below and this will also be the products you'll market to those who would be joining the program.
Self Development- $25/monthly
Fitness Advantage- $50/monthly
Digital Entrepreneur- $100/monthly
FYI: Each product is an individual product, to gain access to all three, you will need to pay $175 per month to keep access to the individual product, also for you to get the $100 Digital Entrepreneur product you must have a subscription with the Fitness Advantage and with the Self Development product.
One time fee packages:
Relationship Edge - $250
Wealth Advantage- $1000
Network Marketing Edge- $3500
The Vault- $7500
There's also a $9.95 monthly admin fee which allows you to qualify for a commission on monthly residual income levels that you have purchased which include the $25, $50 and $100 level.
The $19.95 admin fee qualifies you to earn on the higher tier commissions up to $7,500 as well as all the monthly residual commissions as long as you have purchased at the same level.
Here Is My Top Recommendation to Start Highly Profitable Online Business from Comfort Of Your Home
PROS
Transparency
Probably one thing I would like to commend them is their transparency when it comes to their company details. I like how they would really explain each product package and other things.
CONS
Typical MLM
RECRUITMENT! RECRUITMENT! Just like any other MLM company, New Wealth Center encourages recruitment. I don't like how the focus is on the affiliate program instead of the products.
It seems like the only reason people want to sign-up for NWC is to participate in the affiliate program. If the members want to promote certain products then they'll have to purchase the products for themselves. It's a clever trick! To earn money from the affiliate program you'll have to purchase the products. Then you have to convince other people that they can also earn money if they purchase the products.
Very Expensive Products
Buying New Wealth Center digital products may even cost you up to $7500 which can be too impractical since most of their products are essentially a collection of information products that can be found online for free. They don't really fill a need or provide value to people. Legitimate businesses are dedicated to providing top-notch products or services.
Tired of Wasting Time on Low Quality Programs?
I'm so grateful that I was able to find THIS PROGRAM which helped me to finally start making money online!
It is a business opportunity intended for those who have skills in sales and are consummate in the MLM world. It is for those who are good at recruitment since the focus is more on the affiliate program rather than the products. It is also for those who are into self-development and well-being enthusiasts.
Once signed up, the National Wealth Center affiliates can buy into the compensation plan. With each bundle purchased, it is already inclusive of resources depending on the package chosen. Affiliates can have materials for self-development, internet/digital marketing, finance, business development, fitness training and many more.
New Wealth Center is a well-established MLM company. It might not be the best way to earn money online, but it is definitely NOT a SCAM. It offers somehow a decent income but nothing is quite extraordinary about it since it operates just like most MLM opportunities.
In my own opinion joining this opportunity is quite impractical, since there are no physical retail products but only digital products which are resources you could also find online. So probably people opting in this opportunity are not after the products but rather than the affiliate program.
And speaking of an affiliate program, you can actually make money from this kind of business. The best part is that it's not necessary to purchase anything or pay for any fees once you sign up with the right program, such as Wealthy Affiliate!
Now I've mentioned about Wealthy Affiliate and for starters, this is a legit affiliate marketing program that lets you earn commissions without the need to:
Pay For Products And Expensive Fees
Recruit Members
Credit Card To Sign Up
Join now and enjoy the following perks:
FREE Access To A Live Community
FREE Training Resources
FREE Coaching And Webinar
24/7 Customer Support
And Many More!
Thank you for reading my National Wealth Center review. I hope this has given you clarity and had answered your questions. If you have concerns, please feel free to share your thoughts in the comment box below.
We Constantly Review Programs in "Make Money Online" Niche,
So That You Don't Have to Waste Countless Hours
Want To See Our
TOP RECOMMENDATION?