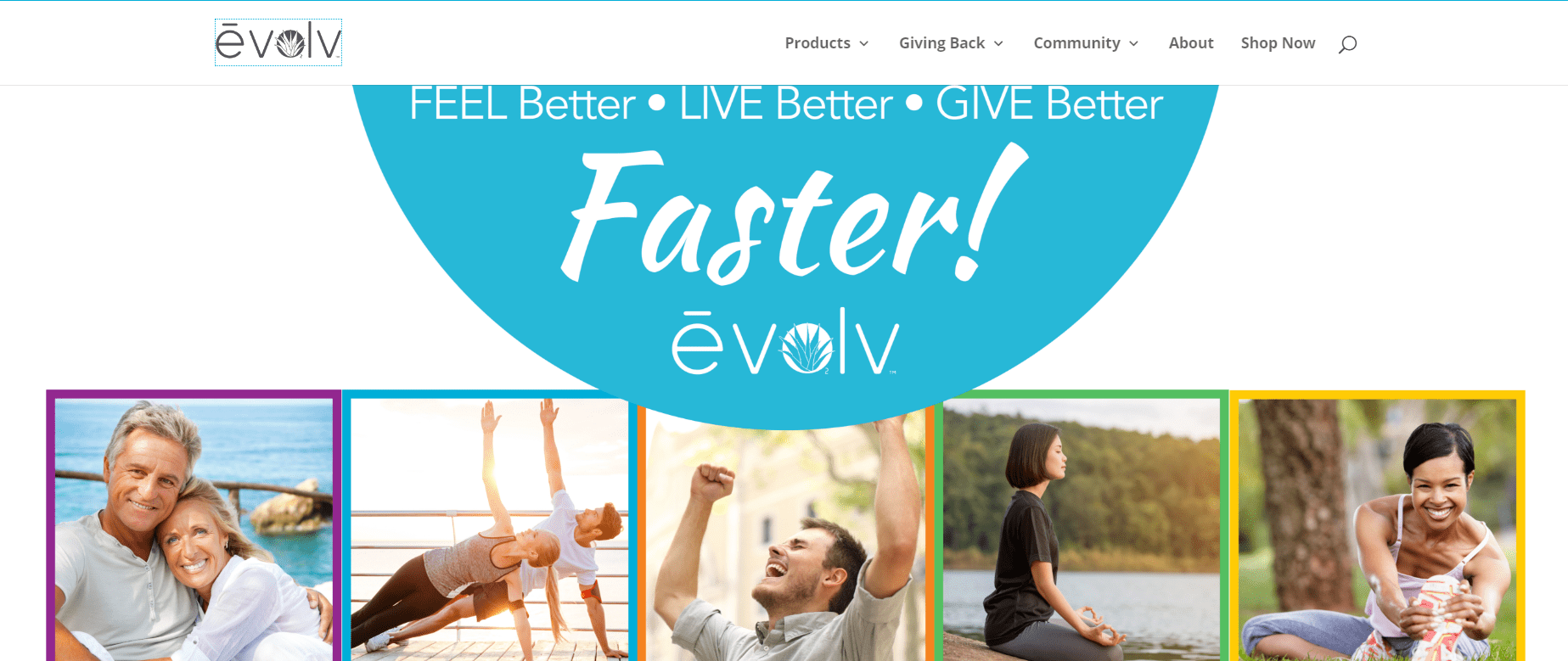 Welcome to My EvolvHealth Review!
Being in a world filled with business opportunities, it's hard to find a reliable and stable earning job. That's why you've probably landed on this page to inquire of a business opportunity you're trying to venture.
Well, I salute you for doing the extra mile to be informed. More than the enticing promises a company can offer you, it's essential to investigate and be knowledgeable with all of its processes, a thorough background check and in-depth reviews would help!
EvolvHealth Review Summary
---
Name: EvolvHealth
Website: www.evolvhealth.com
Founders: Brent Hicks and Trey White
Product Type: Multi-Level Marketing
Price: $29.95 For The Membership Fee + $349 For The Starter Kit + Products Every Month
Quick Summary: EvolvHealth is another multi-level marketing (MLM) company in the health and wellness niche. This company sells and markets nutritional products that are sold in overpriced kits. Well, EvolvHealth is probably the same as most MLM schemes. With high requirements for little return, definitely low success potential! Including the fact, the other members don't earn.
3Overall Rating: X/10
Recommended: No
At least, you won't get easily fooled or conned. Indeed being aware and informed, are one of the best ways to avert SCAMS!
Today, we will be discussing health and wellness MLM, one of those who sell health shakes and nutritional products called EvolvHealth.
Is this a legitimate MLM company or a scam? Will this guaranteed income? With all of the competition in this kind of niche, will this guarantee your success? What are the pros and cons of joining this company?
Yes, we will tackle all of that here and we will try to answer the queries that have been bothering your mind as we talk about EvolvHealth in this review!
What Is EvolvHealth About?
EvolvHealth is a multi-level marketing (MLM) company that is in the health and wellness niche. Having said that, they sell nutritional products but what makes them unique compared to other MLMs in the said niche is that they have a "motivational spin" when promoting their product and branding them as part of "social responsibility."
It was in 2009 when EvolvHealth was founded by Brent Hicks and Trey White. The company headquarters is based in Texas, USA. Brent Hicks is currently the CEO.
As to founder background, Trey White was involved in a couple of businesses and as well established various companies, with a total of $1.5 billion worth of capital placed into said organizations while Brent Hicks has been building and leading sales organizations in the real estate finance industry for more than 15 years and under his leadership, he envisions Evolv Health to become the next direct marketing company to be worth billions of dollars.
The company even became prominent when it was endorsed by Danny Cahill- Biggest Loser grand winner, where he lost 239 pounds while on the show. But after the show, he regained weight and so he turned to EvolvHealth in "rebooting" his body, commending the company's products for its effectiveness.
EvolvHealth Product Line
EvolvHealth being in the health and wellness niche, is a company selling numerous health products, from health shakes to more nutritional products from aloe vera to hemp plants, etc, but most notably is the Evolv Reboot kit which is their flagship product.
It is a set of nutritional products aimed at rejuvenating the body by naturally addressing the Leptin (a hormone that tells you had enough food and is now full) sensitivity and inflammation. This product works on regulating Leptin. Thereby promoting weight loss. This starter kit is supposed to reset your immune system and kick-start your metabolism.
Purchasing the said kit is inclusive of a 28-day supply of bundled Evolv Health products as follows: 3 boxes of Evolv Lifebars- 14 bars in each box, 42 bars in total
1 box Evolv Limitless
1 box Evolv Fix- contains 28 sticks
1 box Evolv Shake packets- 7 chocolate flavor, 7 vanilla flavor, 14 packets in total
1 bottle Evolv Daily- contains 56 capsules
How To Make Money With EvolvHealth?
To start making money with Evolv Health you begin by signing up as either an affiliate or a Social Business Partner.
Just like most MLM companies, being an affiliate in EvolvHealth, you can earn 40% commissions, flat rate, and no bonuses or schemes.
But to join the MLM scheme you have to pay the one-time fee of $29.95 and become a Social Business Partner.
Once you make it through the registration process, you can start earning from the rewards program.
The following are 8 ways you can earn with the program:
Retail Bonus - To receive this, you must first become a Member and make a sale to a Customer. You do not need to place an order or have any PV (Personal Volume/Point Value) to qualify for retail commissions. The bonus pays directly to you, the enroller. You receive 10% of the wholesale price of the product sold as a retail bonus on each customer you make a sale too and receive 70% of the PV (Point Value).
1,2 Free! - This program allows you to receive your product for FREE by registering 3 Customers or Preferred Customers on the same price or higher priced product packages.
HOPE Bonus - To earn this bonus, you should be Active at 70+ PV and sell Reboot Kits to new Members. The bonuses continue up the ranks to 10K. The Sponsoring Member may also be the first 2K or 10K, as well. So, if you are Paid As 2K and sell a Reboot Pro Kit, you get $140, and $20 goes to the first 10K. If you are Paid As 10K, you receive $260 when you sell a REBOOT Champion Kit to a personally enrolled Member. Refer to the table to the right for the HOPE bonuses associated with the Reboot Kits.
Pay Team Bonus - Incorporates a two-leg based structure that allows you to place personal enrollees on either your Binary left or right side. Your sponsor or anyone above you in the binary structure can place people below you as well. You will be paid a bonus based on the volume of your Pay Team Leg (a team that is either on your left and right with a lesser amount of volume)
Check Match Bonus - Members can earn a Personal Matching Bonus (PMB) on personal enrollees and a Generational Matching Bonus (GMB) on their downline. Matching Bonuses pay a percentage based on the Binary Commission check of those personally enrolled by the Member and their team. Members must have an order of at least 70 PV within the current and the previous 3 commission weeks and be paid as an Evolv 2K or higher. Once Evolv 10K is achieved, the Member must have a minimum of 150 PV within the current and previous 3 weeks.
Circle Of Influence - A Circle of Influence ("COI") consists of two Members and three Customers whom you have sold product and personally enrolled. For each COI you create, you receive a bonus.
Rank Lifestyle/ Car Bonus - These bonuses are 4-week rolling bonuses paid to a Member beginning at Ruby. Members will receive the "Lifestyle" amount at their highest Paid as Rank during each 4-week cycle in which they are qualified. The chart and table below show the LIfestyle and Car bonuses and additional details on this payment method.
Evolv Xperiences™ - Are just that: XPERIENCES! The Evolv Rewards Program allows Members to qualify for life-changing TRIPS, resort vacations, etc. Most Evolv Xperiences™ are custom-tailored to the event, trip or reward.
See more about their compensation plan in this video:
EvolvHealth is not a scam. It is a legit MLM company that's already been in the business for more or less a decade. Though they are not accredited with the Better Business Bureau (BBB) accredited company, they do hold an A+ rating.
You start by registering and paying a one-time membership fee of $29.95 to become a Social Business Partner and then purchase a Starter Kit. Overall, you'll pay $349 and on top of this, you need to buy products every month to keep your account active.
Here Is My Top Recommendation to Start Highly Profitable Online Business from Comfort Of Your Home
PROS
Bonuses and Incentives
As mentioned above, depending on your rank and if you are good at recruiting and as well as those under your team are productive especially in their sales and also in building their team, you can gain many bonuses and incentives such as the luxury car bonus and trips.
Advocacy
I like the thought that every kit you will buy in this company has a percentage that goes out to the less fortunate. Honestly, I like there advocacy to eradicate child hunger. Well, that's pretty much noble. As a member joining this kind of advocacy, it can give a sense of fulfillment.
CONS
Low Success Rate
I commend them for being transparent in their income disclosure but as to what is stipulated there, 80% of their affiliates don't make money. With this fact, chances of also being successful and to earn in this kind of business are uncertain.
Overpriced Kits
With a lot of competition in the market with companies selling also health and wellness products, it would be hard selling EvolvHealth products since they are pretty expensive. And also with the fact that there are available products from other companies which are more cheaper and effective.
Encourages Recruitment
Just like any other MLM opportunities, instead of focusing on the progress of sales and customer satisfaction, EvolveHealth being on an MLM scheme, also encourages recruitment. Your promotion and as well as being eligible in gaining big company bonuses is dependent on how well you've recruited people. In short, you level up with your rank with the team that you build.
Tired of Wasting Time on Low Quality Programs?
I'm so grateful that I was able to find THIS PROGRAM which helped me to finally start making money online!
It is a business opportunity intended for those who have skills in sales and are consummate in the MLM world. It is also for those who are health and wellness enthusiasts. It is also for those who are hardworking and competitive since gaining incentives requires a lot of hard work and competence to gain more sales and to recruit more people to join.
Being an EvolvHealth member gives you an account to access their back office and you will as well receive tools and resources that will help you in your business. And also EvolvHealth not only supports business matters but they are as well tracking their member's health, providing their customers and members the ability to improve their health using their products.
Overall, I would not recommend joining this MLM business venture. Yes, EvolvHealth is a well-established MLM company and it is not a SCAM. Just like other MLM opportunities, this company places more focus on recruitment to earn big and be eligible for special bonuses.
So, it will require your hard work, great recruitment skills, and the guts to progress and be promoted in this business in able to gain bonuses and big incentives. Therefore, for newbies and those who are new in this kind of business, it's of low success guarantee. It would be of low-income potential!
Plus the fact that their products or kits are so expensive. So, it will be difficult to sell and market their products, aside from the fact that there are many competitions in this kind of niche.
Do you want to earn a decent income without spending a huge amount of kits and memberships?
If yes, then you should sign up with my top-recommended program!
Create an account (no credit card required) and take advantage of the following perks:
Training Resources And Webinars
24/7 Chat Support
Live Active Community
And A Lot More!
By the way, thank you for taking the time to read my EvolvHealth review. Feel free to read more MLM reviews on our site.
And if you have questions or comments, please don't hesitate to drop it down below.
Thank you!
We Constantly Review Programs in "Make Money Online" Niche,
So That You Don't Have to Waste Countless Hours
Want To See Our
TOP RECOMMENDATION?