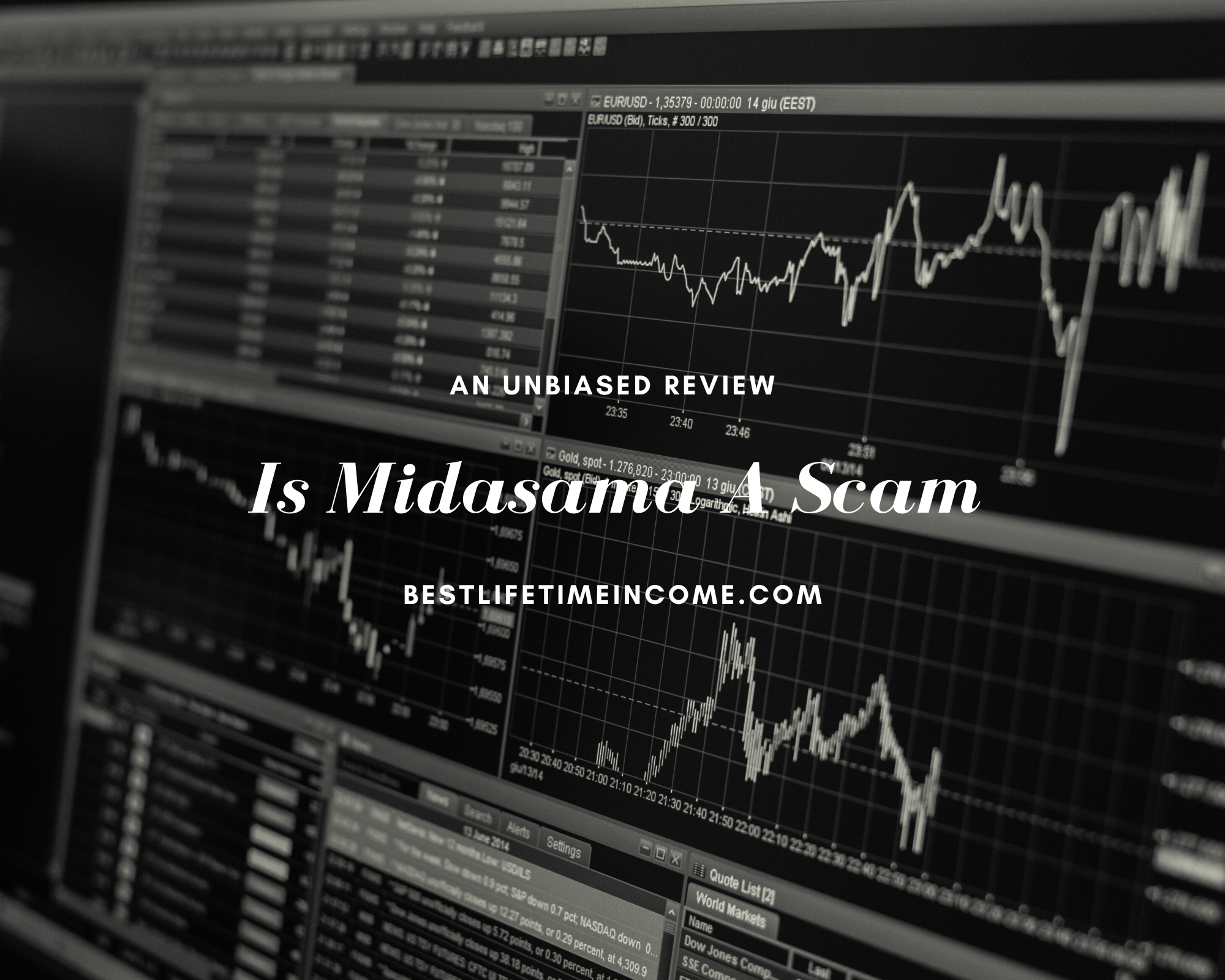 Welcome to My Midasama Review!
Online business opportunities are everywhere, from those with physical products to selling membership platforms and now this so-called stock and forex trading -- one of the most lucrative and newest niches.
Some would even buy into the idea of easy money and a huge return of investment as to what these companies that promote investment schemes.
Midasama Review Summary
---
Name: Midasama
Website: www.midasama.com
Founders: Undisclosed
Product Type: Multi-Level Marketing
Price: $1000-$100,000 Worth Of Investment
Quick Summary: Midasama is an MLM company in the Forex trading niche. It is a stock trading multi-level marketing (MLM) company that has a lot of red flags, such as the name of the founder not being disclosed.
Overall Rating: 1/10
Recommended: No
So, you're probably here to gain insights and valuable information about this business you're trying to pursue. Well, congratulations on doing the extra mile by researching and investigating. Being aware and informed is one of the best ways to avoid scams!
Rest assured that I'm not affiliated with this or any forex trading and investment scheme business. Rather, I'm here to provide you an unbiased Midasama review to help you decide whether you should join this platform or not.
Midasama is a multi-level marketing (MLM) company that provides you with a trading platform with a promise of monthly returns of up to 20% for its affiliates if you choose to sign up as an affiliate and invest in their program. Midasama is a forex trading.
So basically, a forex market involves simultaneously buying and selling currencies. With Midasama, there is no physical product.
In was 2016 when Midasama's company's site was launched but it was just recently updated in May 2019. This is probably where the change of ownership occurred. But unfortunately, there was no name mentioned as to who owns or runs the company. It was not even stipulated on their landing page.
But after some investigation, I have found out that Morgan Matthews is Midasama's business director and associate partner. He does also appear in some marketing material for Midasama, but outside of that, you won't find any other information about him. There was also this man named Edward Fox who was running the company's promotions.
Here's an interesting scoop, a couple of sites ran the rankings of the site and found that 84% of the traffic came from Malaysia, which is an indication that most likely the site and company are being run by people based in Malaysia. It's also hard to understand their site since most are in Chinese.
Midasama Product Line
As mentioned above, there is no physical product line. Midasama has no retailable products or services. But they have what's known as MIT (mirror trading) which is supposed to be able to copy a trader's successful traders so beginners can do trades like them.
Midasama doesn't have anything unique to offer in their program since this is a very common feature in a lot of legitimate platforms and makes it easy for anyone to trade. In fact, a lot of retail trade brokers are even using this mirror trading as an added benefit for their clients.
Other legitimate trading platforms have their own team of Forex traders to help with manual trades or to provide financial advice while on the downside, Midasama doesn't have a trading team.
How To Make Money With Midasama?
The typical compensation comes from your 20% monthly returns from your investments, ranging from $1000 up to $100,000.
Midasama's compensation plan represents a consistent 15% monthly return, which is split 60% between the affiliate and the company.
Midasama Compensation Plan
Midasama Affiliate Ranks
These are the six affiliate ranks with their respective qualification criteria:
Manager – Sign up and invest $1000
Senior Manager – Invest $5000 or recruit three Managers
Director – Invest $10,000 or recruit three Senior Managers
Diamond – Recruit three Director ranked affiliates and generate $300,000 in total downline investment (max $100,000 from any one unilevel leg)
Gold Diamond – Recruit three Diamond ranked affiliates and generate $1,500,000 in total downline investment (max $500,000 from any one unilevel leg)
Black Diamond – Recruit three Gold Diamonds and generate $6,000,000 in total downline investment (max $2,000,000 from any one unilevel leg)
Residual Commissions
Midasama pays residual commissions via a unilevel compensation structure.
A unilevel compensation structure places an affiliate at the top of a unilevel team, with every personally recruited affiliate placed directly under them (level 1):
If any level 1 affiliates recruit new affiliates, they are placed on level 2 of the original affiliate's unilevel team.
If any level 2 affiliates recruit new affiliates, they are placed on level 3 and so on and so forth down a theoretically infinite number of levels. Midasama cap payable unilevel team levels at nine.
Residual commissions are paid out as a percentage of returns paid to unilevel team affiliates across these nine levels as follows:
Managers earn 30% on level 1 (personally recruited affiliates), 15% on level 2 and 10% on level 3
Senior Managers earn 30% on level 1, 15% on level 2, 10% on levels 3 and 4 and 3% on levels 5 and 6
Directors and higher earn 30% on level 1, 15% on level 2, 10% on levels 3 and 4, 3% on levels 5 to 7 and 2.5% on levels 8 and 9
Infinity Bonus
Midasama's compensation plan details some sort of Infinity Bonus but doesn't go into detail.
From what I can tell it starts at the Diamond rank and appears to be generated based (three generations).
Diamonds earn 3% on up to three generations
Gold Diamonds earn 3% and 2% on up to six generations
Black Diamonds earn 3% and 2% on up to nine generations
Again, this isn't explicitly clarified in Midasama's compensation plan so take the percentages above as unverified.
With a lot of red flags of being likened to a pyramid scheme and Ponzi scheme, there's really something fraudulent with Midasama. So in my point of view and to what I have researched, I could say it's a SCAM. So we're definitely not going to recommend this program to anyone.
By the way, here's an image showing how to spot a pyramid scheme:
The website also does not even provide information about their licensing and regulation, which is a very serious matter if we're talking about Forex trading. With no records of the owners, it would be hard to find someone to blame when things go wrong.
And also some of the regulatory institutions that are commonly used by legit trading platforms such as ASIC, CONSOB, CySEC, NFA, SEC, and FCA do not all have Midasama enlisted. Yes, none of these regulations have any platform listed under them as Midasama. What this means is that the platform is unregulated and your funds are NEVER SAFE!
Meanwhile, here's a short video on how to spot a pyramid scheme:
Midasama offers five package price-points (investments):
$1000
$5000
$10,000
$50,000 and
$100,000
Here Is My Top Recommendation to Start Highly Profitable Online Business from Comfort Of Your Home
Midasama is probably up to something fishy, and for that reason, I don't think there's something to like about their business opportunity.
CONS
Will Cost You A Lot Of Money
Yes, signing up is made available to all but the minimum investment is $1000 and will even cost you up to $100,000. Now, that's a big amount of money!
Pretty Promising ROI
Midasama's promise is pretty much enticing but why do I consider this as a CONS? Because surely, this is an unrealistic claim of ROI and with such overly confident claims, surely something is deceptive!
A base ROI of 20%? Pretty much unsustainable and not achievable. Don't be fooled! Easy money will never really guarantee you something!
Not Transparent
There are a lot of things hazy about Midasama. You can't see enough information with regards to the company's owners. You can't even see viable information about the company's whereabouts or other necessary information that proves their legitimacy.
Making claims of it as a scam, more evident! Transparency is vital to every business. With no income disclosure and other important details, joining in this business opportunity will surely put you at risk.
Not For Beginners
Forex trading comes with risks prominently because of the market which is volatile. Everything is uncertain and you'll never be able to predict things accurately.
Even the best and legit trading platforms are transparent that they don't have any guarantee that you're going to make money risk-free. But on the contrary, Midasama is telling that they can guarantee affiliates can make money with their business opportunity. Now, that's suspicious!
Pyramid Scheme
LIKE A PYRAMID SCHEME - We can't entirely conclude that it's of a Pyramid Scheme but let me present to you the guidelines of the Federal Trade Commission (FTC) or of any governing body with regards to a Pyramid Scheme.
Too much focus on recruitment
No physical product or service to market
Income opportunity is reliant on recruitment, and not sales
Tired of Trading Your Precious Time for Money?
Here is a Blueprint to Owing Highly Profitable Online Business Without Any Experience REVEALED!
To tell you frankly, I do think that this opportunity is for NO ONE but Midasama might have intended this business opportunity for those who are consummate and enthusiastic when it comes to forex and stock trading.
It is not for all because it would definitely need money for investment. Likened to an MLM scheme, it focuses more on recruitment. So it could be for those who are good at recruitment.
I haven't seen much information about Midasama's support or training but probably just like other MLM opportunities, being part of their affiliate membership will as well give members back office access, materials, resources, and tools they'll need in the business.
Overall, I could say that MIDASAMA is most probably a SCAM, I can't totally conclude but as to what I see, it somehow surely operates in a deceptive way. I would definitely not recommend you to join this company.
It is likened to a Ponzi Scheme, which is illegal in most states and countries and would cost you a lot of money- investing from $1000 and even up to $100,000. With so many red flags and no proof of legitimacy, then it's best and safe to skip this platform.
Online business opportunities are indeed everywhere but see to it to invest your time, money and effort on earning opportunities that are noble, trustworthy and safe. Don't get fooled! Discern well. Be vigilant and be wise!
Want to make money online without spending a hefty amount?
Sign up with my #1 recommended program now and take advantage of the following offers:
Training resources
Webinars to help you start your business online
One-on-one coaching
Comprehensive guide
And many more!
Thank you for reading my Midasama review and if you have any questions or comments or if you want to share your personal story, please feel free to comment below.
We Constantly Review Programs in "Make Money Online" Niche,
So That You Don't Have to Waste Countless Hours
Want To See Our
TOP RECOMMENDATION?