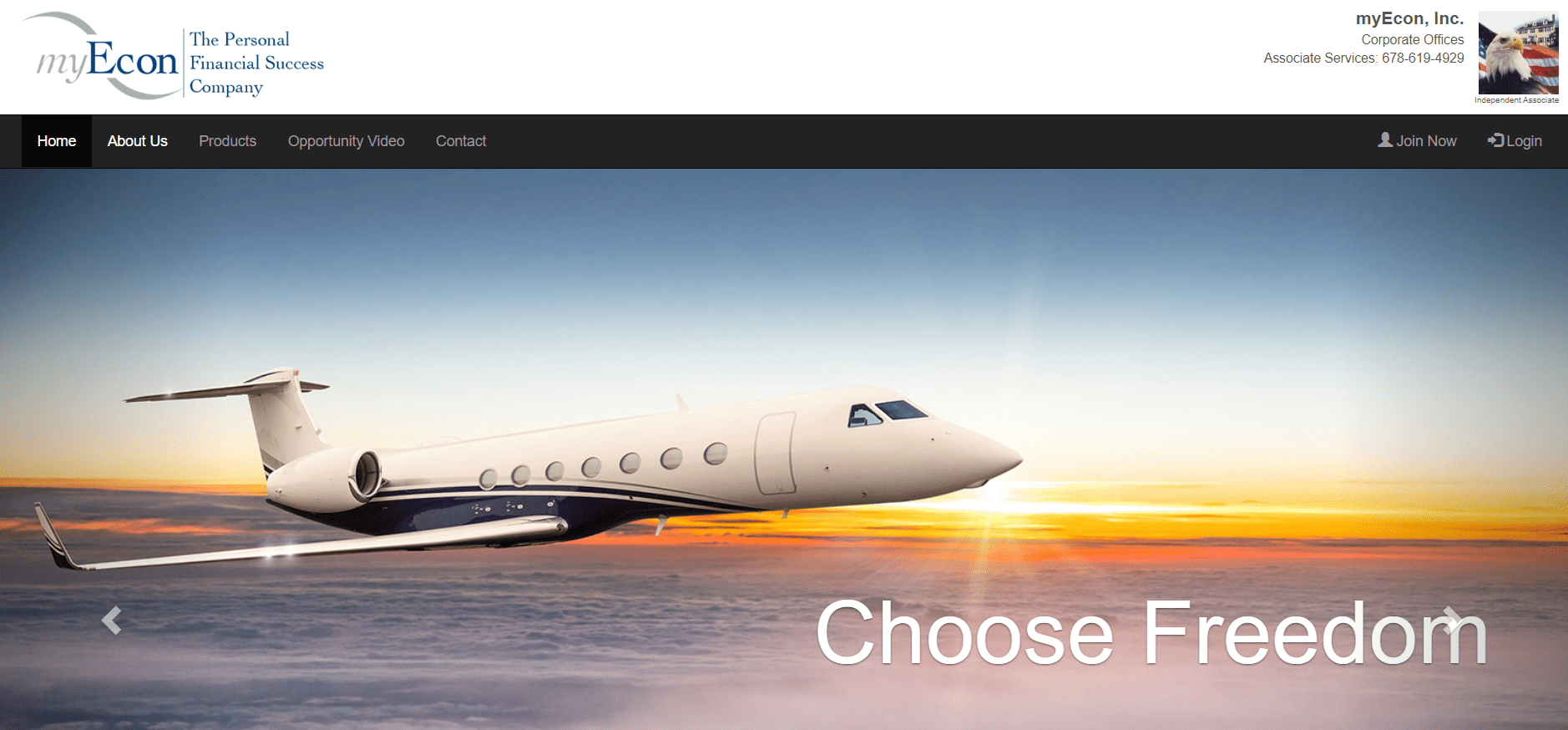 Welcome to My myEcon Review!
Generate a million dollars in just two weeks?
Apparently, that's what myEcon is about.
Now, I don't want to jump into conclusion immediately although it's really unrealistic for a person to earn millions, let alone thousands in just weeks.
myEcon Review Summary
---
Name: myEcon
Website: www.myecon.net
Founders: Alvin Curry and Ivey Stokes
Product Type: Multi-Level Marketing
Price: 19.95 For The One-Time Setup Fee + $35.95 For The Monthly Fee + Products
Quick Summary: myEcon is a legit MLM company that promotes financial services, such as tracking credit score and manage cash flow. It also lets its members earn commissions by selling their products and recruiting people.
Overall Rating: 3/10
Recommended: No
So instead, I'll discuss what it's about, whether myEcon is a scam or not, its pros and cons, and an alternative source of income in case you end up disappointed with this one.
P.S.
I'm not affiliated with myEcon and I'm here to provide a transparent review to help you decide whether the program's for you or not. So sit back, relax, and just keep on reading.
myEcon is a business model that follows a network marketing or multi-level marketing (MLM) structure. That means distributors can earn money in two ways: selling the products and recruiting people to join the platform.
Founded by Alvin Curry and Ivey Stokes in 2006, the brand promotes financial services to help individuals save money. But will it really help them providing that they have to join an MLM opportunity first?
Let's find out by talking about the products.
myEcon Product Line
As mentioned, the main products here are their financial services, namely:
As the name suggests, this app lets you record your finances or cash flow while allowing you to upload receipts, too.
To be able to use this offer, you have to pay for a 6-month subscription first. Its main purpose is to track your credit score.
Smart Credit Repair System
This, as the name implies, helps in repairing bad credit scores. It contains templates and training modules so you'll have an idea of what to send to credit agencies.
It includes software that secures your credit transaction online to avoid being hacked.
This provides access to priceline.com so you can find discounts and deals for hotel bookings, car rentals, and air travel.
This lets you have access to links that you can provide to other individuals and in return, you'll get commissions.
This is a monthly subscription that lets you a roadside assistance program.
They also have a product line under Health and Nutrition. It's included in their financial products and you need to pay a different amount to avail of this.
Take note that you need to become a member first before you can get any of these services and also, some programs are optional meaning, you need to pay a separate amount to take advantage of it.
As a member, you can earn commissions, check your credit score, track your finances, and many more using their mobile application. The app also offers additional services, including financial training, credit restoration services, identity theft protection, and income tax preparation.
myEcon Product Reviews
I wasn't able to use any of their services so I can't share my personal opinion about the products. What I did instead is look for reliable reviews online and thanks to the Better Business Bureau (BBB), I was able to do so.
It's hard to find feedback about their product, by the way, and I'm not sure if it's because nobody uses it or those who avail their services don't know how to post reviews. Turns out, there is feedback and I'll share it below:
How To Make Money With myEcon?
As mentioned above, myEcon is a typical MLM company that lets members earn cash in two ways: retail sales and through recruitment.
This means that in order to earn a commission, you have to become a member, purchase their products at a discounted rate so you can sell it based on the suggested retail price. This lets you earn profits.
Also, you have to recruit people to join the platform, which is normal for MLM companies. You can do this by sending messages or calling your family or friends or by taking advantage of social media and email marketing.
Mind you, promoting in social media and email is another cost you have to shoulder and worse, if you're not skilled with creating ads, you might end up wasting money by targeting the wrong people.
That being said, I cannot recommend this technique or this platform unless you have experience with network marketing.
But if you're still interested, you can watch the video below to learn about myEcon's compensation plan:
Normally, MLM companies have tangible products to offer but with myEcon, they only have services. Still, this doesn't make them a scam.
While network marketing brands often have real products, such as supplements and slimming coffee, some companies have valuable services to offer, such as mentorship and coaching. In myEcon's case, it was their financial services.
Also, in case you rely on the BBB, it's good to know that they are accredited by the non-profit organization with an A+ rating.
However, I don't think this platform is true to its claims, which is to help you save money because it doesn't. For one, aside from the membership fee, you have to pay for each product that you will sell.
Also, I believe it has more drawbacks than advantages, which I'll discuss in a bit.
If you're looking for a financial service, I suggest that you find cheaper alternatives instead. Meanwhile, if you want a legit way to make money online, I recommend that you check out my FREE Step-By-Step Guide to learn how.
Signing up as a member is not easy; you need to find an affiliate website first so you can proceed with the registration. This is because you need a referral link before you become their associate.
Then you'll have to pay the following:
19.95 One-Time Setup Fee
$35.95 Monthly Fee
This entitles you to become a "Marketing Director," the lowest rank in their compensation plan. This also lets you have access on their:
Training Videos
Income Shifting Membership (ISM)
Identity Theft Protection
Cash Flow Manager
Free And Discount Legal Services
Discount Travel And Corporate Perks
Credit Education Services
Want to learn more about myEcon? You can check out this guide.
Here Is My Top Recommendation to Start Highly Profitable Online Business from Comfort Of Your Home
PROS
I honestly can't think of anything to like about the platform. While the intention, which is to help manage finances and save money is good, I think it's not worth the price. That being said, I'll discuss the things I don't like about myEcon.
CONS
Too Expensive
At first glance, it's like you're going to pay $55.90 only but that's for the membership alone; if you want to make money selling the products and have access to other perks, you have to pay for each and mind you, it's not a one-time fee. In some products, you need to pay for monthly subscriptions.
Seriously, I don't know how this program is helping you save money.
Too Much Attention On Recruitment
While it's normal for MLM platforms to recruit people, putting too much attention on it is a red flag. There brands that have been shut down because of this, such as Digital Altitude and MOBE.
myEcon may not directly tell you to invite people but in their compensation plan, the only way to get more bonuses and incentives is to increase your rank. And how are you going to increase your rank? Recruit more people!
This MLM company may be legit but if they're going to do this in the long run, some people might mistake them like a pyramid scheme rather than a legit money-making program.
Tired of Wasting Time on Low Quality Programs?
I'm so grateful that I was able to find THIS PROGRAM which helped me to finally start making money online!
I honestly can't think of anyone who can benefit from this.
Yes, the products are good, especially the one that lets you track and repair your credit record but still, it's expensive and I believe there are better programs that can help you with this.
Otherwise, if you really want to improve your credit rating, save money to pay for your loans, talk to your lender, and avoid being in debt again.
Once you become a member, you'll have access to their training videos using a mobile application. You can also get training resources from the associate who has referred you.
myEcon is a legit platform that somehow sells valuable products. This is helpful for those who want to manage their finances and credit but like I said, it's like you're wasting money than saving.
There are other platforms to choose from, most of which are free, so if you want to save money, take advantage of the programs that won't ask you to pay for anything.
Meanwhile, if you want to earn a decent income without the need to recruit people or worry about your products, I suggest that you consider my offer below!
Recruiting people to join the platform is not only exhausting, but it's also confusing for the people you're inviting. So if you don't want to be involved in a pyramid scheme-like program, I suggest that you sign up for my top-recommended platform.
Join now and enjoy the following perks for FREE:
Training Resources And Webinars
24/7 Chat Support
Live Active Community
And A Lot More!
I hope you enjoyed my myEcon review and if you have any questions or comments, please feel free to drop it down below.
Thank you!
We Constantly Review Programs in "Make Money Online" Niche,
So That You Don't Have to Waste Countless Hours
Want To See Our
TOP RECOMMENDATION?