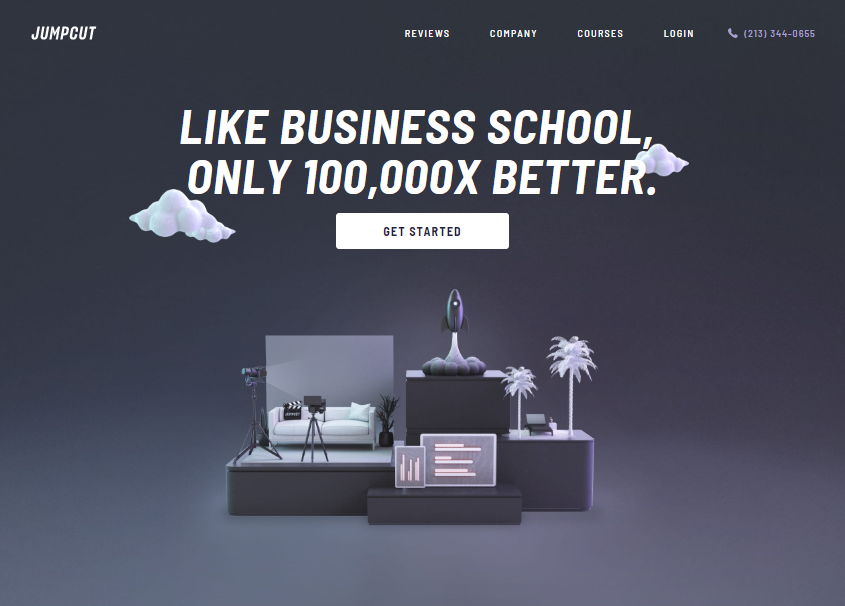 Welcome to My Jumpcut Academy Review!
YouTube is one of the most effective ways to market products and services as it allows you to reach a larger market. On top of it, if your videos have reached a massive amount of likes and subscribers, you are giving yourself another source of income.
Jumpcut Academy Review Summary
---
Name: Jumpcut Academy
Website: umpcut.com
Founders: Kong And Jesse
Product Type: Online Training Platform
Price: Free
Quick Summary: Jumpcut Academy is an online training platform that teaches entrepreneurs how to leverage their business through digital marketing and YouTube.
It is led by well-known YouTube influencers who have a massive amount of subscribers and are respected in their chosen niche. The problem is the huge investment you need to bring out for the course but is it really worth the price? What are the things you'll learn from this program? Is Jumpcut Academy a scam?
Overall Rating: 7/10
Recommended: Yes... no?
That's why I'm tempted to start a YouTube channel but honestly, I don't know how. Although there are a lot of vlogs discussing how you can begin monetizing your channel, I think it's not that simple. Editing alone takes time and making your channel standout is another issue.
Perhaps, this is one reason why online courses, such as Jumpcut Academy are a hit! Almost everyone wants to make money out of their videos but can this program really help you?
In this Jumpcut Academy review, you'll find out if this course is worth your money and time.
What Is Jumpcut Academy About?
On their homepage, it says that Jumpcut Academy is "like business school, only 100,000x better".
Basically, Jumpcut Academy is an online platform that offers three major courses to entrepreneurs, helping them promote their goods and services using the most updated trends and technologies, which includes creating a YouTube channel.
The founders, Jesse and Kong, has over 2 million subscribers on YouTube and they claim that they will teach you to achieve the same outcome, too, using their online training program so you can launch your business successfully and monetize your vlogs.
How Jumpcut Academy Works?
Jumpcut Academy offers "mind-blowing" courses namely:
Viral Academy
This module is about creating a successful YouTube channel. When you click "View Course, you can get a free YouTube Influence crash course by typing in your name and email address. Meanwhile, the program itself has 5 "Stages" which I'll discuss more in a bit.
Automated Income Machine
This module also comes with a free crash course which you can get by sharing your name and email address. This 12-week program is about setting up a lucrative online business. The founders claim that they will reveal advanced marketing strategies that they have mastered.
Contagious Content
As the name suggests, the goal of this program is to help you create content that can go viral. It comes with 6 modules and access to five interviews of well-known influencers. On their sales page, it says that you can have a full refund within 365 days in case you're not satisfied with your experience, and I'll discuss more of this in a bit.


Jumpcut Academy: Meet The Instructors
The course has 5 different teams with 7 instructors, including:
Jesse and Kong (simplepickup) - These two, who are the founders of Jumpcut Academy, have over 2 million subscribers. They'll handle the digital marketing part of the training.
David So (DavidSoComedy) - His vlog focuses on comedy niche and he has over 1 million subscribers.
Joe and Bart (justkiddingnews) - These two have more than 1 million subscribers on YouTube and specialty is handling brand deals.
Aryia (simplesexystupid) - His niche is focused on blog marketing and he has over 900 subscribers
Vitaly (vitalyzdtv) - He has over 9 million subscribers and he is focused on creating viral videos.
Is Jumpcut Academy A Scam?
Jumpcut Academy is 100% legit and it's led by well-known YouTube influencers who have a solid number of subscribers. They have over 15,000 students from all over the world and most of which have achieved their goals when it comes to growing a YouTube channel.
They also have a Facebook page showcasing the reviews they have from their students, and you can click this link to know more.
There are also negative feedback about their program and that's mostly because of the price. It's very expensive considering that there are a lot of free training video you can find online. But then, they are sharing their own tested-and-proven methods on how to launch a business through digital marketing and monetizing a YouTube channel so basically, what the students are paying for are their name and experience.
As mentioned above, the instructors are respected in their own niches and they have a massive number of subscribers, to begin with, so when it comes to the price, it's up to you to decide whether it's worth or not.
As for me, there are other ways on how you can market your business online -- in case you're not a fan of talking in front of the camera -- and this step-by-step guide will help you.
So, how much are we really talking about?
There are free programs on their website but the main course costs around $997, which will give you lifetime access. You also have the option to pay it in six installments, which costs $197 per month.
If you're torn about enrolling yourself in this platform or not but you really want to build a successful YouTube channel, Jumpcut Academy provides a 365-Day Guarantee. This allows you to get a full refund in case you are not "thrilled" with the program. However, they ask that you give the program a fair assessment and that you "complete the step-by-step worksheet assignments", which I think is just fair for both parties.
To know more about Jumpcut Academy, you can watch the video below:
Here Is My Top Recommendation to Start Highly Profitable Online Business from Comfort Of Your Home
PROS
Online Course Is Led By Experts
The instructors from Jumpcut Academy are not just anyone, they are YouTube influencers who have started from the bottom. Their success is visible and judging by the number of subscribers and views they have, you'll know that they are the experts in their chosen niche.
Quality Training
Some people underestimate the value of training; however, a step-by-step guide can help you learn more about the method effectively. As per Jumpcut Academy, they have provided valuable modules that have huge potential when it comes to helping the students grow their YouTube channel and business.
No Bold Claims
Unlike high-ticket programs that claim to help you achieve a huge amount of cash right after you take the course, Jumpcut Academy's founders, Jesse and Kong have been honest about the outcome. Apparently, you need to work really hard to achieve the result you want, which is 100% true. No matter how effective the training is, if you don't apply what you've learned and you're not consistent with it, the result will always be negative.
CONS
A Huge And Risky Investment
You're not just spending a hundred dollar for a program rather, you'll invest almost a thousand dollars. This is a massive amount and if you're a beginner, this investment is more likely at risk especially when you realize that YouTube is not for you.
If you're starting a business and you want to promote your products effectively, you can do so by using other marketing techniques, such as building a website and generating traffic to it. Clueless how to do this? Don't worry, I got you!
Simply join my top recommended platform for free and enjoy perks, such as a free website, free training, access to a live community, and a lot more!
Tired of Wasting Time on Low Quality Programs?
I'm so grateful that I was able to find THIS PROGRAM which helped me to finally start making money online!
YouTube is one of the most effective ways to promote yourself and your business; however, it's not for everyone. Not all entrepreneurs and business owners have the confidence to talk in front of the camera or have the time and/or creativity to edit consistent videos. Therefore, I recommend this program to those who are really eager to grow their YouTube channel and monetize it.
However, since it's a huge investment, it would be better if you have basic to advance knowledge on online marketing so you have an idea on what you'll be dealing with. But if you're just a beginner figuring out what digital marketing is about and how you can take advantage of it to grow your business, you can check out my top recommended platform and join for free!
There are three main courses offered by Jumpcut Academy, namely:

Viral Academy

This course has five stages, including:
Social Media Secrets
Launch Your Own Channel
Viral Marketing Masterclass
Influencer Intel
Paid To Promote
Automated Income Machine
This 12-week course discusses the following:
Laying The Groundwork
The Roadmap To Your Big Idea
Audience Immersion
Content Marketing Masterclass
The Overnight Expert
Digital Product Workshop
Advanced Digital Product Creation
Information Marketing Overview
Lucrative Marketing Funnels
Product Launch And Sales Mastery
Roadmap To A 7-Figure Future
Successful Mindset Secrets
Bonus Training: Digital Technology Training, The $1,000,000 Product Launch, and Marketing Template Vault
Contagious Content
This course has 6 modules and a 5 bonus interview from reputable influencers, such as @PaulVuTV and @AlexStrohl:
Roadmap To Contagious Content
Virality Decoded
The Science Of Sharing
Hidden Patterns of Virality
Platform Playbooks
Contagious Cash Flow
The only problem I see with Jumpcut Academy is the price; other than that, I believe that the training provides value. It is expensive and yes, there are other alternatives that won't require you to spend a dime; however, what the instructors are sharing are taken out of their own experience and I respect that.
Basically, the decision depends on you. If you have an extra for this online course and you're determined to start a YouTube channel and/or grow your business using digital marketing, then you can consider Jumpcut Academy. Otherwise, you can try other legit platforms that offer free training and assistance.
If you are looking for another side hustle that would provide you a decent source of income, then I suggest that you sign up with my top-recommended program instead.
It's one of the top choices when it comes to make money online opportunities and I know that you would enjoy it, too. Join the program and get access to the following:
One-on-one coaching
Comprehensive guide
The best business tools and support you need
Webinars and training resources
And many more!


As always, thank you for reading my Jumpcut Academy review. If you have questions or comments, please feel free to share it below.
We Constantly Review Programs in "Make Money Online" Niche,
So That You Don't Have to Waste Countless Hours
Want To See Our
TOP RECOMMENDATION?